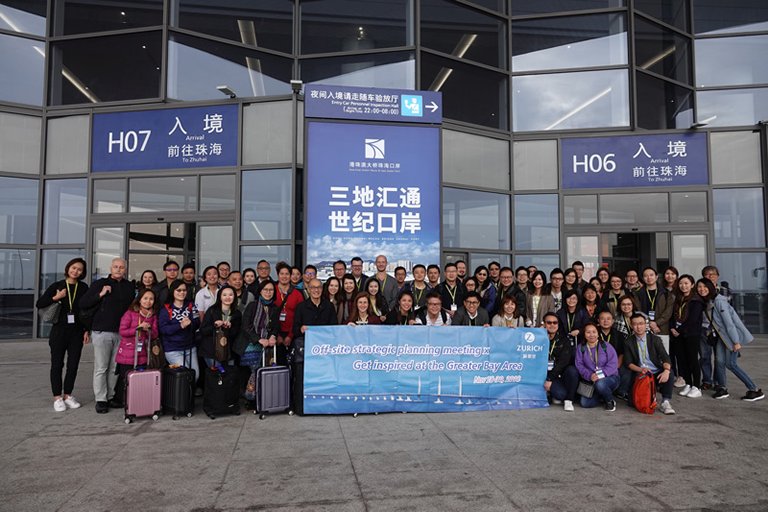 https://hkmb.hktdc.com/en/1X0AHWIU
The Greater Bay Area: Regional Collaboration Brings Unlimited Opportunities to Insurance Sector
Interview with Eric Hui, Chief Executive Officer, Zurich Insurance (Hong Kong)
Hong Kong has a mature insurance market, with an insurance density second only to the Cayman Islands and a penetration rate higher than anywhere except Taiwan and the Cayman Islands[1]. It is a major part of Hong Kong's financial services sector. With Hong Kong hosting the Asian business base of many major insurance groups and multinational brokerage firms, the city has the experience and capital needed to provide general insurance (property insurance), life insurance and reinsurance services for managing or spreading risks associated with mega infrastructure projects and natural disasters. In 2018 alone, gross premiums in general insurance amounted to over HK$50 billion, HK$15 billion of which was related to reinsurance business.
Developments in the Guangdong-Hong Kong-Macao Greater Bay Area (GBA) are likely to see Hong Kong's insurance sector expand still further. As regional cooperation within the GBA grows and its infrastructure rapidly develops, Hong Kong's status as a reinsurance hub is likely to be reinforced. Moreover, with a large influx of people and a rapidly rising middle class within the GBA, demands for medical and wealth management services such as quality life insurance policies are also set to surge. Last year, Hong Kong sold 460,000 new policies to mainland visitors, with premiums topping HK$47.6 billion - almost 30% of the total value of new personal insurance policy premiums. Currently, the insurance penetration rate in the nine GBA mainland cities is only 6% (about one-third of the rate in Hong Kong), which means there is enormous potential for growth in this market.
The rapid development of the GBA is creating plenty of opportunities for interaction and collaboration between Hong Kong's insurance sector and its counterparts in the region. Eric Hui, Chief Executive Officer of Zurich Insurance (Hong Kong), spoke recently to HKTDC Research, sharing his insights on these opportunities, and on how the city can establish itself as a regional risk management hub.
Good Opportunities in Cross-border Reinsurance Cooperation
Zurich Insurance (Hong Kong) is the Hong Kong division of Switzerland's biggest insurer, Zurich Insurance Group. It mainly provides general insurance (property insurance) and personal insurance (life insurance) services to Hong Kong clients.
Hui expects there to be a proliferation of development projects in the GBA, which should bring promising opportunities for the property insurance business. Pointing out that if Hong Kong insurers are allowed to be more involved in or even directly take part in risk spreading, the opportunities will be huge, Hui said: "The insurance sector has been under stringent regulation. The risks of a project are generally underwritten by insurers based in the same region. Insurers are regulated in accordance with the applicable insurance and tax laws and regulations, the relevant legal restrictions on market access and regulations on local insurers' company structure.
"In some markets in the GBA such as Macao, insurance laws and regulations are more flexible. Apart from certain risks which have to be underwritten by local insurers, foreign or multinational insurance firms are also allowed to take part in underwriting there. On the mainland, however, only mainland insurers are allowed to underwrite project risks. At the moment, Hong Kong insurers wanting to take part in the development of the GBA can only provide reinsurance or ceding services to mainland insurers holding insurance contracts to share part of the risks in the contracts."
Hui explained that the reinsurance market for GBA projects is currently operating at a disadvantage, saying: "In reinsurance, what matters is that different stakeholders in the business must have an in-depth understanding of and full cooperation with each other. For instance, a mainland insurer providing coverage of RMB100 billion for a port project's construction and operation on a premium of RMB100 million will usually seek reinsurance with other insurers to spread the risk. When ceding the risk to qualified reinsurance companies, insurance intermediaries often play a very important role. They should fully understand the nature of different risks and the insurance/underwriting preferences of various players in the field, so they can identify the most appropriate and cost-effective reinsurance companies for the mainland insurers concerned.
"Right now, given the differences in insurance laws and regulations in Hong Kong and the mainland, an exchange platform for insurers and intermediaries on both sides is lacking. While our group's branches in Guangzhou, Shanghai and Beijing offer general insurance products with their own mainland insurance licences, there is not much synergy between them and the Hong Kong division."
Hui believes that to help realise the potential for reinsurance in the development of the GBA, Hong Kong's insurance sector should strengthen its lines of communication with its counterparts in Macao and the nine Guangdong cities. Pointing out the precedents for this, Hui added: "The insurance sector in Guangdong, Hong Kong and Macao could look at the examples of the exchange platforms set up earlier under the Belt and Road Initiative (BRI), such as the Belt and Road Insurance Exchange Facilitation (BRIEF) platform established by the Hong Kong Monetary Authority's Infrastructure Financing Facilitation Office and the Insurance Authority (IA). A similar insurance exchange platform could be set up in the GBA, which would facilitate more regular communication between insurers in the three cities on the risks of different projects. The IA and the China Banking and Insurance Regulatory Commission (CBIRC) should consider taking the lead by signing regulatory agreements to enhance mutual access and cross-jurisdictional collaboration of the insurance sector in the GBA."
Hui pointed out that the foundations for this have already begun, saying: "In fact, in 2018 the IA and the CBIRC jointly implemented a preferential policy to promote cooperation between Hong Kong and the mainland in reinsurance business. The capital requirement for mainland insurers ceding business to qualified Hong Kong reinsurance companies was lowered. In effect, this allows Hong Kong reinsurance companies to help spread mainland insurers' risk.
"And in 2017, the IA and CBIRC launched a four-year equivalence assessment on the solvency regulatory regimes of the two places. During the assessment period, both sides put in place a transitional arrangement for mutual recognition of one another's regulatory regimes. It was on this basis that the preferential policy on cross-border collaboration I mentioned above was rolled out. The insurance sectors of the three sides in the GBA could use the present Hong Kong-Mainland reinsurance facilitation measures to foster collaboration. A more extensive risk exchange platform should be established to lay a solid foundation for further cooperation."
Hui noted that Hong Kong enjoys several strong advantages when it comes to providing reinsurance for GBA projects, saying: "The Hong Kong market is very open and our insurers generally have a strong financial basis. We have years' of experience in working with foreign capital and investors. Our reinsurance companies are well trusted by international investors and have relatively high risk tolerance. In addition, our strengths in international financing capability, financial networks and financial professional services are renowned worldwide.
"With increased cooperation, Hong Kong insurers can provide property and accident insurance services for extreme natural and man-made disasters in the GBA and other mainland regions. Take the risk of terrorism as an example. Since the 9/11 terror attack in the United States, it has been hard to find insurance companies anywhere in the world willing to underwrite terrorism risks. In Hong Kong, the terrorism insurance market and fund pool are relatively small. Should a terrorist incident happen, huge claim amounts may be involved.
"As a result, it is the Hong Kong SAR government which now holds the fund pool covering Hong Kong employees in terrorism cases, financed by a fee charged on insurers. If we can gather all the property and accident insurance products covering various natural and man-made disasters in the GBA to form a big fund pool, Hong Kong could take advantage of its status as an international financial centre to securitise the fund pool and turn it into a very attractive financial investment product."
Personal Insurance: Business-Facilitating Laws Required
Hui argued that the greatest difficulty in promoting personal insurance business in the GBA is the differences in legal systems, saying: "The GBA not only ushers in more development projects, it also brings in to the region a greater influx of people and goods. However, people travelling around the region have to comply with three different sets of laws when taking out insurance. A case in point is the Hong Kong-Zhuhai-Macao Bridge which crosses the land and waters of Hong Kong, the mainland and Macao. Vehicle owners travelling around Guangdong, Hong Kong and Macao on the bridge have to buy car insurance in each place to cover vehicle damage, medical expenses and third-party properties.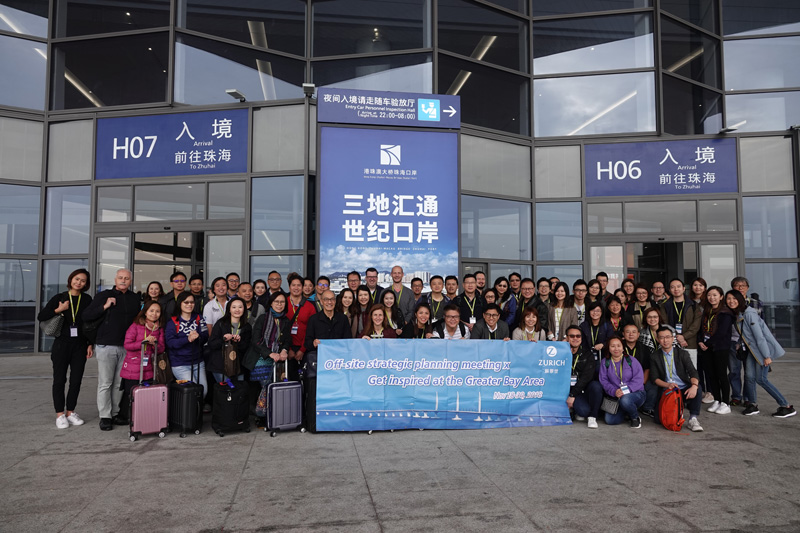 "However, the claim amount and computation method for third-party liability insurance differ substantially between the three. For instance, Hong Kong laws stipulate that the coverage for each incident happening within the Hong Kong territory should not be less than HK$100 million, while that for Macao is not less than MOP$1.5 million (about HK$1.46 million). On the mainland, the claim limit for death and injury in each incident is just RMB110,000 (about HK$130,000), while the claim limit for medical expenses and property damage are RMB10,000 and RMB2,000 respectively."
Underlining the difficulties caused by these discrepancies, Hui added: "In the Hong Kong-Zhuhai-Macao Bridge Insurance Corner of the Hong Kong Federation of Insurers' website, there is a list of seven insurers which underwrite car insurance in either two or three places in the GBA. Reportedly, some of them will refer clients to other insurers. So a vehicle can be covered by a number of policies issued by different insurers, causing much inconvenience. A great challenge for the insurance regulatory authorities in Guangdong, Hong Kong and Macao is how they can improve co-ordination among themselves to make it easier for GBA residents to take out insurance and for insurers to underwrite insurance."
To build Hong Kong into a leading insurance service centre in the GBA, Hui believes that it must become much easier for people in the GBA to buy Hong Kong insurance products and services. Illustrating his point, he said: "Take life insurance and medical insurance as examples. At present, mainlanders hoping to buy Hong Kong insurers' products must come to Hong Kong in person to sign the contracts. They are not allowed to pay Hong Kong premiums by credit card, creating a great deal of inconvenience for those who want to buy Hong Kong insurers' personal insurance products. If policies in the GBA can be relaxed to allow Hong Kong insurers to provide after-sale services on the mainland, offer premium payment services or even carry out sales activities in the GBA or the whole of China, tremendous opportunities will be generated for the insurance sector in Hong Kong and the mainland as a whole."
Hui also believes that if the mainland personal insurance market is opened up to Hong Kong players in the future, Hong Kong's personal insurance market should likewise be opened up to mainland insurers. He welcomed competition from mainland insurers, saying: "Hong Kong's insurance market is mature, and our supervision and regulatory regimes are very transparent. Our market is also highly internationalised. Mainland insurers operating in Hong Kong will have to comply with Hong Kong's insurance laws and regulations. If Hong Kong allows healthy competition among insurers from different parts of the world, our service quality will be enhanced and the market will only get bigger in the long run."
Looking ahead, Hui confirmed that Zurich will continue to base its business in Hong Kong while it looks to expand its general insurance and personal insurance business in the GBA, saying: "The Zurich Group will keep using Hong Kong's advantages in international financing and the free flow of information to give full play to our capability in cross-region insurance protection. We will use Hong Kong as a bridgehead for our GBA business.
"To propel the regional development of our general insurance business, Zurich plans to strengthen ties with our wholly-owned mainland branches and other mainland insurers and intermediaries to jointly seek opportunities in the GBA. Regarding personal insurance, Zurich is exploring the possibilities of forging a partnership and/or carrying out mergers and acquisitions with mainland insurers or technology companies to offer more convenient medical, travel, accident and life insurance services to the GBA and other mainland cities."
---
[1] Insurance density refers to the per capita insurance premium of a territory, while insurance penetration rate refers to insurance premiums as a percentage of a territory's GDP.
Hong Kong
Mainland China
Hong Kong