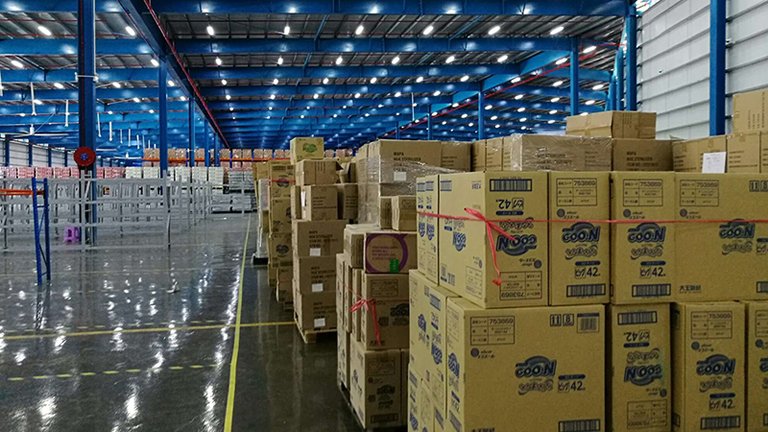 https://hkmb.hktdc.com/en/1X0AHSL3
Cross-Border E-Commerce Site Optimises Supply Chain to Sharpen Competitive Edge
Interview with Kenny Lee, Founder/CEO of Onion Global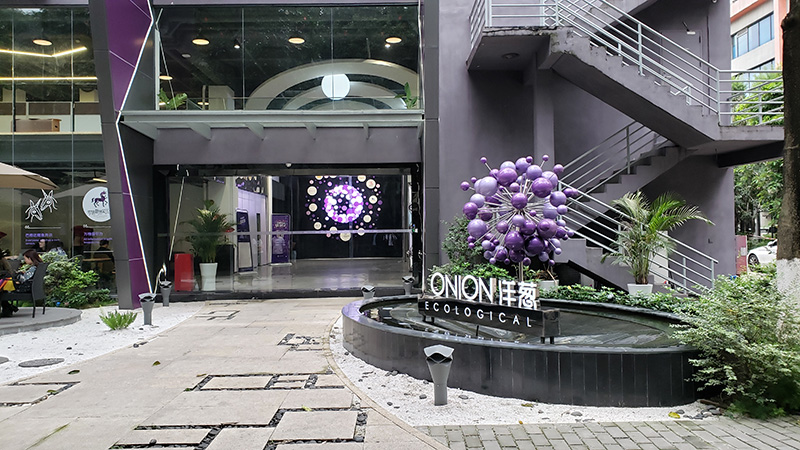 As China's cross-border e-commerce retail import market continues to mature, mainland consumers can now purchase a wider range of foreign goods at lower prices from various websites. Yet the business environment is becoming more challenging to cross-border e-commerce platform operators, many of which are adopting marketing strategies such as advertising, sales promotions and exclusive brands to increase visibility and user stickiness. They also have to offer a diversity of products and ample stock for customers to choose from. Kenny Lee, Founder and CEO of Onion Global, shared his views on the company's strategies in operating a cross-border e-commerce platform in mainland China, that is, to raise supply chain efficiency and lowering operating costs through vertical integration.
Founded in Guangzhou in 2014, O'mall is a cross-border e-commerce platform operated by Onion Global that devotes great efforts to building its own supply chain. O'mall not only offers more than 4,000 brands but has also set up offshore warehouses in places including Japan, Hong Kong and Australia. At the same time, it adopts the social retail mode, leveraging personal networks of individual "shop owners" to market its products.
Building Own Supply Chain
Assessing the development of cross-border e-commerce retail imports on the mainland over the past few years, Lee said: "Today, it has reached the stage of survival of the fittest, where only cross-border e-commerce platforms with unparallelled strengths can stay afloat in the market. In light of this, since its founding, O'mall has invested heavily in its supply chain. It is only through a complete supply chain encompassing brands, warehousing and customs declaration that the company can control costs and raise the gross margins of its goods."
To companies operating cross-border e-commerce platforms, steady profits are of paramount importance to their development. Due to the rapid advancement of information technology, cross-border e-commerce companies in China today mostly make their decisions on the quantity and types of goods to be purchased, as well as which new brands to introduce, based on big-data analytics. And as today's mainland consumers demand better services from cross-border e-commerce platforms, industry players have to build a bigger customer-service team. O'mall has more than 500 staff engaged in information technology, data analysis and customer service.
Advantages of Hong Kong Warehouse
Under O'mall's supply chain strategy, Hong Kong commands a key position, where the group's largest offshore warehouse covering 25,000 square metres is located. After a customer in the South China region places an order via the O'mall mobile app, the company's warehouse staff sort and package the goods in the Hong Kong warehouse before delivering them to the customer by land transport in the form of direct purchase import. [1]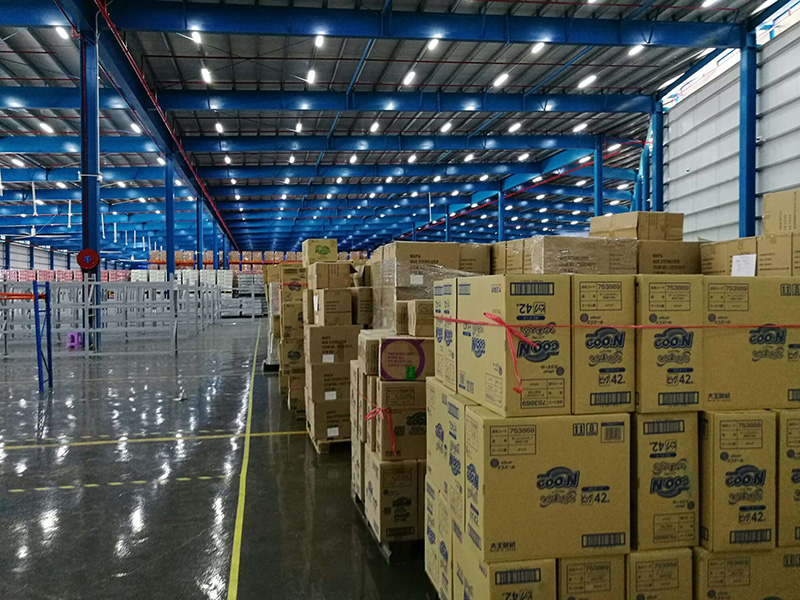 "O'mall has a number of customs clearance ports on the mainland, with Guangzhou being the most frequently used," said Lee. "As such, Hong Kong is the group's best choice for setting up its largest offshore warehouse. Hong Kong is not only relatively close to Guangzhou, but is also a free port. On the mainland, dutiable goods can only be stored in bonded warehouses in areas under customs supervision, and goods entering and leaving the bonded areas must be filed with the customs office. Hence, setting up a warehouse in Hong Kong has made it easier for the entry and exit of goods."
Seeing Hong Kong as O'mall's brand base, Lee remarked: "Not only are goods duty-free in Hong Kong, but also a great number of brands have set up regional headquarters or offices here. Building the group's brand base in Hong Kong facilitates O'mall's efforts in forging co-operation with international brands. The ability to offer a wide range of international brands is a forceful weapon of mainland cross-border e-commerce platforms in attracting customer traffic and building image. In light of this, O'mall attaches great importance to forging ties with international brands. Hong Kong, as a free port and a hub for global brands, has irreplaceable advantages."
Social Retail Mode Boosts User Traffic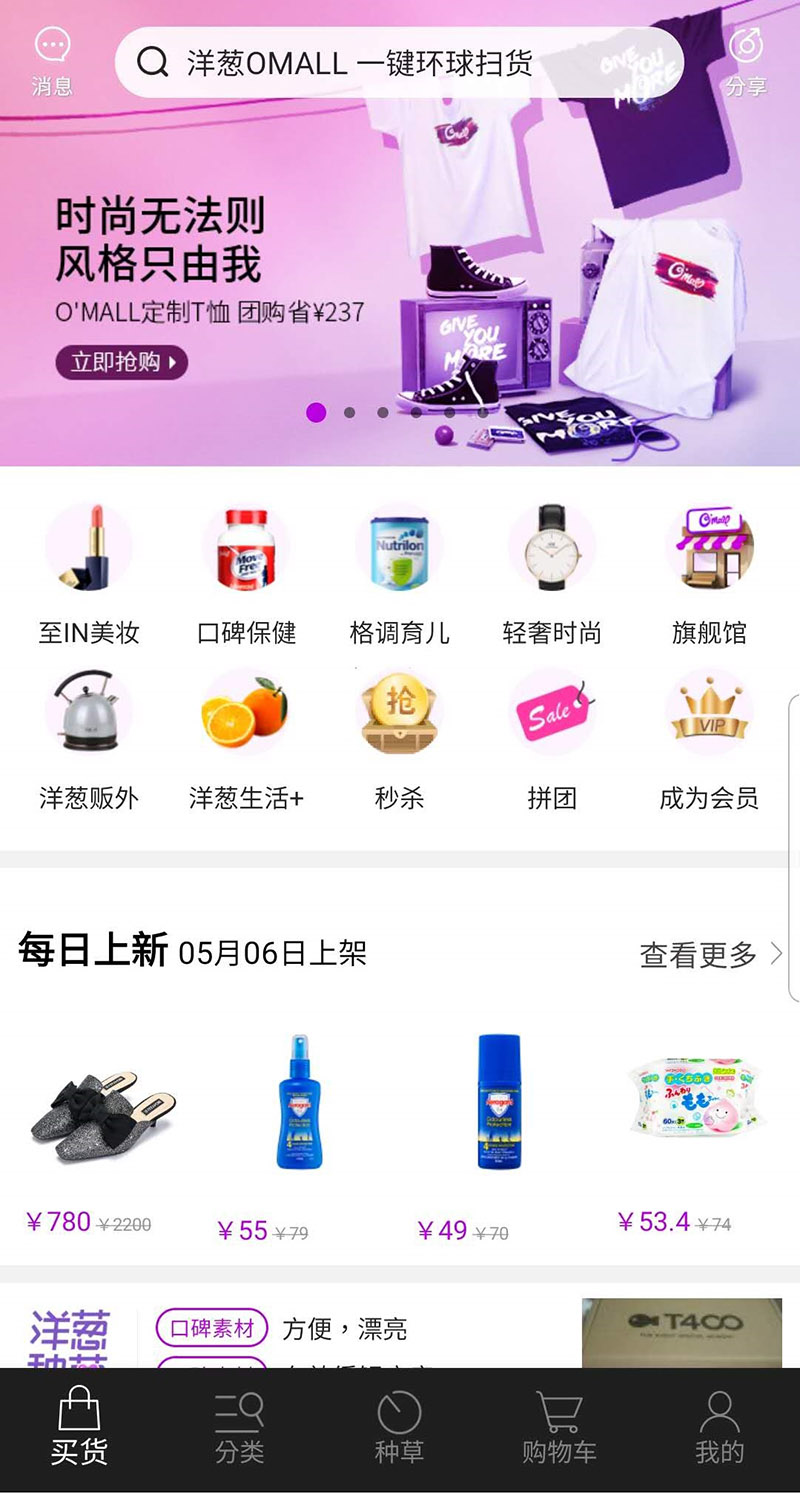 O'mall attaches importance not only to upstream activities in the supply chain, such as purchasing and warehousing, but also to downstream sales. "O'mall, as a cross-border e-commerce platform, places emphasis on traffic flow on the platform," said Lee. "Currently, there are a great number of cross-border e-commerce websites for customers to choose from. Hence, how to sustain customers' interest in browsing and shopping on one's platform is a key issue faced by every cross-border e-commerce platform."
In order to expand the O'mall platform's exposure, the company makes great effort to develop social retail.[2] Apart from managing the goods and sales on the platform, O'mall also manages more than 500,000 individual "shop owners" who double as sales promoters. These shop owners promote the goods offered on the O'mall platform in their own social circles through such channels as the O'mall mobile app or WeChat to attract consumers to the O'mall cross-border e-commerce platform to make purchases. Lee said: "Currently, O'mall has more than 500,000 shop owners, each of whom can reach out to 500 people on average via channels such as WeChat Moments and face-to-face contact. By so doing, O'mall's social retail mode can potentially attract up to 250 million visitors. Nowadays, in order to compete with the larger cross-border e-commerce platforms on the mainland, attracting customer traffic is of prime importance.
"Today, the purchasing power of consumers living in second- and third-tier cities is on the rise, hence the growth potential of cross-border e-commerce retail import in these cities is huge. The social retail mode can effectively reach these consumers and help O'mall tap into the market of these cities."
O'mall's social retail mode has attracted a large following of mainland females to join as shop owners. Lee explained: "On the mainland there are many housewives who hope to earn some income through working part-time. Since O'mall shop owners are not required to buy out any goods but only have to promote goods offered on the O'mall platform in their own social circles with O'mall paying them commission for each successful transaction, the O'mall mode is popular with many mainland women. At present, 98% of the shop owners are female.
"The government is devoting great efforts to 'formalising' cross-border e-commerce retail import and has thus exercised stricter control over 'purchasing agents' and 'parallel-goods dealers' engaged in parallel imports. As such, the O'mall mode has attracted some of these people to switch over to act as shop owners."
In January 2019, the E-Commerce Law of the People's Republic of China came into effect, stipulating that e-commerce operators, including those C2C cross-border e-commerce operators commonly known as daigou (or purchasing agents) are required to register as a market entity with tax-paying obligations. As a result, O'mall is well-positioned to attract even more "purchasing agents" to act as its shop owners.
Expanding Co-operation with SMEs
Looking to the future, O'mall is set to expand co-operation with small and medium-sized enterprises (SMEs) and continue to optimise the group's supply chain and profit model. Lee said: "O'mall can co-operate with SMEs by serving as the seller of their brands and by equity investment. O'mall reckons that the flexibility of co-operating with SMEs is greater than that with international brands, and through collaborating with these brands both parties can make greater gains. Therefore, co-operation with SMEs is O'mall's key strategy."
Lee also pointed out: "Today, the procedures of cross-border e-commerce retail import are simpler than before. Many foreign brands are now taking advantage of the facilitation granted to cross-border e-commerce retail import to test the degree of popularity of their products on the China market. If their products are well received in China, these foreign brands would import in the form of general trade to expand sales in the China market. Brand owners can also consider leveraging China's current cross-border e-commerce retail import policy as the first step in developing the China market."
At present, in addition to well sought-after products such as cosmetics and wellness items, O'mall also focuses on expanding co-operation with brands of so-called affordable luxury goods and liquor and beverages, in a bid to provide a broader range of goods to consumers.
Opportunities for Hong Kong Products
Lee believes that as many mainland consumers go for the "Hong Kong style", Hong Kong brands have an enormous market on the mainland. Lee said: "The design of Hong Kong products is excellent and can bring novel ideas to the mainland market. Hong Kong companies wishing to enter the mainland market must take note of two points. First, the design of products must be tailored to mainland consumer preferences while the company's values should not be compromised. Second, as mainland consumers generally consider price-performance ratio as very important, Hong Kong companies entering the mainland market should not adopt the 'high margin, low sales' model, but should instead pursue economies of scale by volume sales at slim profit. After their products have gained recognition, then there is room for brand upgrade."
Lastly, Lee said: "The growth potential of the Guangdong-Hong Kong-Macao Greater Bay Area is huge because in years to come, resource utilisation is set to become more flexible, information flow will be smoother, and connection with the global market easier. Cross-border e-commerce is a new product in the era of globalisation. If manufacturers and brand owners can adapt to the more personalised, custom-made and globalised business model of cross-border e-commerce retail, they are bound to find new opportunities in both the mainland and other markets."
---
[1] Under the "direct purchase import" mode, after a consumer places an order with a cross-border e-commerce platform linked online to customs for the purchase of foreign goods on the List of Cross-Border E-Commerce Retail Imports, the e-commerce platform would then forward the order content, payment information and logistics details to customs in real time. Meanwhile, the goods would be despatched from the offshore warehouse direct and sent to a customs-supervised cross-border e-commerce area, and would then be delivered to the consumer after completing customs clearance, inspection and quarantine formalities.
[2] Social retail refers to a sales format under which an individual uses his or her personal social circles to sell or promote the sale of goods and services.