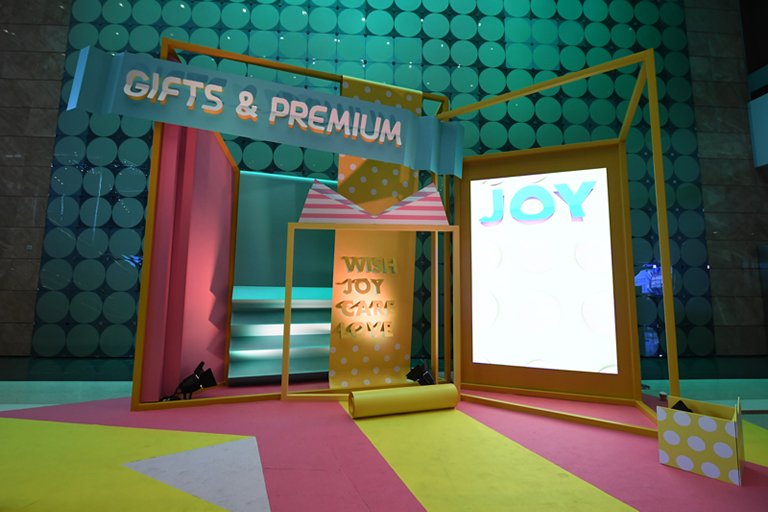 https://hkmb.hktdc.com/en/1X0AHQU0
Uncertainty Breeds Prudence: The 2019 Hong Kong Gifts and Premium Fair Survey
A poll of 928 buyers and exhibitors at this year's Hong Kong Gifts and Premium Fair suggests that traders are becoming more conservative in the face of uncertainty when looking at the market prospects for the year ahead.
While rising operating costs, a slowing global economy and fluctuating raw material prices have again been rated as the top challenges facing the industry, around two-fifths of traders are worried that the lingering Sino-US trade friction will dampen the industry's export performance over the next six months. This is a far greater number than both those expressing concern over Brexit in the current survey, and those that commented on the similar question last year.
In contrast to the optimism in most of the major markets, buyers are marginally less confident in the Japanese and North American markets.
In terms of market segments, traders continue to pick promotional gifts and premiums as the most promising items, followed by tech gifts and figurines and decorations, while toys & baby products are seen to have greater potential.
E-tailing, with its contribution to greater turnover, continues to gain popularity among gifts and premiums traders, who see figurines and decorations and promotional gifts and premiums as the most popular merchandise for online sales.
Hong Kong's gifts and premiums suppliers continue to be highly rated, especially with regards to their product quality, and their compliance with safety and environmental regulations/standards.
Playing Up Prudence
Amid greater trade uncertainty, buyers and exhibitors have both lowered their sales expectations in 2019. In this year's survey, the proportions of buyers and exhibitors anticipating overall sales in 2019 to either increase or stay the same were down three and five percentage points, respectively, to both 89%.
On the other hand, 7% of buyers and 11% of exhibitors expect sales to fall, compared with 7% of buyers and 2% of exhibitors who answered the same question in last year's survey.
Among those anticipating sales growth, the average rate of growth is expected to slow to 11%, compared to 13% in 2018, while the average decrease expected among those expecting sales to decline in the year ahead has edged up 2 percentage points to 12% this year.
Buyers are also becoming more conservative with regard to retail price growth. Only a net 32% (36% minus 4%) of buyers expect an increase in the unit retail price, down 13 percentage points from the previous year. Therefore, fewer buyers plan to increase their sourcing budget, with barely a net 41% (47% minus 6%) of buyers preparing a bigger budget, down sharply from 57% in last year's survey.
The upward pressure on exhibitors' production and sourcing costs is however seen as likely to continue, as the proportion of respondents expecting an increase remains high at a net 53% (56% minus 3%) this year, the same as in 2018 but higher than that in 2017 and 2016. As a result, exhibitors plan to increase their free on board (FOB) prices, with a net 34% (37% minus 3%) of exhibitors expecting this to happen in 2019, up from 26% last year.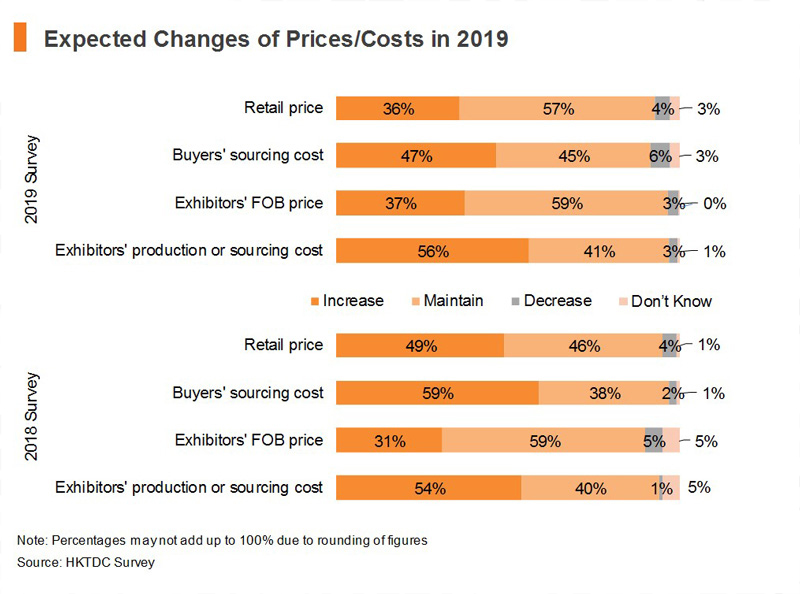 Preparing for More Challenges Ahead
Increasing operating costs, a slowing global economy and fluctuating raw material prices remain the biggest headaches for the trade. Traders are also increasingly wary of the global economic fluctuations (a four-percentage-point increase in 2019) and the ever-rising consumer expectations on product design and creativity (a five-percentage-point gain in 2019).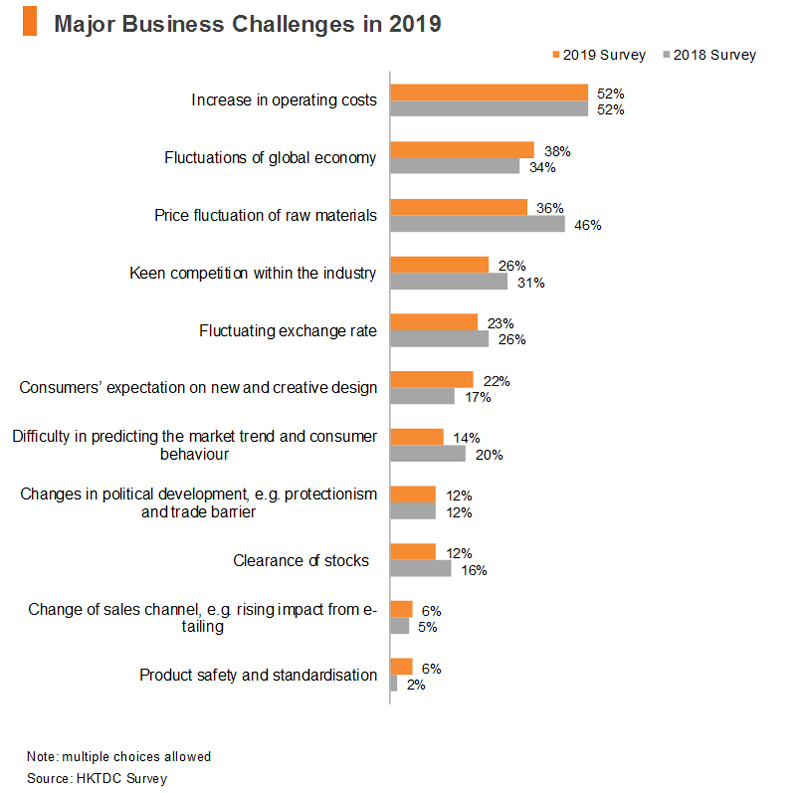 Seeing Bigger Trade War Spillover
When asked about the impacts of two major global trade issues, respondents were clearly far more pessimistic over Sino-US trade friction than over Brexit. A net 37% (42% minus 5%) of traders expect that the trade conflicts between China and the US will hinder their export performance over the next 6 months, far higher than the net 19% (23% minus 4%) of traders making the same comment on Brexit.
Compared with a year ago, more traders have revised downward their expectations on the effect of the Sino-US trade spat. The proportion of respondents projecting a negative impact jumped 17 percentage points to a net 37% (42% minus 5%) this year, compared to a net 20% (32% minus 12%) in the survey done in April 2018, when the US's Section 301 tariffs on Chinese imports were yet to become a reality.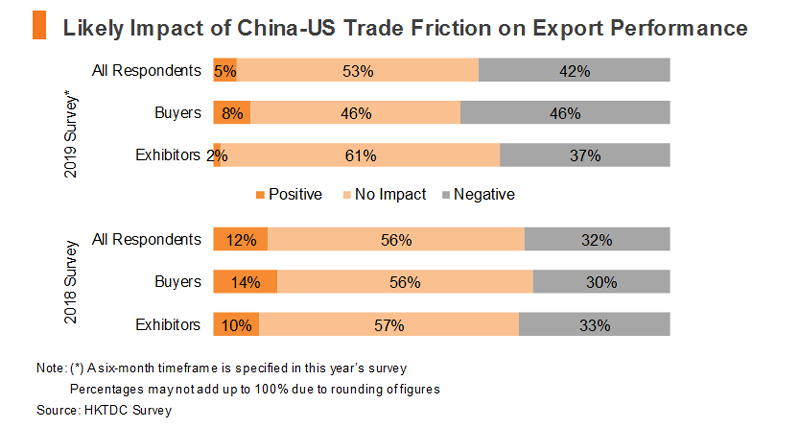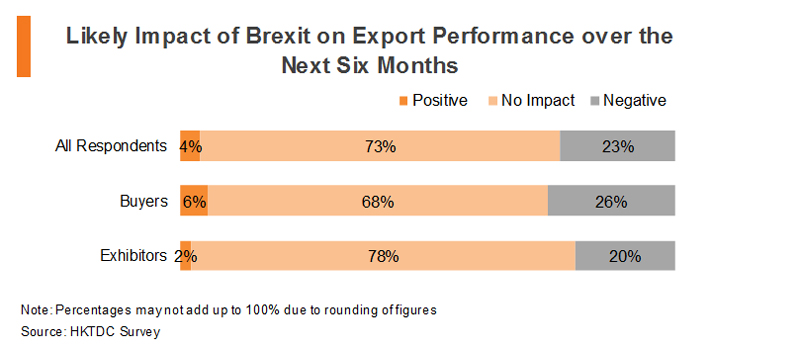 Market Prospects
During the course of the survey, buyers were asked to rate the prospects of a number of different global markets on a scale of 1 to 5, with a "1" indicating that the market would be "very unpromising" for the next two years and a "5" indicating "very promising".
The outlook for most of the major markets shows signs of improvement, except for Japan and North America, where buyers are marginally less confident. In particular, South Africa, with ratings rising by 1.10 points from 2016 to 4.00 in 2019, emerges as the buyers' favourite market this year, followed by Mainland China (3.97) and Western Europe (3.89).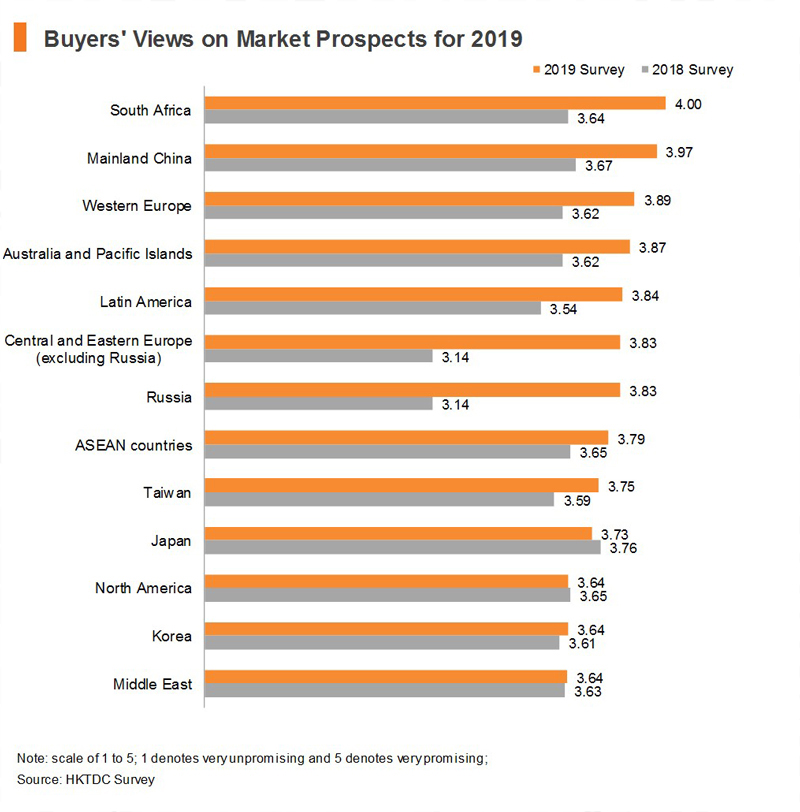 Promotional Gifts Continue to Lead
Traders continue to back promotional gifts and premiums, with one-fifth of traders (up remarkably from 13% last year) seeing it as the most promising category, followed by tech gifts, and figurines and decorations, which post gains of four percentage points and one percentage point, respectively, in this year's survey. Meanwhile, toys and baby products are showing greater potential, gaining increasing confidence from the trade.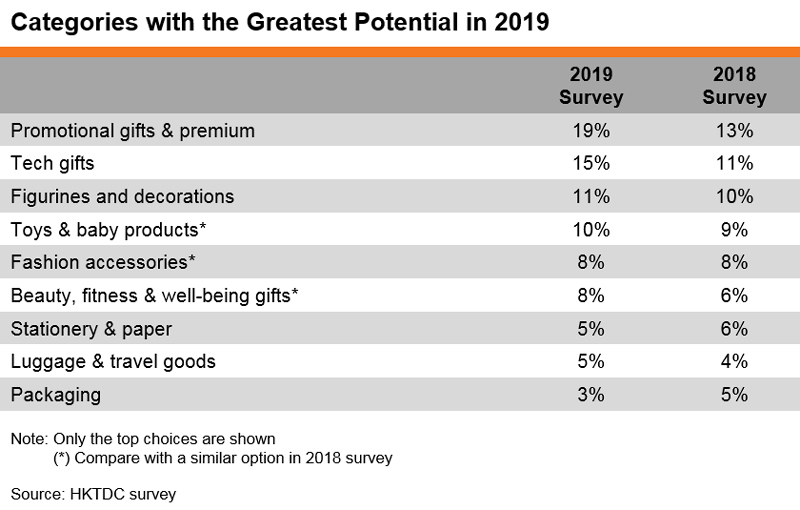 Figurines and Promotional Gifts are Stars of E-Commerce
Going online continues to be a trend for the gifts and premiums industry. In this year's survey, 60% of the respondents are reported to have engaged in e-tailing business, up 6 percentage points from the previous year, while more than half of them have seen e-tailing contribute more than 20% of total sales turnover, up 20 percentage points from 2018. For those who have not yet begun selling online, 21% indicate that they have plans to do so over the next two years.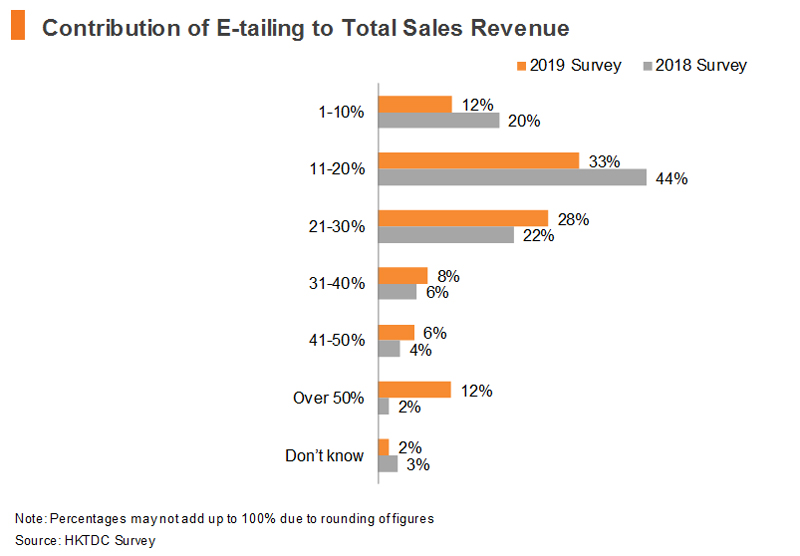 Among those who engage in, or who are going to engage in e-tailing, figurines and decorations (27%) and promotional gifts & premium (26%) are believed to be the most marketable merchandise online. Packaging and party and festive items also have a notable increase in popularity, in contrast to a decline in fashion accessories, and toys & baby products.
Hong Kong Suppliers Commended
Buyers are generally satisfied with Hong Kong gifts and premiums suppliers, although the ratings are lower for services, product durability and price. On a scale of 1 to 5, buyers give ratings of 3.69 to 4.09 across a range of performance indicators in the 2019 survey, as compared to the range of 3.88 to 4.08 in the 2018 survey. They are most satisfied with Hong Kong suppliers' product quality (4.09) and compliance with safety regulations/standards (4.08).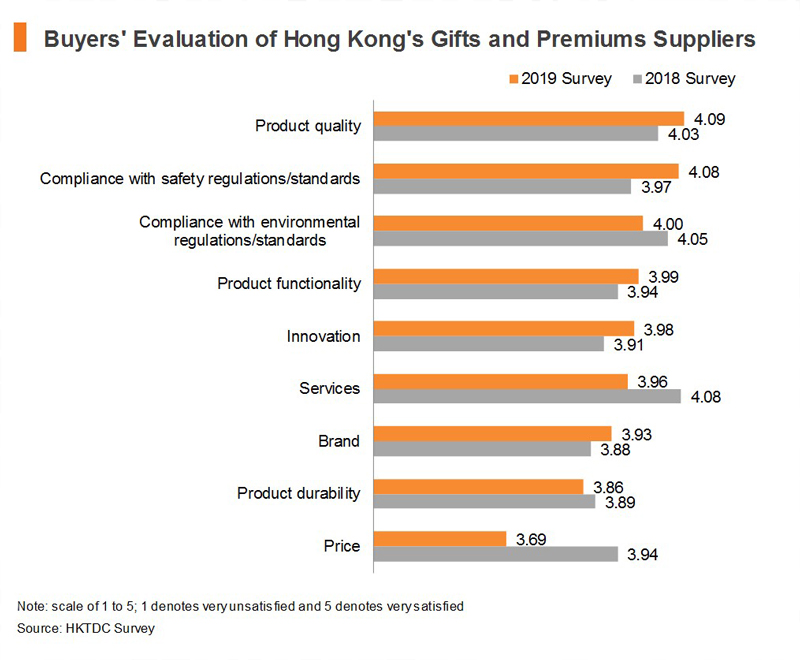 Profile of Respondents
436 exhibitors – 30% from Hong Kong, 51% from mainland China, 17% from other Asian countries, 4% from the rest of the world.
492 buyers – major markets in mainland China (31%), Asia outside of mainland China and Hong Kong (36%), North America (28%) and Western Europe (27%).
The HKTDC Hong Kong Gifts & Premium Fair took place from 27-30 April 2019 at the Hong Kong Convention and Exhibition Centre.