https://hkmb.hktdc.com/en/1X0AHQ3R
Hong Kong Companies in the GBA (6): Self-storage a Blue Ocean Market
Interview with Felix Wong, Co-Founder of Kingkong Mini Storage
Hong Kong with its booming economy, dense population and high property prices, is one of the first cities to embrace the mini storage concept. Hong Kong entrepreneur Felix Wong and his partners introduced this concept to the mainland market. Their mini storage chain now has seven outlets in Guangzhou and their Kingkong brand has gradually built up its name in the market. They now plan to branch out to more cities. Kingkong Mini Storage co-founder Felix Wong spoke to HKTDC Research about his experience in promoting and operating the self-service storage business in the Guangdong-Hong Kong-Macao Greater Bay Area (GBA) as well as the development trend of this business on the mainland, providing a valuable reference for other industry players.
From Salaried Worker to Entrepreneur
Wong graduated from the Chinese University of Hong Kong in 2010 and was quickly hired by a leading Fortune Global 500 company in on-campus recruiting. "I was given two options at that time. Either work in its Hong Kong office or work in Guangzhou. I chose Guangzhou. I just thought at that time that I would find greater prospects on the mainland. I wanted to see things for myself and have a go."
Wong stayed in Guangzhou for nine years, a period when the mainland market was growing at high speed. He recalled: "When I first went to Guangzhou, the Zhujiang New Town, which is now the central business district (CBD) of Tianhe district, was basically just a construction site. Many facilities had yet to be developed and mobile payment did not exist. Today, China leads the world in mobile internet development and application. Online shopping, shared bicycles and mobile payment have become part of everyday life."
Wong first thought about starting his own business and introducing Hong Kong's mini storage concept to the mainland after working for more than six years. He said: "I was trying to introduce to the market something that has proven to work in Hong Kong but is not yet available on the mainland. Property prices and rents went up sharply in Guangzhou in 2015. Me and my buddies from university reckoned that rental cost looked set to soar in the city, particularly in core business areas such as Zhujiang New Town, Taojin, Haizhu and Binjiang. Companies there were beginning to have a headache from thinking how they could store rarely-used documents somewhere else to save part of the high office rentals. We believed that mini storage should have a market in Guangzhou."
Wong and his friends started a mini storage company called Chengming in Guangzhou in 2017 using the Kingkong Mini Storage brand. "The mini storage market is quite well-developed in Hong Kong, but is a burgeoning business in Guangzhou where land cost has increased rapidly in recent years. Guangzhou property prices and rents have more than doubled in the past three years, pushing up rental cost and forcing people to look for better solutions and a way out. Mini storage came as a timely solution to meet market demand."
Smart Transformation of Hong Kong's Mini Storage Model
What Wong had in mind was to combine Hong Kong's mini storage model with the mobile internet model of the mainland when he first started his business. "People on the mainland are getting used to a mobile-first lifestyle. They are interested in 'internet+' and are willing to accept new things related to the mobile web. Mini storage is a new thing. It further attracts consumers when combined with mobile payment and internet-of-things that they use all the time."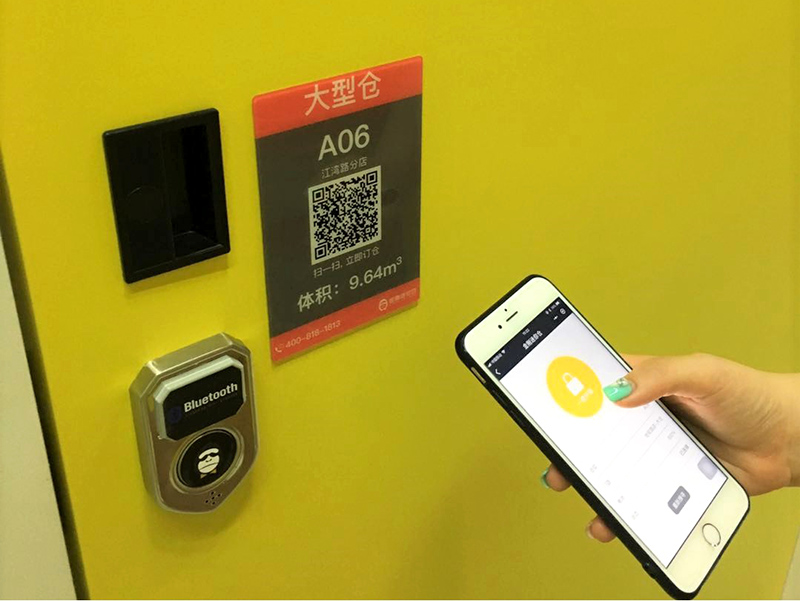 Most mini storage facilities in Hong Kong still use conventional locks. In Wong's opinion, mini storage is a low usage frequency service and users are prone to losing the door keys or access cards issued to them. Kingkong adopted the practice of using the phone to read the QR code for unlocking right from the start. "We used combination lock in our first branch and phones were used to get the password. We switched to the use of new smart locks when we later opened new branches. Customers could reserve storage space by phone and scan the QR code by phone to unlock. Booking and opening doors can be done on WeChat Public Account or Mini Program platforms. The door locks automatically when the user walks out and closes the door.
Large Untapped Market
With seven branches in Guangzhou, Kingkong is considered a big operation in this business. Wong said mini storage is still a blue ocean business on the mainland. Companies still need to spend a lot of time and energy because market education is still required. In particular, huge investment is still needed to accurately educate target customers. "There are not that many mini storage facilities in Guangzhou and big brands are few and far between. Some property owners have attempted to go into this business by converting properties that are difficult to rent out or ask for good rentals. However, it remains a fact in this business that those that do well and on a larger scale are companies that are committed to building up their mini storage brand," said Wong, adding that "market demand for mini storage can be built up collectively by enterprises. As long as a brand can maintain its targeted market share, its turnover is set to grow as the market expands."
Kingkong adopts the asset-light business model by trying to identify and seek suitable venues, signing long leases with the landlords and converting these venues into storage facilities. "We need to assess the overall operating cost of every venue, not just the rental cost but also check whether the fire safety equipment is in good order and whether additional investment is needed in this connection. In our current expansion strategy, we try to set up branches in every district in Guangzhou, not necessarily in the busiest locations. We give first consideration to idle space." Wong added that Kingkong is still looking for suitable new venues. "Our aim is that when people in every business district of Guangzhou make a net search for mini storage, they can conveniently find one within a 2-km radius," he said.
Other than Guangzhou, Kingkong is planning to venture into Shenzhen. Wong said he is optimistic about the Shenzhen market within the GBA. He said: "Shenzhen used to be an industrial city and started off as a light industry and manufacturing base. For this reason, there are still many industrial buildings and warehouses in the city, far more than in Guangzhou. Many of these old factories and warehouses have been converted into co-working space. We can take this opportunity to bring in the mini storage concept by converting into mini storage those places that are not suitable to be used as offices. While being able to sign leases for these places at a relatively low price, we can also add value to the landlord's property as we can offer storage facilities to other tenants as a value-added service and give the property better supporting facilities."
Wong said Kingkong has mapped out its development plan from day one, with Guangzhou being the first stop and experimental base to explore ways to expand the mini storage business on the mainland. "Many industry players in Beijing and Shenzhen think Guangzhou is a difficult market to develop because half of the local population of 15 million are indigenous inhabitants (having lived in the city for generations) and care a lot about price-performance ratio. Our storage facilities now have an overall occupancy rate of over 70%, reaching over 80% at the Foao Square branch, which is not a bad figure for the mini storage business on the mainland." He added: "Our experience in Guangzhou proves the feasibility of the mini storage concept. There shouldn't be any big problem for us to extend this concept to other markets. In future, we will mainly expand our market in first-tier cities, such as Shenzhen, Shanghai and Beijing, where rental cost is high."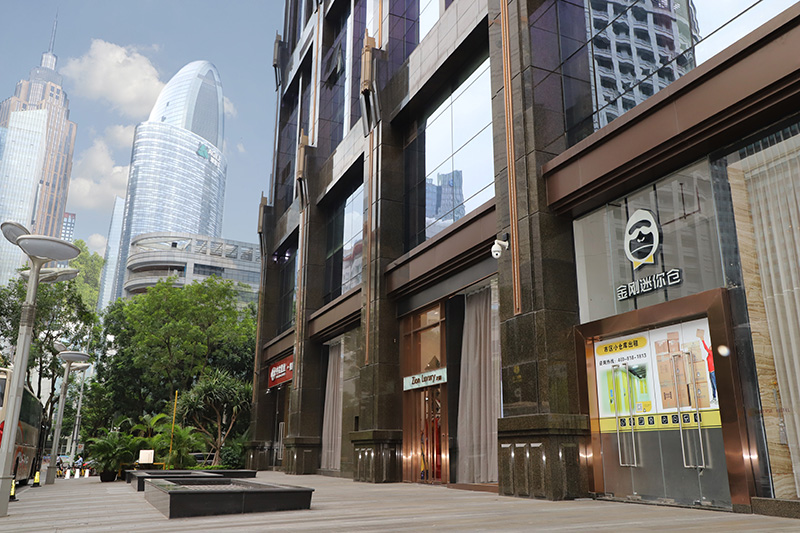 Promotion Strategy for "Small Warehouse"
Wong said that business was bleak in the first two months of the opening of Kingkong Mini Storage mainly because they didn't know how to publicise and promote their business. "We used the wrong approach at the beginning. We used 'mini storage' as our keyword in publicity, but at that time no one in Guangzhou knew what this was all about and no one would search the web by entering 'mi li cang' ('mini storage') as a keyword. After realising this, we changed our keyword to 'xiao cang ku' ('small warehouse'), which is more intuitive and generic and readily understood. It suddenly dawned on them that this is about shared storage space."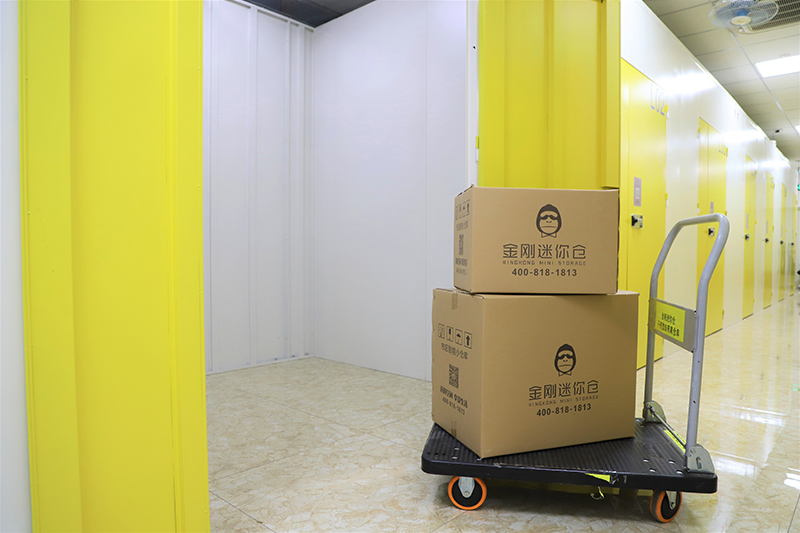 Mini storage is about shared storage space, but it is not quite the same as shared bicycles. It may not work to mechanically copy the publicity approach of shared bicycles to use free trials to attract new users. Wong said: "Demand for storage is inelastic in nature, unlike the use of shared bicycles which is optional. If clients have no need for storage, they would not place order even if it is free. Thus, we focus on reaching the target customers and explaining to them how mini storage can help them save money."
Wong said the majority of mini storage users have specific requirements for the storage environment. Compared with ordinary storage, mini storage has smart management and constant temperature and humidity and is in a position to prevent situations such as flooding, mouldiness and theft. "Putting things in a mini storage unit costs less than renting office or residential space of the same size. Some users put their collectibles, such as tea leaves, aged tangerine peel, limited-edition sneakers, valuable paintings and calligraphy, in mini storage with constant temperature and humidity to prevent these from going mouldy and hence depreciating in value."
"As Kingkong opens more branches and grow in size, we no longer need to be too cautious in our advertising and can have a freer hand because people in any district will be able to find a branch nearby after seeing our advertisement. Our resources will not go wasted. This way, economy of scale is achieved."
Kingkong mainly offers lease deals to keep customers. The longer the lease, the bigger the rental discount. For example, users are offered a 10% discount for a three-month lease, 20% for six months, 30% for one year, and 40% for two years. Wong said: "Corporate tenants go for longer leases and bigger units. Individual tenants started off by renting a small unit with the mentality of giving it a try. When they got used to it, they are likely to extend their lease. Our business figures last year show that over 50% of our individual tenants have extended their lease."
Growing with GBA
Wong sees the GBA development plan as favourable to Hong Kong and Macao young people wishing to start their business on the mainland, saying: "After the promulgation of the Outline Development Plan for the GBA, the market has a clearer notion of the GBA and businesses find it more convenient and easier to raise funds. For investors, future market potential and profit margins are not concepts confined to one city but apply to the GBA as a whole. Kingkong has secured two business loans despite its short history. Media attention and coverage have also increased. Different media would come for interview when a Hong Kong business moves into the GBA, increasing its brand awareness."
On Hong Kong's role in the GBA, Wong believes that Hong Kong's position as the world's freest economy for 25 years is irreplaceable by any other cities in the region. Wong said: "Financing is relatively easy in Hong Kong and most venture capitals and real estate investment trusts (REITs) can find investors in no time. Hong Kong companies can find matches and funding more smoothly and easily. We are more concerned about the inward remittance process of Hong Kong investment funds. Based on mainland foreign exchange control regulations, inward remittance of Hong Kong investment funds is done through capital accounts opened in mainland banks. The remittance process is quite complicated at present. Every time funds are needed, a company needs to go to the bank and speak to special officers in charge. The bank will verify the authenticity of the documents submitted, check whether the funds in the capital account are used within the approved business scope, whether the amount of settlement/payment corresponds to the scale of operation, and whether the business contracts submitted are in line with relevant laws and regulations and common business practice. It also has to provide evidence of expenditure, including contracts and invoices to verify that the amounts, payment deadline and transaction parties stated in the commercial contracts and invoices are consistent with the actual payment being made."
Since the process is very complicated, remittance may be further delayed when new regulations are announced by the State Administration of Foreign Exchange and additional proofs need to be submitted. Wong said: "For startups, investment fund is life-saving money. It is nerve-wrecking to go through tedious procedures when money is badly needed. I have exchanged views with people in mainland financial circles after the implementation of specific policies for the GBA and we are all convinced that the frustrating foreign exchange control regime will gradually ease in the days to come. The flow of money will become smoother. More Hong Kong and Macao young people will be attracted to start their business on the mainland, thus promoting the further development of the GBA."
Wong sees a rosy picture of the mainland business environment, saying: "The Chinese government has made bigger efforts to lessen the tax burden of enterprises by clarifying the supporting measures for value-added tax cuts in recent years. Small and low-profit enterprises are given income tax concessions and medium-sized, small and low-profit enterprises are given subsidies for employing fresh graduates of universities and colleges."
Information Access and Funding Support are Biggest Boosters
For Hong Kong and Macao young people going to the mainland to start their business, data sorting and funding support are most important. Wong said: "If there are government or non-government organisations that can help sort out and classify the relevant government policies of Hong Kong and the mainland, it would be much easier for us to grasp and understand the relevant rules and regulations. We can then focus our energy on business operation and development. On the other hand, we also hope the government would offer funding support to innovative products or services. After all, not every startup can get help from angel fund or venture capital in the initial stage."
Wong said he had not heard about the Tianhe Hong Kong & Macau Youth Association until recently. He said: "If I knew such an organisation existed when I first started my business, it would have been very helpful in solving many of the non-core business issues, such as how to find a suitable office, how to register my business and how to open a capital account, saving me a lot of time and energy trying to solve these problems myself. It is not too late though. We have taken part in some of the entrepreneurship competitions organised by this organisation and won some cash awards. Similar organisations can be a big help to young people going to the mainland to start their business."
Macau
Hong Kong
Hong Kong
Mainland China