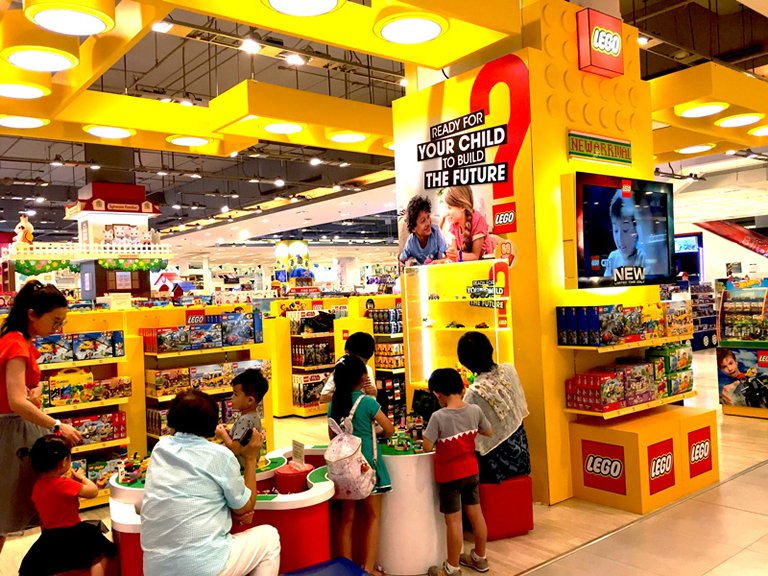 https://hkmb.hktdc.com/en/1X0AHOW4
Accessing the ASEAN Consumer Market: Toys and Games (Market Entry Strategies)
Market to Retailers
For Hong Kong toys and game exporters, selecting the right distribution channels is important in building a competitive advantage in ASEAN. In choosing the right distributor or retailer, suppliers need to consider many factors, including the company's locations, store networks, resources, management costs and degree of control.
Choosing the right retail channel can help suppliers expand their geographical operations quickly, reducing their own stock-holding and distribution costs. If suppliers can build a good relationship with key retailers, they may benefit when those companies expand their networks across the ASEAN region. In the ASEAN toys and games market, notable retailers with good regional exposure include Parkson Department Store, Central Department Store, Tesco, Giant, and specialist chains like Early Learning Centre.
One major shortcoming of selling directly to retailers is that nowadays most retailers request a consignment agreement. Under such an agreement, the consignee does not have the same pressure to sell the merchandise as it would if it owned the product. Whatever remains unsold can be returned to the consignor, usually at the consignor's expense.
There are a few other considerations that an overseas supplier or brand should bear in mind when selling directly to retailers in ASEAN:
1) Logistics – Retailers expect suppliers to ship the right number of items, as requested, and on time. Some department stores have their distribution centres (DCs), and overseas suppliers are required to warehouse a minimum amount for each stock keeping unit (SKU) in the designated DC. Some department stores do not have a centralised DC and require suppliers to deliver their goods directly to individual department stores. However, omnichannel fulfilment strategies, such as buy online/pickup in-store or order online/deliver to home, require multi-logistics formats and real-time inventory visibility. Overseas suppliers need to consider a multitude of factors, including the availability of the product, delivery times, freight costs, margins and the price point of the product, when working out the best way to deliver products to retail customers.
2) Merchandising – Suppliers should pay attention to the retail merchandising of their products, especially regarding stocking and product display. Ideally suppliers should monitor store-level demand in real time to ensure the top-selling items remain in stock. Within the store, suppliers need to be sure that their products are right in the line of customer traffic. Products stand less of a chance of being bought if they are tucked away in the furthermost corner of the store where customers hardly ever go. Suppliers cannot rely on the retailers, especially if they are big chains, to do merchandising for them. For video games and more sophisticated toys, demonstration videos are ideal promotion tools.
3) Marketing – Most retailers require the brand or supplier to provide a comprehensive marketing plan. This means the brand or supplier must understand the local market, consumer behaviours, and marketing and promotional channels.
4) Manpower – To encourage retailers to sell their product, toymakers and suppliers must provide product training and sales incentives for the sales team. Department stores usually give suppliers an option to place sales personnel in the store to answer customer inquiries.
5) Minimum Orders – In general, it is difficult to negotiate with large-scale retailers in ASEAN when it comes to minimum orders. Suppliers might have to consider allowing "no minimum order" on the first deal as an incentive to retailers.
Through Local Agents/Distributors
Suppliers wanting to minimise their initial investment may prefer to sell through a local agent or distributor. Hong Kong suppliers looking to start exporting to a new market often form partnerships with overseas distributors.
Pros and Cons of Using a Distributor
The process of finding and selling to retailers in an unfamiliar ASEAN market can be very expensive. Many exporters would rather deal with a regional distributor or a local distributor in each country than a retailer as each order creates a lot of work and hassle. Hong Kong toymakers and suppliers looking to enter an ASEAN market can start to achieve sales quickly through the distributor's network without having to make a heavy investment in building retail channels.
An experienced local distributor in ASEAN can be very valuable as each ASEAN country has its unique mix of ethnicity, language and religion. Distributors can help facilitate transportation and handle customs clearance. They also understand the cultures, consumer taste, and shopping behaviours of the local market.
Hong Kong toymakers and suppliers can also turn over the responsibility of administering customer services to their local distributor and eliminate the need to invest in a customer services department. Under a distribution agreement like this, suppliers deal only with the distributor, while the distributor deals directly with local retailers and consumers.
Despite the numerous advantages of working with a local distributor, the practice also has its downsides. Firstly, in return for taking on the supplier's trade-related risks and burdens, distributors will expect heavy discounts and generous credit terms (up to 60 days). Secondly, suppliers may lose some control of the marketing and pricing. Thirdly, distributors often demand a long period of exclusivity, so Hong Kong suppliers need to be sure that the distributor they choose has experience of selling their type of products and has an existing retail network on hand.
Local retailers may find it convenient to work with distributors, as it is important to keep their shelves stocked with products that sell quickly. If they try to deal directly with overseas manufacturers, they may have to visit the factory, review the product catalogue, set up ordering and accounting systems, and so on. Distributors make things easier for retailers, and most can also purchase products in bulk in a way that some retailers are not able to do. Some distributors act as aggregators by selling many different brands, offering bulk discounts for retailers that buy multiple brands and ensuring consistent delivery times.
Hong Kong manufacturers and suppliers should provide promotional and sales materials to support distributors' sales efforts. Distributors need sufficient training and communication to help manufacturers and suppliers grow their business.
How to Find an Overseas Distributor
One of the best places to connect with potential partners is at a trade show, either in Hong Kong, or in the local market exporters are targeting. Attending international trade shows is often a good place for relatively new exporters to start. At the same time, they can get a snapshot of what the market and the competition looks like. Using B2B online marketplaces, such as Amazon Business and Alibaba, is another good way to connect with potential overseas partners, buyers, manufacturers and sellers.
That said, the best way to find good partners is always word-of-mouth. Suppliers who know the right person in the local market can steer others to the right place faster. Trade associations are usually the starting point to get to know the main industry players.
Selling Direct to Consumers
Businesses looking to enter the ASEAN market should always consider selling directly to consumers. With the advent of e-commerce, brands no longer need to rely solely on their distributors or retailers. Today, many online platforms like Lazada, Shopee, Kiedler, Toys1.com, and MyToyShop offer toymakers and suppliers an opportunity to expand overseas by selling directly to consumers.
Most bricks-and-mortar toys and games retailers also sell their products through their own websites. Toys"R"Us, Early Learning Centre (ELC), Beedoo and Applecrumby & Fish are just a few examples. Established conglomerates like Central Group in Thailand and Mitra Adiperkasa (MAP) in Indonesia are also embracing e-tailing as a way of serving their customers better and reaching out to a wider audience.
Online Direct Sales to Consumers
There are many benefits of selling directly to consumers. For a start, the time to market is significantly decreased. In a market in which product cycles are becoming significantly shorter, being able to launch the newest products to the market quickly provides a definite competitive advantage.
Secondly, brands can retain complete control of their brand image without it being distorted or diluted by third parties. Consumers like to interact directly with a brand as they can get information about a product promptly.
Thirdly, in a direct to consumer model, manufacturers and brands can control price which allows them to reinforce the manufacturer's suggested retail price. They can also communicate directly with consumers about price points.
Most importantly, selling directly allows brands to gain access to consumer data. Making use of customer data effectively can result in better products, better customer relationships and higher sales.
Risks and Mitigations
Hong Kong brands and suppliers may see the rise of e-commerce as a catalyst for selling directly to customers. However, they should carefully consider the risks associated with selling direct and draw up strategies for mitigating those risks.
Disrupt Existing Channel Relationship
The first risk of selling directly is the damage it may do to existing relationships. Distributors and retailers may react negatively to brands selling directly to consumers. When a brand is currently selling through distributors and a network of retailers, starting to sell directly to consumers may be perceived as a declaration of war on its existing distribution channels. In such circumstance, the brand should remind its business partners that many consumers will continue to demand access to multiple brands, something that one brand cannot provide. The brand can offer exclusive products to its distributor or retail channels. These can be exclusive designs, packaging or bundling offers that are not available via direct-to-consumer channels.
Underinvest in Infrastructure and Manpower
Brands that leap into the direct selling market without the necessary infrastructure and manpower will only damage their brand. Firstly, they need to have a deep understanding of local customer expectations and behaviour. Secondly, they need to have the shipping and customer service infrastructure in place to support direct sales. Thirdly, they should incorporate features such as chat and click to dial in their website design to make it easy for customers who want to contact their customer service. Most importantly, they need to have a comprehensive digital marketing and social media strategy that allows interaction and engagement with their potential customers and diverts traffic to their websites. They also have to be prepared to ship quickly and handle returns flawlessly.
Picking the Right Platform
One of the most important decisions facing suppliers who want to migrate to selling directly is the selection of the right platform. They need to choose one that is efficient and flexible enough to deal with sophisticated customisation demands from consumers.
Own Websites
If suppliers decide to use their own websites as the online representation of the brand, consumers will interact with the brand directly. Sales are made directly on the site. On the plus side, the brand keeps all the revenue and all the customer data collected with each visit to the website and each transaction. On the negative side, the brand should localise its websites, assume all risk for credit card fraud, and must achieve high rankings on search engine results to maintain website visibility.
Third-party Marketplaces
Not all companies have the digital expertise to create and manage an online platform effectively. By listing on key regional players like Lazada, Shopee, or other marketplaces, brand owners can build a better brand presence in ASEAN and boost their search engine results overall. Multi-brand marketplaces provide good back-end support and cross-border logistic programmes for their sellers (such as Lazada and Shopee's logistic programmes). However, foreign sellers remain responsible for ensuring that localised product information is uploaded to the marketplaces.
On the downside, marketplaces charge a commission on sale (although Shopee does not charge a commission at present), brands have to compete with many other online merchants on the same platform, and they cannot capture customers' data that could open up future direct marketing opportunities.
Multichannel Model
Many brands use third-party marketplaces in ASEAN even when they have their own localised websites. This is because the marketplaces bring the brand and its products to the attention of consumers who are ready to buy. If a brand's products are not showing up in places where the customer is choosing to search for them, the brand is not in a position to achieve sales. Today's e-commerce industry is multichannel. If a brand is planning to join the legions selling directly to consumers via online channels, building its own websites and listing on online marketplaces are both equally important.
Omnichannel Redefines the Retail Experience
These days, successful enterprises in ASEAN tend to adopt an omnichannel business model that uses both offline and online channels to connect with customers. Consumers' online experiences can encourage them to visit a company's bricks-and-mortar store, while in turn, the in-store experience can also be extended to web and mobile sites. Online and offline integration is a must to ensure customer satisfaction. Bricks-and-mortar stores sometimes give retailers a competitive edge. They add value through product display, staff recommendations and customer services.
This is why Lazada is bringing its popular online shopping experience to the mall, offering shoppers flash deals and giveaways. In its first online-to-offline (O2O) event held in Singapore in April 2018, the marketplace partnered with 20 global brands and local sellers to broaden its engagement with local shoppers.[1] Lazada has also introduced several physical pop-up stores around Klang Valley in Malaysia, which allow customers to interact with the products before they buy them via the Lazada mobile app. At the moment, these pop-up stores focus mainly on fashion and lifestyle items.
While online pure-play e-commerce is making moves offline, bricks-and mortar retailers like Toys"R"Us and Early Learning Centre are focusing on an omnichannel approach. Kanmo Group, an Indonesian retail distribution company that handles over 70 brands, including Mothercare and Early Learning Centre, has recently rolled out an omnichannel strategy with a retail management software solution designed to allow customers to move seamlessly between online and offline channels.[2]
Traditional retailers like Central Group, meanwhile, are scrambling to move business online and integrate e-commerce to stay competitive. Central Department Stores has introduced an Instant Messaging Shopping Service with personalised assistance aimed at making shopping easier. Customers can connect with Central Department Stores via WhatsApp in Indonesia and LINE in Thailand and get help from a digital personal assistant to find the products they want. If the item is available, the customer can choose to have it delivered to their doorstep or pick it up at the "Click & Collect" service counter.
---
[1] Markets Insider. "Lazada Goes to the Mall with a Pop-Up Celebration at Plaza Singapura", 13 April 2018
[2] Globalnewswire. "Kanmo Group Rolls Out Omnichannel Strategy with Retail Pro Prism", 30 May 2018
Please click here to purchase the full research report.
Malaysia
Thailand
Indonesia
Southeast Asia
ASEAN