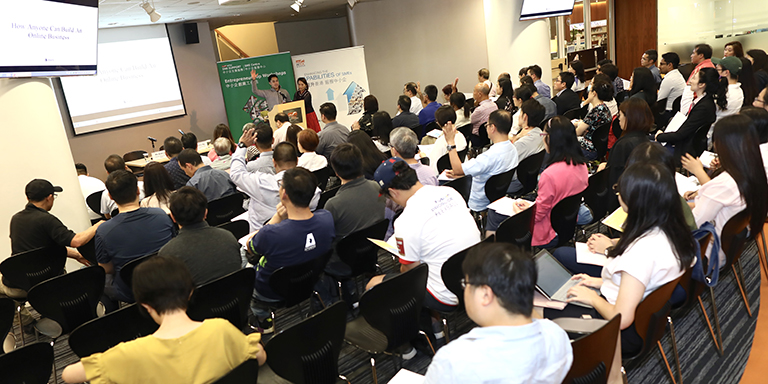 https://hkmb.hktdc.com/en/1X0AHMLL
Staking a digital marketplace claim
Setting up an online shop is no easy task; start small and with a plan were two of the key takeaways from an HKTDC seminar advising SMEs on how to launch their own digital stalls.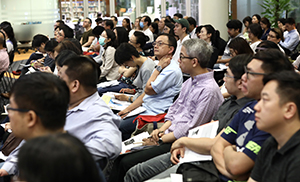 Whether they want to change the world, rake in millions or simply be their own boss, many budding entrepreneurs would like to set up an e-commerce website – and immediately face the question of how to go about it.

Frankie Ng, International Growth Manager at Shopify, recently led a seminar at the Hong Kong Trade Development Council's SME Centre to show would-be online shop owners just how to do that.

"You need to start with 'Why?'," Mr Ng said. "You have to have a clear reason for starting a business, and that is the basis of your plan."

As soon as an entrepreneur has the "why" straight, the next step is a comprehensive business plan. A template plan includes an executive summary, company overview, market analysis, products and services offered, a marketing plan, logistics and operations plan and a financial plan.

"You should use all the resources you have available for help," Mr Ng said, pointing out entrepreneurs could not go it alone. Potential helpers range from family and friends to 24x7 online support services. He pointed out there never is a perfect time to start a business.

"Start before you are ready," Mr Ng said. "If you wait until you are 100% ready, then it is already too late."
He recommended starting off simply, pointing out that one firm began by offering just one product – a sustainably produced white cotton T-shirt.

"Begin with the minimum viable product (MVP)," he said. The MVP has just enough features for customers to want to buy.
Producing the goods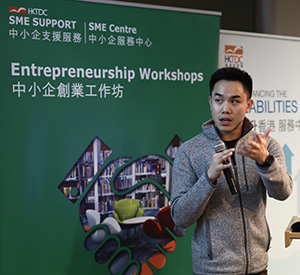 There are several ways to make a product – the simplest being "drop-shipping", where the entrepreneur sells the product before going to producers to purchase, pack and deliver. The next, more sophisticated level is white-label goods where the merchant buys plain items without brand or label and applies brand features to the products, such as printing on white tee-shirts. The final option is design and manufacture, where the producer contracts production from scratch. This can be very expensive and time-consuming, Mr Ng pointed out, since it involves design, prototyping, creating blue prints and a production run. Manufacturers generally want very large orders before undertaking a commission. The final option is to be a curator – take a range of existing products and package them into an integrated collection to be sold as a unit.

Defining the buyer is a critical part of the process, Mr Ng said. An owner has to define who will be buying, Mr Ng said. Sportswear is a crowded field, he pointed out, but Gymshark aimed for customers who are obsessive about training – they go to the gym every day – and made its mark with that buyer segment.

Entrepreneurs also need to validate their products, to ensure there is a market – and validating means making a sale. The first sale could be to an acquaintance, or through a craft market. Mr Ng recommends researching the market thoroughly, including competitors, by searching social-media hashtags and web articles. Two Google tools – Keyword Planner and Google Trends – are useful in assessing the size of the potential market. Entrepreneurs may also consider running surveys to gauge the market size. Crowdfunding through such sites as Indiegogo and Kickstarter is a useful way of gauging the market and raising finance.
Hands-on or outsource
When considering whether to make a product themselves Mr Ng said and entrepreneurs had to balance the advantage of doing their own manufacturing – full control, agility and low initial costs – against the problems – making their own is time-consuming and requires expertise. The advantages of outsourcing to a manufacturer are that it frees up time for other tasks, and unit costs can be lower. Problems include loss of control over production, and the need for a large production run.
First impressions
Online retailers have no physical stores where buyers can hold and view products, a factor which e-commerce firms often overlook, he said. Product photography is vital – pictures need to show products from a range of angles since buyers have no other way of viewing items. Similarly, the first impression a buyer has of the physical product is not holding it in a shop, but receiving the delivered package. Packaging needs to carry all the information the buyer will need, and the shape, design and appearance of the package should match the supplier's branding.
Unique proposition
When establishing a brand, suppliers need to consider what sets their product apart from their competitors' – what is the unique selling proposition (USP), the specific benefit that sets this product apart from the others.

Pricing is another complex issue – sellers need to consider what their competitors are charging, the value offered (is it a low-cost or premium product?) and how much was spent to create the product. Sellers who decide to opt for a thin margin and charge low prices need to consider what would happen if the business grew and they received wholesale orders. They would not be able to offer much of a discount to a buyer who opted to buy hundreds of units, despite the attractiveness of the order.
Setting up shop
Mr Ng said creating the online store was straightforward with Shopify; sellers need to consider supplying enough information but keeping the site easy to use. Shoppers are quickly put off by a site that is slow and demands a great deal of input. A good user experience varies between places and cultures, Mr Ng pointed out. The Japanese user experience (UX) requirements, for example, are very specific and those wishing to sell in Japan should hire local staff to set up and run their sites.

The payment interface needs to be easy, simple and secure, he said. The easiest part of the whole process should be making a purchase. Sellers should also be aware that bringing the prospective purchaser on to the site is expensive, so they should not ignore the possibility of upselling – offering extra items or more expensive versions – or cross-selling. Entrepreneurs need to shop around among payment gateways such as Shopify and Stripe, as well as consider accelerated payments through PayPal as well as digital wallets such as Apple Pay and Alipay.
Up to the door
Entrepreneurs should not ignore the "About Us" page, Mr Ng said. Since many, if not most, shoppers will have had negative experiences with fraudulent or unreliable suppliers, they usually want to know the background of the supplier and will have a look at the "About Us" page to establish its credentials. This page offers a chance to build up communication and trust with customers.

When packaging and delivering, small entrepreneurs starting up can fulfill manually. As they grow they will need to switch to a third-party logistics provider, while large-scale outfits can handle their own warehouse and delivery system.

Mr Ng said choice of delivery path depends on an equation balancing weight, size and time. Sellers need to consider what an acceptable delivery time for their buyers is – it can range from hours to weeks depending on the nature of the product. Buyers tend to prefer "free" shipping, with the shipping cost built into the price. Sellers need to bear in mind that overseas buyers might find themselves having to pay import duties before taking delivery of the product.

Services such as Easyship and Shipstation offer end-to-end solutions for delivery.
Related links
HKTDC Seminars
Shopify