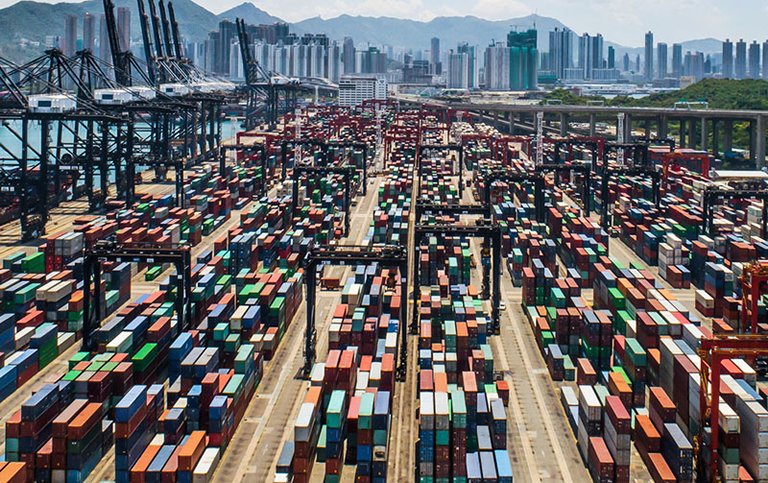 https://hkmb.hktdc.com/en/1X0AHM9X
2019 Mid-Year Export Review: Escalating Trade Tensions Undermine Growth Prospects
Escalating trade tensions and heightened geo-political uncertainties have severely decelerated Hong Kong's export growth momentum, increasing the urgency for local business to further diversify their operations and open up new markets. As indicated by the latest HKTDC Export Index, exporters have become more pessimistic across all the major sectors and markets. In view of the threat of prolonged trade disruption and slowing growth in the major economies, the HKTDC Research has revised its 2019 export growth forecast downward from the original 5% to 2%, with risk on the downside.
The global economy, beset with considerable uncertainties and trade disruption, has witnessed a slowdown in 2019. The growth of private consumption and business investment in developed economies has eased. Weighed down by softened demand in most major economies, escalating trade tensions and various external headwinds, Hong Kong's GDP growth sank to a 39-quarter low of 0.6% in the first quarter of 2019, down from 1.2% in the previous quarter and 3% in 2018.
In the US, although economic growth has rebounded to 3.1% in the first quarter of 2019, the slowdown in private consumption and domestic investment may dampen import demand in the near term. In the case of the EU, economic growth eased to 1.6% in the first-quarter of 2019 and will remain cautioned by Brexit and other uncertainties. After registering a 0.8% growth in first-quarter 2019, Japan is expected to remain on a slow growth path, amid a slowdown in external demand and the threat of a consumption tax hike scheduled for October 2019. While tax cuts and monetary easing may support domestic demand and maintain China's economic growth at the current 6.4% level, strong headwinds in exports and foreign investment remain a concern. Relatively speaking, the growth of other developing economies in Asia remains positive, underpinned by strong regional integration and solid domestic demand.
Weakened Export Outlook in 2019

The negative impact of the China-US trade dispute is expected to further dampen Hong Kong's export performance. A significant growth of 7.3% was recorded for Hong Kong's exports in 2018, partly due to strong global demand and partly on account of the advance shipments initiated by some exporters in order to avoid higher tariffs. In the first four months of 2019, Hong Kong's total exports dropped by 2.5% year-on-year. In terms of traditional markets, Hong Kong's exports to the US and Japan dropped by 11% and 5.5% respectively. Hong Kong's exports to the EU, however, grew by 8.2%, which partially offset the negative growth in the US and Japan.
In developing Asia, Hong Kong's exports to mainland China dropped by 5.2% in the first four months of 2019. On the other hand, exports to ASEAN recorded strong growth of 10.5%, which may be partly due to greater regional integration and rising demand for consumer goods. Aside from exports to developing Asia, Hong Kong's exports to other emerging markets recorded solid growth, with exports to Latin America up 27.3%, Middle East 13.1% and emerging Europe 8.8%.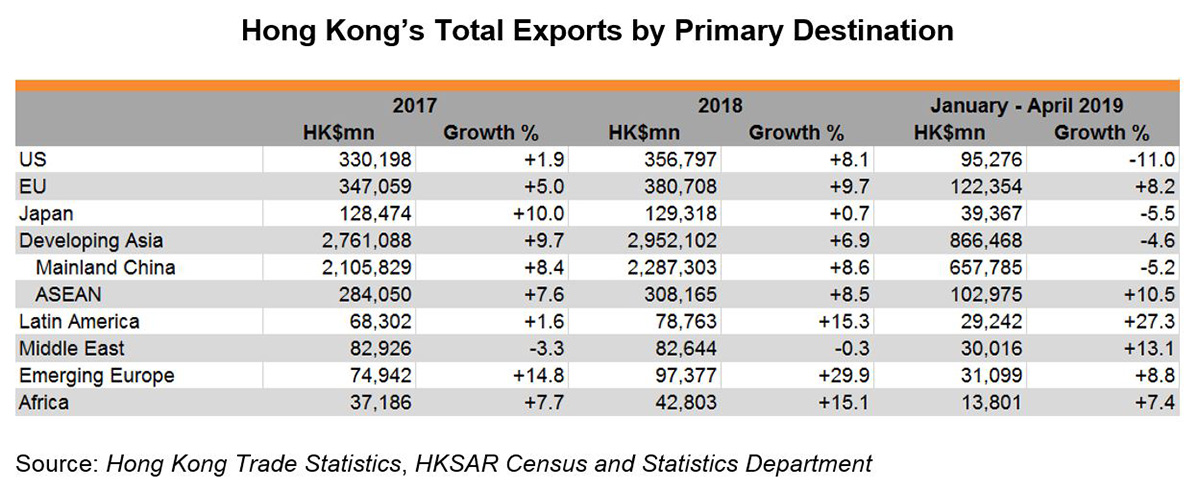 In terms of industries, electronics exports dropped by 2.6% year-on-year in the first four months of 2019 and constituted around 67% of Hong Kong's total exports. Clothing sector exporters faced continued competition from other production bases, particularly those in Southeast Asia. As a result, exports of clothing recorded a further decline of 6%. Exports of precious jewellery continued their growth momentum from last year and recorded a growth rate of 12.9%, the highest among all the major sectors. Exports of timepieces showed a slight drop of 1.8%, while toy exports dropped by 37.3%. Exports of electrical appliances maintained stable growth of 4.9%.

Part of the deterioration in export performance can be attributed to weaker prices. The unit value index of Hong Kong exports grew by 2.2% in the first quarter of 2019, down from 2.4% in 2018.
Deteriorating Global Economic Environment
Global economic activity began to slow down in the second half of 2018, a consequence of confluence of factors that affected many of the major economies. In light of this, the IMF revised its 2019 global growth forecast downwards in April, which saw it drop from 3.7% to 3.3%. In the case of the advanced economies, spearheaded by the US, economic growth is expected to continue at a slower pace, stimulated by rising employment and a relatively accommodating monetary policy. For the developing economies, economic growth is expected to remain relatively stable, despite trade conflicts and disruptive investment flows.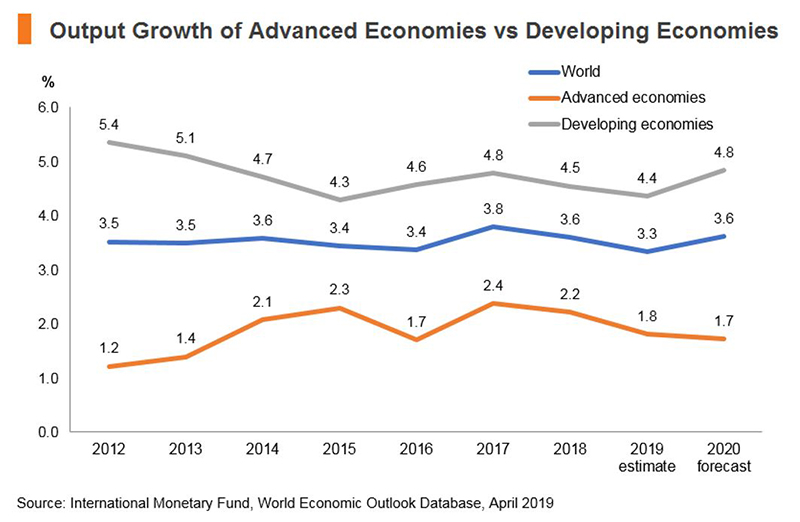 Among the developed economies, the US economy grew by 2.9% in 2018, its highest annual growth rate since 2006. The growth momentum continued in the first quarter of 2019, with its annualised GDP growth hitting 3.1%. This growth was driven by an upturn in local government spending and the accumulation of private inventory. The support of fiscal stimulus (including the tax reforms and government spending expansion) on personal consumption expenditure and business investment is fading. Amid slower economic growth, the US Federal Reserve has adopted a relatively accommodating monetary policy, with moderate inflation and a slowdown in the pace of interest rate hikes.
In the EU, slower economic growth is expected in 2019 amid the Brexit uncertainty and the rise of populist political agendas. Domestic political tension within the EU bloc and trade disputes with the US have caused worse than expected performance in the manufacturing and export sectors, especially in countries contending with the introduction of new emissions standards in the automobile industry. While the EU has agreed to extend the Brexit deadline to 31 October 2019, the likelihood of a hard Brexit remains high, given the challenges the UK faces in terms of securing domestic consensus amid uncertain government changes. In Italy, the populist coalition government, formed by the Five Star Movement (M5S) and the far-right League party, are poised to roll out a more expansionary fiscal policy. However, this may increase Italy's tension with European Commission, which remains sceptical about the country's fiscal performance.
In Japan, the highly accommodating financial conditions, which form part of the government's "Abenomics" policy, remain in place. In face of the labour shortages caused by its increasingly aged population and shrinking workforce, the government has put more emphasis on labour market reforms. The upcoming 2019 Rugby World Cup and the 2020 Olympic Games are expected to lead to increased investment in construction and a rise in income from tourism. At the same time, Japan's exports are likely to be boosted by the Japan-EU Economic Partnership Agreement (Japan-EU EPA) and Comprehensive and Progressive Trans-Pacific Partnership (CPTPP). However, China-US trade tensions will overshadow the outlook for exports and investments, while the consumption tax hike, scheduled for October 2019, is likely to lead to a temporary decline in domestic demand, meaning that the Japanese economy will remain on a slow growth path.
China's GDP growth in the first quarter of 2019 reached 6.4%, which was in line with its growth target range of 6-6.5% for the year. However, many of the major indicators, including industrial output, fixed assets investment and retail sales, showed signs of a slowdown in April. As 2019 is the fourth implementation year of the 13th Five-Year Plan, the mainland is expected to strive hard to achieve its target of delivering a moderately prosperous society by 2020. As part of the strategy to re-balance the economy, private consumption will remain the main driver of growth. As well as reducing import tariffs on consumer goods in order to stimulate imports, the Chinese government also reduced the business value-added tax rate for manufacturers, transport and construction firms, as of 1 April 2019, in order to boost corporate confidence amid the slowing economy.
ASEAN is expected to maintain moderate growth, despite weakened exports and private investment amid the China-US trade tensions. Strong private consumption and accelerating infrastructure investment are likely to offset the slowdown in external demand. The partial implementation of the Hong Kong-ASEAN Free Trade Agreement (HAFTA) in June 2019 will strengthen Hong Kong's connections with the region, while the China-US trade conflict has encouraged the diversion of trade and manufacturing facilities in ASEAN's favour, leading to an increased flow of goods and investment.
The Latin America regional economy will likely see meagre growth in the coming year. Economic growth in Brazil is losing its momentum, due to high unemployment rates and constricted consumption, despite record-low interest rates. Mexico is gaining stability following the conclusion of the United States-Mexico-Canada Agreement (USMCA). Mexico has raised the minimum wage and cut taxes in cities and states along the US-Mexico border to boost economic growth. Domestic consumption will likely be supported by the increases in minimum wage, continued low unemployment and strong remittances. More recently, the US President has threatened to impose a punitive 5% tax on all Mexican imports to the US, unless Mexico takes action to reduce the number of illegal immigrants crossing the border and entering the US, has created a tension between the two countries.
The emerging European economies, meanwhile, will generally benefit from continued growth across Europe. Moderate investment growth is projected in Central and Eastern Europe, due to the slow expansion of EU-funded projects, while Poland and Hungary could face some problems with regard to EU funding amid the growing support for populist policies. In Russia, improved oil export revenue and a loose monetary policy will continue to support economic growth, but the pace may be somewhat erratic on account of the continuing US sanctions.
The economic outlook of the Middle East will be clouded by heightened volatility in oil prices, global trade tensions and geopolitical risks. Nevertheless, the ongoing economic transformation of the region, as it moved to diversify beyond its reliance on oil revenue, is expected to improve medium-term growth prospects. In the UAE, increasing investment in infrastructure and the construction of the required Dubai Expo 2020 facilities will give its economy a boost. Recent business-friendly measures to reduce operating costs and new visa policies for foreign investors are also likely to improve business sentiment and support economic activities. Saudi Arabia's Vision 2030, which envisages fundamental economic and social reforms and creates more opportunities for the private sector, could be a positive factor in the future development of the Saudi economy.
Risks and Challenges
Protectionism remains the biggest threat to Hong Kong's export outlook, as indicated by the escalating uncertainties caused by the China-US trade dispute. Although the major economies maintain a low interest rate environment and sustain a loose monetary policy, continued geopolitical frictions could create uncertainties in terms of trade and investment flows.
In the EU, recent political developments remain a major concern, with right-wing populists continuing to attract support. The landscape of populism is diverse, ranging from the yellow-vest protests in France to the far-right Alternative for Germany and Italy's anti-establishment Five Star Movement. In the latest European Parliament elections, voters returned a more fragmented pro-EU majority, while Eurosceptic and far-right parties made modest gains. Given the economic slowdown and mild inflation, the European Central Bank (ECB) plans to launch a new series of quarterly targeted longer-term refinancing operations (TLTRO-III) in September 2019. This should provide businesses with affordable credit but may not protect the EU economy from a further slowdown.
The escalation of China-US trade tensions will further impede global trade and economic growth. After the 90-day trade truce, the US and China failed to reach a deal at the eleventh round of high-level trade talks. The US is now set to increase tariffs on US$200 billion worth of Chinese imports from 10% to 25% for shipments that arrive after 15 June 2019. In response to the tariff increase imposed by the US, China announced retaliatory measures, raising tariffs from 10% to 25% on US$60 billion worth of US imports from 1 June 2019.
Furthermore, the US has threatened to impose tariffs on an additional US$325 billion worth of Chinese goods, essentially covering all the remaining Chinese products. Any escalation of China-US trade dispute will undermine the economic growth of both the US and China, as well as those countries forming part of the wider supply chain network.
Looming Prospect for Hong Kong Exports
With the cyclical slowdown of the world economy and the escalating trade tensions between China and the US, HKTDC Research has revised its 2019 Hong Kong's export performance forecast downward from 5% to 2%. This revision takes into account the latest HKTDC Export Index survey, which indicated that half the surveyed exporters expected their level of sales to be affected over the coming months. It also showed that 55% of exporters were worried about the negative impacts of the China-US trade dispute, indicating that this friction will remain a major threat to Hong Kong's export performance over the near term.
Among the major industries, the electronics sector, which accounts for two-thirds of Hong Kong's total exports, saw its growth momentum slow in the first four months of 2019. An on-site survey conducted during the 2019 Hong Kong Electronics Fair (Spring Edition), however, indicated a less-distressed sentiment in the sector, while indicating that traders should focus on products compatible with smart home applications in order to minimise any negative impact.
The outlook of clothing exports remains gloomy. The continuous relocation of production facilities to the South and South-east Asian countries and the further increases of the operating costs in mainland China, are all set to create a tough environment for Hong Kong's clothing exports.
Hong Kong's toy exports have evidently also lost momentum and may continue on a downward trend for the rest of the year. In terms of hardware, no new video game console models are expected on the market over the near-term. As for software, the rise of cloud-based gaming systems could result in a fall in the number of video games purchased. In fact, Hong Kong's export statistics may not fully record Hong Kong's toys business, as it mostly takes the form of offshore trade, with many shipments bypassing Hong Kong.
Exports of watches and clocks are expected to remain relatively stable over the course of the year. Underpinned by the growing demand for wearable tech in many overseas markets, smartwatches will remain the key growth engine for Hong Kong's watch exports. In another development, the emergence of hybrid watches, which have some of the basic functions of smartwatches while also retaining a degree of classic craftsmanship, will induce demand for well-designed artisan-crafted timepieces in the market overall.
The slowdown of global economic growth is likely to weigh on Hong Kong's jewellery exports. According to an onsite survey at the 2019 Hong Kong International Jewellery Show and 2019 Hong Kong International Diamond, Gem and Pearl Show, in view of raw materials price fluctuation and increasing operating costs, traders have a generally cautious outlook on their prospects over the next 12 months. Looking ahead, karat gold will remain the most popular precious metal item, with white gold and, to a lesser degree, rose gold making something of a comeback.
Mainland China
Hong Kong