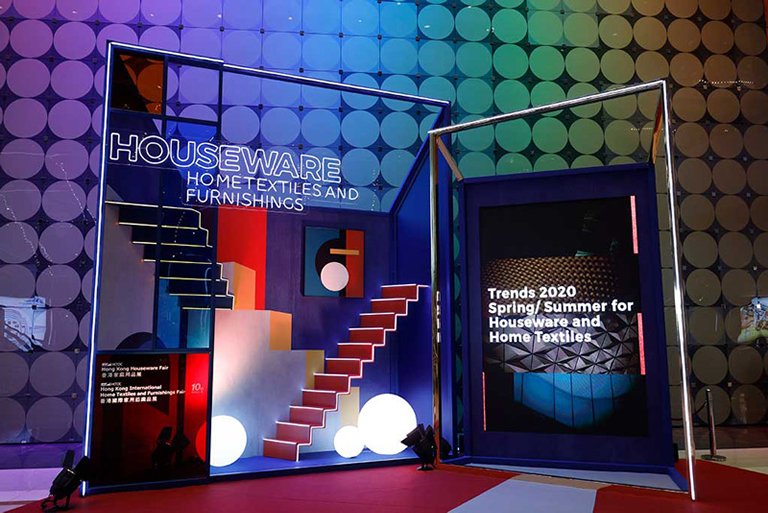 https://hkmb.hktdc.com/en/1X0AHM06
HKTDC Hong Kong Houseware Fair Survey 2019: Brighter Prospects for Overseas Markets
The houseware sector remains optimistic on future market outlook, according to the results of a survey conducted at the recent HKTDC Hong Kong Houseware Fair. There was growing confidence in the prospects for growth, particularly in emerging markets such as South Africa, India and the Middle East, while Australia has become the most dynamic developed market for houseware products.
Given the increase in consumers' environmental awareness and green consumption, most respondents agreed that there would be a growing appetite for eco-friendly products over the near future. Kitchenware and gadgets as well as furniture remained in demand. While simple design continued to be the most well-received product style by respondents, houseware goods with smart features were expected to achieve high consumer appeal. The poll also indicated growing online retailing engagement, with over half of the respondents currently using e-tailing in their business.
Market Outlook Remains Positive
Similar to last year, the industry took a positive view of sales prospects for the coming year, albeit less confident than previously. Over half of the respondents (51%) predicted that sales would remain at the same level as 2018. Exhibitors were more optimistic than buyers about future sales prospects, with 45% of them anticipating an increase in sales during 2019, while only 32% of buyers expressed the same view. Additionally, more buyers are anticipating a drop in sales in 2019, an increase from 4% last year to 12% this year.
The majority of surveyed exhibitors (58%) expected continuous upward pressure on production costs in 2019. Nevertheless, only 35% of exhibitors anticipated an increase in their FOB prices this year, a marked drop from the 45% who expressed the same opinion last year. In the case of buyers, slightly more respondents (44%) anticipated paying more for sourcing this year and 34% of respondents expected an increase in retail prices, up from 24% in 2018.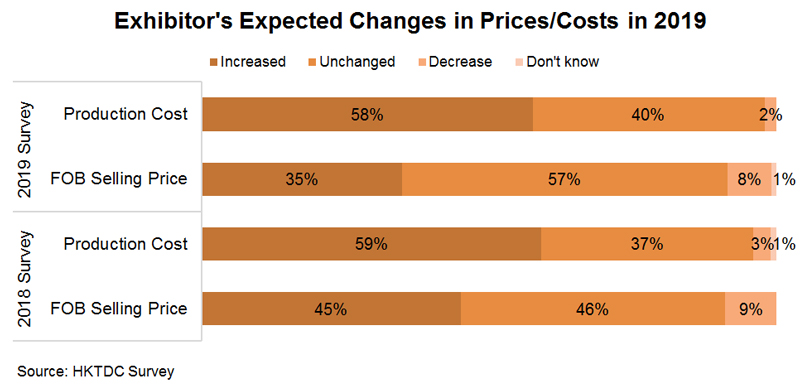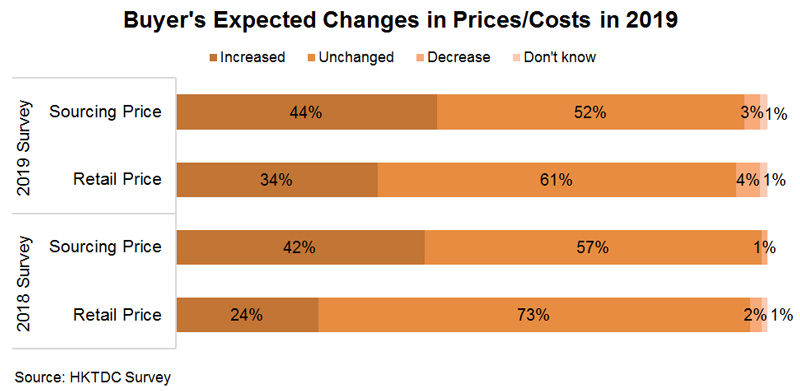 Market Prospects over the Next Two Years
During the course of the survey, buyers were asked to rate specific markets on a scale from 1 to 5, with "1" indicating that the market for the next two years was seen as "very unpromising" while "5" as "very promising".
Overall, the expected growth in overseas markets are looking up for 2019, scoring average ratings of between 3.28 and 3.84. Australia and Pacific Islands was the most highly rated market over the next two years at 3.84, closely followed by Korea (3.82). Japan ranked third this year, which recorded a very commendable 3.81, up from 3.19 last year. In contrast, confidence in Western Europe (3.43) and North America (3.33) was in a clear decline, with the latter showing the largest drop in rating among traditional markets.
For emerging markets, South Africa outperformed other markets in this category, with a score of 3.8, up from 3.29 from the 2018 survey. Next in line were the Middle East (3.77) and India (3.75). The ASEAN countries were also viewed as good prospects, with their rating improved from 3.25 last year to 3.67 this year.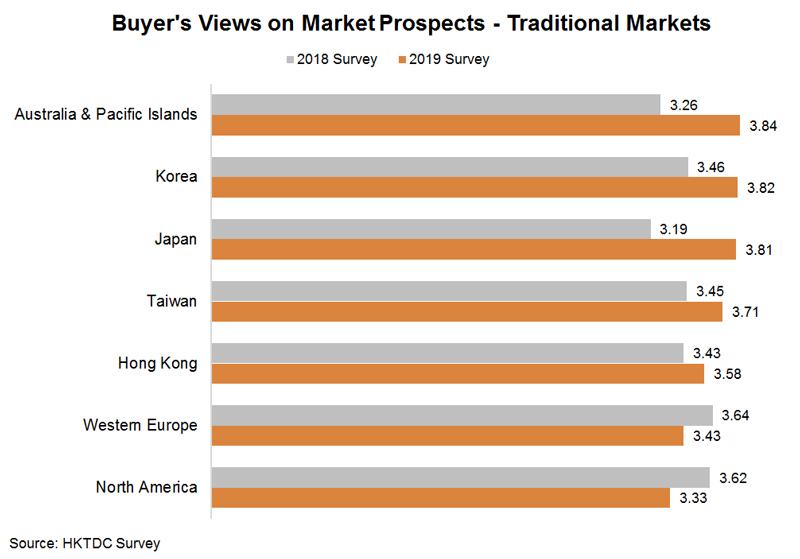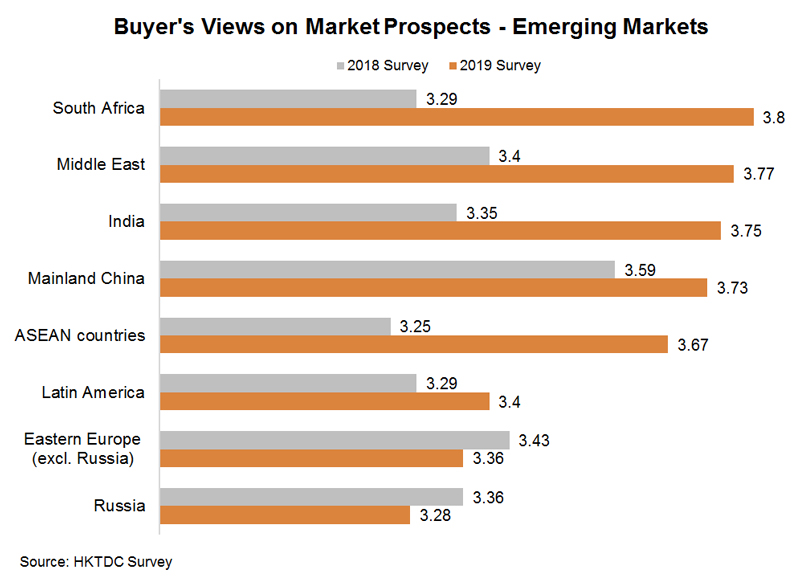 Limited Concern over China-US Trade Friction
The houseware sector remained largely optimistic amid the continuing China-US trade friction. More than half of respondents (53%) believed that the friction between the two countries would have no negative impact on exports. However, 37% were more pessimistic, compared to 26% last year. It is worth noting, however, that the survey was conducted prior to the early May announcement by US president Donald Trump on increasing the 10% levy on US$200 billion of Chinese goods to 25%.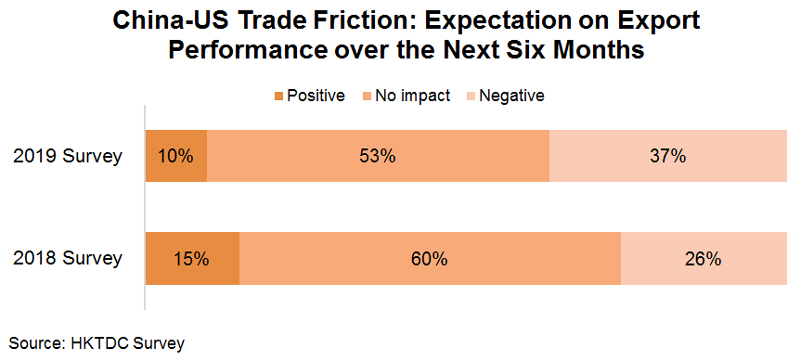 Appetite for Green Products
This year, eco-friendly products have moved up the ladder and were seen as having the highest growth potential, with 16% of respondents ranking them as the top product category. Kitchenware and gadgets, which came top in the 2018 survey, ranked second this year. The continued rise in health and wellness awareness was also expected to drive demand for healthcare products. Overall, 5% of respondents believed they had the greatest potential for the coming year, a marked rise from 1% seen in 2018.

Less Is More – Simple Design Is Key
As in the previous year, simple and minimalist design continued to be popular in 2019. This year, 43% of respondents endorsed the category as one of their top three, although this was a slight drop from the 45% of respondents who backed it in 2018. Preference for trendy design (41%) and multi-function products (30%) also remained strong. As technology has now become more integrated with our daily lives, smart home products (13%) such as sensor waste bins and Wi-fi cookers are also expected to gain popularity.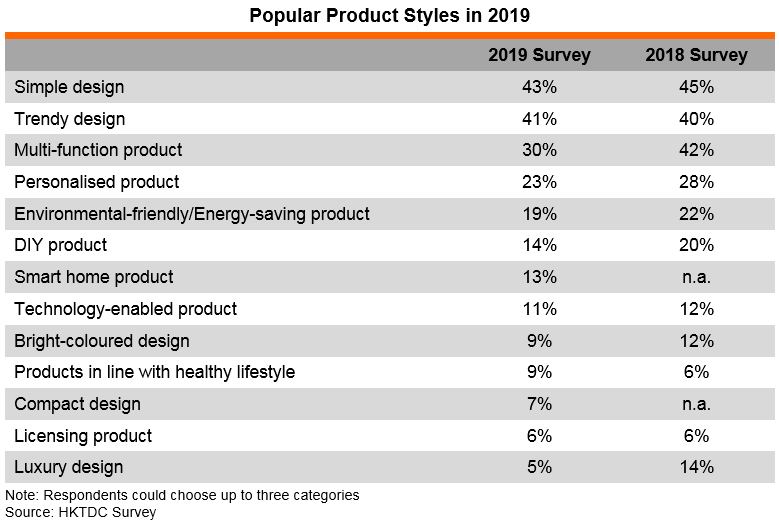 Continued Growth in E-tailing
Over recent years, e-tailing has become an increasingly popular sales and sourcing channel for the houseware industry. This year, more than half of the respondents (58%) were engaged in e-tailing, an improvement from the 44% recorded in the 2018 survey. Among the sourcing platforms for e-tailing business, most frequently cited by respondents were Alibaba, Taobao, Amazon and eBay.
There were indications of greater e-tailing engagement in the future, with 20% of those not currently engaged in e-tailing indicating that they planned to adopt the channel over the next two years.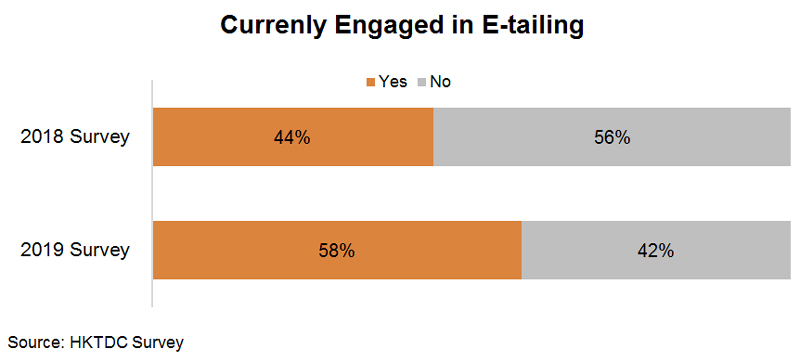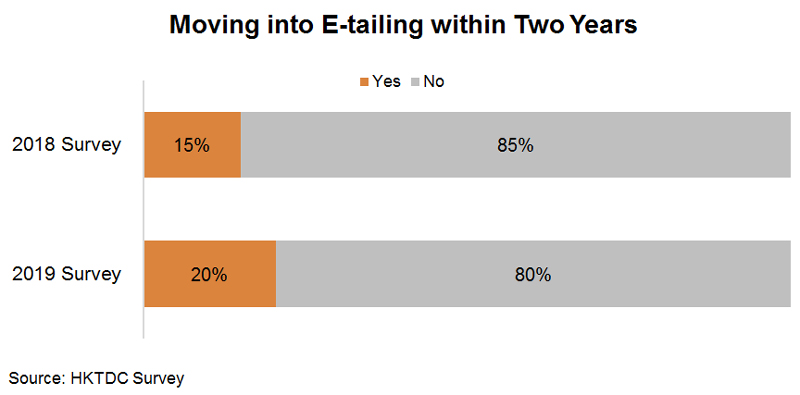 Same as last year, kitchenware and gadgets continued to be the top performer, with 29% of respondents seeing the category as likely to benefit from availability online, up from 25% last year. Among other products deemed suitable for online sales were interior décor and handicrafts (20%), furniture (16%) and tableware (16%). Art and craft items were also an increasingly popular choice, rising from 3% last year to 11% this year.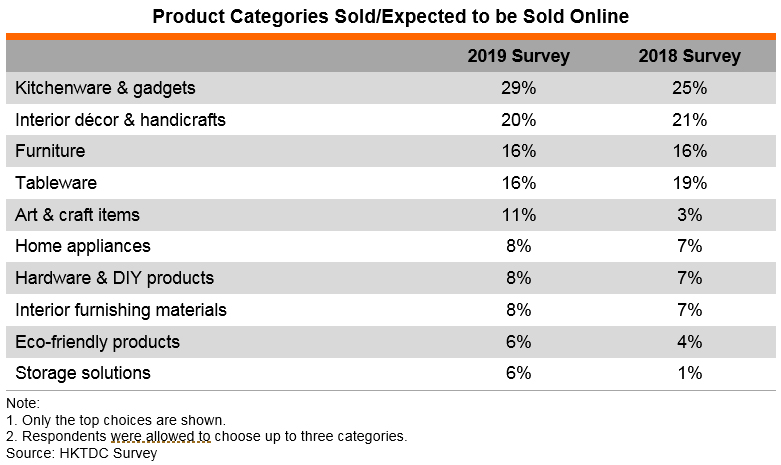 Business Challenges: Catching Up on Product Designs
Rising operating costs, fluctuations in raw material costs and global trade instability remained the top three business challenges in 2019. In response to these challenges, buyers intend to keep their stock level low and ask for smaller quantities with each order, with 36% and 32% of buyers backing them respectively. Meeting consumers' expectations with regard to new and creative design rose to be one of top five challenges for houseware industry players, an 8% increase on the figure recorded in the 2018 survey.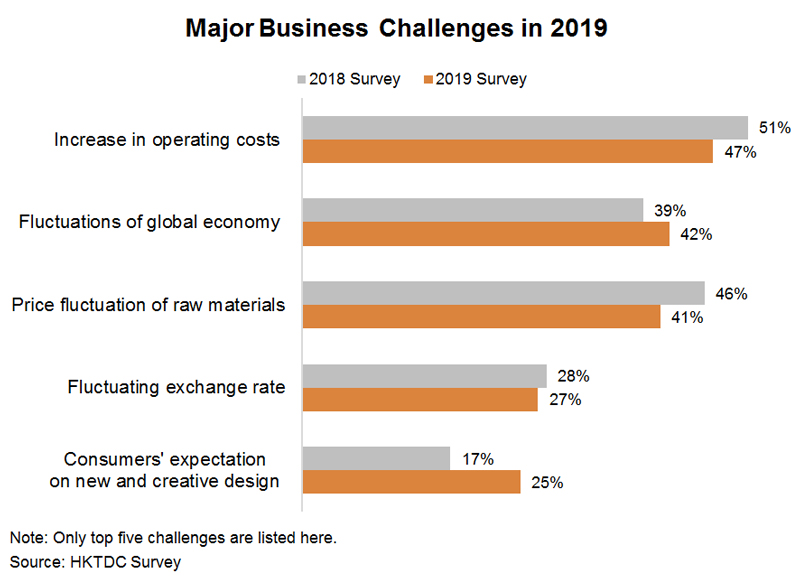 Respondents' Profile
The HKTDC Hong Kong Houseware Fair was held from 20-23 April 2019. During the event, HKTDC canvassed opinions from 535 housewares professionals, made up of 302 buyers and 233 exhibitors.
Of the 302 buyers surveyed, 45% were based in Hong Kong, with the remainder based overseas. The leading selling/export markets named by respondents were Asia excluding Mainland China and Hong Kong (39%), Hong Kong (31%) and Mainland China (30%).
Among the 233 exhibitors canvased, only 18% were based in Hong Kong, with the remainder based overseas. Their leading markets were Western Europe (52%), North America (48%) and Asia excluding Mainland China and Hong Kong (35%).