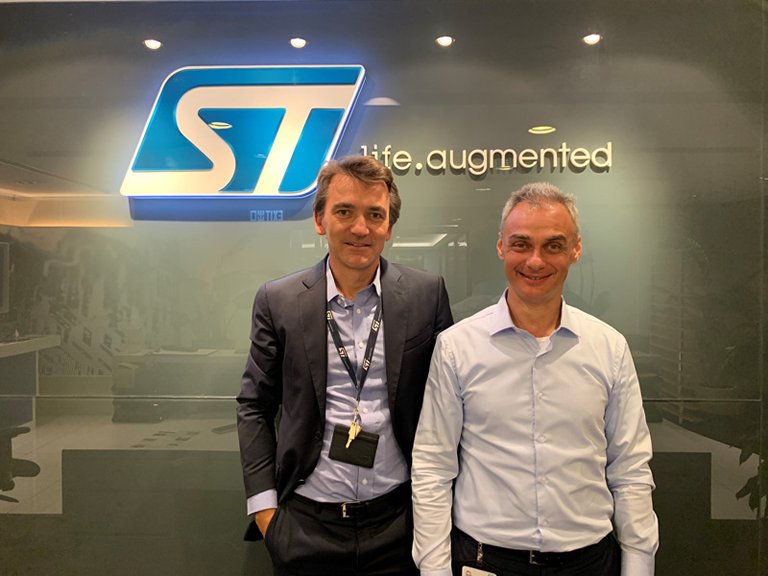 https://hkmb.hktdc.com/en/1X0AHK48
The Greater Bay Area: Capitalising on Semiconductor Opportunities
Interview with Marco Longhi, Asia Pacific Business Controller, and Damien Leconte, Senior Director, Key Accounts in Asia Pacific Region for STMicroelectronics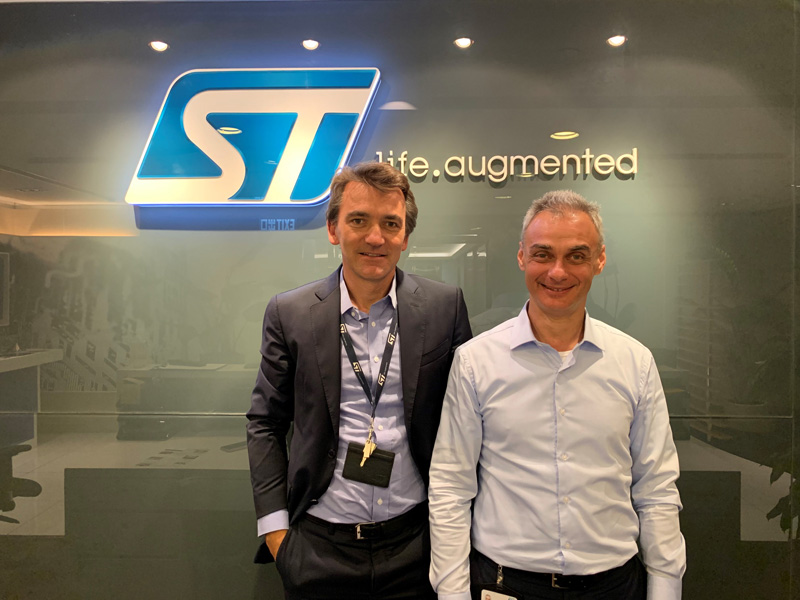 The Asia Pacific region is the world's fastest-growing semiconductor market. Many key global players in the automotive, mobile, and computer sectors have their headquarters or operate in China, Japan or South Korea, while Greater China (the mainland, Hong Kong, Macao and Taiwan) is the world's leading region for ODMs (Original Design Manufacturers) and EMS (Electronic Manufacturing Services) providers.
Over a period of some 40 years, STMicroelectronics has established itself as a major player in the Asia Pacific region's semiconductor industry. In terms of revenue, the company is among the top 10. It began operations in Asia in 1969, setting up an assembly and test plant in Singapore. Since then, it has built a strong integrated presence in the region that spans mainland China, Taiwan, Hong Kong, India, Japan, South Korea, Malaysia, the Philippines, and even Australia and New Zealand. It operates R&D, advanced IC design, and application support centres in Shenzhen, Shanghai, Beijing and Taipei, while Hong Kong plays a major role as one of its primary sales and marketing offices for the region, and as the base for one of the company's three Asian distribution centres.
In addition, design centres in Singapore, India, and China provide customised design support to ST's customers around the world, while competence centers in Beijing, Noida (India), Seoul, Shanghai, Shenzhen, Singapore, Taiwan and Tokyo deliver reference solutions, technical support, and joint development resources for a wide range of applications tailored to the needs of the local markets. Across the whole region, the company employs about 18,000 people.
'Smart' Uplift in the Greater Bay Area
ST is a business-to-business company focused on key applications for "smart" living – smart driving, smart cities, smart homes, smart industries and smart products. It is especially committed to R&D, with some 7,400 employees globally working on R&D and product design. Its major customers include mainland Chinese technology giant Huawei, Apple, Bosch, Cisco, Samsung and HP, while mainland display producer TCL and smart product firm Midea Technologies are also among its clients.
Explaining how the company is organised, Marco Longhi, Regional Business Controller for the Asia Pacific Region said: "ST's manufacturing process is divided between front-end and back-end manufacturing, as well as research and development and sales and marketing."
With the rapid growth of smart applications in China, and across the Guangdong-Hong Kong-Macao Greater Bay Area (GBA) in particular, STMicroelectronics sees huge opportunities there. Longhi stressed the importance of the GBA to the company, saying: "Overall, the GBA will be of particular benefit for ST; we hope to take advantage of opportunities in Hong Kong, Shenzhen and other cities to match the expected explosive transformation of the IT ecosystem now underway."
Damien Leconte, the company's Key Accounts Senior Director for Asia Pacific market, pointed out that ST was one of the first foreign semiconductor firms to set up manufacturing in Shenzhen in 1994 and still maintains a joint venture factory there, which conducts a wide spectrum of assembly and testing procedures, while employing a staff of around 5,000. With sales offices in Hong Kong, Shenzhen, Guangzhou and Zhuhai, ST covers a very wide customer base across the GBA.
Hong Kong's Leading Role
ST views Hong Kong as playing an interactive and increasingly significant role within the GBA. The company sees it as a GBA's major sales, marketing, logistics and business connector, as well as a standard bearer for the Belt and Road Initiative (BRI). Furthermore, Hong Kong's close relationship with the Shenzhen Special Economic Zone and the development of the proposed Lok Ma Chau Loop innovation and technology park on the boundary with Guangdong Province are expected to lead to the establishment of a more coherent international technology hub, which will be particularly focused on artificial intelligence (AI) and Internet of Things (IoT) research, and for bringing practical solutions to market.
Outlining Hong Kong's advantages, Longhi said: "Regarding the availability of talent and resources, both Hong Kong and Shenzhen are viable locations. When we want to hire talent, we can find that quite easily, although very specialised technical staff resources are always hard to find, given the competition in the market." He added that, in terms of operational costs, although Hong Kong is more expensive when it comes to wage expectations, it benefits from a lower and more straightforward tax regime.
Highlighting another of Hong Kong's key advantages – the convenience and speed with which one can travel and meet business partners – Longhi said: "I see Hong Kong as an important site for distribution and for meetings and exchanges – we hold a lot of meetings there on a very frequent basis. Each quarter we organise one week of meetings which involve 200 to 300 visitors from Asia Pacific and Europe, both from ST and from our Asia distribution partners."
Leconte also singled out Hong Kong's standing as a jurisdiction with a high regard for protecting intellectual property (IP), which he said was a critical factor for a hi-tech company like ST and was why many of the company's commercial agreements relating to China are arranged under Hong Kong law. Hong Kong's mature financial and banking system is another advantage available, although as Longhi admitted, ST – which has its main headquarters in Switzerland – does not particularly need local financial services for capital market launches for the time being.
Linking the Belt and Road Initiative
Hong Kong is also a major stakeholder in China's Belt and Road Initiative (BRI), a programme that links China and south-east, south and central Asia with the Middle East, Africa and Europe. Longhi explained that this is particularly helpful to a global company like ST, saying: "Hong Kong provides big opportunities, for example, in our connections with Europe in general."
He added that one important aspect of Hong Kong's BRI links is air connectivity with Belt and Road countries through Hong Kong International Airport. With much of the company's distribution of semiconductor chips being implemented by air, ST maintains a warehouse adjacent to the airport.
The company is now actively seeking to strengthen its links with Hong Kong. Leconte said he envisaged a greater degree of connectivity with Hong Kong academic institutions and the Hong Kong Science and Technology Parks Corporation, for example, on issues like smart cities, smart driving and AI. In addition, with regard to HKTDC trade shows, it took part in the HKTDC International ICT Expo in April 2019 and the concurrent HKTDC Hong Kong Electronics Fair (Spring Edition), during which it took a lead role in the ICT event as part of the ground-breaking 'So French So Innovative' pavilion, which featured more than 30 French companies offering 'smart' opportunities.
Hong Kong
Mainland China