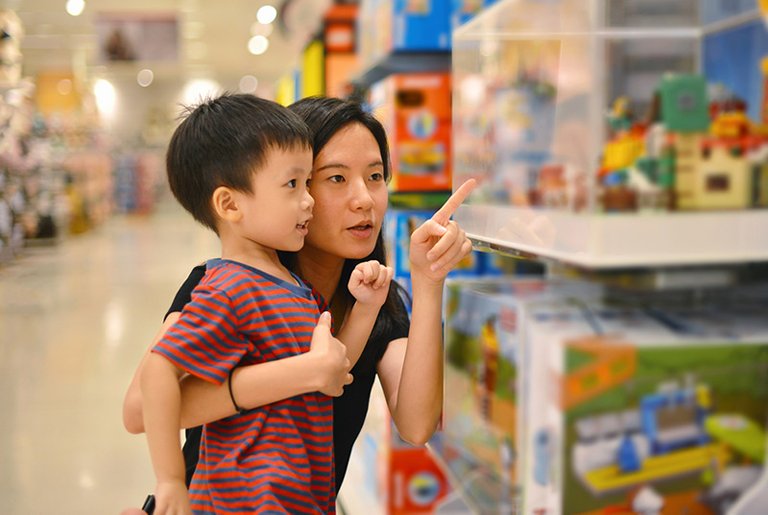 https://hkmb.hktdc.com/en/1X0AHJC3
China's Toys and Games Market (4): Information and Purchase Channels
In recent years, the Internet has transformed China's retail landscape and become a channel through which consumers obtain product information and do shopping. According to a survey[1] conducted by the Hong Kong Trade Development Council (HKTDC), shopping websites are now where the largest proportion of parents obtain toy information, surpassing traditional channels like products on display at toy shopping locations and recommendations by salespeople. Conversely, although adolescents and children come into contact with more information online these days, various offline channels remain their main avenues for obtaining toy information.
With regard to shopping channels, while the greatest number of surveyed parents have bought toys on mainland shopping websites in the past year, specialised toy stores are nevertheless parents' most chosen shopping channel. This indicates that online shops and bricks-and-mortar stores are equally popular.
Parents Value Online Information Sources
The Internet has become the leading channel through which parents obtain toy information. 69% of the surveyed parents look for toy information on shopping websites, more than traditional channels such as toy shopping locations (54%) and recommendations by salespeople (44%).
Most toy brands have now set up flagship stores on mainland shopping websites to both sell their products and promote their brands, and parents can learn about different toy brands without leaving their homes. This is probably why shopping websites have proved popular among parents. However, as children grow older, parents increasingly obtain information at toy shopping locations and from the children themselves. This may be because older children ask their parents to buy specific toys. As far as channels for obtaining information are concerned, there is no marked difference between the behaviour of parents in individual cities and the overall trends.
In addition to shopping websites, online childcare forums (38%), WeChat Moments (35%) and short-video apps (26%) are also popular with parents, as these channels allow users to share their personal experience. A parent surveyed in Shanghai said: "I hope my child will play more with toys that can enhance his abilities and knowledge, so I try to learn about the toys recommended by other parents at WeChat parents' chat groups." Another in a focus group discussion said: "I pay more attention to WeChat public accounts as they carry a lot of articles on parenting."
It is worth noting that while relatively more parents with young children visit online childcare forums, the proportions of parents in different age groups obtaining information from other online channels are similar. This suggests that online channels can reach parents in different age groups effectively. Among all channels for obtaining information, those allowing parents to understand the brand concept and compare similar products more directly, such as shopping websites and toy shopping locations, are more welcomed by parents.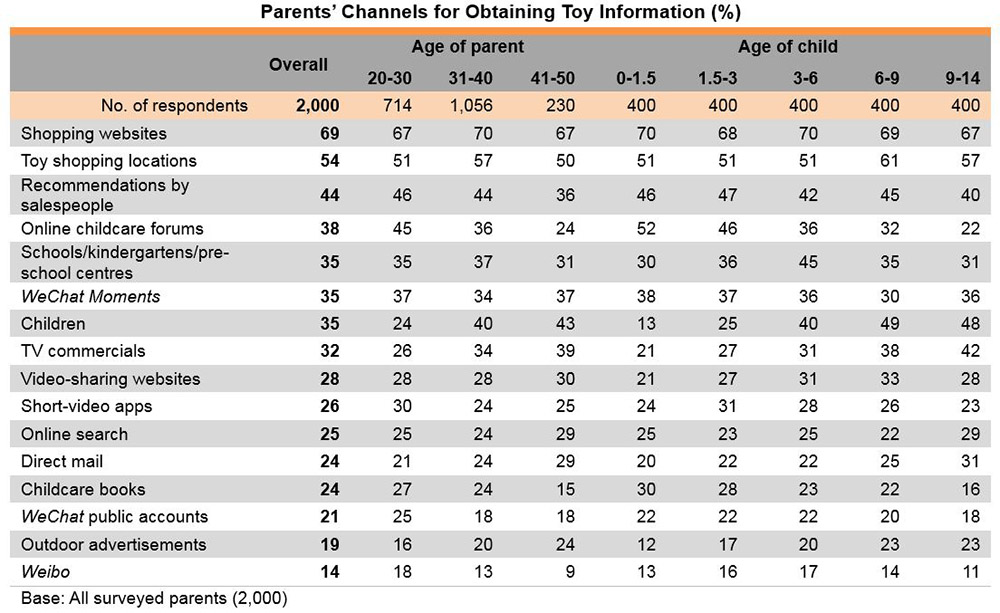 More Information Channels for Young Children
In contrast to parents, children obtain toy information more from their surroundings and everyday lives. Among parents surveyed whose children ask to buy specific toys, shopping malls or toy shops (72%), the child's classmates and friends (70%) and TV programmes (53%) are the most common channels through which their children obtain toy information. Online channels, such as shopping websites, video-sharing websites, and short-video apps, may have some impact on children, but are not the main influencers.
It is noteworthy that once children get to three years old, they gain access to a much wider range of toy information channels. They will be in touch with comics, video-sharing websites and electronic games, as well as subject to peer influence. In a focus group discussion, a respondent said: "After seeing at school what toys their classmates have, children will ask their parents to buy them. This is a major channel for obtaining toy information among children who have entered school."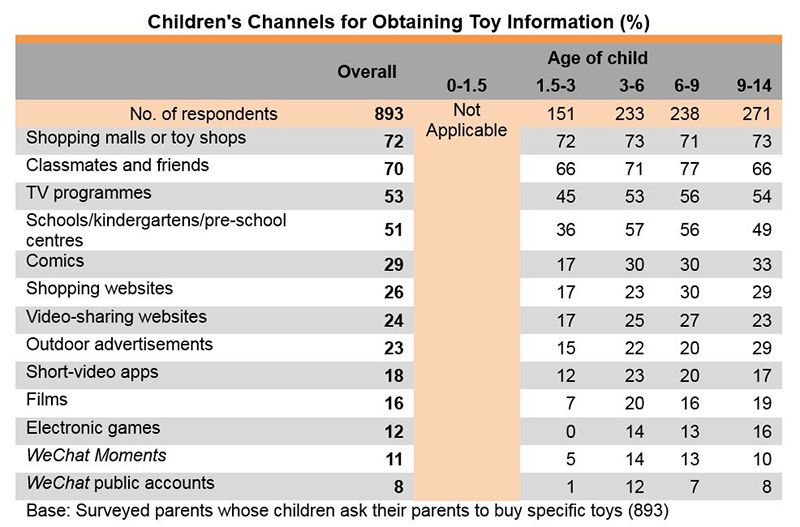 Bricks-and-mortar Stores Remain a Leading Channel
Online shopping is popular on the mainland, with shopping websites and specialised toy stores the leading channels for mainland parents' toy purchase. 71% of the surveyed parents have shopped in specialised toy stores in the past year, similar to the proportion for mainland shopping websites (72%). The proportions of parents surveyed who have shopped in supermarkets/hypermarkets (58%) and department stores (36%) are higher than those for cross-border e-commerce websites (32%) and mobile phone apps (20%). This shows that physical stores remain a key channel in the mainland toy retail market.
Among the many retail channels, the surveyed parents cited specialised toy stores (37%) as the most chosen channel for buying toys, more than those for mainland shopping websites (31%). Parents believed that bricks-and-mortar stores have a number of advantages over online shops. One parent at a focus group discussion said: "I tend to buy relatively more expensive toys at stores where you can actually see and feel the toys' quality for yourself." Another parent said: "I think I can enjoy better after-sale service in-store. If I have to return the goods bought online, I have to not just communicate with the seller, but also arrange for the goods to be returned. If the goods are large in size, it is even more troublesome."
Physical stores allow parents and children to get a feel for the toys' quality and offer more convenient after-sale service. This probably explains why parents are happy to shop there.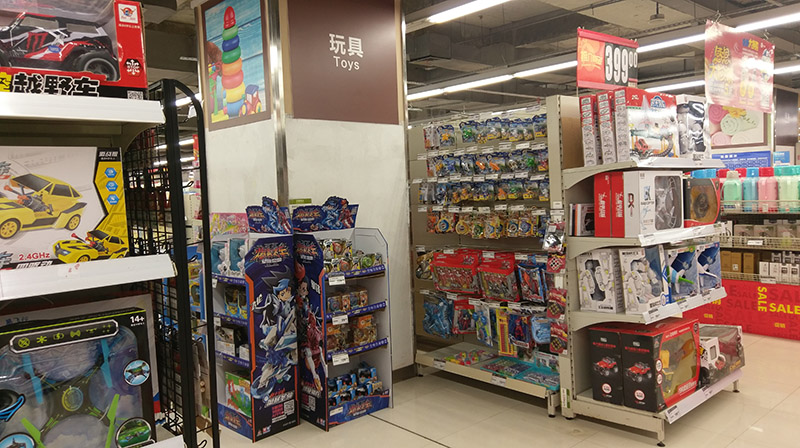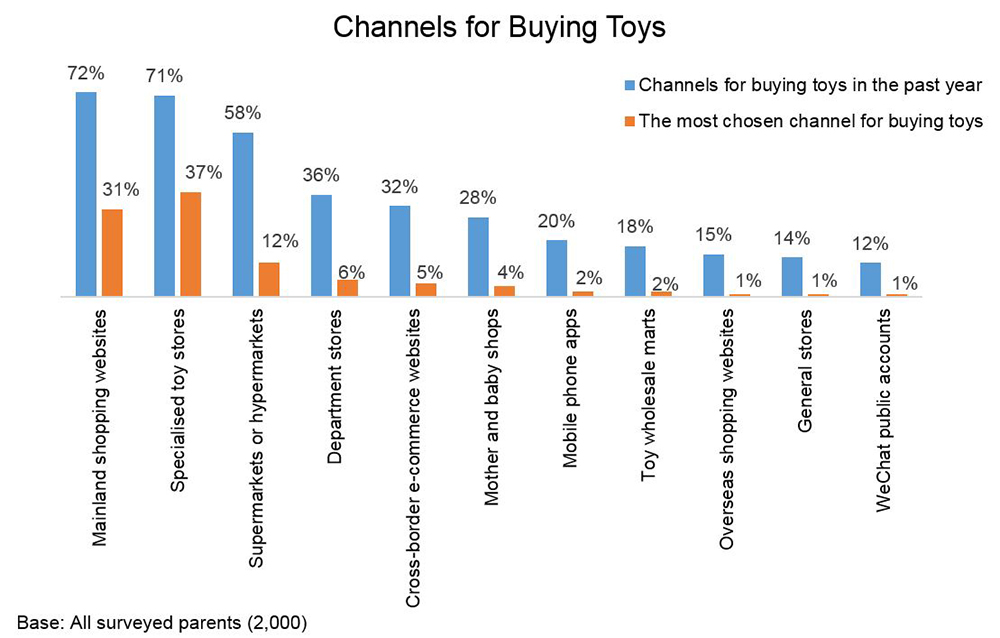 Among the surveyed cities, the largest number of parents in Shanghai buy toys through cross-border e-commerce websites and overseas shopping websites. As Shanghai is an international commerce and trade centre on the mainland, parents in the city probably know more about overseas toy brands and overseas shopping websites. Compared to parents in non-provincial capitals, parents in Beijing, Shanghai and provincial capitals generally shop more in specialised toy stores and department stores. This may be because these cities are more densely populated with more major retail outlets. Meanwhile, surveyed parents with a higher income tend to shop more in department stores, cross-border e-commerce websites and overseas shopping websites.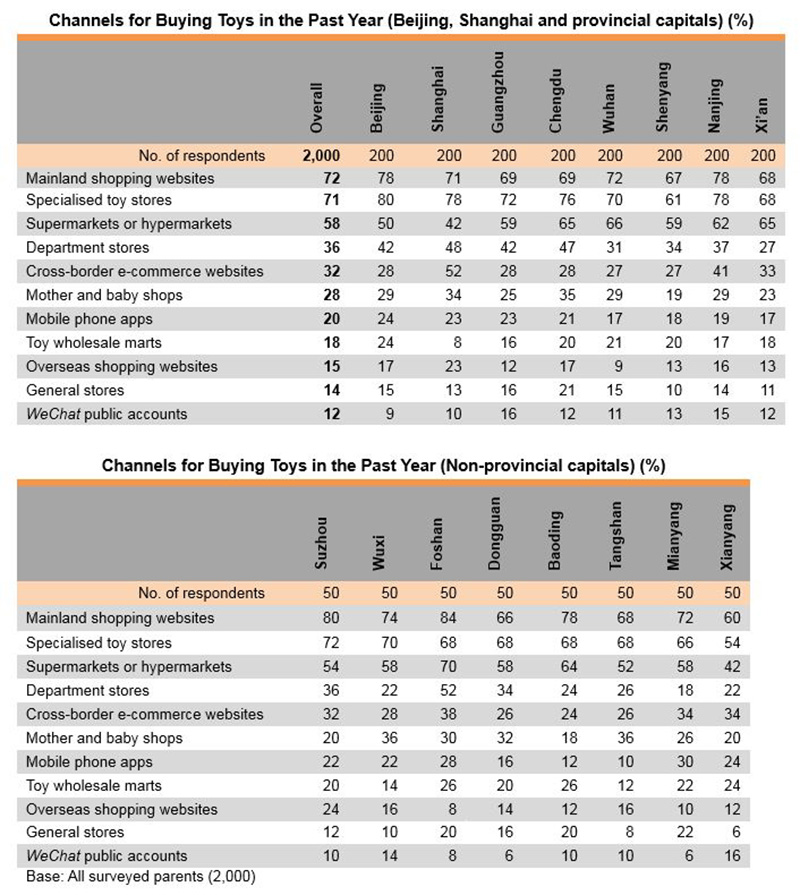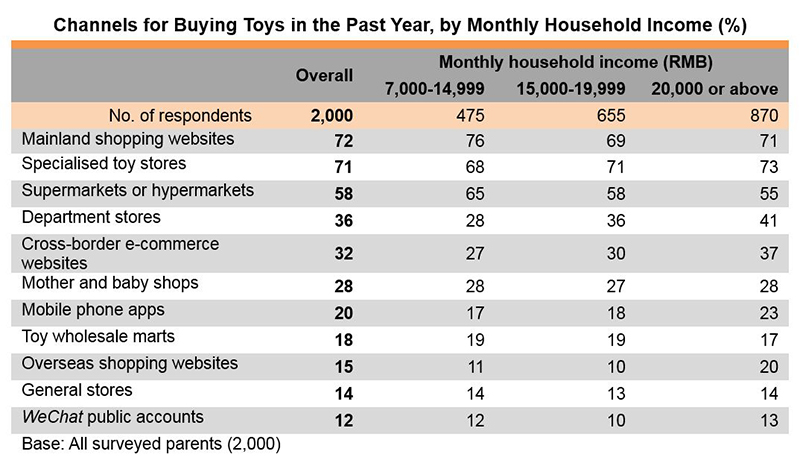 Online Shops Enrich Parents' Choices
Surveyed parents who have bought toys online said that they do so mainly because there are more choices (70%) and online shopping is convenient (63%). Only 29% of the parents surveyed noted that they have "no time to make purchase in-store".
The survey results show that online platforms offer more channels for parents to buy toys and obtain information. However, online shopping has not replaced most parents' habit of buying toys at physical stores. At focus group discussions, a number of parents commented that as mainland shopping malls are spacious and come with many leisure facilities, and that they like taking their children there for leisure and shopping.
Regarding the online search keywords, the greatest number of parents opted for toy brand (63%), function (61%) and product category (60%) to search for suitable toys. It can be seen that mainland parents seek quality toys for their children, and aim to give them different categories of toys as they grow up.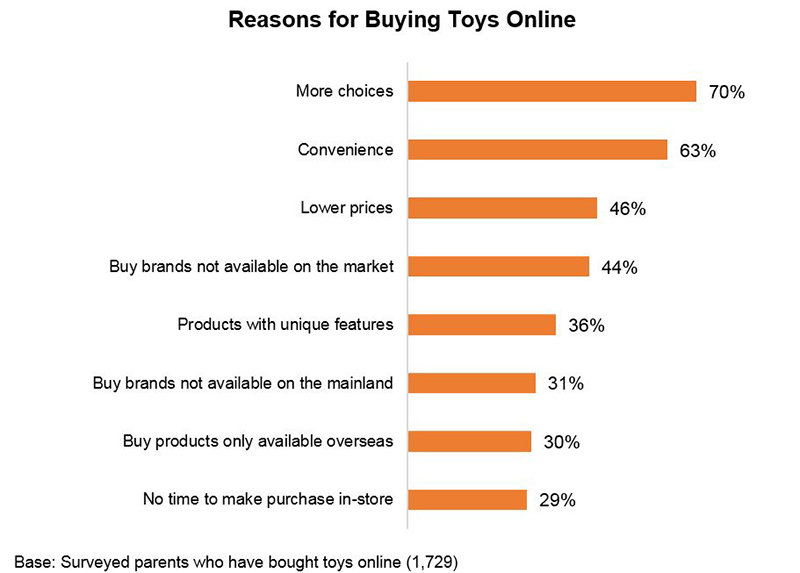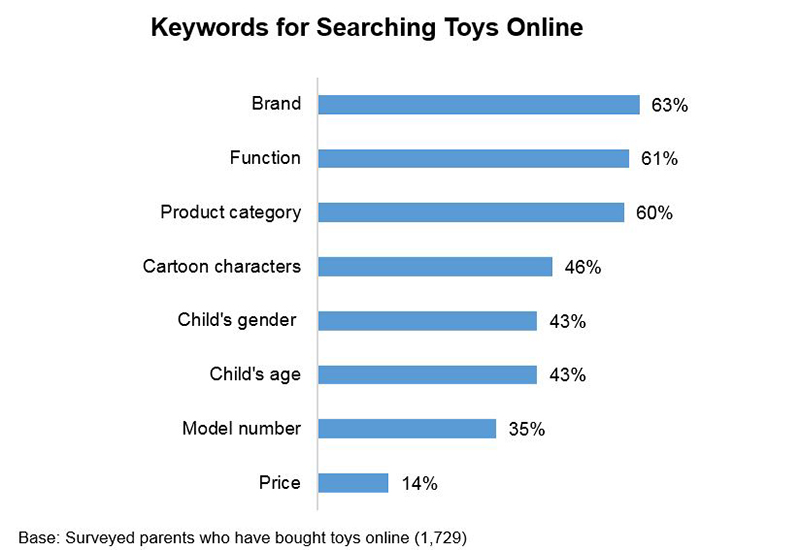 Conclusion
As the mainland retail market matures, both online and offline retail channels have become well-developed, offering an enjoyable experience for consumers shopping both at physical stores and online. In promoting their products to mainland parents toy traders should make good use of online channels, including shopping websites, online childcare forums and WeChat public accounts. At the same time, toy traders must also pay attention to offline channels, since mainland parents still like shopping at physical stores which are also an important channel for children to obtain toy information. Online and offline channels therefore complement each other, and both are indispensable to any toy traders wishing to expand into the mainland toy market.
---
[1] Please refer to the "Appendix" for background information on this survey.
Appendix
Survey Background
In recent years, the rising income levels of mainland consumers have fuelled the rapid growth of China's toy retail market. At the same time, new types of toys have arrived on the market, with STEM toys, new technology toys and electronic games becoming increasingly popular. It is expected that the full-scale implementation of the two-child policy by the mainland government in 2016 will also propel the growth of the toy market. In light of these developments, HKTDC commissioned a new purchasing behaviour survey on China's toy shoppers to update the ones it carried out in 2010 and 2014. The aim was to track and assess changes in middle-class consumers' purchase motivations, price sensitivity, brand preference and other trends. The findings of this survey should provide a useful set of references for Hong Kong companies wishing to tap the mainland toy market.
Methodology
The survey was carried out between October and December 2018. A total of 2,000 respondents completed the online questionnaire survey. Of these, 1,600 lived in Beijing, Shanghai and six other provincial capital cities, and 400 lived in eight non-provincial capital cities. Before the online questionnaire survey, two focus group discussions and three home visits were conducted in Shanghai and Chengdu with a view to gaining an in-depth understanding of the preferences of mainland consumers through qualitative analysis.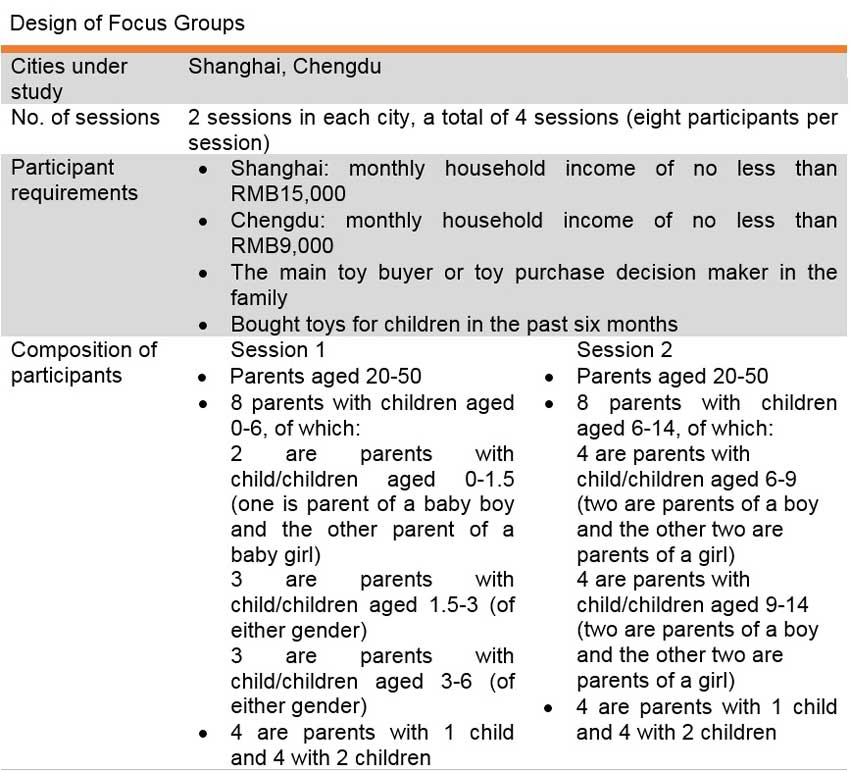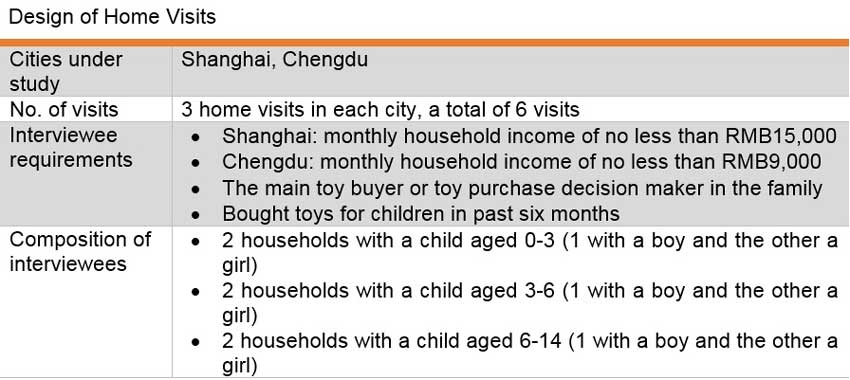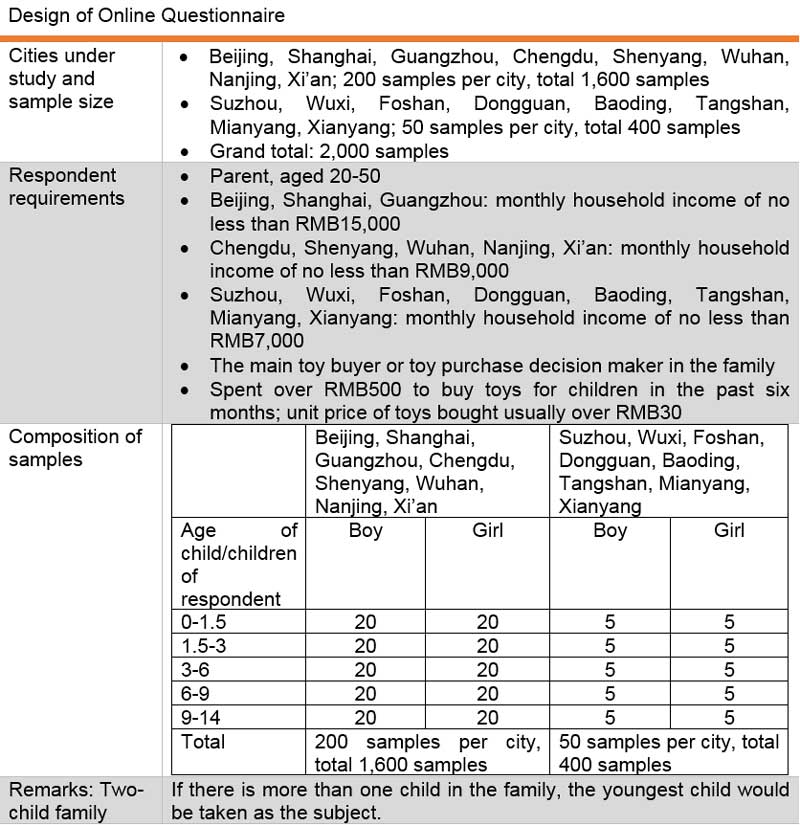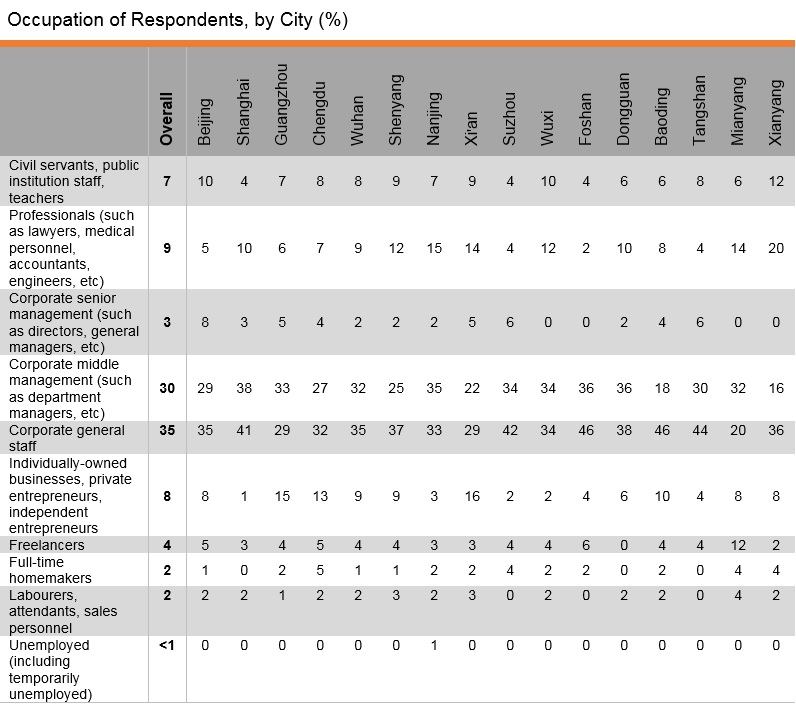 Note: Percentages may not add up to 100% due to rounding.