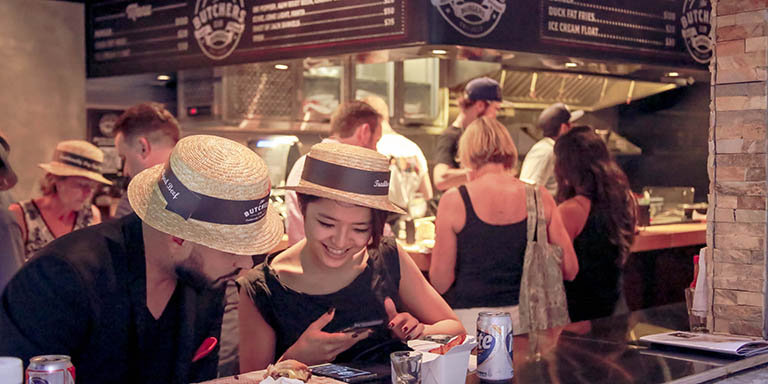 https://hkmb.hktdc.com/en/1X0AHGN1
Carnivore diners tout vegan options
Flesh-focused restaurants diversify their menus as meat-free dining grows in popularity.
Whether for health, animal rights or environmental reasons, many people – including meat eaters – seek more plant-based options in their diets.

In the gourmets' paradise of Hong Kong, restaurants have responded by including vegetarian and vegan choices in their menus. Now, groups with different dining preferences – vegan, vegetarian and carnivore alike – can find a venue in Hong Kong that caters to everyone.

Beef-focused The Butchers Club (main picture) was among the first to stake its reputation on inclusive dining. Jonathan Glover, the company's founder and then-owner, introduced a vegan option, the Beyond Burger, in 2017 after finding a product from Beyond Meat. The California-based plant protein research and development company's product met his discerning standards.

The concept has since been expanded under the ownership of FWM Restaurants Group – a Hong Kong-based, Greater China-focused multi-concept management company which also operates such restaurants as Morton's the Steakhouse, Red Lobster, Home Town and PaPi.
Classics reinvented
"We serve Beyond Classic and Beyond Wu Tang, the vegan versions of our famous The Classic and Wu Tang burgers," said Ricky Lai, CEO, FWM Restaurants. "Our vegan burgers are 100% vegan with vegan cheese and vegan mayonnaise."

The Butchers Club also serves a selection of plant-based craft beers and bourbon.

Mr Lai finds that customers enjoy having a choice. "The Butchers Club's vegan burgers offer a very similar, rich taste profile and mouth-watering feeling (as meat)," he said.  "However, a lot of our vegan burger customers also enjoy our signature dry aged beef burgers."

As an experienced restaurateur, Mr Lai said the trend among Hong Kong diners looking for more high-quality, plant-based food "is very clear".  "People want more plant-based food for different reasons and it can be a very personal choice," he said. "As a restaurant operator, we make sure we serve our guests the best ingredient in the most delicious way."

True to its roots, The Butchers Club still proudly serves its Michelin Guide-listed dry-aged beef burger in addition to the non-meat options. "Friends always share their choice of burgers on the same table, no matter whether it's Beyond Meat, Dry-aged Beef, Sustainable Fish Fillet or Sous Vide Pulled Pork," Mr Lai said.
More than steak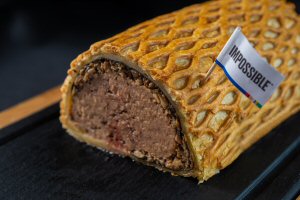 Porterhouse in Lan Kwai Fong, home to the largest collection of Porterhouse steaks in the city, also caters to diverse tastes by putting meat-free options on its menu.

Executive chef Vecchio Angelo has witnessed a "huge increase" in plant-based dining in recent years as more and more people focus on the traceability of what they eat, and the quality of the food.

"It's a paradox that we embrace," he said. "Porterhouse is a steak restaurant but we know that among groups of friends there may be some who want a vegan or vegetarian selection. They know they can come here with no worries and choose from our menu."
Sharing tradition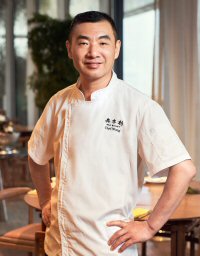 Wong Kwan Man, Executive Chef at Old Bailey in Tai Kwun, agrees. In addition to the restaurant's traditional meat and seafood-based Jiangnan cuisine, he has created sections of the menu for vegans and vegetarians.

"People are more aware of what they are eating, and nowadays they are more outspoken about their dietary requests," said Mr Wong. "At Old Bailey, around 20% of our guests are vegetarian/vegan, and they often come with a non-vegetarian group. They still share food with the whole table, ordering a good mix of meat and seafood dishes but with more vegetarian dishes as well."
He says the variety breaks the perception of vegan dishes as being "boring and tasteless". "Vegetarian/vegans are more willing to dine out without feeling isolated due to limited choice, or feeling guilty as they are 'forcing' their friends to eat 'boring' dishes."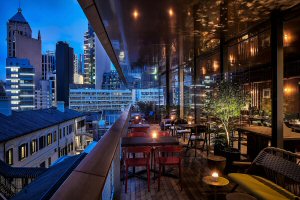 Carnivores, too, appreciate the choice. Mr Wong said: "One of our best-selling dishes, village-style handkerchief pasta with seasonal organic greens, is an excellent example of a dish enjoyed by both vegans and non-vegans alike."

Noting more special dietary requests from event organisers planning their company luncheon or dinner at the restaurant, Old Bailey also created several sets of menus catering to different needs.

Green and organic food will be one of the categories at the HKTDC Food Expo, organised by the Hong Kong Trade Development Council, which will draw exhibitors and visitors from all over the world to the Hong Kong Convention and Exhibition Centre from 15 to 19 August.
Related links
Old Bailey
Porterhouse
The Butchers Club