https://hkmb.hktdc.com/en/1X0AHG1N
Hong Kong Companies in the GBA (5): New Opportunities for Financial Industry
Interview with Eddie Pun, Chairman of Orchard Group
The Guangdong-Hong Kong-Macao Greater Bay Area (GBA), the world's largest and most populous bay area, is expected to develop into a highly competitive world-class city cluster. Local companies should strongly consider how they can make use of Hong Kong's distinctive strengths and the policies, human resources, economic environment and market of the GBA to enhance their overall competitiveness and development potential.
Eddie Pun, Chairman of the Orchard Group, has over 20 years' experience in the financial sector. He began serving mainland clients when he entered the mainland market in 2006 and established the Orchard Group in Hong Kong in 2016. The group's business covers financial consultancy, trusts, the cultural industry, research and development of skin care products, and food and beverage. The group has subsidiaries in Guangzhou and Shenzhen and is now focusing on developing the GBA market. Pun spoke to HKTDC Research about his experience in operating financial consultancy and trust fund investment projects in the GBA and the development trends in the mainland investment environment.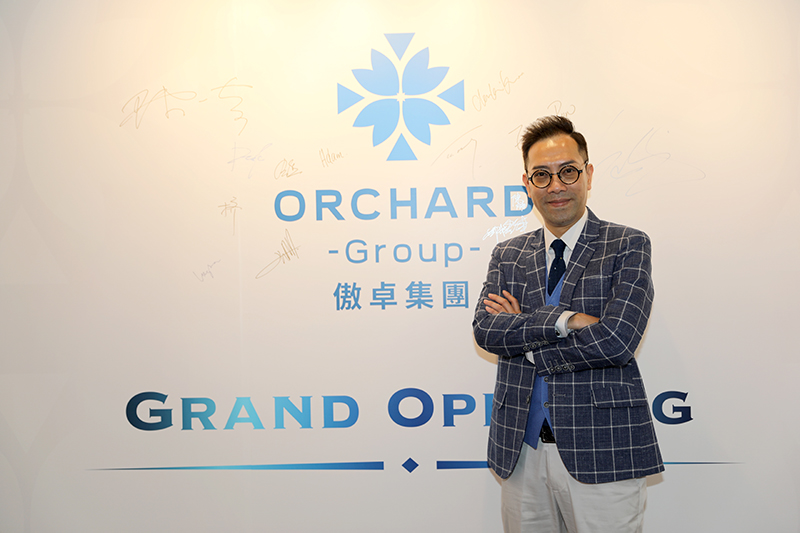 Financial Consulting Services for Cross-Border Enterprises
The Orchard Group set its sights on the mainland market from the outset. Explaining the considerations that this strategy was based on, Pun said: "Hong Kong's financial market is very mature and the supply of financial consultancy services is relatively saturated. The mainland market, on the other hand, has accumulated considerable assets and capital after four decades of rapid growth since reform and opening up. There is a great demand among mainland people for financial consultancy services so that they can get advice on how to allocate their assets better, particularly foreign or overseas assets. In view of the huge market demand and potential on the mainland, the Orchard Group has been focusing on market promotion on the mainland from the very beginning."
Describing how the Orchard Group's main financial consultancy work involves offering advice to cross-border enterprises on business, tax, accounting, law and trust, Pun said: "Our service mainly targets mainland companies and the mainland clients of Hong Kong companies. We help them handle tax, accounting and legal matters in Hong Kong and help them file initial public offering (IPO) applications to the Hong Kong Stock Exchange."
The group established Orchard Group Investment Holdings Limited in Guangzhou in 2018 as its base for the mainland market, so that it could connect more easily with mainland clients and investment projects. Pun illustrated how the business works, saying: "We have investment projects on the mainland. Our investors' money will partly be kept on the mainland for investment and partly be moved to Hong Kong for investment in the local and overseas markets. Most of our clients are cross-border businesses, including both mainland and Hong Kong companies. We are able to provide clients with more convenient capital market connections for our clients if we have offices both in Hong Kong and on the mainland."
More Flexible and Personal Trust Service
The Orchard Group has established its own cultural industries trust fund - Orchard Wealthy Art and Industries Trust Fund, to help mainland clients with wealth management. Pun said that besides helping clients to make investments, the group also helps clients manage their existing assets, adding: "The most distinctive feature of Hong Kong and overseas trusts is that they can manage funds according to the settlors' wish. However, given the difference between the Hong Kong and mainland legal systems, what can be done for trust funds in Hong Kong may not be possible on the mainland.
"For example, on the mainland, liabilities incurred by a married couple when they are living together must be borne by both parties. In Hong Kong, settlors of private trusts may even bequeath their assets to different charitable organisations instead of leaving them to their children. Private trust business holds a definite appeal to mainland enterprises."
In view of the market demand for private trust services on the mainland, the Orchard Group has established its own investment management team made up of lawyers, accountants and other professionals to provide a personalised investment and asset management service to its clients. Setting out the process by which the group attracts business, Pun said: "Our mainland company has a special sales team to reach out to clients. After identifying the premium customers, we will invite them to get in touch with our team of professionals or come to visit Hong Kong, introduce our financial products and services to them, and brief them on previous cases handled by us to give them a better idea of Hong Kong's financial products and services."
However, Pun admitted that there are many competitors in the trust market, saying: "In Hong Kong, many law firms also have their own teams for handling trust business. Banks are our biggest competitors. Banks are in the best position to handle the trust business of clients because they hold their clients' assets. Our strength lies in our flexibility. For example, banks usually make decisions on which particular sectors or projects they should invest in based on their own considerations and clients have little say on such matters. We are more flexible. We not only offer our clients a number of our existing investment projects to choose from, but can follow their wishes in investing in their chosen sectors or projects."
Investment in Cultural Industry
Orchard Wealthy Art and Industries Trust Fund mainly invests in film projects, large resort development projects in Australia, and helicopter aviation development projects. Explaining that this strategy is based on its analysis of potential consumer expenditure on the mainland, Pun said: "We are focusing our investment in these three areas in view of the mainland consumption potential for entertainment, outbound travel and domestic helicopter services."
Pun added that the cultural industry is the core business of the Orchard Group, saying: "This is mainly done through Wealthy Art Worldwide Ltd, which we set up in 2014. We focus on film production, film publicity and distribution, and concerts, including arranging jobs for Hong Kong performers on the mainland, acting as their agents and negotiating commercial shows for them. Recently we've also been casting new actors and actresses both in Hong Kong and the mainland in the hope of recruiting more talents for the performing arts business."
Pun is optimistic about the future of the film and television industry because mainland box office earnings have been steadily growing in recent years and potential investment returns are lucrative. The Orchard Group plans to step up its film and television development in future by investing in and producing various types of films and TV dramas. Pun made it clear the group is also well aware of the importance attached to the cultural industry by the Outline Development Plan for the Guangdong-Hong Kong-Macao GBA, saying: "The cultural industry is a key driver for the GBA. The development plan, Policies for the Development of Film and Television Industry in Foshan, which came into force shortly after the promulgation of the Outline Development Plan, is expected to attract the interest of industry players. It's likely that the future GBA, particularly the city of Foshan, will foster the all-round integration of resources, including cultural resources, industry chain resources and media resources, and help create a regional ecosystem for film and TV cultural products."
The Orchard Group hopes to build cultural industry parks in the form of thematic towns. Pun explained that this would involve presenting the traditional cultural characteristics of these places, preserving things that are worth keeping culturally in a new ecological format in order to build a sustainable cultural economy, saying: "This is a bit like the Xiqu Centre in the West Kowloon Cultural District, which looks to promote the traditional art of Cantonese opera in new ways. The design of the Xiqu Centre is unique and beautiful, offering performances as well as guided tours in the hope of helping more young people, mainland tourists and foreigners better understand this valuable art. Orchard also hopes to build a similar cultural industry park combining culture with business in the GBA."
Pun pointed out that this approach fits well with the measures advocated by the central government, such as "thematic towns" and "publicity for intangible cultural heritage".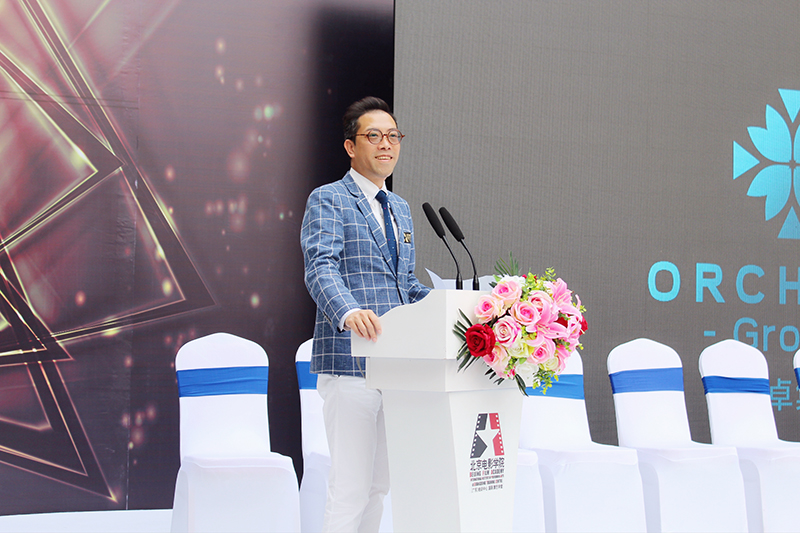 GBA Accelerates Integrated Development
The Guangdong-Hong Kong-Macao GBA is becoming a "one-hour living circle" following the opening of the Hong Kong-Zhuhai-Macao Bridge and the Hong Kong High-Speed Rail Station, connecting nine mainland cities and two special administrative regions. Many infrastructure projects facilitating the settlement of business have been planned and built, including not just venture industrial parks but also projects covering various aspects of daily life, tourism and entertainment. Illustrating how this makes it easier to attract talent to the region, Pun said: "For Hong Kong people coming to do business in the GBA like us, basically everything we need is already there. All the facilities we need for daily life and entertainment are close by. In the past, it was difficult for cities other than Shanghai and Beijing to attract professionals. Now I am beginning to see the clustering of professionals in the GBA. I think that the GBA, as a key national project for developing a cluster of core cities, can release great potential and attract quality talent to come and stay."
Pun explained how the policies set out in the Outline Development Plan for the Guangdong-Hong Kong-Macao GBA are shaping the Orchard Group's plans, saying: "According to the Outline Development Plan, there are clear-cut divisions between Hong Kong, Guangzhou, Shenzhen and Macao in their financial roles. A number of new financial licences will be issued in the GBA in the days to come. Other than the financial sector, the local governments in the GBA will also do their utmost to attract investment." Citing one of his investment projects as an example, Pun added: "I am thinking of setting up a film production company in Foshan and the local government has sent us an invitation to go there and discuss possible co-operation."
Pun highlighted remarks made by the governor of Guangdong province at the Symposium on the Outline Development Plan for the Guangdong-Hong Kong-Macao GBA, in which he said: "Focusing on the particularities and common interests of the three places under the "one country, two systems" policy, we should deeply promote institutional innovation, push forward investment facilitation and trade liberalisation, strengthen the integration of regulations in such fields as law, finance, medical care and construction, and promote the convenient and orderly flow of talents, materials, capital and information." Pun commented that the speed of policy updates and regulation integrations should be the most notable feature of the GBA in future, saying: "There would be greater scope for the development of talents in the GBA if certification is mutually recognised and talents can freely take up employment in any of the three places."
Hong Kong's Position as a Financial City
In Pun's opinion, Hong Kong is not just an important stepping stone for overseas companies entering the mainland market but is also an important window for mainland companies looking to venture overseas. Hong Kong has a competitive tax system and has no foreign exchange controls. Its financial industry leads the mainland market and its financial regulations and legal norms are consistent with international practices. Indicating that this is what gives Hong Kong its special status, Pun said: "Hong Kong's financial development standards and sound legal system are its unique strengths. As the world's freest economy, Hong Kong boasts a sound and effective judicial system and financial regulatory regime, something irreplaceable in the GBA."
At the same time, Hong Kong is a global financial centre sensitive to global economic trends, a place where the latest information on innovation, technology and business converge and disseminate. Pun pointed out that this will be enhanced by the GBA, saying: "The GBA groups together different cities, facilitating the rapid dissemination of information, completely unlike the past when each city developed on its own. The rapid convergence and dissemination of information will pave the way for the rapid development of the GBA."
Pun wants the Hong Kong government to help Hong Kong companies in the GBA communicate with local governments on the mainland. Explaining the difficulties the companies face, Pun said: "The way mainland government offices work is quite different from the way they do in Hong Kong. Hong Kong companies do not know where to go to, who to speak to and how things can be resolved when they have problems. We hope the Hong Kong government will establish a window or institution on the mainland to help Hong Kong companies communicate with local government offices so we know whom we should contact when in trouble or in need. This would be most helpful to our development on the mainland."
Hong Kong
Mainland China