https://hkmb.hktdc.com/en/1X0AHBIL
Hong Kong Leading the Way in Greater Bay Area Biomedical Services Cooperation
The Outline Development Plan for the Guangdong-Hong Kong-Macao Greater Bay Area issued in February 2019 calls for close cooperation in quality medical and health resources within the Greater Bay Area (GBA). Meanwhile, steps will also be taken to optimise the environment for innovation as well as foster and grow such new strategic industries as biomedicine, high-end medical equipment and DNA genetic testing in the area. Guangdong, as China's leading pharmaceuticals province, is encouraging local enterprises to develop new-generation biomedicines in the hope of providing more effective medical diagnosis and treatment through more advanced technologies. Biomedicine is a sunrise industry with huge market potential. However, industry players are not only in need of the necessary technologies, but also require talents and clinical test resources as well as sustainable financial arrangements before they can effectively proceed with related projects.
Hong Kong has a reputable medical-service system and an outstanding biotech cluster. The medicine, equipment and diagnostic tools used by local industry players keep abreast of the times and have obtained the approval and certification of the relevant supervisory institutions in countries and regions such as the US and the EU. As such, Hong Kong cannot only bridge the gap between mainland China and overseas countries in various medical fields – including certain medical technology applications, clinical tests and other medical data – but can also help enterprises in the GBA "go out" and cooperate with foreign partners and turn the area into an important regional biotech development hub.
The concerned government departments in the GBA are formulating policies aimed at facilitating cooperation in the area. For instance, the central government has recently approved introducing cross-border fast-track customs-clearance measures to promote the flow of scientific research samples, lab reagents and genetic resources within the GBA. Given that Hong Kong has a pool of biotech talents with strong research and development (R&D) capabilities, free flow of rich financial resources, excellent professional services and sound intellectual-property protection, it is well-positioned to help the biomedicine industry in the GBA increase competitiveness and move up the value chain.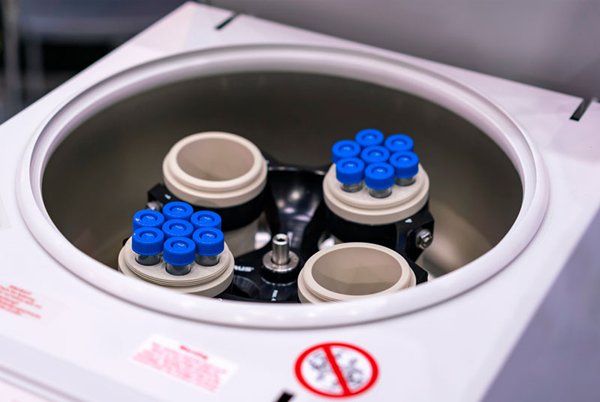 Guangdong Pharmaceuticals Tops National League
China is moving towards a moderately well-off society. As the country's economy develops further and income levels continue to rise, its citizens are attaching increasing importance to their physical health and medical protection. As a result, demand for more advanced and efficacious medical diagnosis and medication treatment is climbing. To meet the surge in demand, the mainland government is increasing the pace of improving the medical system and advancing the development of the pharmaceuticals manufacturing industry. The government has recently launched a number of policies aimed at helping patients and promoting people's well-being, such as offering tax concessions to cancer and rare disease treatment services, in a move to lower drug prices to alleviate the financial burden of patients and their families [1].
Guangdong, one of China's leading provinces in terms of economic development, has been actively promoting pharmaceuticals manufacturing activities in recent years. For instance, in 2016 the Guangdong provincial government issued the Implementation Plan for Promoting the Healthy Development of the Pharmaceuticals Industry [2] with a view to lowering R&D and sales costs of medicinal products and upgrading the pharmaceuticals industry to medium and high-end by optimising the application environment and pursuing industrial restructuring. As China's bridgehead for foreign economic and technological cooperation, Guangdong is devoting great efforts to enhancing cooperation with foreign partners. Such efforts include importing and fostering talents who are well-versed in international registration and accreditation of pharmaceutical products, assisting local pharmaceutical enterprises in obtaining international accreditation from the Food and Drug Administration (FDA) and The College of American Pathologists (CAP) in the US, and attracting well-known multinational corporations to set up R&D and production bases in Guangdong in a move to prompt the pharmaceuticals industry to pursue innovation.
According to the latest report on the drug-circulation sector released by China's Ministry of Commerce [3], drug sales in Guangdong ranked top in the country, reaching RMB187 billion in 2017, of which western medicines accounted for 72% while Chinese patent medicines and traditional Chinese medicine (TCM) made up about 20%. During that year, Guangdong's drug sales contributed 9.3% of the national total, followed by Beijing (8.5%) and Shanghai (8.1%).
On the supply side, Guangdong's pharmaceuticals manufacturing industry has been growing in leaps and bounds in recent years. In 2017, the core business revenue of the province's industrial enterprises above a designated scale reached RMB162.4 billion, ranking fourth in the country, trailing only Shandong, Jiangsu and Henan [4]. The value-added of Guangdong's pharmaceuticals industry hit RMB53 billion, rising 12.8% annually on average in the past 10 years [5].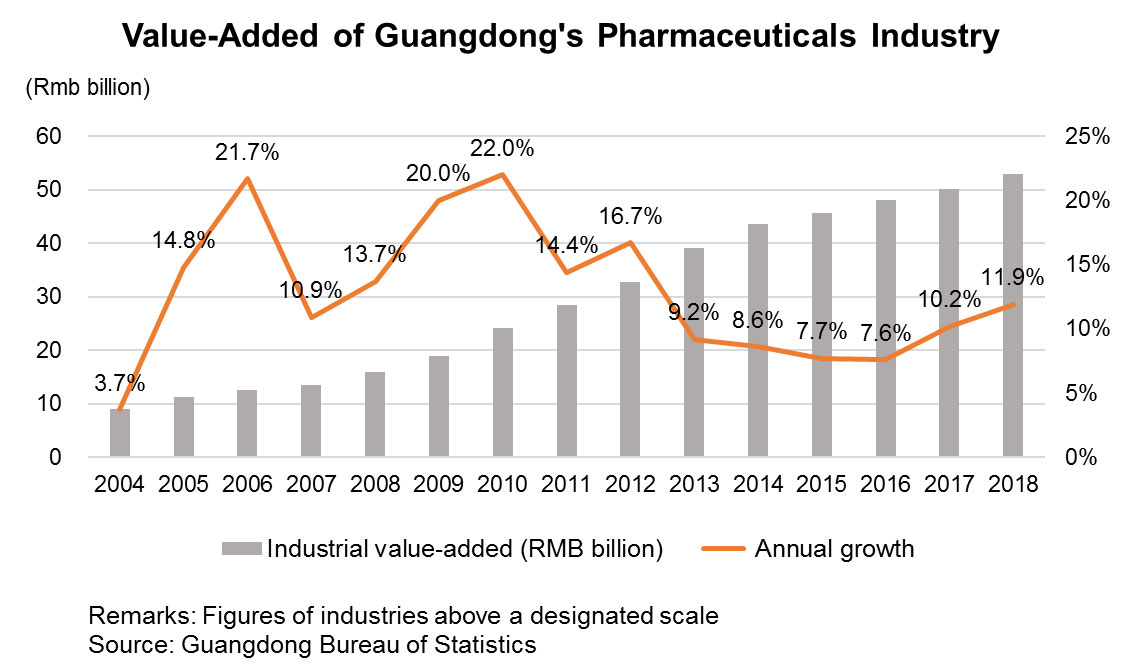 In Guangdong, western medicines account for about 70% of all pharmaceutical sales and output value of pharmaceuticals manufacturing. For example, in 2017 the production of chemical medicines of active pharmaceutical ingredients and preparations together made up 51% of the pharmaceuticals industry, the production of new biomedicines contributed about 15%, while the production of Chinese patent medicines and processing of decoction pieces together accounted for about 26%. Guangdong is a leading province for the manufacturing and sales of TCM. While continued efforts are being made to promote the modernisation of TCM, in recent years the provincial government has also been actively advancing the western medicine industry to a higher level of technology as well as importing pharmaceuticals and medical technologies from abroad. In addition to generic western chemical drugs, special effort is being made to encourage industry players to develop new-generation biomedicine with a view to using more advanced drugs and technologies to provide more effective diagnostic and pharmaceutical services.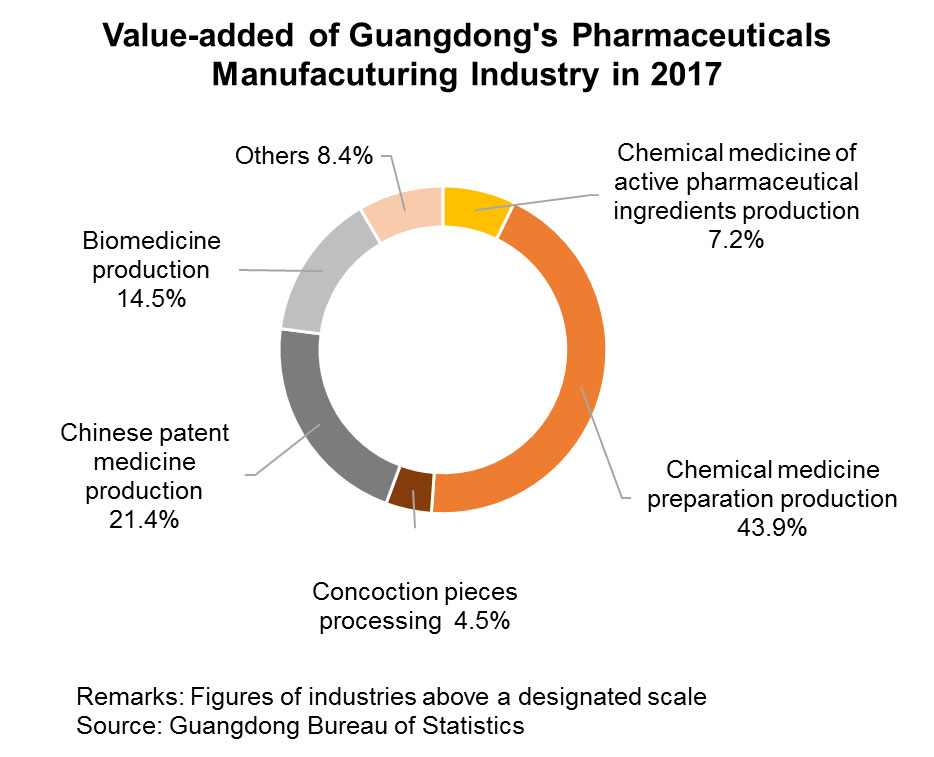 Biomedicine Attracts World Attention
It is worth noting that developed countries and regions are expediting the development of such biotechnologies as precision medicine, genomics and biosynthesis in a move to apply the latest medical methods to diagnosing and treating serious illnesses and to better control epidemics and infectious diseases. In Guangdong, apart from advancing the overall development of the pharmaceuticals industry, a development plan for new strategic industries had already been formulated and incorporated into its 13th five-year plan (2016-2020). Action being taken includes devoting great efforts to developing biotechnology into one of the pillar industries; strengthening the technological base for the development of innovation in the biology industry; accelerating the commercial application of new technologies such as DNA genetic testing, regenerative medicine, molecular breeding, bio-based materials, and biomass energy; and quickening the pace of industrialisation of biotechnologies [6].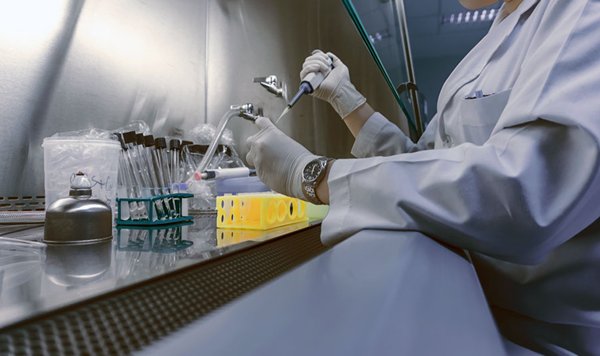 In March 2019, the Department of Industry and Information Technology of Guangdong Province issued a set of implementation opinions on accelerating the development of the biomedicine industry [7]. It is hoped that by 2020 the industry's innovation ability and competitiveness will be greatly enhanced and its scale expanded considerably. Key tasks set out in the directive include:
Give support to a number of industry giants and innovation-led enterprises; increase the scale of a number of small and micro pharmaceutical and medical equipment enterprises.
Foster a number of "key products" such as cardiovascular drugs, anti-cancer drugs, anti-diabetic drugs, bio-preparations, biomedical diagnostics, medical equipment and medical imaging; as well as increase the pace of industrialisation of new TCM.
Build Guangzhou, Shenzhen, Foshan, Zhongshan, Zhuhai and Dongguan into a core cluster of the biomedicine industry.
Give priority to establishing a number of production bases to grow Chinese medicinal herbs and herbal medicine in short supply; encourage regions in eastern, western and northern Guangdong to set up bases for growing and breeding of authentic Lingnan medicinal herbs, and integrate the production and processing of Chinese herbal concoction pieces.
The above directive complements the development trend of the pharmaceuticals manufacturing industry in the GBA. For instance, Guangzhou and Shenzhen are not only major pharmaceutical-manufacturing cities in the GBA, but they are also the leading science and technology R&D bases of Guangdong. At the same time, although the scale of the pharmaceuticals industry in other mainland GBA cities such as Zhuhai, Foshan and Zhongshan is relatively small, these cities have been building high-tech industry parks one after another in recent years to take advantage of their lower cost of living and business operation to attract foreign companies and talents from outside the region to come and develop biomedicine R&D and production businesses.
Development of Biomedicine in Guangdong
Guangdong possesses considerable strengths in areas such as biomedicines, genetic diagnostic reagents, modern TCM and medical equipment. The province also has higher learning institutions and scientific research institutes including Zhongshan University and Chinese Academy of Sciences, which specialise in these fields. A number of listed pharmaceuticals companies have emerged in the province, such as Guangzhou Pharmaceuticals, Guangzhou Baiyunshan Pharmaceutical, China Resources Sanjiu, BGI Group, Mindray Bio-Medical Electronics, Shenzhen Hepalink Pharmaceutical, Livzon Pharmaceutical Group, Kangmei Pharmaceutical, and United Laboratories. Multinational pharmaceuticals corporations such as Novartis and Germany's Bayer AG have also been attracted to invest there. The biomedicine industry in Guangdong is mainly distributed in GBA cities, including:
Guangzhou designated biomedicine as a key component of the city's IAB Plan (new-generation information technology, artificial intelligence and biomedicine). The biomedicine industry mainly comprises the two core zones of Guangzhou Science City and Guangzhou International Biological Island. Meanwhile, a number of high-standard R&D institutions, such as Guangzhou Institute of Biomedicine and Health under the Chinese Academy of Sciences, the National Engineering Research Center for Genetic Medicine under Jinan University, and Nanhai Marine Biotechnology National Engineering Research Center, have set up R&D and testing bases in the city. Guangzhou has also attracted industry giants such as Xiangxue Pharmaceutical and Consun Pharmaceutical, which have an output value amounting to RMB100 million and possess independently developed products and sustainable innovation ability. Their presence has created a clustering effect for the biomedicine industry in the city.
Shenzhen was already rated as one of the first biological industry bases in China as early as 2005 and was incorporated into the country's overall development plan. BGI Group, Mindray Bio-Medical Electronics, Shenzhen Neptunus Bioengineering and Shenzhen Hepalink Pharmaceutical in the city all rank among leading innovation enterprises in China's biomedicine field. Moreover, Shenzhen has the most influential medical equipment industry cluster on the mainland and is currently an important R&D, production and export base for large-scale precision medical equipment and electronic medical instruments nationwide. Shenzhen's biomedicine industry produced the world's first Asian genome mapping, as well as the first bio-engineering Class 1 new drugs, the first nuclear magnetic resonance diagnostic equipment and the first gamma ray therapy system in China.
Other biomedicine enterprises in Guangdong are mainly concentrated in other cities in the GBA. For instance, the Jinwan Biomedicine Base in Zhuhai is one of the three major biomedicine industry clusters in Guangdong, housing several well-known pharmaceutical enterprises including Livzon Pharmaceutical Group, Jafron Biomedical, By-Health and United Laboratories. The Hengqin Pilot Free Trade Zone in Zhuhai also devotes great effort to developing the local biomedicine industry into a pillar industry in the GBA. In Foshan, dubbed the "Hometown of Patent Medicine in the Lingnan Region", action is being taken to leverage its edge in the TCM industry to build such platforms as a healthcare big data industrial park in Guangdong, the Guangdong Pharmaceutical University (Shunde) Science Park, and the Guangdong (Nanhai) Biomedical Industrial Base by riding on industry juggernauts such as Sinopharm Group Dezhong (Foshan) Pharmaceutical and Guangdong Yifang Pharmaceutical in a bid to promote the development of biomedicine enterprises in the city. As for Zhongshan, the city has recently issued the Zhongshan City Healthcare and Pharmaceutical Industry Development Action Plan (2018-2020) in the hope of seizing the valuable opportunity brought about by the establishment of the GBA to enhance the scale and innovation ability of the healthcare and medicine industry – including biomedicine – on the basis of its existing biomedicine, chemical medicine, modern TCM and medical equipment industry clusters.

GBA Plan Promotes Innovative Ventures
In response to Guangdong's active drives to promote the development of the biomedicine industry, some enterprises that are mainly engaged in western chemical drugs or TCM have begun to embark on biomedical R&D projects, whereas medical and scientific research talents have started new ventures. It is hoped that by capitalising on the global trend of developing biotechnology, they can move towards higher value-added operations and capture business opportunities in the domestic and overseas markets.
However, biomedicine is an emerging innovative industry that not only involves advanced biological and medical technology, but also requires R&D efforts and investment right from the conceptual stage in most cases. As it also calls for clinical trials to verify the related pharmaceutical or treatment effects as well as the approval and certification by the regulatory authorities, the commercial and financial risks involved should not be overlooked. While biomedicine is a sunrise industry with immense market potential, industry players have to deal with various problems in taking forward their ventures.
With the assistance of the Department of Commerce of Guangdong Province, HKTDC Research visited the GBA in April 2019 and interviewed certain representatives of the pharmaceutical industry in the area. Exchanges were made with industry players on how local enterprises can step up biomedical cooperation with Hong Kong under the joint promotion of GBA development within Guangdong, Hong Kong and Macao. The views brought up during the exchanges include:
Stepping up Exchanges with Scientific Research Institutes and Talents while Bringing in Related Technology

Mainland pharmaceutical research talents can capitalise on their knowledge of local patient conditions to help businesses tap into the massive mainland market. As advanced countries are leading the development in biotechnology, many mainland enterprises want to introduce and integrate foreign technology to their operations so they can be better equipped to develop the mainland market. However, foreign technology may not be suitable to apply to mainland patients directly. Also, there are differences between the mainland medical system and those of foreign countries. Even if medical diagnostic technologies and treatment options are introduced through co-operative arrangements or mergers and acquisitions, application issues and other medical and technological problems could still crop up from time to time. In contrast, the medical system of Hong Kong is in conformity with those of advanced countries. It not only applies technologies that originated in Europe and the US, but has also gone further to develop many leading diagnostic and treatment technologies. Mainland industry players therefore want to step up exchanges with Hong Kong's scientific research institutes and talents, and to bring in the biomedical technologies from foreign countries and Hong Kong for industrial and commercial purposes on the mainland.
Fostering Clinical Collaboration and Related Development

All pharmaceutical products and treatment methods need to undergo clinical trials and obtain certification by the regulatory authorities before they can be promptly launched in the market. Yet as pointed out by many enterprises, there is intense competition for clinical trial resources between scientific research institutes and enterprises in Guangdong. Apart from seeking authorisation for collaboration with hospitals, there is also a need to identify suitable patients for the trials. Not only do these trials involve high cost, but the available hospital and patient resources are also in short supply, posing a hurdle to the development of innovative biomedical technologies and products. In this respect, Hong Kong has built up mature clinical technologies and stringent trial systems. Should facilitation measures for cross-boundary cooperation be introduced into the GBA plan, many mainland enterprises would step up their cooperation with Hong Kong in conducting clinical trials so they can better share the clinical trial resources offered by the GBA.
Acquisition of Foreign Pharmaceutical Certification

Enterprises "going out" to open up overseas markets should, apart from gaining knowledge of overseas requirements on pharmaceutical products and treatment technologies, apply for clinical trial authorisation and the related treatment and pharmaceutical certification and approval from foreign regulatory authorities. While mainland enterprises have to get hold of the relevant information, they lack the required biomedical experts with experience in applying for foreign certification. They are therefore in great need of expertise and related service support for seeking the related authorisation, certification and approval for their pharmaceutical projects before they can "go out" to open up foreign markets for their scientific research accomplishments.
Funding and Financial Arrangements

As biomedical projects mostly take a long time to incubate and nurture, many small- and medium-sized enterprises as well as start-up companies face tremendous financial pressure during different stages of their operation. On the one hand, the R&D medical and technical staff may not have the necessary financing and marketing experience. On the other hand, as the development of innovative biomedical technology usually involves high risk, banks and other financial institutions on the mainland are mostly conservative towards projects without a proven profit record and may refuse to finance those lacking security pledges. Under the circumstances, enterprises not only have to seek financing from special sources such as angel investment and venture capital, but also need supporting financial services to convert their biomedical projects into financially viable operations and to provide them with sustainable fully fledged financial arrangements for R&D, clinical trials, certification application and product launches.

The Outline Development Plan for the GBA has laid down the directions for the development of the medical and biomedical industry with a view to promoting cross-boundary cooperation among Guangdong, Hong Kong and Macao enterprises for facilitating the innovative industrial development of the GBA. These development directions include:
Enhancing the Environment for Innovation in the Area

To study and formulate a specialised plan to enhance the management of the cross-boundary use of medical data and bio-samples (such as blood) necessary for scientific research cooperation projects in designated higher-education institutions, scientific research institutes and laboratories in the GBA, and foster the R&D of clinical medicine. To enable Hong Kong and Macao R&D institutes in Guangdong to enjoy the same treatment as other mainland R&D institutes and to benefit from various national and provincial (Guangdong) policies in support of innovation, and to encourage as well as support their participation in Guangdong's technology programmes.
Nurturing and Strengthening Emerging Strategic Industries

To pursue the development and growth of new pillar industries including biotechnology, and nurture major industry projects in designated key fields such as biomedicine (including protein products), high-end medical diagnostic equipment, genetic testing and modern Chinese medicine.
Shaping a Healthy Bay Area

To foster close cooperation in quality medical and healthcare resources, support medical and healthcare service providers from Hong Kong and Macao in setting up healthcare facilities through sole proprietorship, joint-venture, cooperation, etc. in the nine cities in the Pearl River Delta (PRD) region in accordance with regulations. To strengthen the joint nurturing of, and exchanges among, medical and healthcare talents, take forward joint consultations on infectious diseases, and encourage medical and healthcare professionals from Hong Kong and Macao to visit the nine PRD cities for academic exchanges and short-term private practice.
Hong Kong Drives Upgrading of GBA Industries
With Guangdong, Hong Kong and Macao gradually advancing the implementation of the GBA's development plans and rolling out corresponding facilitation measures, cooperation among the biomedicine industries in the three territories would be facilitated. This would also better satisfy the needs of patients from the GBA and elsewhere while allowing the industries to capture the huge markets in South China, in the whole of China and even in overseas countries. In Hong Kong, there is a biotechnology cluster of outstanding achievements, and more than 250 companies are now engaging in the biotechnology business [8]. With the advantage of sound infrastructure and personnel with high R&D capabilities, Hong Kong is in a position to help the further development of the biomedicine industry in the area.
Hong Kong has a unique advantage, particularly in clinical medical research. For example, clinical trial data from Hong Kong is simultaneously recognised for drug registration purposes by various drug regulatory bodies such as the FDA, the European Medicines Agency (EMA) of the EU and China's National Medical Products Administration (NMPA) [9]. This is one of the reasons why a number of multinational pharmaceutical companies have chosen to cooperate with the medical schools of the University of Hong Kong and the Chinese University of Hong Kong. Meanwhile, several Hong Kong medical institutions, including Prince of Wales Hospital, Queen Mary Hospital, Hong Kong Eye Hospital and Hong Kong Sanatorium & Hospital, have passed the NMPA's review and/or evaluation and can now accept the commissioning of drug registration applicants to carry out clinical trials of approved drugs [10].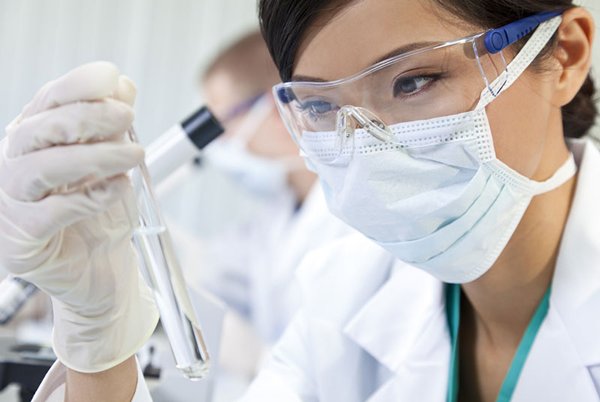 Hong Kong Science and Technology Parks Corporation (HKSTP), as one of the main drivers of biomedical technology development in Hong Kong, is committed to facilitating the conversion of high-value medical research from the trial stage to the commercialised stage. Under it, the HKSTP offers comprehensive supportive services to the industry, including backing the biotechnology start-up incubation plans of entrepreneurs. The HKSTP has set up advanced biological and instrumentation laboratories and is equipped with the latest research instruments to speed up the R&D of high-end medical instruments, molecular diagnosis, stem-cell therapies, regenerative drugs, Chinese herbal medicines and advanced therapies by enterprises in biomedical research. The HKSTP is currently home to more than 100 biomedicine companies.
Moreover, Hong Kong is known for the large number of world-class biomedical technology talents it has nurtured. For example, it has many accomplished specialists in fields such as the control of communicable diseases caused by multiple flu viruses, and the detection and treatment of neurological diseases, nasopharyngeal cancers and lung cancers, and the research results of these specialists are highly esteemed internationally. Other than nurturing scientific research professionals, world-famous universities and colleges in Hong Kong are also engaged in numerous forward-looking biomedical research, particularly genome research and identifying new viruses.
The Hong Kong Special Administrative Region Government has also introduced fiscal measures designed to make biotechnology a major industry in the territory. In its 2018-2019 Budget, the government set aside HK$3 billion for the HKSTP to build research infrastructure and facilities related to biotechnology. Another HK$10 billion is earmarked for the establishment of two research clusters, one of which is on healthcare technology innovation. In February 2019, the government announced in its 2019-2020 Budget that it will allocate HK$1.2 billion to set up the Hong Kong Genome Institute and to take forward the Hong Kong Genome Project unveiled in last year's Policy Address, so that 40,000 to 50,000 whole-genome sequencing can be performed in the next six years [11]. These measures should help promote the clinical application of biotechnology for patients from Hong Kong and other regions as well as support related innovative scientific research.
Against this background, Hong Kong industry players would have the potential of driving the further development of the biomedicine industry in the GBA. Specific examples include:
Hong Kong adopts the state-of-the-art drugs, equipment, diagnostic instruments and other advanced clinical technologies, which are also approved by overseas regulatory authorities such as the FDA and the EMS. Nevertheless, if there is no recognised clinical data from Chinese patients, these advanced equipment and technologies would not easily obtain the approval of the NMPA. As the GBA further promotes cross-border cooperation in biomedical services [12], Hong Kong will become an ideal platform for providing trial data, which would help the adoption of overseas clinical diagnostic technology by the mainland medical community. In the second plenary meeting of the Leading Group for the Development of the Guangdong-Hong Kong-Macao GBA held on 1 March 2019, the central government supported the implementation of speedy customs-clearance measures, which would facilitate the circulation of research samples, laboratory reagents and genetic resources among different cities in the GBA [13]. With these planned measures in place, Hong Kong could become an important testing base for advanced overseas clinical technologies before being adopted in the GBA. (For further details, see Hong Kong a Greater Bay Area Test Bed for Clinical Technology.)
Hong Kong is also in a position to lead the GBA and other territories in carrying out cooperation in R&D projects and in offering advanced biomedical services while filling the knowledge disparity in genes and other biomedical information between the mainland and overseas countries. For example, Hong Kong can set up large databases to help its biomedical companies and technology institutions carry out R&D work, especially in gene-related research and medicine development. In addition, Hong Kong's sound legal regime can effectively protect intellectual property and proprietary data, while its extensive transportation and logistics networks can offer the logistics support required to deliver biological samples. With these favourable factors, Hong Kong can assume the role of a bridgehead for biomedical enterprises in expanding the scope of their research and services from the GBA to countries along the Belt and Road routes and other overseas markets. (For further details, see Biomedical Services: Linking the Greater Bay Area and the Belt and Road Markets.)
Hong Kong possesses outstanding capabilities and experience in the prevention and control of communicable diseases. This not only helps protect its residents but also aids the mainland in guarding against related risks, including the R&D of effective clinical therapeutic methods against new communicable diseases such as the SARS coronavirus and other flu viruses. The Hong Kong government is often in close cooperation with mainland governments and related bodies in developing medical technologies and implementing disease prevention and control measures, a prime example being the cooperation agreement signed recently by various healthcare departments in the GBA [14]. Hong Kong researchers and technology companies will be able to play an important role in fully preparing the GBA to cope with various types of emerging communicable diseases. (For further details, see Greater Bay Area Cooperation in Combatting Epidemics: How Hong Kong's Expertise Can Help.)
Apart from technology fields, Hong Kong has clear advantages in other areas like marketing management, finance and related professional services, which would help enterprises in the GBA handle various kinds of market challenges. Moreover, Hong Kong is blessed with rich financial resources and enjoys the advantages of the free flow of capital. Also, the Stock Exchange of Hong Kong has revised its listing rules and, since 30 April last year, started accepting listing applications from biotechnology companies with not less than HK$1.5 billion in market capitalisation [15], thus offering an additional financing channel for related GBA enterprises. With added favourable factors such as having a sound legal regime that will offer good protection for intellectual property, Hong Kong is conducive to the carrying out of related scientific research activities and technology exchanges. Hence, Hong Kong has the potential to become an important hub for biotechnology development and to contribute towards the upgrading and development of the biotechnology industry in the area.
---
[1] For further details, see China Cuts VAT on Cancer Medication and China Cuts VAT Liability of Rare Disease Drugs
[2] Circular of Guangdong Province on the Implementation Plan for Promoting the Healthy Development of the Pharmaceuticals Industry (Yue Fu Ban No. 96 [2016])
[3] Statistical Analysis Report on the Operation of the Pharmaceuticals Distribution Industry
[4] Source: statistics bureaus of respective provinces
[5] Source: Guangdong Bureau of Statistics
[6] For further details (in Chinese), see Circular of the General Office of the Guangdong Provincial People's Government on Issuing the 13th Five-Year Plan for Development of Strategic Emerging Industries in Guangdong (Yue Fu Ban No. 56 [2017])
[7] The output value of the biomedicine sector is projected to exceed RMB400 billion by 2022. For further details (n Chinese), see Implementation Opinions of the Department of Industry and Information Technology of Guangdong Province on Expediting the Development of Biomedicine Sector (Yue Gong Xin Xiao Fei No. 42 [2019])
[8] Source: Hong Kong SAR Government (https://www.brandhk.gov.hk/html/en/OurHongKong/Biotechblossoms2.html)
[9] Formerly China Food and Drug Administration (CFDA)
[10] Only for medical specialities which have passed accreditation inspection. For further details (in Chinese), see Announcement on Matters Concerning Mainland Clinical Drug Trials in Three Medical Institutions in the Hong Kong Special Administrative Region (CFDA Announcement No. 42 [2014]); Announcement on Matters Concerning Mainland Clinical Drug Trials to be Undertaken by Newly Accredited Specialties of Two Medical Institutions in the Hong Kong Special Administrative Region (CFDA Announcement No. 127 [2016]); Announcement on Matters Concerning Mainland Clinical Drug Trials in Four Medical Institutions in the Hong Kong Special Administrative Region (NMPA Announcement No. 36 [2019])
[11] Source: The 2019-2020 Budget of the Hong Kong Special Administrative Region
[12] For further details, see Outline Development Plan for Guangdong-Hong Kong-Macao Greater Bay Area Promulgated
[13] For further details, see Greater Bay Area to Introduce Eight Facilitation Measures
[14] For further details, see Greater Bay Area Health Bodies Sign Six-Point Formal Co-operation Agreement
[15] Source: Hong Kong's Listing Regime Enters New Era: Featuring Emerging and Innovative Firms, a 24 April 2018 news release of the Stock Exchange of Hong Kong
Technology
Medical & Healthcare Services
Hong Kong
Mainland China
Hong Kong