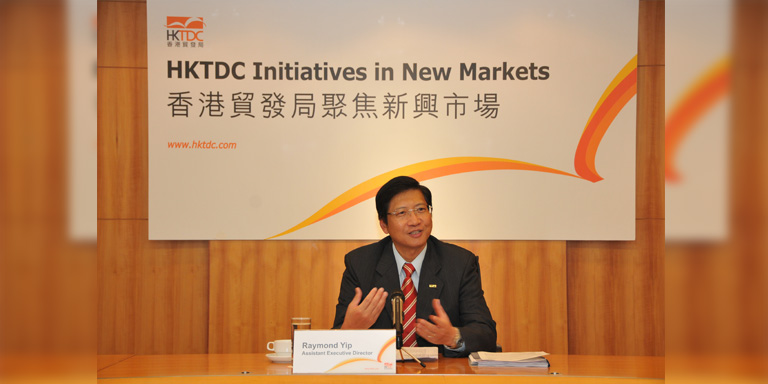 https://hkmb.hktdc.com/en/1X0AHAPH
Looking back on transformative years
Deputy Executive Director saw momentous changes for Hong Kong and the HKTDC during his four decades with the Council.
After four decades of service with the Hong Kong Trade Development Council, Deputy Executive Director Raymond Yip retires this week, on 21 May. He saw the organisation expand and transform in line with profound changes in Hong Kong and Mainland China in the 40 years following 1979, when he joined the HKTDC. Mr Yip looks back on his time promoting the interests of Hong Kong business in the world at large.
You are a veteran of the HKTDC, having held leadership roles in many positions and countries. When did you start?
After graduating from the Chinese University of Hong Kong, with an honours degree in Business Administration, I worked for the Swire Group briefly before joining the HKTDC in 1979 as an Executive Trainee. It was a dream job for me, because it would offer plenty of international exposure and a good chance to make contributions to Hong Kong, my home.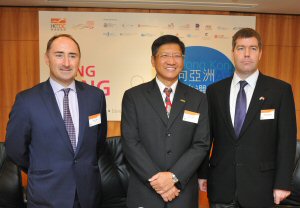 Over the past four decades, Hong Kong has evolved from being a giant factory into a services provider. What role did the HKTDC play in this transition?
When I started at the HKTDC, Mainland China was beginning to open up and Hong Kong factories began migrating into the mainland, especially Guangdong province, to take advantage of the lower costs and huge availability of land there. This boosted Hong Kong trade. To help Hong Kong suppliers further expand in global and mainland markets, we at the HKTDC continued to connect them with potential buyers through various activities, including organising trade fairs in Hong Kong and taking local suppliers to overseas and mainland exhibitions. As more and more Hong Kong companies moved their production bases to the mainland, Hong Kong developed an increasing role in handling the supporting services involved, including finance and logistics, while expanding its services sector overall to become an increasingly service-oriented economy. In 1996, the government gave us the mandate to promote Hong Kong's trade in services as well. Since then, we have introduced an increasing number of services-related events and activities. Today, these include the Belt and Road Summit, the Asian Financial Forum, the Asian Licensing Conference, the Asian Logistics and Maritime Conference, DesignInspire, MarketingPulse, the Asian E-tailing Summit and more. Back in 1996, services accounted for about 85% of Hong Kong's GDP, compared with over 92% at last count.
For more than 50 years the HKTDC has been dedicated to creating opportunities for Hong Kong businesses, especially the small and medium-sized enterprises (SMEs) that are the backbone of Hong Kong's economy. We explore business opportunities for Hong Kong companies, connect them with business partners around the world, and offer the support services necessary to help them make informed business decisions.
Can you share your experience in organising trade fairs?
A trade-fair centre must fulfil certain prerequisites. It must be a manufacturing centre, a market, or have a well-trusted reputation. Germany hosts many fairs and is a big manufacturing centre. Their strong reputation lets the country keep its role as a fair host. Hong Kong is fortunate in having all these advantages simultaneously – right next to the massive manufacturing centre of southern China. Exhibitors and visitors have become more discerning, with tight travelling budgets. This creates a winner-take all situation; number two is not enough. You have to be the biggest or best.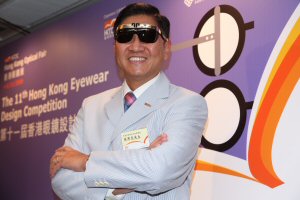 How long have you been involved in HKTDC trade fairs?
From day one. The HKTDC started fairs soon after its establishment. We did Hong Kong Fashion Week in the ballroom of the Excelsior Hotel, which at that stage was the Hong Kong Convention Centre. We also did the Hong Kong Toys and Games Fair in the Miramar Hotel – emptied all the rooms, and used each room as a booth.

Then Phase 1 of the Hong Kong Convention and Exhibition Centre was completed in 1988, so we could start to internationalise trade fairs. We needed a quality platform to attract international exhibitors and visitors. That year, we organised the Hong Kong Audio-Visual (AV) Show, a B2C (business-to-consumer) curtain-raiser which boosted Hong Kong's profile.

Another great success was the Wine and Spirits Fair. We found out about the lifting of the duty in March 2008 – and had had no privileged information before that. Given just five months to arrange, we held the first Wine and Spirits Fair in August of that year.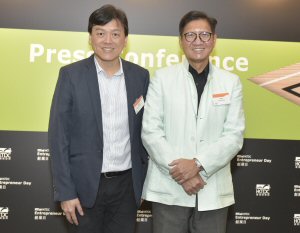 Apart from trade shows, you had an important role in developing and organising other HKTDC events. Can you share the stories with us?
The HKTDC started major conferences in 2007, when we launched the Asian Financial Forum, jointly organised with the Hong Kong Special Administrative Region (HKSAR) Government, as one of the major events celebrating the 10th anniversary of the establishment of the HKSAR. The event has since grown rapidly and was one of the events celebrating the 20th anniversary of the establishment of the HKSAR in 2017.

In 2011, we started the Business of IP Asia Forum because Hong Kong has strong fundamentals to serve as an intellectual property (IP) trading base. A year or two after the first BIP Asia Forum, the government made IP trading its own policy initiative.
In 2011, we started the Asian Logistics and Maritime Conference. As with finance, there were small events but they served just one group – logistics service providers. These providers wanted to reach out to shippers but these customers did not attend the small conferences. The HKTDC's challenge was to put the service providers and shippers under one roof. This would let us generate value for both sides. We set a target − at least one-third of the attendees should be shippers. We managed to deliver by covering a wide range of topics, not just logistics. Today, we have even exceeded the target. The conference included sessions on topics that interest the shippers, such as international marketing trends, new technologies and business models. This drew them in so the logistics providers could then network with them.
We also expanded the Hong Kong International Licensing Show into an event with a concurrent conference – the Asian Licensing Conference in 2012, with more than 1,300 attendees.


Two years ago, we started the Asian E-tailing Summit which attracted 1,200 participants in its first year, again because we responded to a pressing need for our exporters – to find unconventional opportunities. Previously e-tailers were unknown to exporters because the entry route was different. Some exporters might also want to become e-tailers themselves. We also brought in MarketingPulse last year because of Hong Kong's strong edge in branding and marketing. This expertise will be the main differentiator of business tomorrow since products are becoming commoditised, the difference lies in presenting to customers. MarketingPulse also drew more than 1,200 participants in its first year.

We have built up a good conference portfolio and made the HKTDC a good, impactful conference organiser in the region. We also decided to provide one-to-one business matching for all participants so they could meet contacts and discuss business. This is a unique feature of HKTDC conferences.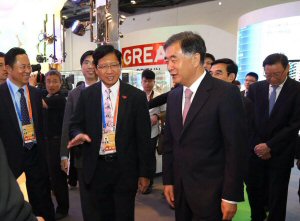 How do you view Hong Kong's role in the Belt and Road Initiative?
Hong Kong serves as the commercial hub for the Belt and Road Initiative, as we are an international centre for finance, investment, logistics services, trading and professional services including dispute resolution, risk management and more. Hong Kong is also an integrator for infrastructure and real-estate services.

Hong Kong is able to perform these roles because of its expertise in various areas, strong international and mainland connections, as well as the "One Country, Two Systems" policy and rule of law in Hong Kong.
The HKTDC helps Hong Kong in such roles by connecting potential project partners and enhancing information sharing, through a wide range of initiatives and activities, including the Belt and Road Summit, Belt and Road Global Forum, Belt and Road Portal, HKTDC Belt and Road Committee, and business missions. In fact, most if not all HKTDC events will feature some Belt and Road-related content.
You have worked in the HKTDC overseas offices, including in New York, Tokyo and London. The Council's global network continues to grow and there are now 50 offices worldwide outside Hong Kong, including many in emerging markets. How has their role changed as Hong Kong turns into a service centre, and the Belt and Road Initiative grows in importance?
Over the past two decades or so, we have launched plenty of services-related initiatives in Hong Kong and overseas, including forums and conferences in Hong Kong, "Think Global, Think Asia" in mature markets, and "In Style • Hong Kong" in emerging markets. Since 2013, we have also attached much importance to the Belt and Road Initiative. Naturally, our overseas offices provided support accordingly. To facilitate our Belt and Road promotion we opened new offices in Manila in the Philippines, Almaty in Kazakhstan, Nairobi in Kenya and Riyadh in Saudi Arabia over the past year and a half.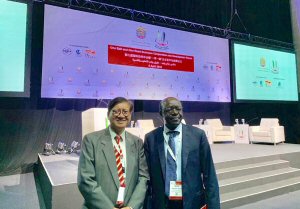 Another massive change that is beginning to make itself felt is the development of the Guangdong-Hong Kong-Macao Greater Bay Area. How is the HKTDC helping Hong Kong businesses integrate with the neighbouring centres? And how is it helping overseas companies enter the Greater Bay Area though Hong Kong?
The Guangdong-Hong Kong-Macao Greater Bay Area is strategically positioned to be a vibrant world-class city cluster, an international innovation and technology hub, and an important support pillar for the Belt and Road Initiative.

Under the Outline Development Plan unveiled in February, Hong Kong is one of the four core cities driving the development, alongside Macao, Guangzhou and Shenzhen.
Under the plan, Hong Kong will consolidate and enhance its strengths as an international financial, transportation and trading centre, an international aviation hub, a global offshore renminbi business hub, an international asset management centre and a risk management centre. It will also promote the development of high-end and high value-added financial, commercial and trading, logistics and professional services, develop the innovation and technology industries and establish itself as the centre for international legal and dispute resolution services in the Asia-Pacific region. All in all, Hong Kong will reinforce its central role as an international metropolis with enhanced competitiveness. Our internationality enables us to connect companies in the Greater Bay Area with the rest of the world in their quest to achieve their development objectives.

For overseas businesses, the Greater Bay Area development creates opportunities in many areas, such as technology, infrastructure and logistics, financial services, lifestyle products and services; the most efficient way to tap this market would be by working with Hong Kong.

Mainland companies from the Greater Bay Area, meanwhile, can go global by partnering with Hong Kong.
Not only are we familiar with international businesses, we also have four decades of experience working with Greater Bay Area companies.

The HKTDC, for its part, is ready and willing to work with international and mainland businesses to take full advantage of the opportunities.

We have signed memorandums of understanding (MOUs) with the 10 other Greater Bay Area cities, and will further cooperate with the Guangdong provincial government to organise overseas missions to "go out" and explore investment opportunities in both mature and emerging markets, including countries along the Belt and Road.

I am happy to have been involved in mapping out our strategies for the Greater Bay Area. The HKTDC will also promote Hong Kong's edge in connecting the Greater Bay Area with global business communities, as well as exploring the potential of the consumer market and technology sector in the region. The Council will feature the Greater Bay Area in its flagship events including "Think Asia, Think Hong Kong" and "In Style • Hong Kong", encouraging overseas companies to leverage Hong Kong's advantages to expand into the Greater Bay Area and beyond. The HKTDC will also organise business missions to Greater Bay Area cities covering a wide range of industries to help Hong Kong businesses expand market opportunities.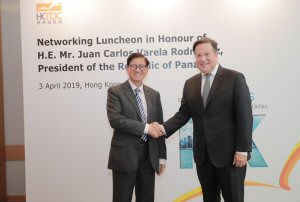 Innovation and technology are changing the business landscape at a galloping pace. Meanwhile, the Industrial Revolution 4.0 is moving from theory into reality, bringing profound changes to Hong Kong business, including the possible return of some industries to the city. Do these developments have any implications for the HKTDC?
Indeed. The HKTDC is committed to helping businesses, including SMEs and start-ups, adopt creativity, innovation and technology to innovate, streamline their processes, reduce costs and boost efficiency, productivity and profitability. In line with the government's policies, our focuses include artificial intelligence (AI), fintech, biotech and smart city. We achieve this by showcasing innovation, technology and creativity though our various events, including the HKTDC SmartBiz Expo, HKTDC Hong Kong Electronics Fair (both the spring and autumn editions), HKTDC International ICT Expo and more.

Innovation and technology are often associated with start-ups and young entrepreneurs. What is your take on this?
Hong Kong's start-up ecosystem is thriving, and the number of start-ups continues to show strong growth. According to an Invest Hong Kong survey, the number of start-ups in Hong Kong surged 18% year on year to 2,625 in 2018.
Positioned as a launch pad and living lab to cultivate start-ups and propagate scale-ups, Hong Kong nurtures abundant partnership opportunities where products and business ideas can be tested quickly by its hyper-connected and multicultural population. Hong Kong's appeal as a start-up hub covers a wide spectrum of sectors including fintech, AI, biotech and smart-city related technologies.

Hong Kong's distinct advantages and strategic positioning in the Outline Development Plan for the Greater Bay Area reinforce its role in the "Guangzhou-Shenzhen-Hong Kong-Macao" innovation and technology corridor and enable its easy access to innovation and technologies, research and development (R&D), manufacturing and supply chain clusters and facilities.

At the HKTDC, we nurture, mentor and support the growth of start-ups through a wide range of events and activities, including Entrepreneur Day (E-Day) – our flagship start-up event – and the Start-up Express development programme. We offer start-up zones at eight of our local fairs, and other start-up elements at most of our Hong Kong events. Furthermore, we take Hong Kong start-ups to our overseas events, such as "Think Asia, Think Hong Kong", as well as other well-known international events to raise their profile and connect them with potential business partners and investors.

Through the HKTDC's strategies and initiatives in building business connections, facilitating mentorship and partnerships, gaining access to funding sources and exploring overseas, Greater Bay Area and other mainland markets, we aim to equip start-ups and a new generation of Hong Kong businesses to become future-ready through embracing new technologies, adopting a creative mindset, and developing a global market perspective, thus better positioning Hong Kong as a start-up hub in Asia.

How do you see Hong Kong's future?
Hong Kong's future should be bright if we continue to remain relevant to our stakeholders, relevant to our motherland and to the region we service, as well as relevant to the world. Hong Kong has many well-known advantages such as rule of law. These will remain but we must continue to reinvent ourselves. The world is changing very fast so we must change ourselves. Hong Kong needs to re-examine its intermediary role. This role is still relevant but needs to be upgraded to allow us to provide customised value-added services.

What was your greatest reward in working for HKTDC?
Seeing places I might not have seen otherwise, and getting to know people – the diversity of people I might not have been able to meet in another profession. Early in my time I went to the Democratic Republic of Congo – which was then called Zaire. At that time Hong Kong companies were very adventurous and a large − about 25 firms − delegation went to this developing country. At that time, we had two to three missions to the Middle East every year, and one to Africa.

What are you going to do next?
I will continue to be deputy executive director – at home. My wife is the executive director. I will spend more time with her and my family, and do some of the things I always wanted to do. Despite having been to 120 countries, if time and resources permit I would like to do the other 80.

I would also like to continue to serve the Hong Kong community in a different capacity. I may teach on the Belt and Road in universities. I may also do voluntary work. I could teach my grand-daughters how to recognise countries on the map – including those on the Belt and Road!
Related link
HKTDC senior management