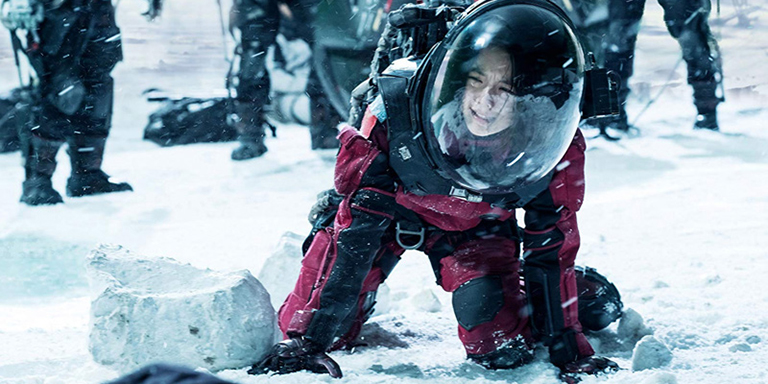 https://hkmb.hktdc.com/en/1X0AH866
TV and web content eclipse film releases
At this year's FILMART, a slew of globally bound, multi-language streaming and episodic TV shows outdid the cinematic content.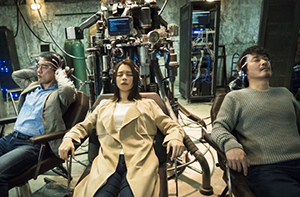 As its name suggests, the HKTDC Hong Kong International Film & TV Market (FILMART) has always encompassed a wide range of content, spanning everything from feature films and TV series to documentaries, animation and digital productions. This year, though, in line with the latest trends in the global content industry, may well have been the first time that new feature films were not the star attraction. Compared with previous editions of the event, the volume of new movies being launched was relatively low, while there was a constant buzz about new TV dramas and web series.

For its part, HBO Asia, the Singapore-based division of the global premium cable network, announced three new high-profile dramas – including Dream Raider, a sci-fi series starring Taiwanese film actors Vivian Hsu and David Wang, and Food Lore, a cuisine-themed anthology with contributions from a number of Asia's leading filmmakers, including Singapore's Eric Khoo.
Eclipse performance
Fox Networks Group Asia was talking up Memory Eclipse, its eight-part mini-series based on the music of Teresa Teng, the late Taiwanese singer. Hong Kong-based Sun Entertainment, meanwhile, announced plans for a web series focusing on a Japanese tattoo artist, with Hong Kong director and photographer Wing Shya already on board as the show runner. This was not the only high-profile web series unveiled, however, with Huanxi Media previewing a slate that included Paradise Guesthouse, a series being developed in partnership with Wong Kar-wai, the renowned Hong Kong auteur.

This shift into episodic drama by some of Asia's biggest film-makers mirrors what is happening in the Americas and Europe, where talent is flooding into a format that is attracting huge amounts of investment, while allowing for more complex story-telling than any 90-minute feature. Indeed, billions of dollars are flowing into drama series around the world as deep-pocketed streaming platforms – notably Netflix and Amazon – battle for subscribers with traditional cable networks and various new content producers, including the likes of Facebook, YouTube and Apple. While most of these content giants also invest in films, there's a realisation that series are more effective when it comes to hooking viewers.

There's also a growing acceptance that local-language production is the key to signing up new subscribers in many international markets – something of a shift from the days when Hollywood studios and broadcasters relied on English-language content for global domination. In line with this, Netflix is already producing series in several Asian languages, while Amazon has focused on shows in three different Indian languages, as well as in Japanese.
Local wins
Highlighting this particular trend, Craig Galvin, Content Chief for Iflix, a Kuala Lumpur-headquartered pan-Asian streaming service, said: "In 2018, we found that local content performed six times better for us than Western content. That's why we've made a significant pivot over the past six months, not only increasing our local content output but also our number of local partnerships."

Encouragingly for Asian content producers, some of this local-language production is finding a market outside its country of origin. Speaking during the Insights with Industry Leaders session, HBO Asia Chief Executive Jonathan Spink said: "The Teenage Psychic, our Chinese-language show, has worked well across all our markets, while our horror anthology, Folklore, is also starting to travel."

Addressing the Asia over-the-top (OTT) panel, Thawatvongse Silamanonda, Thailand Country Manager for Viu, outlined how the PCCW-owned platform had started out by streaming Korean dramas across the region, but is now finding that its Thai productions are also working well in other territories. Detailing how this was likely to impact on the service's future plans, he said: "We're always talking to the Thai broadcasters about how we can make their content more international – and now we're seeing such originals work in Indonesia, Malaysia and Hong Kong."

This may only be the beginning, though, with Bill Sondheim, President of Cinedigm, a Los Angeles-based digital content distributor, believing that Asian-language programming could travel even further afield. Also participating in the Asia OTT panel, he noted there had already been two waves of Asian content sweeping North America – firstly Japanese anime, which initially appealed solely to young males but now encompasses a diverse United States audience, and, more recently, Korean dramas. He now believes that Chinese content will constitute a third wave and, in light of that, Cinedigm is committed to launching Bambu, a Putonghua-focused streaming service, in the US in June this year.

Outlining the rationale behind the new service, Mr Sondheim said: "Of late, we've seen content from some of the Chinese streaming companies become more edgy, more urban and more complex in its character development. As a result, we believe it will certainly appeal to 20- to 30-year-old English-speaking consumers in the US."
Streaming giants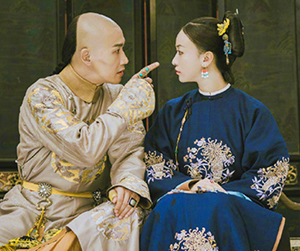 In terms of the domestic Putonghua market, Mainland China's streaming platforms – in particular iQiyi, Youku Tudou and Tencent Video – have now become well-established giants, partly because many of their global competitors (such as Netflix) have been denied licences. At present, all three of these home team operators are investing in Chinese-language internet films and series, some of which are finding international audiences. As proof of this, during the course of the event, Guangdong-based Huanyu Entertainment announced that its costume drama, Story of Yanxi Palace – a co-production with iQiyi – has been sold to more than 90 countries and regions.

In his own Insights with Industry Leaders session, iQiyi founder and Chief Executive Gong Yu turned his attention to how big data and well-known intellectual property assets are driving the content streaming boom in the mainland. Striking a related note of caution, though, he said: "There now needs to be more emphasis on developing talent and taking creative risks. Up until very recently, we have solely relied on traffic and IP. Now, though, we have to have more of a focus on creativity – especially when it comes to drama."

Overall, this year's clear focus on the worlds of TV and streaming (especially in the global context), helped to compensate for the fact that film production in the mainland has slowed significantly over the past year. Indeed, since the end of 2018, Beijing-based film executives have been talking of a "cold winter", one triggered by the crackdown on tax evasion, the slowing of the domestic economy and the recent exit of spooked investors from the film-production sector.

In addition, the mainland's overhaul of its film and TV regulatory infrastructure has resulted in a backlog of new projects awaiting censors' approval, with the new institutions still finding their feet. In specific terms, following the closure of the State Administration of Press, Publication, Radio, Film and Television (SAPPRFT) last year, two new bodies have been established to regulate the film and TV industries – the National Radio and Television Administration (NRTA), which reports directly to the State Council, and a new Film Bureau which operates under the auspices of the Publicity Department of the Chinese Communist Party.

While the more optimistic film executives say the new tax and regulatory regime could result in a more professionally run film industry, in the short-term, at least, the changes have resulted in a marked slowdown in the volume of new films going into production or being released. This is also having an impact on the Hong Kong film industry, which is heavily dependent on the mainland market – both through co-productions and via the Closer Economic Partnership Arrangement (CEPA).

At the same time, the mainland market appears to be becoming much less reliant on Hong Kong-mainland co-productions. Over the recent Chinese New Year holiday, for instance, it was largely mainland-produced films – notably Beijing Culture's sci-fi epic Wandering Earth (main picture) and Ning Hao's Crazy Alien – that topped the box office, rather than the new offerings from Jackie Chan and Stephen Chow, Hong Kong's traditional hitmakers.
Global hot seller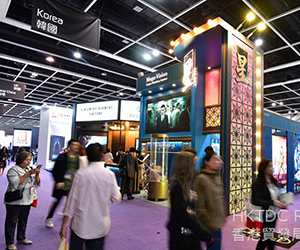 Despite this, some high-profile Hong Kong-mainland co-productions are still, admittedly, generating excitement – not least Ip Man 4, with Mandarin Motion Pictures announcing a slew of international sales during FILMART's four-day run. Even given such respite, though, many Hong Kong producers have been obliged to acknowledge that the mainland market is now far more competitive.

Maintaining that Hong Kong still has a role to play, however, veteran producer John Chong said: "We still have certain advantages – we make technically better action films and crime thrillers – but these days, it has to be said, we've become more of a passive partner."

According to Mr Chong, the only way forward for the Hong Kong film industry is to invest in new talent. Perhaps in recognition of this, several local studios – including Mandarin, Emperor Motion Pictures and One Cool Film Production – are currently financing smaller-budget films as a way of nurturing new directors.

In a similar vein, the Hong Kong Special Administrative Region Government is also stepping up its support for local film production and new talent development. This has seen it recently announce plans to pump an additional US$127 million into the Film Production Financing Scheme (FPFS) and the First Feature Film Initiative (FFFI). These two funding schemes have supported a number of critically acclaimed films – including Sunny Chan's Men on the Dragon and Oliver Chan Siu-kuen's Still Human, which between them received 19 nominations and took away five honours at the Hong Kong Film Awards in April.

Unlike the martial arts and action filmmakers that Hong Kong is renowned for, this new generation of writers and directors tend to focus on local stories and social issues. While these films are regarded as a hard sell in the ever-competitive mainland market, they're starting to woo local audiences and gain international film festival recognition. The producers behind them are now hoping that, with the right combination of government support and local studio finance, it could be possible for Hong Kong to develop a new kind of cinema, one that is less dependent on the mainland market and could appeal to audiences in Southeast Asia and Taiwan.

FILMART 2019 took place from 18-21 March at the Hong Kong Convention and Exhibition Centre.

Related link
FILMART
Film & Audio-Visual Production