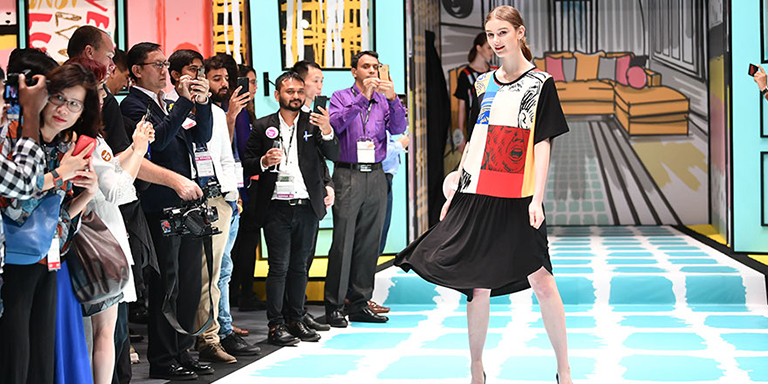 Hong Kong Fashion Week for Spring/Summer
The world-class fashion hub of Hong Kong hosts an all-in-one sourcing platform for the industry.
WHAT: The fair features all kinds of spring/summer clothing, fashion and clothing accessories, garment related products, services and supplies. Categories include ladies' wear, menswear, babies' and children's wear, sportswear, lingerie, evening wear, swimwear, handbags, shoes, costume jewellery, eyewear, fabrics, buttons, labels, inspection, testing, certification & verification services and fashion magazines. Special product zones include Fashionable Sportswear, Urban Clothing, Infant & Children's Wear, Intimate Wear & Swimwear, Menswear, Thermal Clothing, Fabrics & Yarn, World of Fashion Accessories including Bags, Footwear, Leggings & Socks, Gloves, Scarves & Shawls, Fashion Tech & Trade Services.
WHEN:

| | | |
| --- | --- | --- |
| Fair Date | Opening Hours | Buer Registration Hours |
| Monday, 8 July | 10:00am - 6:00pm | 9:30am - 5:30pm |
| Tues-Wed, 9-10 July | 9:30am - 6:00pm | 9:00am - 5:30pm |
| Thursday, 11 July | 9:30am - 5:00pm | 9:00am - 3:30pm |
Trade visitors only. Visitors under 18 will not be admitted. No entry fee.

WHO: Organised by the Hong Kong Trade Development Council

WHY: Home to trend-setting style and the region's most distinguished fashion scene, Hong Kong is uniquely positioned to present some 1,100 exhibitors – including top-quality established labels and emerging designers alike – after attracting around 11,000 buyers from 65 countries and regions in the 2018 edition. The fair comprises an all-in-one sourcing platform which lets exhibitors of garments, accessories, fabrics and trims, fashion technology and trade services to connect with influential buyers from across the globe. With spectacular new collections on full display, exhibitors can enjoy boosting brand awareness and media exposure while building bridges to promising markets in Mainland China and beyond. Exhibitors will also enjoy intellectual-property protection and a wide range of value-added merchandising services, including the hktdc.com Small-Order zone which provides exhibitors with an opportunity to expand their network with target buyers.

A dazzling line-up of fashion parades creates buzz throughout the fairgrounds, while trend seminars and fashion forecasters provide insights into emerging trends. Exhibitors can enjoy top-level exposure to the cream of the fashion industry through customised one-to-one buyer meetings, strategic business matching, guided tours and much more.

WHERE: Hong Kong Convention and Exhibition Centre

AND YOU CAN QUOTE ME: "Smith Garment is participating in Hong Kong Fashion Week for Spring/Summer for the first time to promote our brand of SAAMU. This fair is an excellent platform to showcase our latest designs. We've got a lot of interest from buyers including customers from the United States, Hong Kong, Korea and Japan. A Hong Kong retailer has already placed an order worth over 1 million baht (HK$240,000) for a selection of styles. The first batch of products will be shipped next week. This is a successful exhibition that allows us to raise our brand exposure. We're pleased with the results and would like to exhibit here again."

Thanagorn Sittiwongwanich, Chief Marketing Officer, Smith Garment Factory, Thailand, speaking after the 2018 fair

FAIR WEBSITE: https://event.hktdc.com/fair/hkfashionweekss-en/HKTDC-Hong-Kong-Fashion-Week-for-Spring-Summer/
Garments, Textiles & Accessories