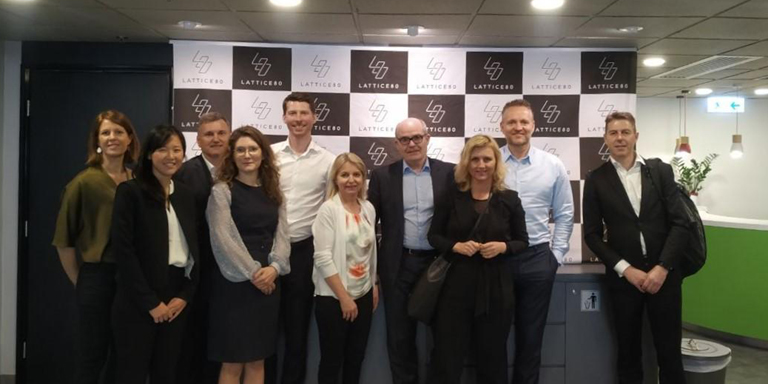 https://hkmb.hktdc.com/en/1X0AH1X0
Hong Kong picked as accelerator launch-pad
A London-headquartered fintech hub has an expansive vision for Hong Kong and the Belt and Road.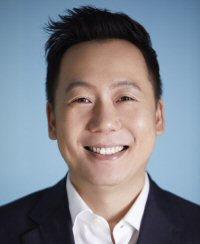 Fintech is a key growth area for economies connected with the Belt and Road Initiative − and Hong Kong is the ideal place for developers to base themselves, Joe Seunghyun Cho, co-founder and CEO of fintech start-up LATTICE80, believes.

The October 2018 opening of the LATTICE80 facility in Hong Kong is only part of the company's commitment to the city, he said. "Infrastructure totalling to 120,000 square feet will be established over time to build the world's largest fintech hub that serves as a connection point for the fintech Belt and Road."

Since its establishment in November 2016 by Marvelstone Group, a private investment firm, LATTICE80 has been active in the fintech and blockchain industry within Asia and Europe. Its global partnerships include Raffles Financial of Australia, GM Bank in the Philippines, SuperCharger Accelerator in Hong Kong, FINOLAB in Japan, FinTech Valley Vizag in India, the Luxembourg House of Financial Technology and many others.

Mr Cho said that, as a traditional financial and trading hub connecting Asia and Europe, Hong Kong has the world's best exit market along with access to global investors that budding fintech and blockchain start-ups would look for.

The timing was "perfect", Mr Cho added. "Fintech in Hong Kong has much growth potential compared to the size of its finance industry. I believe Hong Kong will be a leader in fintech in Asia for the next one to two years and the right place to bring the best fintech innovations embraced in [Mainland] China to the outside of the world."

Sang Min Kim, a former Korean Senator and Advisor to LATTICE80, agrees. "Hong Kong is the perfect place to support fintech Belt and Road, and to connect fintech companies in Asia and Europe," he said. "We believe Eurasia is the place to embrace the next generation of financial innovation. This covers the traditional markets and new emerging markets in Africa and South America."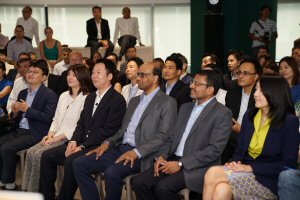 Marvelstone Group CEO Gina Heng said Mainland China is the best case study in bringing fintech innovation to support new emerging markets and the traditional markets at the same time.

"As of today, 70% of the world's population is still living on less than US$10 a day and the legacy banking system is not equipped to support this market," she said. "What fintechs in China, such as AliPay and WeChat, have done is phenomenal. In the last 20 years, they brought the most advanced financial services to the unbanked and the underserved directly."

LATTICE80 in Hong Kong recently hosted a delegation from Norway's Sparebanken (main picture).

The company settled on Sha Tin for its hub location due to its proximity to a number of universities, Hong Kong Science Park and neighbouring Shenzhen.

"We opened Sha Tin primarily as a blockchain accelerator, picking the location to work with universities and new practitioners coming in from [Mainland] China," Mr Cho said. "We will also run education programmes and events there."
He expects that most of the accelerator participants will be start-ups from the mainland or overseas looking to establish their businesses in Hong Kong.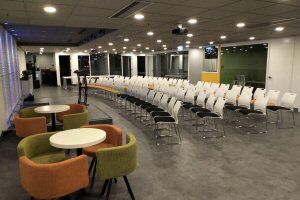 "We see a lot of demand coming from Europe," Mr Cho said. "For start-ups coming to Asia for the first time, with a vision to expand to Mainland China, Hong Kong is the best place. Most people look at either Singapore or Hong Kong (as their base) but we found Hong Kong has more advantages, especially as the gateway to the whole of Asia-Pacific."

LATTICE80's business plan involves hosting 100 start-ups over three stages of expansion.

From the initial 7,000 sq ft facility and stage one expansion to 30,000 sq ft "we can very comfortably to grow up to 120,000 sq ft over time, and hopefully even bigger as the Hong Kong market grows", Mr Cho said. He added that the company is in talks with banks and universities with a view to establishing future sites.
Its operational model is to focus on fintechs that have a social impact, aligned with the United Nations' Sustainable Development Goals.
Related link
LATTICE80