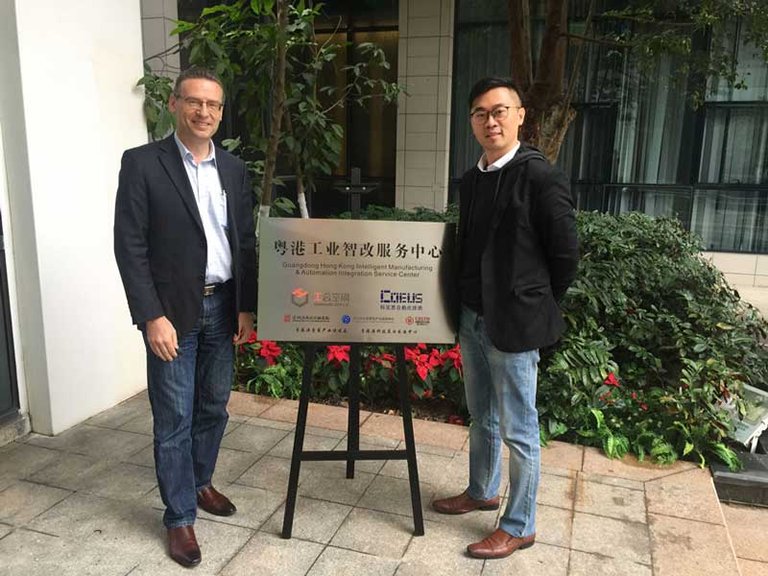 https://hkmb.hktdc.com/en/1X0AGY51
Hong Kong Companies in the GBA (2): From 'Made in China' to 'Smartly Made in China'
Interview with James Fok, Founder and COO, and Frederick Kolak, CTO, of Coeus Automation Technology Holdings Co Ltd
Hong Kong-based Coeus Automation Technology specialises in intelligent industrial transformation services. The company aims to introduce advanced technology and management expertise from abroad to help more manufacturing enterprises in the Guangdong-Hong Kong-Macao Greater Bay Area in transformation and upgrading by capitalising on a variety of initiatives. These include Made in China 2025, the Layout and Project Planning of the Advanced Equipment Manufacturing Belt on the West Bank of the Pearl River [1], the Belt and Road Initiative, the Outline Development Plan for Guangdong-Hong Kong-Macao Greater Bay Area (GBA) and the opening of the high-speed rail link between Hong Kong and Shenzhen.
Speaking recently to HKTDC Research, Coeus Founder and COO James Fok and CTO Frederick Kolak shared their experiences in developing their intelligent automation business in the GBA and the development trend of smart transformation in the region, providing a valuable reference for industry players.
Global Team Focusing on Smart Transformation
Founded in Hong Kong in 2018, Coeus has operations in Zhongshan, Foshan and Zhuhai to service the entire GBA market. It established its first R&D+Automation System Integration Base in Xiaolan and joined with the Xiaolan Town Productivity Promotion Centre [2] in building a public service platform for smart manufacturing. In Foshan, Coeus worked with Gungho Space [3] and other parties in building the Guangdong-Hong Kong Intelligent Manufacturing & Automation Integration Service Center. Its involvement in these places contributed to advances in automation, upgrading and transformation for local industries.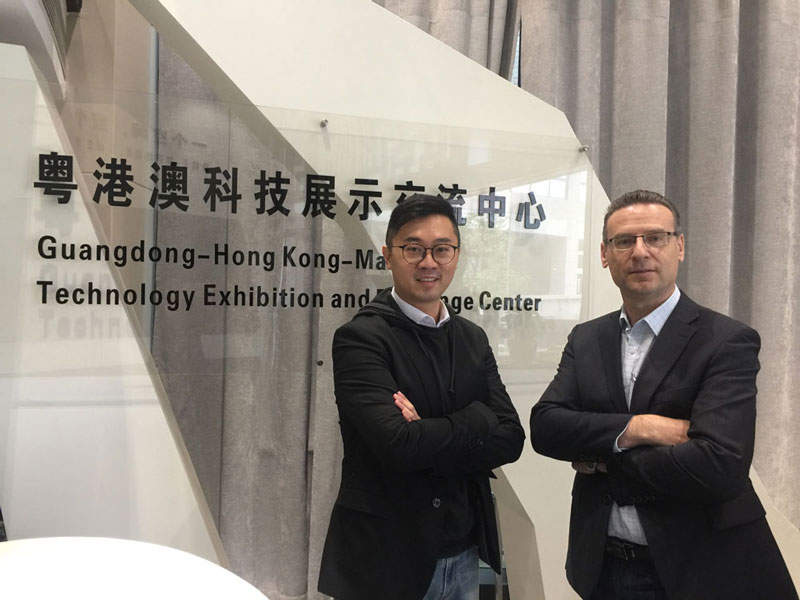 Fok identified great potential for automation services in the region. He said: "I have four years of experience in the automation industry. Previously I was CEO of a technology firm with Japanese backing in Shenzhen.
"After witnessing the gradual development of technological transformation on the west bank of the Pearl River and after discussions with industry leaders and conducting on-site investigations in different cities and towns, I reckoned there is a sizable market for smart transformation in the GBA. I therefore contacted Frederick Kolak and joined him in setting up Coeus Automation.
"Coeus has its parent company in Hong Kong and the future goal is to set up at least five branches on the west bank of the Pearl River to serve major industrial bases in the GBA. Our first target is Xiaolan in Zhongshan, followed by Nanhai in Foshan and Jinwan in Zhuhai. After that we may set up branches in Qingyuan, Huizhou, or may be Yangjiang."
Coeus' core competitiveness lies in its global team of smart manufacturing experts. Fok said: "I studied in Canada for many years and have been working in the technology sector since graduation. When I first set up Coeus, I assembled a global team of technical experts, who have rich experience in smart manufacturing, including our CTO Frederick Kolak. Frederick has more than 20 years' experience in robotic automation and its industrial applications. Our CEO Peter Shields has worked on different types of digital transformation projects in different countries for over 40 years."
Fok emphasised the need for well-proven industry professionals in order to satisfy disparate customer needs, saying: "An experienced global team can provide our clients with one-stop automation solutions for different industries and processes, from beer packaging to the surface treatment of aircraft engines. We can deal with different industries and design automation solutions that suit clients' requirements for different processes, including welding, transportation, assembly, polishing, testing, stacking and machining."
Growth Potential in GBA
Coeus has established good working relationships with the local authorities in different cities and towns in the GBA. Fok said: "Coeus and the Xiaolan Town Productivity Promotion Centre in Zhongshan are working partners and have jointly established a smart manufacturing service platform in Xiaolan. The centre's job is to enhance the productivity of local factories. Coeus is like the town's department for automation transformation."
Coeus' business in the GBA mainly comes from referrals through government departments and friends. Fok said: "There are many Hong Kong people who came over to do business in the early days. They set up factories here and would make recommendations to one another within their circle of friends. On the other hand, we also get to know which local companies have been doing quite well but have headaches over human resources issues through government departments concerned. These are our target customers."
Government authorities offer a raft of subsidies and supportive measures to promote modern manufacturing sector upgrade. Fok said: "For example, there are subsidies for technological transformation and smart transformation. These are paid in annual instalments. Subsidies at the provincial level amount to 15%, even 30%-40% [of the total spend] in some cases. These subsidies may help our clients offset part of the cost of automation transformation."
Own Databases Ensure Quick Response
According to Kolak, there are several thousand smart transformation companies on the mainland, which mainly fall into three categories. The first category consists of purely local companies using locally available technologies and equipment. Their capacity and experience remain rather rudimentary.
The second category consists of local agents using 100% imported foreign technologies and equipment. They lack the ability to undertake independent innovation, R&D and localisation. They also tend to charge higher prices and are prone to problems in their dealings with clients.
The third category comprises Coeus' target clients. Among them are Hong Kong people who are familiar with the mainland market and people from Germany and the UK who are well-versed in international technology. They can carry out systems integration combining advanced foreign technologies with basic local parts and components, coordinate resources available worldwide, and design automation solutions that meet clients' needs and satisfy their cost performance requirements. Kolak said: "Our solutions are not one-size-fits-all but tailored to the needs of individual clients."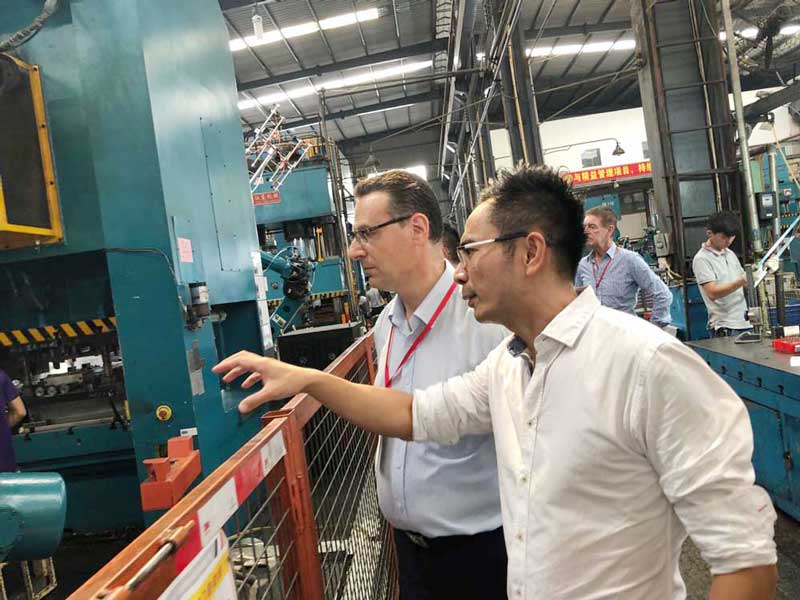 Fok said speed is another Coeus advantage, noting that it normally only takes 10 working days to design a solution. He said: "Our team has over 30 years' experience in the automation transformation business. When inspecting a factory for the first time, our staff can immediately tell the client which areas need improvement. They can even turn on their computer and immediately show which similar projects they have undertaken. The client will be convinced we know exactly what they need and have confidence in us."
Speed is not solely due to a skilled team. Being able to find the right equipment from the right suppliers quickly is also vital. Kolak said: "We are able to make rapid response thanks to our two databases. Database 1 is a pool of good suppliers we have built up through projects undertaken over the years. They come from all over the world and their products are dependable and of a high quality.
"Database 2 is a constantly replenished pool of suppliers of great potential sourced and selected from around the world. We will spend three to five months to test their products. If their products are found to be dependable, they will be moved to Database 1. This way the pool of good suppliers we can work with will grow in size. "This database is our company's biggest asset. Since we have spent a lot of time and energy selecting suitable suppliers and products in the preliminary stage, we are able to make rapid response."
Coeus' typical workflow involves an initial 50% payment upon the contract signing. After the design is confirmed and the equipment is delivered, assembly takes place at Coeus' facility. The client will visit for acceptance inspection to ensure that the equipment is running properly. After acceptance, the equipment is dismantled and delivered to the client for re-assembly. Payment will be returned if the equipment fails to pass inspection. Kolak said: "This is because we have domestic as well as international clients. International clients also come to conduct acceptance inspection at Coeus' premises. This is usual practice for the global automation transformation business."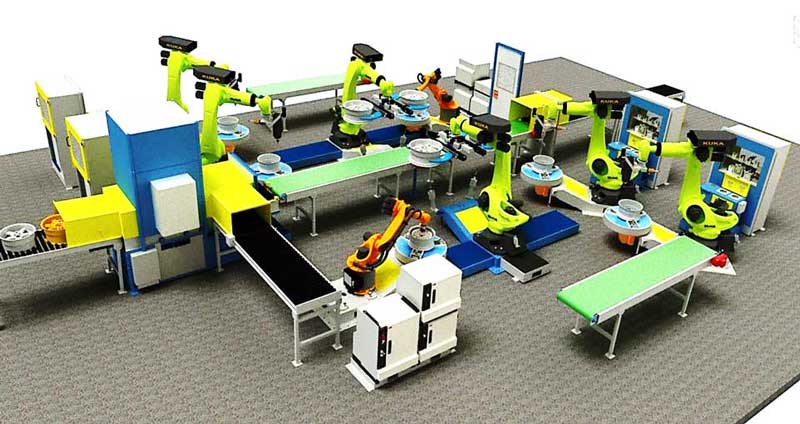 China Market: Gigantic
Kolak said that China's speed of growth is stunning by German standards and projects in China are much larger in scale than in many other countries. Smart transformation projects of the same nature in Australia would require 500 robots or 3,000 in Thailand, but in China, as many as 150,000 robots will be used.
Fok is quite optimistic about the automation transformation market in the GBA, although some regions offer greater potential than others. He said: "The industrial structure varies from city to city in the GBA. In Zhongshan, for instance, metal works are predominant in Xiaolan, LED and lighting are the key sectors in Guzhen, and pharmaceuticals and biotechnology firms have a strong presence in the technological development zone. In Zhuhai, the high-tech zone has medical equipment manufacturing as its mainstay. Foshan focuses on smart equipment and electronic products, while Shenzhen mainly produces 3C (computer, communications and consumer electronics) products.
"Although their industries differ, they all have a need for automation transformation. Coeus has a leading edge in smart transformation of manual assembly procedures. Smart locks, home appliances and 3C products all involve manual assembly. The manual assembly of complicated products is the biggest headache for manufacturers and many enterprises in the GBA have the same demand for smart transformation, which is why we have decided to focus our energy on this area."
Smart Transformation: From Industry to Agriculture
At present, Coeus' top priority is to do business in its area of excellence, i.e., integration of automation systems, to help clients expand their capacity. Since China is the world's biggest market for automation applications, Coeus may then co-operate with foreign technology firms in the secondary R&D of automation products. Fok said: "Many new R&D products from abroad need markets for application. We may combine the technological advantages of foreign countries with China's market for application and conduct secondary R&D of new products suited to the Chinese market. We can share the profits after the commercialisation of these products.
"Trading is the role Hong Kong people have been playing for generations. We are now doing technology trade."
According to Fok, intelligent transformation is the way forward for China's development, offering great market prospects. He said: "Industry and agriculture are always the focus of development in China. We mainly focus on industrial smart transformation at present, but may develop agricultural smart transformation in future."
GBA's Market Advantage
Fok noted that the GBA is the most mature market in the smart transformation field. He said: "I have visited many places on the mainland, such as Henan, Hebei, Jiangsu and Shanxi. The Yangtze River Delta region is doing quite well in smart transformation, but it is definitely the west bank of the Pearl River that is in the driving seat. Foshan, for example, is the most mature market in China for smart equipment."
For Hong Kong businesses, the GBA has geographical advantages and is easily accessible. Fok said: "It took me one hour to arrive Foshan from Tsimshatsui in Hong Kong this morning. From here, Xiaolan Town is only two stops away on light rail, and the Zhuhai Jinwan High-Tech Development Zone is only another two stops away. From there, I can use the Hong Kong-Zhuhai-Macao Bridge and be back to my home in Shatin in one and half hours."
As well as easy travel, the area has other advantages for Hong Kong businesses, the GBA having a more international outlook. Fok said: "Hong Kong people are more accustomed to speaking Cantonese, which is also widely spoken in the GBA. Therefore, communication is not a problem. Since many manufacturers in the GBA are in the export business, they have a good command of English. We often communicate in English in meetings with our clients here.
Hong Kong's Edge
Alignment with international practices, including trade and finance, is an irreplaceable role for Hong Kong in the GBA. Fok said: "Trade refers not just to trade in goods, but also trade in thoughts and technology. As well as bringing in overseas technologies to the mainland to assist mainland manufacturers in upgrading, Hong Kong may also help export good Chinese products overseas.
"At the same time, Hong Kong is also a financial platform for absorbing international capital. Hong Kong is the top pick for raising funds and doing business through formal market channels. Our role as a financial platform cannot be easily replaced. The reason is that finance is based on mature, rules-based mechanisms. Hong Kong's financial sector has a long history and is proven to be sound and dependable.".
Coeus' choice of Hong Kong as its headquarters is also based on the territory's role. Fok said: "From a technological perspective, Coeus' business is two-way: from the world to China and from China to the world. We buy overseas equipment for the China market, and sell Chinese equipment to the world. Having Hong Kong as headquarters makes the inward and outward remittance of international capital so much easier.
"Most of our shareholders are from Hong Kong. The fact that Hong Kong adheres more closely to the legal mechanisms of international law also makes it more convenient for us to work with overseas counterparts."
On what kind of assistance the Hong Kong government could provide, Fok said he hoped to see a dedicated department that could help Hong Kong firms liaise with mainland government departments. Fok said: "The Hong Kong government may act as a bridge between Hong Kong and mainland businesses. High-tech industries have close ties with the government. Government departments can give us more accurate information on which entities and individuals we should contact when we visit different places on the mainland. We can then go and talk to them ourselves. I have fairly extensive personal connections thanks to my past experience and I have channels of communication with local governments, but not all Hong Kong young people have these channels. I hope the Hong Kong government can help in this connection."
Fok offered some advice to Hong Kong young people in the technology business who plan to venture into the mainland market, saying: "Setting up business in local science parks is a possible way; we have ties with Gungho Space in Foshan. Gungho helps us in establishing ties with the Hainan government, giving us a chance to get in touch with the local science and technology bureau and obtain more information. The local government would also recommend clients to us after getting to know our professional qualifications. We have also teamed up with Gungho in setting up the Guangdong-Hong Kong Intelligent Manufacturing & Automation Integration Service Centre. After its inauguration ceremony on 28 January 2019, as many as 18 companies have made appointments to come and see us. Good progress has been made in our talks so far."
---
[1] The west bank of the Pearl River covers the cities of Zhuhai, Foshan, Zhongshan, Jiangmen, Yangjiang and Zhaoqing (primarily referring to Dinghu, Dawang, Gaoyao and Sihui), as well as Shunde district.
[2] The Xiaolan Town Productivity Promotion Centre was established in Zhongshan with the approval of the Guangdong Provincial Department of Science and Technology in 2000. It is the public service platform of the people's government of Xiaolan for medium-sized and small low-profit enterprises. Its purpose is to promote technology and innovation and the development of regional economy.
[3] Gungho Space is a professional incubator and corporate service platform that provides customised services in areas such as manpower, law, tax and market to help Hong Kong and Macao businesses quickly establish themselves on the mainland and help mainland enterprises venture into the global market.
Hong Kong
Mainland China
Hong Kong