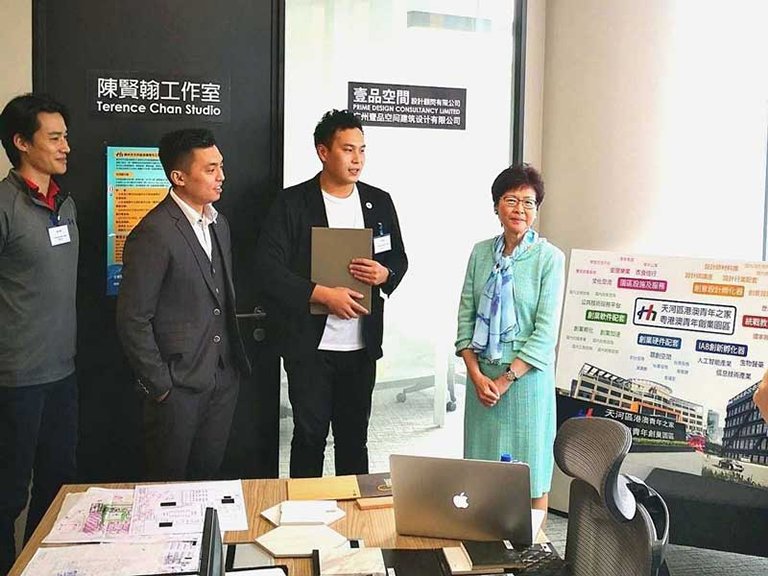 https://hkmb.hktdc.com/en/1X0AGW57
Hong Kong Companies in the GBA (1): Architectural Design
Interview with Design Director Terence Chan and Project Director Abdul Salam Yeung, Prime Design Consultancy Ltd
The Guangdong-Hong Kong-Macao Greater Bay Area 9+2 Initiative [1] brings together a number of core cities with rich combination of characteristics creating great potential synergies. As a result, the Greater Bay Area (GBA) can be expected to develop into a world-class city cluster, becoming a financial, technological and industrial hub. Against this backdrop, Hong Kong companies should consider how to take advantage of the flow of people, cargo, capital and information within the GBA to create opportunities. By leveraging the business advantages of the bay area it may be possible to enhance overall competitiveness and increase growth potential.
Prime Design Consultancy Ltd, established in Hong Kong in 2014, set up Yipin (廣州壹品空間建築設計有限公司) , an architectural design consultancy, in Guangzhou in January 2018 in a bid to enter the mainland's interior / exterior design and project management market. Prime Design Director Terence Chan, and Project Director Abdul Salam Yeung spoke to HKTDC Research about their experience in operating an architectural design business in the GBA, as well as their views on development trends in the mainland architectural design market, providing valuable information for industry players.
Entering the Mainland Market
Chan graduated from the Chinese University of Hong Kong in 2012. After working for two years, he set up Prime Design Consultancy jointly with Yang in Hong Kong in 2014. Chan said: "The idea of starting a business on the mainland initially arose from saving labour costs. We wanted to form a service team with high price-performance ratio in the mainland and shift some of the functional departments there, such as administration and drawing. Consideration was also given to room for growth. Hong Kong is, after all, a market with limited growth potential, so we wanted to see if we could enter the mainland market and develop our business.
"We started considering entering the mainland market in October 2017 and began to take a close look at mainland cities, eventually choosing Guangzhou. The market conditions and entrepreneurship environment in Guangzhou are good and it shares the same culture as Hong Kong. Moreover, with the help of the Guangzhou Tianhe Hong Kong and Macao Youth Association [2] and its Director Lin Huibin, we gradually came to know more about the Guangzhou market and got a better understanding of the good working and living conditions there. The Youth Association also helped us analyse the local design sector, such as how to source materials, formulate work plans, identify clients, as well as analyse the development prospects of the local market and which district has the greatest room for development. After assessing the situation, I had great confidence in the Guangzhou market and opened a company there in January 2018."
Within only a few months Chan found that the mainland market was far bigger than he expected and the client base is also much broader. He said: "After only half a year, the Guangzhou company overtook the Hong Kong operation in terms of the project area undertaken. For example, the first interior design project for the Guangzhou company was a 5,000 sqm restaurant. In Hong Kong, hardly any restaurant would have an area of 50,000 sq ft, and a restaurant covering a few thousand square feet is huge. The area of one mainland project is about three times the size of a typical Hong Kong commission."
Chan saw the intense competition for consumers' business as driving the need for good interior design, especially in the restaurant sector, saying: "As for the mainland customer base, it is even broader. Under the new business model in the mainland, eateries are the most important tenant in any shopping mall. There are plenty of restaurant clients who are willing to pay more for a high-quality design company that can help them stand out from the crowd in intense market competition. At present, most of the business undertaken by our Guangzhou company comes from cities in the GBA and Pearl River Delta region. We plan to develop the market in the nine GBA cities first before moving into other mainland cities in the future."
Yeung emphasised the rapid growth in the mainland operation, saying: "In the beginning, the Guangzhou company only employed two to three designers, but it has now grown to a team of 30. In other words, within one year, it has reached the same size as its Hong Kong counterpart. Currently, the Guangzhou and Hong Kong companies each have 30 designers. Both companies carry out local orders and follow up business with local clients."
The Hong Kong and the Guangzhou companies operate in basically the same way. Both undertake local business, but some detailed design plan work is handled in Guangzhou as the labour cost there is lower than in Hong Kong. Chan spends most of his time in the Guangzhou company, while Yeung mainly takes care of personnel and project management, spending half his time in Guangzhou and half in Hong Kong, giving weekly lectures as a University of Hong Kong (HKU) visiting professor.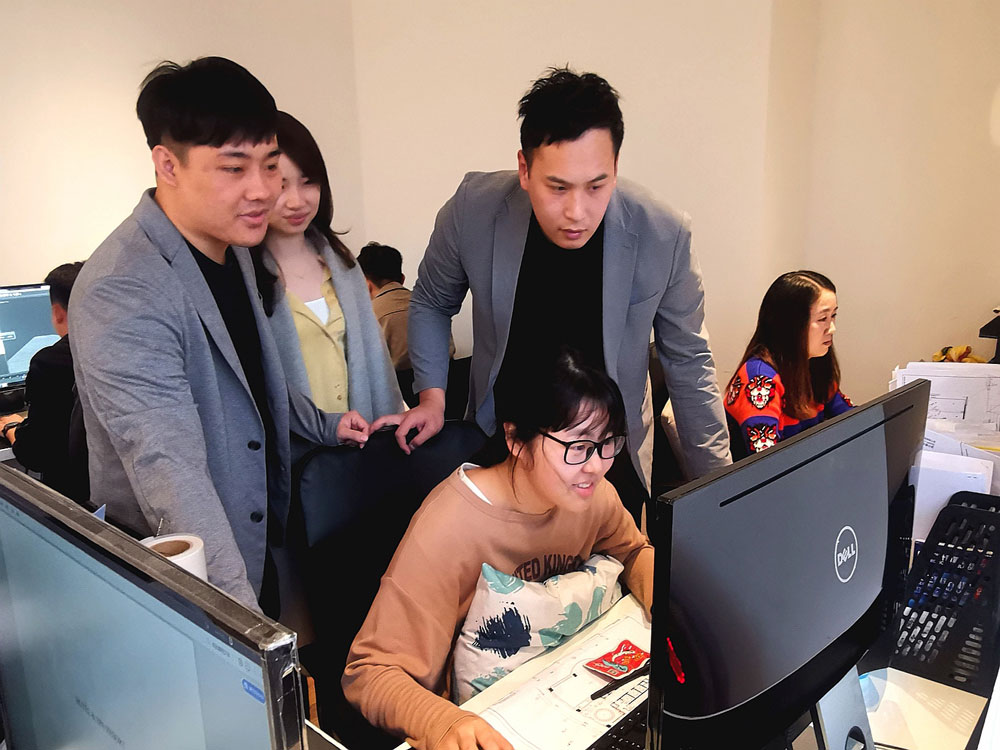 Youth Association Helps Entrepreneurship in Guangzhou
Chan remarked that one of the main reasons for choosing Guangzhou was the Guangzhou Tianhe Hong Kong and Macao Youth Association. As a Hong Konger, he did not have much knowledge about mainland cities, the local markets, local client demand, and what kind of projects were in demand. These are common problems faced by Hong Kong and Macao young people as new comers to the mainland market. Chan emphasised the help given by the Hong Kong and Macao Youth Association, including:
The Association helped to clear his basic doubts and worries, for instance, how to handle the procedures involved in setting up a company in Guangzhou, such as business registration, tax, finance, law, personnel, and trademark registration etc.
The Association helped to clear Chan's doubts by providing him with analysis of the local market and local industries, as well as explaining policies, such as information sources for national and local policies and how to interpret them. The Association also helped him to understand the business environment in Guangzhou, such as the design services market size and competitive environment; it also suggested channels to promote his company and how to identify clients.
Chan was also given support in terms of daily needs, including housing, medical care, insurance and transport. He was given assistance in getting to know local life and has also made friends with a group of people with common interests.
Chan said: "Young people in our generation not only need a roof over our heads, we also need emotional support. If I didn't have supporting facilities or a circle of friends in the local community, I think it would have been difficult for me to stay on."
Established just over a year ago, the Guangzhou Tianhe Hong Kong and Macao Youth Association has already served more than 3,000 young people. Of this number, about 500 indicated that they are interested in staying in Guangzhou to pursue business or personal development. In other words, around one in six is willing to stay on. Also, since its inception, more than 50 start-ups established by young people from Hong Kong and Macao have been incubated by the Hong Kong and Macao Youth Association.
The Youth Association is a non-government organisation (NGO). All its officers are volunteers and 90% are young people from Hong Kong and Macao who came to Guangzhou to start businesses. This explains why they understand the doubts and difficulties of the Hong Kong and Macao young people who come to seek help.
Chan is currently Deputy Director of the Association. He is committed to this volunteer work and is actively helping young people from Hong Kong and Macao staying in the mainland for further development to solve their problems. He said: "At present, the Guangzhou Tianhe Hong Kong and Macao Youth Association is a pilot entrepreneurship programme launched by different departments in the mainland and Hong Kong. I hope that the Association can win greater attention, policy support and funding from more departments in the future so that it can attract and help more young people from Hong Kong and Macao to establish a presence in Guangzhou."
Qualification Certification Required of Start-ups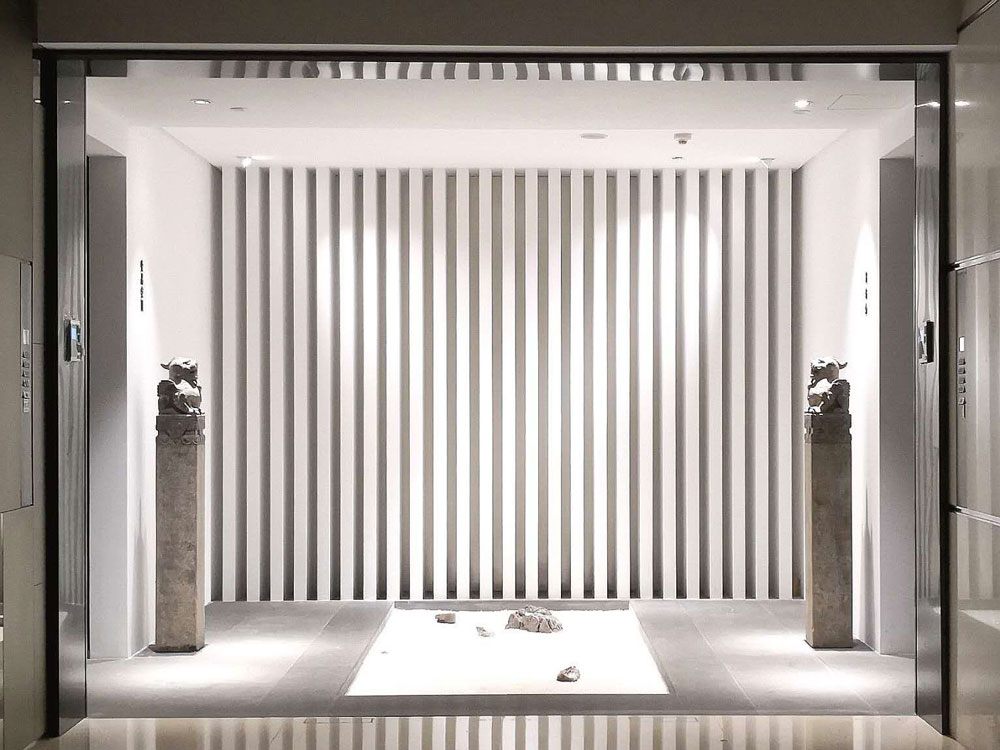 Companies supplying professional services in the mainland are required to obtain the necessary qualification certification. For instance, Hong Kong lawyers practising in the mainland must be listed in a local qualified firm. The same applies to architectural design. Industry players operating in the mainland are required to obtain the necessary qualification certification – engineering design qualification [3].
Chan's experience of business development suggests that qualification certification is a big issue faced by professional service start-ups. He said: "Where qualification certification is concerned, apart from qualification certification of the working team, a number of other requirements also apply, such as the company's registered capital, years of operation, class and type of projects undertaken, and awards won etc. For architectural design start-ups, these are high thresholds. At present, the business mode we adopt is co-operating with qualified companies in undertaking projects."
Local government officials clearly take the issue seriously, as Chan's personal experience reveals. He said: "Once, when I was interviewed by Southern Metropolis Daily, I mentioned the issue of qualification certification. Soon afterwards, I received a phone call from a government department. Guangzhou Mayor Wen Guohui had read the newspaper report and learned about this problem faced by Hong Kong young entrepreneurs. He immediately instructed the department concerned to contact me and find out more details. This showed that the local government really cares about the development of Hong Kong young people in the mainland.
"Qualification certification is a good thing as it ensures that only qualified companies can provide the relevant services. I believe the attention given by the government will lead to the implementation of certain solutions in the future which can provide start-ups offering professional services with a green channel for completing qualification certification procedures."
Free Trade Zones Integrate Tax Systems between Guangdong, Hong Kong and Macao
Yeung added that Hong Kong people running a company in the mainland must also take note of the tax system. Since Guangdong, Hong Kong and Macao are three different customs territories, the tax systems are also disparate.
Take Hong Kong and the mainland's enterprise tax returns as an example. On the mainland enterprises are required to make tax return once a month, while in Hong Kong companies are only required to do so once a year. Also, Hong Kong does not levy value-added tax, only corporate tax of 16.5%, whereas the mainland imposes enterprise income tax at 25%.
In order to attract more Hong Kong and Macao companies, free trade zones in Guangdong grant preferential tax rates and subsidies to a number of industries. Since 2014, Qianhai has offered a reduced enterprise income tax rate of 15% to enterprises in the four sectors of modern logistics, information services, science and technology services, and cultural and creative industries. Meanwhile, Hengqin and Nansha have also introduced tax policies aimed at supporting and promoting mass entrepreneurship and job creation.
Apart from the difference in enterprise tax procedures, individual income tax rates in Guangdong, Hong Kong and Macao also differ markedly. People from Hong Kong and Macao who have worked in the mainland for over 183 days in a year are required to pay individual income tax at the mainland rate. According to expert estimates, the burden of individual income tax in the mainland is three times that of the salaries tax in Hong Kong for a person with the same income level. In Macao, the income tax threshold is MOP140,000 (US$17,300) a year.
In order to attract more professionals from Hong Kong and Macao, it is suggested that the GBA should seek national policies aimed at bridging the gap in tax differences. Since 2013, Qianhai has granted subsidies to foreign high-end and high-demand talent on income exceeding the 15% individual income tax band. Hengqin and Nansha have also announced the "Hong Kong tax for Hong Kong people, Macao tax for Macao people" policy, granting subsidies to cover the tax differences [4].
Chan said that after the announcement of the Outline Development Plan for the Greater Bay Area, different cities and localities will soon introduce local policies. He is optimistic about future policy directives and believes that relevant supporting policies facilitating the operation of Hong Kong and Macao companies in the GBA would soon be implemented.
Edge of Hong Kong Designers Diminishing But Clients Grow Rapidly
As professionals in the design industry, Chan and Yeung agree that Hong Kong designers enjoy certain advantages. For instance, they have access to a wide range of cultures from a young age. Hong Kong design is internationally recognised as offering rich capability and experience. Despite this head start, Chan sees Hong Kong design houses' lead narrowing. He said: "These advantages are dwindling. Guangzhou designers are already catching up. Five or six years ago they might be lagging way behind Hong Kong designers, but now the gap is narrowing.
"The reason is that after implementing reform and opening-up for so many years, the mainland is already gradually aligning with foreign countries and mainland designers are increasingly keeping abreast of international trends. In particular, mainland designers who have returned to the country from abroad are hard-working and their design sense is also internationalised.
"It is estimated that in five or six years, the gap between designers in Hong Kong and the mainland will no longer exist. Currently, in some cities where the degree of internationalisation is higher, such as Shanghai, there is virtually no difference in ability between local designers and Hong Kong designers."
Chan has seen an evolution in the role that the Hong Kong operation plays in servicing mainland business. He said: "At first, our Hong Kong company tended to be involved more in project management and direction formulation, with our Hong Kong colleagues handling design direction and Guangzhou colleagues taking care of details. But now, more and more top-level design is handed over to our Guangzhou designers and the effects achieved are not bad at all."
Yeung added that not only are their mainland designers growing in number and ability, their clients are also growing rapidly. He said: "Internet growth has made it easier and faster for people to obtain information from all over the world. Not only our designers, but also our clients and engineering team are growing rapidly.
"In the past, clients would read books on architectural design and when they saw some style they liked they would ask me if that could be done. But the clients today go online and often send drawings to me via WeChat asking if that can be done.
"Advancement in information has brought about synchronisation around the globe. Now the traditional designer-client relationship has been replaced by a working team formed by the clients and us."
Hong Kong's Position Remains Irreplaceable
Hong Kong is the most internationalised city in the GBA and a meeting place for eastern and western cultures. It is also blessed with a business environment highly aligned with international standards. According to Chan, with such strengths, Hong Kong's position is irreplaceable.
Hong Kong's advantages include: a sound financial system, rule of law, a high-quality international education system, strong scientific research ability, world-class advanced management experience, and highly efficient market operation mechanisms.
Where the high-quality international education system is concerned, five of the world's top 100 universities are found in Hong Kong, turning out a large talent pool capable of providing international professional services. Hong Kong's strong 'human software' will serve as a pillar supporting the rapid development of mainland cities. At the same time, the vast mainland market will attract ambitious Hong Kong talent to come and realise their dreams.
Chan said: "As mentioned earlier, Hong Kong designers' international exposure is an advantage testifying to Hong Kong's strong human software." Yeung underlined the point, saying: "As a visiting professor at the HKU, I always encourage my students to come to the mainland more often to have a look. The market here is bigger and wider. For design professionals, this is a rich land waiting to be tapped and can offer them greater chance of giving play to their ability."
Hong Kong, with its excellent geographical and international advantages, is an important transportation hub and business centre, as well as a leading international financial, trade and shipping hub. Backed by the mainland and opening up to the world, Hong Kong connects the mainland and foreign countries by land and sea.
Capable of attracting players from foreign countries to 'come in' and helping the mainland to "go out", Hong Kong can serve as the 'super-connector for the GBA in connecting with the world. Chan said: "In the early days of reform and opening-up, the older generation of entrepreneurs in Hong Kong also made use of Hong Kong's advantages as a super-connector to introduce a lot of advanced technologies and goods from foreign countries into the mainland market. In our generation, the advantages of the super-connector continues to develop and Hong Kong can also give full play to its advantages as an international city."
Capturing New Opportunities Arising from GBA
Chan reckoned that the reform and opening-up that started in 1978 had created a chance for Hong Kong's older generation of entrepreneurs to enter the mainland market to expand their business. Today, the establishment of the GBA offers yet another opportunity for the present generation of young people in Hong Kong. In fact, this time the opportunity is even bigger and better.
In the early days of reform and opening-up in the late 1970s, only the market itself was opened up, but for capital, finance, materials and policies, the degree of support was nowhere as large as that offered by the GBA today. The GBA not only offers support from governments in the three locations, but also from such NGOs as the Youth Association, as well as a range of tax incentives and policy support.
Chan said: "Hong Kong is blessed with talent, technologies, and international connectivity. We should make good use of these advantages to enter the vast mainland market and give further play to our strengths and advantages.
"I always encourage my Hong Kong friends to come to the mainland to have a look and capture the opportunities arising from the development of the GBA. Nowadays, transportation is really convenient; it only takes 45 minutes by high-speed rail to get to Guangzhou."
Under the GBA Outline Development Plan, each city has its own positioning and advantages. Chan reckoned that entrepreneurs wishing to enter the GBA can decide which city to choose according to the development of the local industry and their own ability, strengths and positioning. He said: "Dongguan, for instance, is a manufacturing centre and a base for manufacturing industries supply chain management worldwide. Its industry chain is strong and complete and the city is set to develop in the direction of smart manufacturing.
"Shenzhen is strong in new and high technology industries, and is expected to become a global technological innovation centre. Guangzhou has a great number of famous universities, such as Zhongshan University, South China University of Technology, South China Normal University and Jinan University, it is much stronger than other cities in terms of education and talents."
Chan reckoned that some governmental support measures have yet to come into effect, but despite this, opportunities are still good. He said: "Although detailed preferential policies in various localities in the GBA have still not been implemented, the overall prospects and trends are definitely positive. The GBA is in close proximity to Hong Kong and enjoys geographical advantages. With Guangzhou and Shenzhen to the north, the GBA embraces two of the cities which are closest to Hong Kong and are developing at the fastest rate.
"Also, the industry chain in the GBA is complete. As the older generation of Hong Kong people has left a lot of footprints in this area, there are more friends here; we share the same culture and language, and our daily life habits are also similar. The young people of Hong Kong should really take advantage of the new opportunities brought about by the GBA and make an entry into this new land as soon as possible."
---
[1] The Greater Bay Area 9+2 cities include: the nine mainland cities of Guangzhou, Foshan, Zhaoqing, Shenzhen, Dongguan, Huizhou, Zhuhai, Zhongshan and Jiangmen, plus the two special administrative regions of Hong Kong and Macao.
[2] The Guangzhou Tianhe Hong Kong and Macao Youth Association was established on 20 October 2017 to provide services in entrepreneurship, internship, exchanges and living for young people from Hong Kong and Macao.
[3] Engineering design qualification: according to China's Ministry of Housing and Urban-Rural Development, enterprises engaged in engineering design are required to obtain the relevant engineering design qualification.
[4] On 14 March 2019, China's Ministry of Finance and State Taxation Administration announced a favourable tax policy for overseas talent working in the Guangdong-Hong Kong-Macao Greater Bay Area.
Architecture & Planning
Design Services
Hong Kong
Macau
Mainland China
Hong Kong