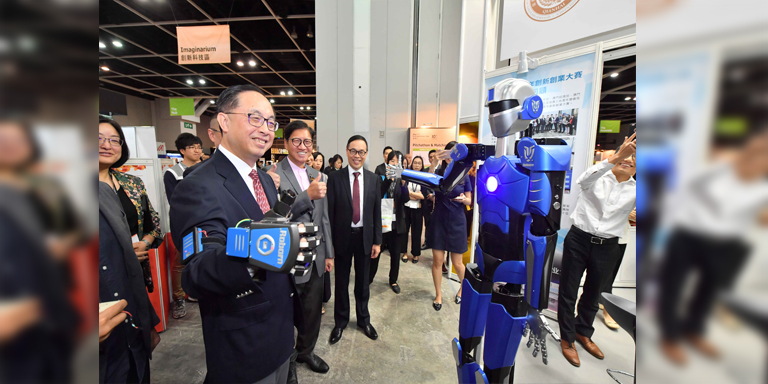 https://hkmb.hktdc.com/en/1X0AGU3F
HKTDC Entrepreneur Day 2019
Aspiring start-ups can pitch themselves to a receptive audience at this event, which now runs to two days.
WHAT: This year, under the theme of "The Start-up Living Lab", Entrepreneur Day focuses on the innovation of discovering business ideas in our everyday lives, making the ideas happen and creating social impact.
This must-attend event provides key platforms for start-ups to get inspired, seek funding, source talents and build connections; and for investors to discover innovative products and services.
Entrepreneur Day features over 20 special events, including seminars and sharing sessions, with a focus on powering start-ups.

Moreover, an Entrepreneur Day highlight, PITCHATHON, will bring quality start-ups together with top investors in a series of pitching events, including the second edition of the "Start-up Express" pitching final which will be held on the second day of Entrepreneur Day. The 10 winners will join a series of capability building, networking, experience sharing and top-notch marketing activities with unique opportunities to learn, to grow and to connect.

In addition, GBA Compass will feature a range of seminars and events on the latest market information in the Guangdong-Hong Kong-Macao Greater Bay Area. And as always, there will be much happening to provide start-ups with funding, mentoring and talent acquisition opportunities as well as business consultation.

There will be four exhibition zones. The Imaginarium will let innovative technology start-ups from cutting-edge sectors such as healthtech and biotech, fintech, greentech, augmented reality/virtual reality (AR/VR), the Internet of Things (IoT), artificial intelligence (AI) and robotics display their capabilities. At the Creatopia, start-ups from non-technical industries will be able to show their potential. Firms that offer support services for start-ups can find potential clients and partners at the Boosters, where private equity and angel funds, funding schemes, operational support services such as marketing, accounting, legal, logistics and insurance can network with up-and-coming entrepreneurs. Firms offering entrepreneurship training, start-up consultancy and business management services, web-design and hosting, e-marketing and other information technology (IT) support, co-working spaces and business centres will also be represented. Entrepreneurs can also connect with non-governmental organisations (NGOs), trade associations and governmental departments there. At the Go-getters Zone, would-be start-up entrepreneurs will find opportunities from franchisors, franchising and brand agents, business brokerages and online businesses.

WHEN:
Date Opening Hours
16 May (Thursday) 11am – 6:30pm
17 May (Friday) 11am – 6pm

Free admission

WHO: Organised by the Hong Kong Trade Development Council

WHY: With high-quality start-ups and top investors in attendance, this will definitely be the event that aspiring entrepreneurs do not want to miss! Entrepreneurs with vision and potential need a suite of services – such as legal support and business administration training. Above all, they need funding. And Entrepreneur Day (which now lasts two days) is where they can find all this and more. At the 2018 event, there were over 270 exhibitors and more than 18,300 visitors.

WHERE: Hong Kong Convention and Exhibition Centre
FAIR WEBSITE: http://m.hktdc.com/fair/eday-en/s/2271-General_Information/HKTDC-Entrepreneur-Day/fair-details.html