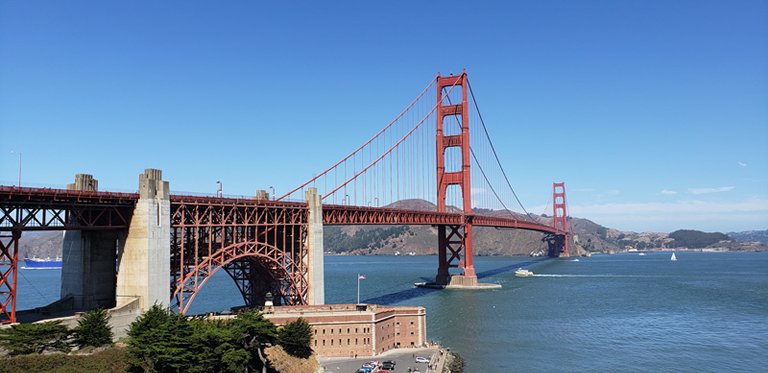 https://hkmb.hktdc.com/en/1X0AGN6X
Lessons from North American Regional Development: The Bay Area Expansion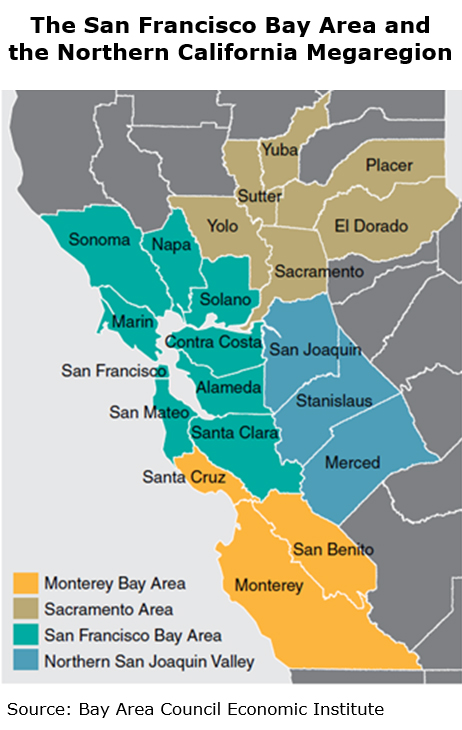 The San Francisco Bay Area is a mecca for the global technology industry and home to Silicon Valley. The area is also famous for its exorbitant cost of living, something that has been driven by the rapidly increasing incomes of tech sector workers. If it were a country, the nine-county Bay Area, with its estimated GDP of US$750 billion, would be the world's 19th-largest national economy.
A magnet for global talent and high-profile tech players, such as Apple, Alphabet (Google's parent company) and Facebook, the Bay Area is said to have been the destination for 45% of US venture capital investment in 2017. It is also an incubator for some of the world's most entrepreneurial enterprises, including the nearly 3,000 companies started by Stanford University and UC Berkeley since 2009.
The Curse of Growing Too Fast
Employment and income in Silicon Valley has greatly increased in recent years. The number of high-income households – those earning more than US$150,000 per year – soared by 35% in the 2015-2018 period, a key indicator of productivity growth. With unemployment in the area at an 18-year low, there is now mounting pressure on housing affordability[1], traffic congestion[2] and the local environment[3], problems that have led nearly half the Bay Area residents to consider moving out within the next few years.
In a bid to overcome these potential growth roadblocks, some Bay Area residents – corporate and individual – have relocated beyond the core nine counties, but stayed within the 21-county Northern California Megaregion, which reaches as far as the Monterey Bay Area, Sacramento Area and Northern San Joaquin Valley.
All of these undesirable consequences of growing fast are, in one way or another, attributable to the fact that the Bay Area development is, to a very large extent, private-driven and organic. There is little government intervention and, while regional plans have been developed, they have not been fully implemented. Regional expansion and county-to-county co-operation is also widely viewed as seldom as frictionless as it could be.
Property prices in the area remain sky-high, as tech professionals with high-paying jobs, both locals and migrants, value quality of life and so prefer to live in big cities, despite the high rents. Property developers – mostly private and market-driven –receive no incentives whatsoever from the public sector, which tends to pay more attention to infrastructure development, making land and construction permits difficult to obtain.
Re-zoning is in progress and different stakeholders, including local and state governments, housing developers, community leaders, and private financial institutions, are working together on a catch-up basis, while contending with affordable housing bottlenecks. Despite this, any progress with regard to keeping up with demand is said to have suffered from the lack of relevant legislation when it comes to embarking on a fast-track housing development strategy. This is a problem known to have hamstrung other megaregions, notably Seattle and Texas.
In September 2017, Jerry Brown, the then Governor of California, signed into law a wide-ranging package of 15 bills, all aimed at easing the state's housing shortage and affordability crisis. These changes sought to dispense with the regulatory barriers preventing development, while encouraging cities and counties to meet their legally-required affordable housing production goals, as laid out in the State's Regional Housing Needs Assessments (RHNA). This new legislation was aimed at addressing, among other things, the common problem of local officials blocking or delaying affordable housing projects due to constituent and budget (high cost, but low revenue) concerns.
A key component of the 15-bill package was the Senate Bill 35 (SB 35), which makes it mandatory for any Californian city falling short of the state housing goals[4] to put in place a "Streamlined Ministerial Approval Process" with regards to developments in localities that have not yet made sufficient enough progress towards their quota of regional housing needs. This would cap the number of times local governments are able to review projects and exempt qualified projects from environmental reviews under the California Environmental Quality Act (CEQA) and other discretionary reviews.
While SB 35 remains highly controversial, largely due to concerns of loss of local control over housing developments in instances where there is a failure to meet the state goals, a handful of Bay Area developers have begun to leverage SB 35 to bypass local opposition or cumbersome approval timelines. A notable example of this is the 130-unit, 100% affordable[5] housing project in San Francisco's Mission District, which is under the auspices of the non-profit Mission Economic Development Agency (MEDA); another is the seven-storey, 87-unit affordable housing development on San Jose's Alum Rock Avenue.
Another major problem for Bay Area residents is the ever-increasing commute time, which can easily be two hours in either direction. This is largely due to the shortcomings of local public transport, despite a transit-first policy that has been in place since 1973, with the ever-growing population continuing to overload the public transit system and congest the freeways.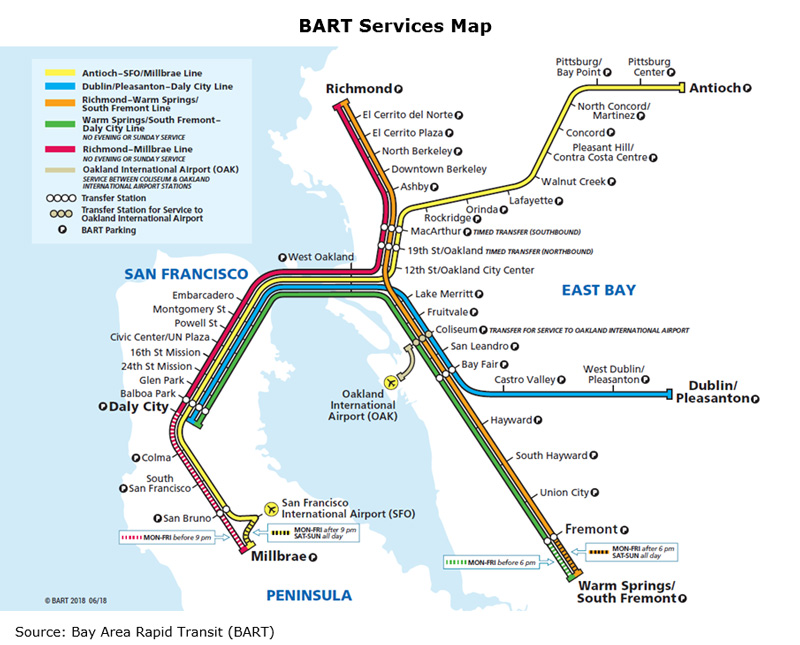 Unlike the 127-year-old Chicago "L" or the New York City Subway, which began operation in 1904, the Bay Area Rapid Transit (BART) system is a relatively new at just 47-years-old. Despite its comparatively recent introduction, more than two-thirds of BART's train cars are obsolete as they have been in continuous service since 1972, which means nearly half of its assets, including the train control system, tracks and stations, are approaching (or will be past) retirement age within the next 10 years.
Unlike affordable housing, the most cited reason hindering BART's expansion and upgrade, despite the political support, is a lack of proper funding. This is partly a result of its failure to exploit the very land-value increases it has helped create. Its over-reliance on operational funding from fees and taxes to finance capital projects has ended up generating insufficient revenue for it to meet its maintenance and expansion needs.
In fact, however, the California Public Utilities Code, has already given BART the authority to pursue so-called "land value recapture" strategies by creating special assessment districts where the real estate around newly-built stations could be taxed and that revenue used to meet station expansion expenses. This, though, has proven to be an uphill battle, with the large property owners and real estate interests who have seen BART as something of a gravy train for decades having no real reason to pay back the existing infrastructure and support new projects.
There is no immediate way capitalising on land-value increases from the existing system, but far less opposition when it comes to new stations and routes. Thankfully, securing a US$3.5 billion bond in November 2016 has allowed BART to embark on a replacement and expansion programme. This will see the current fleet of 687 train cars increased to 1,081 (all new) cars, while services to San Jose will be introduced in line with the planned Silicon Valley BART line extension. The network will also be able to modernise its train control system and make good on its existing plan to lay 90 miles of new rail over the coming decade.
Lessons for the Guangdong-Hong Kong-Macao Greater Bay Area
Similar to the San Francisco Bay Area, the Guangdong-Hong Kong-Macao (GHKM) Greater Bay Area is well positioned to be a globally influential innovation and technology hub. It is therefore vulnerable to the same downsides occasioned by explosive growth outlined above.
Unlike the case of its Californian counterpart, however, the Outline Development Plan for the GHKM Greater Bay Area ("The Plan"), as unveiled by the State Council on 18 February 2019, contains objectives and strategies with regard to the long-term co-operation and joint development between the 11 member cities of the Greater Bay Area.
This Plan not only details the policy directions required to facilitate the cross-boundary and regional flow of various innovative elements, such as high-level staff, capital, information and technologies, it also positions Hong Kong as the financing and regional IP trading centre for all of the relevant high-tech industries. The Plan also provides policy oversight with regard to expediting infrastructural connectivity and developing high quality environments when it comes to living, working and commuting.
Affordable public transport infrastructure is currently not a big concern for the 11 member cities, largely on account of the launch of passenger services on the Guangzhou-Shenzhen-Hong Kong Express Rail Link (XRL) in September 2018 and the opening of the world's longest sea bridge, the Hong Kong-Zhuhai-Macau Bridge in October 2018. The future success of the GHKM Greater Bay Area, however, will very much depend on how well connectivity and capacity – particularly with regard to the various public transit systems – can keep up with the expected increase in traffic demand.
To this end, the members cities could consider adopting a similar policy to the San Francisco Bay Area's "land value recapture" initiative from the very early stages of development onwards. Instead of imposing taxes or surcharges, a more straightforward and policy-friendly approach could involve a variety of development arrangements via different forms of public-private partnership (PPP) schemes.
Soaring housing prices, however, are already a major issue in Hong Kong and in some of the other 10 cities, while land use agreements have proven to be difficult to secure among the various stakeholders. The enhanced connectivity and greater integration with land-rich Guangdong, though, is set to offer a range of more affordable choices for prospective home buyers in the quality living circle for living, working, travelling in the Greater Bay Area. In many ways, this is analogous to the plan to capitalise on the potential of the Northern California Megaregion as means of overcoming the growth roadblocks in the fast-growing San Francisco Bay Area.
Additionally, the policy direction laid out by the Central Government, together with the concerted efforts of the 11 member cities, has opened up ways for Hong Kong and Macao residents to enjoy the same status as mainland residents, including statutory access to elderly care, medical care and housing entitlements. These social benefits, subject to the clearance of issues arising from different tax and social contribution systems, are something of a trump card for the GHKM Greater Bay Area member cities as they look to avoid the kind of problems that are still crippling the San Francisco Bay Area in terms of its own future growth.
---
[1] The median price of a single-family home in San Francisco reached US$1.4 million in late 2018, after peaking at US$1.7 million in early 2017, making housing in the Bay Area still out of reach for many people.
[2] San Francisco is said to have the third worst congestion in the US, after only Los Angeles and New York.
[3] Owing to the sprawling land use patterns driven by the inability – and in many cases unwillingness – to build near major transit and job centres, California State, including the San Francisco Bay Area, is behind the yearly emission reduction required to meet its 2050 goals.
[4] According to the Department of Housing and Community Development (HCD), 97.6% or 527 out of 540 California jurisdictions (cities and counties) did not meet their full RHNA goals in the 2016 reporting period and are therefore subject to different forms of SB 35 streamlining.
[5] All apartments in 100% affordable buildings are rented at reduced rates.