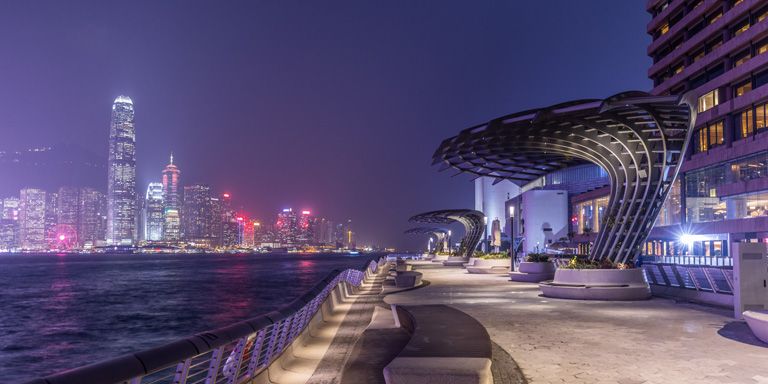 https://hkmb.hktdc.com/en/1X0AGM24
Avenue of Stars revamped
Masterminded by JCFO Architects, Hong Kong's Avenue of Stars has unveiled a bold new look.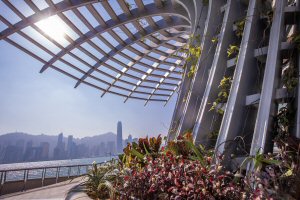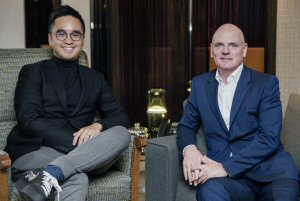 With its stellar views over Victoria Harbour and boulevard of handprints of Hong Kong's biggest celebrities, the Avenue of Stars has proved popular destination for locals and tourists alike keen to pose with statues of Bruce Lee and Anita Mui, or find out if their favourite star is represented.

However, the avenue needed an update, lacking such basic amenities as seating, shade and greenery. With a masterplan overseen by James Corner, founding partner and CEO of JCFO architects, it has been completely redesigned, with sea-facing seats, new paving, custom furniture, extensive planting including trellises with green walls, generous shade as well as new kiosks and mobile carts developed by Hong Kong's LAAB architects, which reinterpret the architecture of local market stalls.

JCFO was invited by Executive Vice-chairman and General Manager of New World Development Adrian Cheng – who initiated the "Make Waves" movement and incorporated it into every part of the Victoria Dockside – to evaluate the re-design of the public area around Victoria Harbour as part of his larger K11 development project. JCFO began work on this in 2013, and the waterfront rejuvenation project took six years from design to opening, Mr Corner said.
Global landmark
Mr Corner said one challenge when creating public spaces is that they are designed as part of an intense, inclusive public process, requiring city agency reviews and citizen participation to help guide, shape and inform design. In this case, the process was very positive, productive and led to a successful outcome. Most of Victoria Harbourfront site is on a structure suspended over the water, which limited the capacity to plant trees and provide greenery. Such challenges were overcome because of the larger context of this project – Victoria Harbour, the Hong Kong skyline, the mountains, the adjacent community and programme, Mr Corner said. "The project is ultimately about leveraging all of this stunning context to produce a coherent and holistic experience for all."

The idea to completely renovate and update the Tsim Sha Tsui (TST) waterfront for the 21st century initially came from Mr Cheng. Mr Corner said: "As part of his larger urban revitalisation of Victoria Dockside and the surrounding community. it was important to Adrian that the waterfront be wholly public, dynamic and iconic for Hong Kong, as this is one of the most visited waterfronts in the world."

Mr Cheng supported his design ideas from the outset. "He was a strong advocate of good design, high-quality construction and long-term programming and maintenance commitments. He brought a good deal of vision, aspiration, imagination and leadership to the table, not to mention substantial financial investment – all critical for this sort of complex project to be properly realised," Mr Corner said. The special mix of dynamic public features with arts, culture, varied social amenities and the harbourfront itself, which was Mr Cheng's original vision – a global landmark – makes this site unique among its peers.
Harbourfront drawcard
Mr Corner said the top priority for the project was to provide simple features for people to gather, sit, stroll and enjoy. The entire design, he said, had to be understood holistically. "It's not just one aspect or element or detail that stands out, but the whole. Obviously the sculptural green walls and other pre-cast forms lend a particular identity and quality to the project, but again it all has to be understood as a singular unified design."

Mr Corner believes the Avenue of Stars development ushers in a new direction for waterfront design across Asia. "Up until recently, most urban planning and development projects in Hong Kong and Asia tended to be solely about the buildings and the programmes they support. Outdoor open space is often residual or treated minimally, with limited aspirations for well-designed public space. We've all seen the generic public plaza or bland green open space in different cities around the world."

The Avenue of Stars, together with the new Salisbury Garden, marks a fresh direction focused on creating a high-quality public realm, he said. "There are now more points of connectivity and access, more open views and vistas, more areas for public art and programming events, more greenery and plantings, and a large range of varied places to stroll, sit and enjoy the scene. This is all about bringing more people to the harbourfront, celebrating the spectacle of public life in the context of the harbour and the city skyline. And because Hong Kong is so global, there are people from all walks of life – it's a wonderful melting pot."
New York influence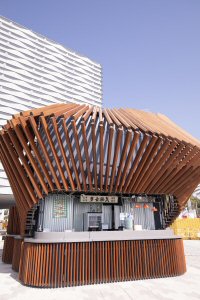 JCFO incorporated certain elements from previous projects, such as the New York High Line waterfront development, into the Avenue of Stars, although Mr Corner is keen to point out that its Victoria Harbour design is unique and specific to Hong Kong.

"These two projects are similar in that they are linear and try to re-interpret the age-old typology of the promenade, the strolling walkway and the enjoyment of being with other people in the context of the city, with great views, vistas and adjacencies. But they are both so radically different, largely because of their contexts. The High Line is immersed in the fabric of New York; it has an intimacy, a texture, an intense episodic quality. Our TST project is set within the massive scale of the harbour and the city skyline; it's a vastly expansive and panoramic context."

Can the new-look Avenue of Stars become a prominent hang-out for locals and non-locals alike? Naturally, Mr Corner believes so – and with good reason. "Both Salisbury Garden and the Avenue of Stars provide a variety of platforms and spaces for varied arts and culture events, including installations, performances, festivals, markets and displays. A visitor should return over and over again, because each time they will witness different moods, characters and events. As integral components of the larger arts and design emphasis of the entire Victoria Dockside, both Salisbury Garden and the Avenue of Stars offer magnificent, highly visible public platforms for showcasing culture, heritage and spectacle and present the best of Hong Kong to a global audience."
Related links
Avenue of Stars
James Corner Field Operations