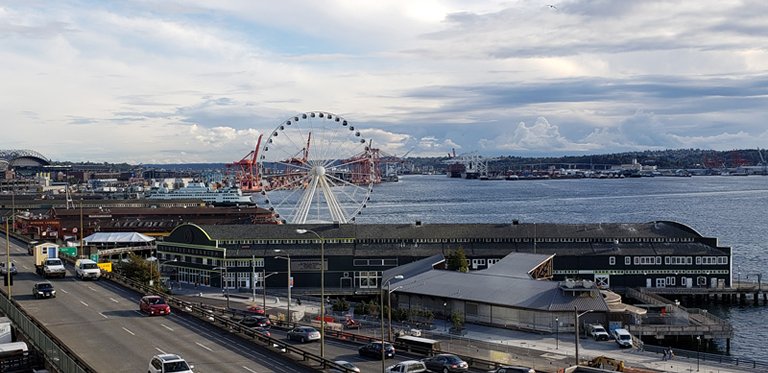 https://hkmb.hktdc.com/en/1X0AGDIF
Lessons from North American Cross-Border Development: The Cascadia Innovation Corridor
Since the signing of a memorandum of understanding at the 2016 Emerging Cascadia Innovation Corridor Conference, government, academic and business leaders in Canada's British Columbia province and states of Washington and Oregon in the US have been collaborating in the development of a new 21st century tech corridor – the "Cascadia Innovation Corridor". The memorandum affirmed the shared interest in 'thinning' the US-Canada border and enriching the whole region between Greater Vancouver and Greater Seattle by expanding trade and forging collaboration in technology, research, transportation and education. The initiative aims to transform the area into a global technology powerhouse, comparable to Silicon Valley and Boston.
As one of the emerging megaregions in North America, there are great synergies between the Corridor's major cities. Vancouver is a growing base for US tech companies, able to tap into the global talent pool with fewer immigration hassles, Seattle has a well-established tech status as the home of cloud computing and dominant corporate players, such as Amazon, Google and Microsoft, while lately Portland is a longstanding leader on climate change issues. This combination of factors not only enhances each city's own global position, but can be combined to create an ideal test platform to turn bold vision into reality.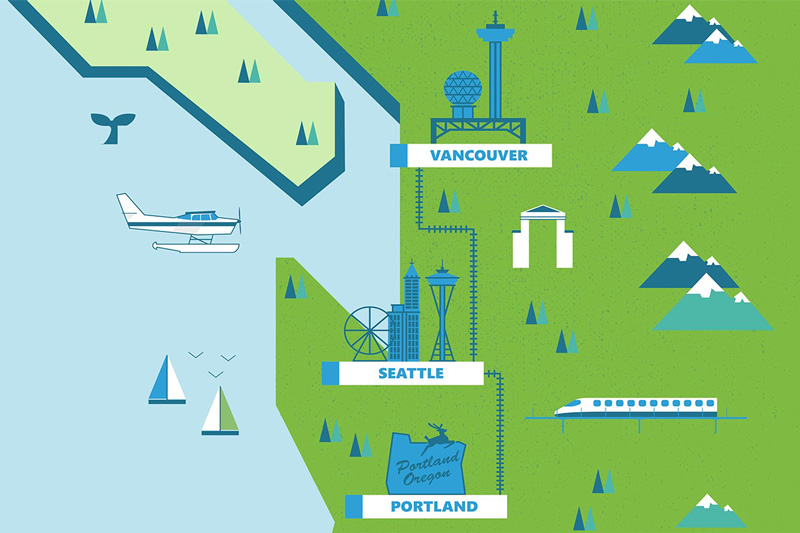 The initiative builds on four pillars: (i) growing the region's human capital and educational assets to create new opportunities and attract talent from around the world; (ii) investing in transportation and other infrastructure to facilitate connections and collaboration; (iii) building regional capacity for funding and investment to support new companies and collaborative initiatives; and (iv) creating a policy environment that spurs innovation. The Corridor, which links Vancouver, Seattle and Portland, holds the promise of increasing economic opportunity beyond what the cities and their surrounding regions could expect to achieve independently.
Growing the Required Talent
One of the Cascadia Corridor's success factors is its continued successful engagement of global corporate leaders, such as Amazon, Boeing, Microsoft, as well as world-class research organisations, such as the University of Washington (UW), the University of British Columbia (UBC) and Simon Fraser University (SFU), in a diverse array of projects covering existing and emerging technology disciplines.
Thanks to the US$1 million injection from Microsoft, UW and UBC established the Cascadia Urban Analytics Cooperative (CUAC) in February 2017, to leverage high-impact data science in order to address global challenges associated with urbanisation, including traffic, homelessness, and public health. One of CUAC's major initiatives is the Data Science for Social Good (DSSG) program, which engages students to apply data science to real-world research projects submitted by local and provincial/state governments and NGOs.
In support of the Corridor, the US states of Oregon and Washington joined with Canada's British Columbia province to establish the Cascadia Venture Acceleration Network (CVAN) – a partnership of some 50 organisations, including universities, incubators, investors and industry associations, in a bid to provide start-ups with cross-border funding and more collaboration opportunities.
As part of the initiative, start-up accelerators and partner organisations in British Columbia, Washington and Oregon are working to offer 'soft landing space' to selected start-ups from each other's areas, with access to advisory services and networking opportunities, as well as resources available through other members, such as funding opportunities and connections to key local institutes.
Engaging the Private Sector and Academia: The Case of Global Innovation Exchange (GIX)
With the aim of becoming a global technology powerhouse, the cross-border, cross-industry and business-academia tech collaboration promoted under the Cascadia Corridor has been a highly inclusive initiative from the beginning. Therefore, as well as the presence of the global tech giants and long-established academic exchanges among the universities in the region mentioned above, the Corridor boasts a number of global partnerships preparing students to contribute solutions to global challenges and business needs.
One of such efforts is the first-of-its kind graduate technology school – the Global Innovation Exchange (GIX) in Bellevue, Washington, founded in June 2016 by UW and Tsinghua University (TU) – the first physical presence of a Chinese university in the US – with US$40 million in initial support from Microsoft. GIX offers students two interdisciplinary graduate programs: a 15-month Master of Science in Technology Innovation (MSTI) and a 21-month extended Dual Degree (MSTI and Master of Science in Engineering (Data Science and Information Technology, MSE(DSIT)).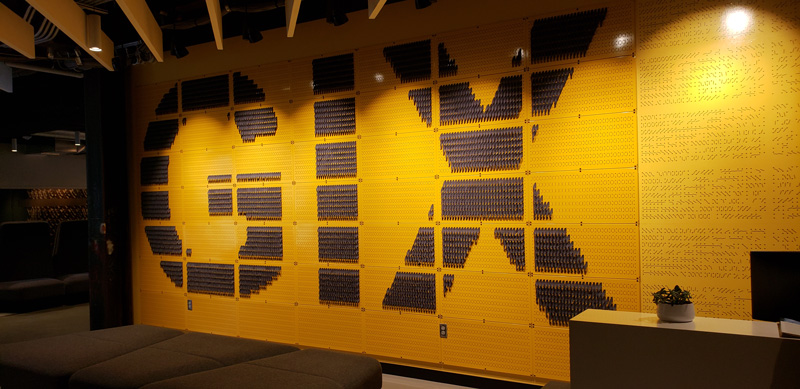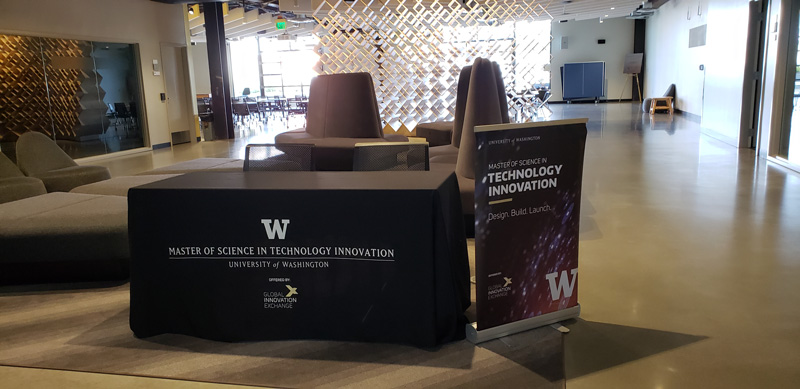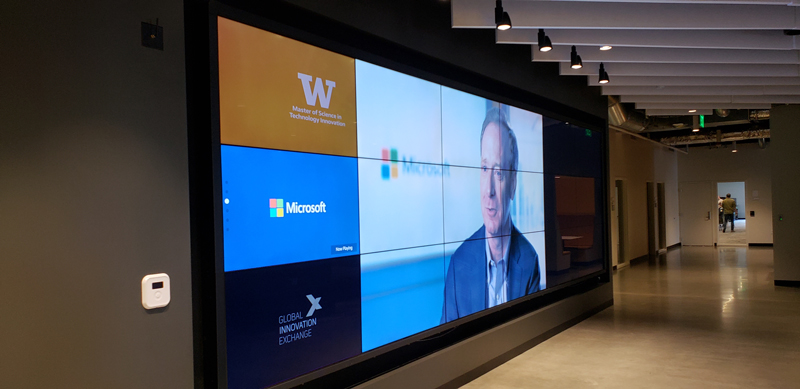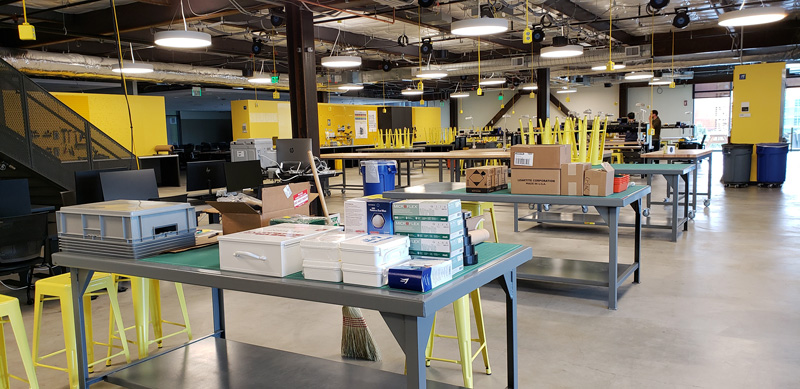 The first 37 students from 11 countries graduated in 2018 have already showed early success in not only worldwide competition, but also attempts to secure research grants, sponsorship and highly sought-after tech jobs across industries as diverse as cybersecurity, agriculture, transportation, healthcare and retail.
As a new model of experiential education, GIX enables its students to immerse themselves in project-based and team-based graduate degree programs with a broad array of innovation experiences, business sponsorship and the interplay between design thinking, technology development, and entrepreneurship. For example, one of the 37 GIX graduate students is reportedly sponsored by aircraft maker Boeing to develop a travel application aimed at enhancing travellers' experiences by providing directions at airports and time estimates for the check-in process.
To better prepare students to contribute solutions to a wide range of global challenges and business needs, GIX has been expanding its list of world-class academic members since its inauguration, which currently include some leading Asian research institutes, such as the Hong Kong University of Science and Technology (HKUST), the Indian Institute of Science and the Korea Advanced Institute of Science and Technology.
Another more recent private sector initiative is the "Cascadia Passport" programme by office space provider, WeWork, which gives select businesses and organisations that aim to further ties between regions in the Cascadia Innovation Corridor free access to its 20-plus offices in Seattle, Vancouver and Portland. Unveiled during the third Cascadia Innovation Corridor Conference in Vancouver in September 2018, the program includes a free "hot desk" membership for six months, access to all of the Seattle-Portland-Vancouver locations and credits for conference room bookings.
Described as upholding the vision of "bringing people together, building partnerships and community, and creating a thriving environment where people can do their best work", WeWork is committed to building a more inter-connected region by providing accessible office space to those forging Cascadia connections. It offers existing facilities of nearly 1.5 million sq ft of office space in Seattle, five locations in Vancouver and three in Portland.
Applying Same Technologies to Different Settings
As a showcase to demonstrate how it can become a model for smart, cross-border development, the Cascadia Corridor has seen a number of shared, innovative initiatives being deployed to cater to the different needs in British Columbia (Vancouver), Washington (Seattle) and Oregon (Portland) with similar, yet different, settings. Aside from the feasibility study for a new ultra-high-speed rail line from Oregon to British Columbia, a new seaplane service (a "nerd bird" flight) between Seattle and Vancouver and an autonomous vehicle plan for the Interstate 5 (I-5)-British Columbia Highway 99 (BC-99), other key examples[1] spanning public transport, traffic management, energy conservation, public health and security include:
Introducing travel cards and sharing of card data and software among the region's three transit agencies – TransLink (Vancouver), Sound Transit (Seattle) and TriMet (Portland).
Co-ordinating congestion pricing along the I-5 / BC-99 corridor through Portland, Tacoma, Seattle, and Vancouver to help expedite freight delivery all the way from Mexico to Canada.
Integrating renewable energy sources across larger Cascadia-wide distribution networks to smooth out demand highs and lows and reduce the need for CO2-intensive "peaker" capacity, as well as providing testbeds for innovative micro-grid solutions that incorporate electric vehicles and home batteries as backups.
Developing and testing low-cost, high-resolution monitoring devices to map out and relate sources and sinks of urban air pollution among public health officials and their academic collaborators in the three cities.
Exchanging crime data across neighbouring cities to improve public safety.
While the enabling environment in the Cascadia Corridor has given creators and innovators all the necessary tools and resources to turn their bold ideas into practical solutions to real world problems, the possibility of applying the same technologies to different scenarios and settings has made the resulting solutions more adaptable to specific needs and readily exportable.
Takeaways for the Guangdong-Hong Kong-Macao Greater Bay Area
Similar to the Cascadia Corridor, the Guangdong-Hong Kong-Macao Greater Bay Area (GHKM Greater Bay Area) is unique in terms of its development needs and challenges. To best suit its needs and vision for long-term evolution, it is crucial for the GHKM Greater Bay Area to secure a steady supply of top-notch talent. One of the best ways to do so is to grow its own talent at home through the creation of an enabling environment for cross-jurisdictional, interdisciplinary R&D.
The differences in immigration policies and levels of R&D investment among the 11 cities in the GHKM Greater Bay Area may have different implications for global talent. By avoiding resource duplication and encouraging research collaboration, a larger talent pool can be attracted and retained for the common good of the GHKM Greater Bay Area, resulting in greater synergy.
Early success can already be seen from the 26km High Speed Rail (Hong Kong Section) running from West Kowloon and connecting Hong Kong with the mainland's 25,000km national high-speed rail, as well as the 55km Hong Kong-Zhuhai-Macao Bridge (HZMB) putting major cities in the Pearl River Delta within a three hours' commute from Hong Kong. However, the future success of cross-jurisdictional collaboration among the GHKM Greater Bay Area's 11 cities cannot be made possible for all stakeholders without the comprehensive engagement of private businesses.
The success of GIX has been a good example, showing how important it is for the GHKM Greater Bay Area to engage the private business sector and academia to define, analyse and conceptualise problems, develop solutions and contingencies and implement risk control in its continuous planning process. The engagement or mobilisation of the private sector, as in WeWork's Cascadia Passport programme is not only helpful in reducing the potential burden on public finances, but also helps prevent planners and policymakers from putting their heads and resources in the clouds when thinking 'outside the box' in addressing problems.
Also, the Cascadia Corridor is a good pointer for the possibility of applying the same or similar technologies to different environments and settings. It also shows how this can be conducive to the formation and maintenance of best practices for both local needs and problems further afield. The neighbourhood ethos developed between global tech companies, world-class research organisations and the public sector in the Cascadia Corridor has demonstrated how the GHKM Greater Bay Area can hold the promise of increasing economic opportunity beyond what the 11 cities and their surrounding regions could expect to achieve independently.
Moreover, the forward-looking action plans mentioned above demonstrated in the Cascadia Corridor cross-border interstate co-operation, in tandem with climate change, demographic dynamics and technological breakthroughs, is a good reference for the GHKM Greater Bay Area on how it is essential to grow relevance and prosper by embracing global challenges with innovative, sustainable and inclusive approaches to tackle and/or prevent future problems and challenges.
---
[1] Source: Meeting of the Minds
USA
Canada
North America