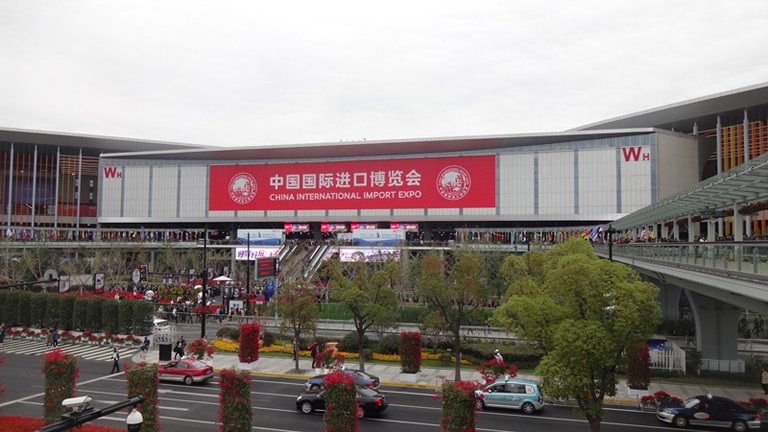 https://hkmb.hktdc.com/en/1X0AFRWV
Latin America: A Good Hedge and A Prospective Client
Hong Kong's trade with Latin America soared by more than 20% to US$12 billion in the first nine months of 2018. It's a figure that dwarfs that for the whole of 2017, when trade between the two regions grew by just 2.4%. While Latin America, which accounts for a mere 1.5% of Hong Kong's total trade, may still be some way off becoming one of the SAR's leading trading partners, its suitability should not be underestimated as a potential hedge against any fall-off in US imports from Hong Kong as a consequence of the lingering Sino-US trade dispute. Furthermore, as Latin American businesses begin to make inroads into the mainland Chinese market, the region should be regarded as a potential new client for Hong Kong's professional services.
Export Market
Hong Kong's exports to Latin America have fared well in 2018. In the first three quarters of the year, they increased by 17% year-on-year to US$7.5 billion. This compares well to the 9% growth in Hong Kong's overall exports over the same period.
Mexico and Brazil remain Hong Kong's top export destinations in Latin America, accounting for around 60% (US$4.5 billion) of its exports to the region.
However, Colombia, Chile, Peru and Mexico are the chart-toppers in terms of growth in 2018. Exports to Mexico increased by 19% year-on-year between January and September; those to Peru and Chile rose 21% and 29%, respectively, while sales to Colombia grew by an impressive 73%.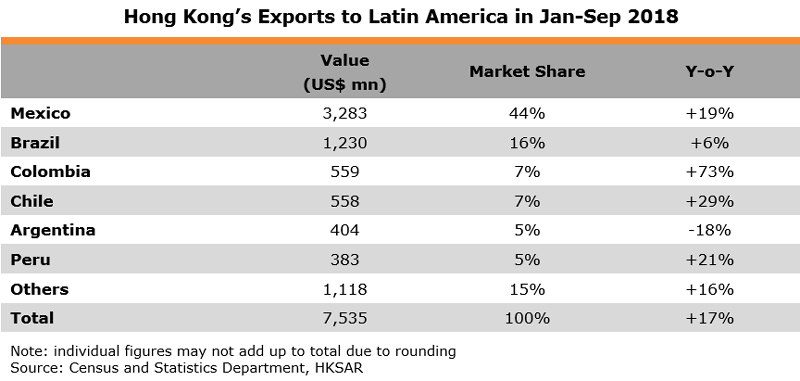 Electronic products make up the bulk of Hong Kong's exports to Latin America, comprising four-fifths of the total in the first nine months of 2018 and registering a year-on-year growth of more than 20%. The growth of Hong Kong's overall electronics exports in the same period was somewhat lower at 13%.
Mexico, Chile, Colombia and Peru accounted for around 70% of all Hong Kong's exports of finished electronic products to Latin America, while Mexico and Brazil accounted for about 90% of all parts and components exported to the region.
Import Source
In the first nine months of 2018, Hong Kong's imports from Latin America rose sharply by 26% year-on-year to US$4.7 billion, surpassing the 11% growth in Hong Kong's total imports over the same period.
Brazil, Mexico and Chile were the region's top import sources between January and September 2018, with more than 80% of Hong Kong's imports from Latin America coming from these three countries.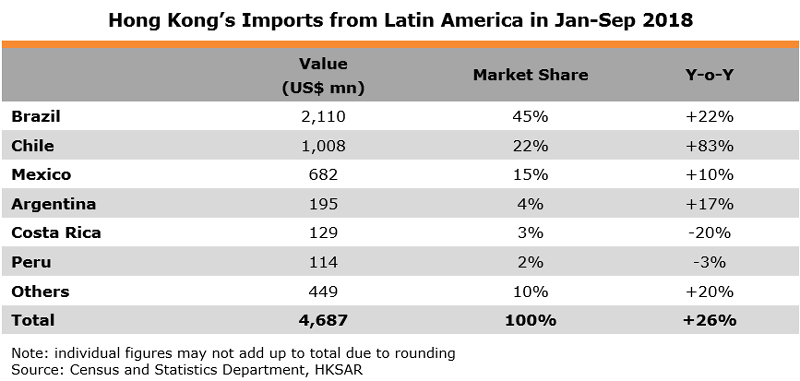 Around half of Hong Kong's imports from Latin America were processed food and beverages, which grew by 23% year-on-year to US$2.3 billion in the first three quarters of 2018. Electronics made up another one-fifth of the total, growing by 3% year-on-year to US$786 million.
In global terms, Brazil is third behind only mainland China and the US in terms of the amount of processed food and beverages sold to Hong Kong. Meat and meat products made of bovine, swine and poultry are the main items exported.
This year, Chile surpassed the US to become Hong Kong's leading fruit and nuts supplier. Hong Kong's imports of fresh apricots, cherries, peaches, plums and sloes from Chile soared by 137% year-on-year in the first nine months of 2018, while sales of fresh and dried grapes saw a 32% growth.
Hedge against Sino-US Trade Dispute
The lingering trade dispute between China and the US has prompted Hong Kong traders to look further afield for business opportunities. Latin America, as a natural resource-rich region with a sizeable population, is increasingly becoming a potential target for market exploration. The recent rebound of oil and commodity prices, and the increasingly pro-business environment following various elections and reform programmes in the region, has also encouraged Hong Kong companies looking to do business there. This is particularly true in Latin America's two most populous countries – Brazil and Mexico.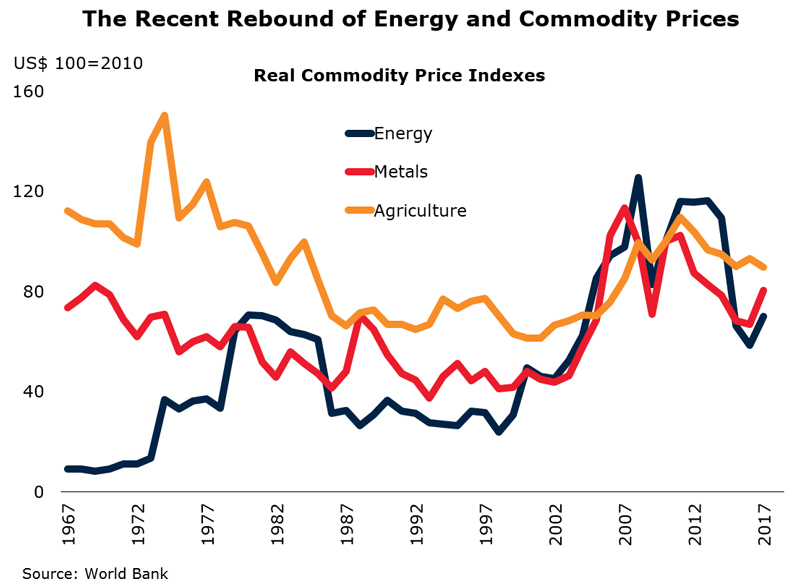 In Brazil, growth has been gradually picking up thanks to rising energy and commodity prices and a sense that the country's recent election will encourage political and economic renewal.
President-elect Jair Bolsonaro takes office on 1 January 2019, after campaigning to crack down on crime and corruption, overhaul the pension system, bring the budget deficit under control, privatise state enterprises and relax controls on the development of indigenous lands. He is promising to create a more pro-business and investor-friendly environment for international companies. This is driving up expectations about the likely performance of the Brazilian economy, which is forecast to continue its recovery with a 1.4% growth in GDP in 2018 and 2.4% next year.
The Mexican economy, meanwhile, has been boosted by the conclusion of a new trilateral trade agreement – the US-Mexico-Canada Agreement (USMCA) – which will replace the North America Free Trade Agreement (NAFTA). The three heads of state are expected to formally sign the agreement at the G20 summit in Buenos Aires in late November. This new deal removes many of the lingering trade uncertainties between Mexico and its major trading partners, while also containing a number of provisions that could have a significant bearing on the future of the global supply chain.
Most notably, although the North American free trade area will remain essentially intact under the new deal, it will be more difficult for a number of products to qualify for duty-free treatment. US negotiators insisted on more stringent origin rules in an effort to increase North American value content and limit the use of foreign components, including components made in Hong Kong and mainland China. These rules could reduce exports of some textile inputs, automotive parts and other products from Hong Kong and mainland China to the North American continent.
However, the removal of uncertainty over trade is expected to give incoming Mexican president Andrés Manuel López Obrador more opportunity to introduce reforms in the areas of energy, education, security and public spending on social programmes and infrastructure. His commitment to combat corruption and violence has also been welcomed by international traders and investors, although his plans to roll back the opening of the country's energy markets to foreign investment and tackle its trade imbalances with China may negatively affect the rosy forecasts of 2.2% growth in 2018 and 2.5% in 2019.
New Client
As mainland China looks to shift towards becoming a consumption-driven economy, it has been lowering its import tariffs. In November 2017, China cut import tariffs on 187 consumer goods, from an average 17.3% to 7.7% on products including pharmaceuticals, food, health supplements and apparel. On 1 July 2018, it slashed tariffs from an average 15.7% to 6.9% on 1,449 more items, and lowered tariffs on vehicles and automotive parts. Then, at the beginning of November this year, China reduced Most Favoured Nation (MFN) tariffs on 1,585 taxable items – 19% of all taxable import items – cutting the average tariff rate from 10.5% to 7.8%.
This opening up of the massive Chinese consumer market has encouraged many Latin American traders to explore opportunities on the mainland. In November, at the inaugural China International Import Expo (CIIE) in Shanghai – the world's first import-only-themed national-level expo, which attracted more than 3,600 exhibitors and over 400,000 buyers – Latin American nations were heavily represented, with the region's two main economic engines Brazil and Mexico showcased as "Guests of Honour." Among the other Latin American attendees were Argentina, Chile, Bolivia, Cuba, the Dominican Republic, El Salvador, Guyana, Panama, Peru, Uruguay and Venezuela, as well as several Caribbean countries.
Latin American Pavilions in CIIE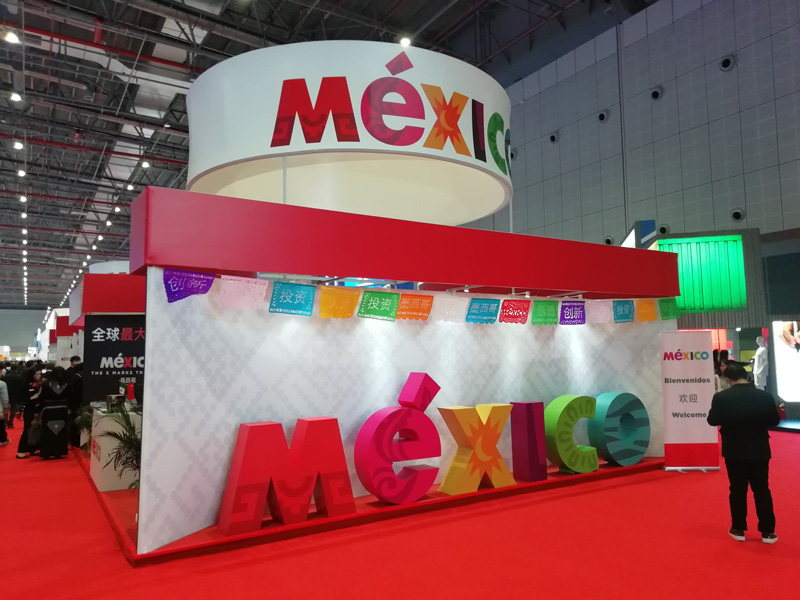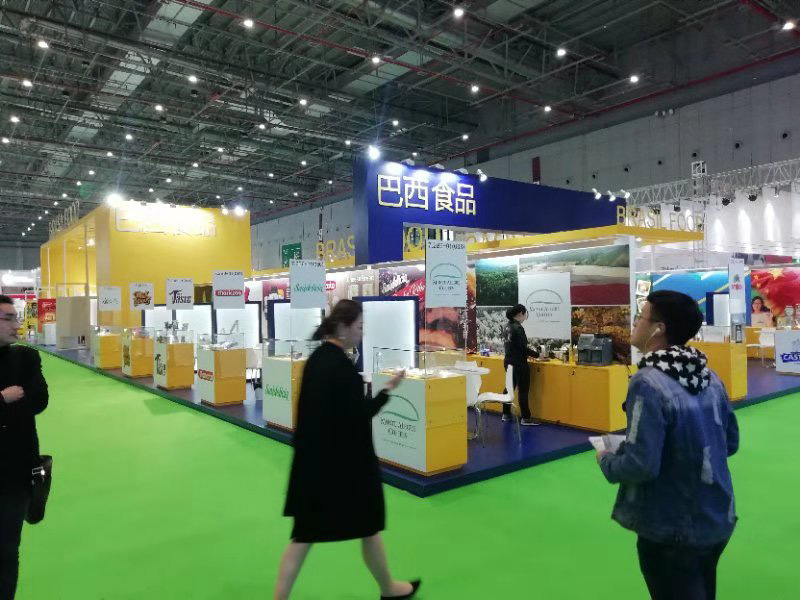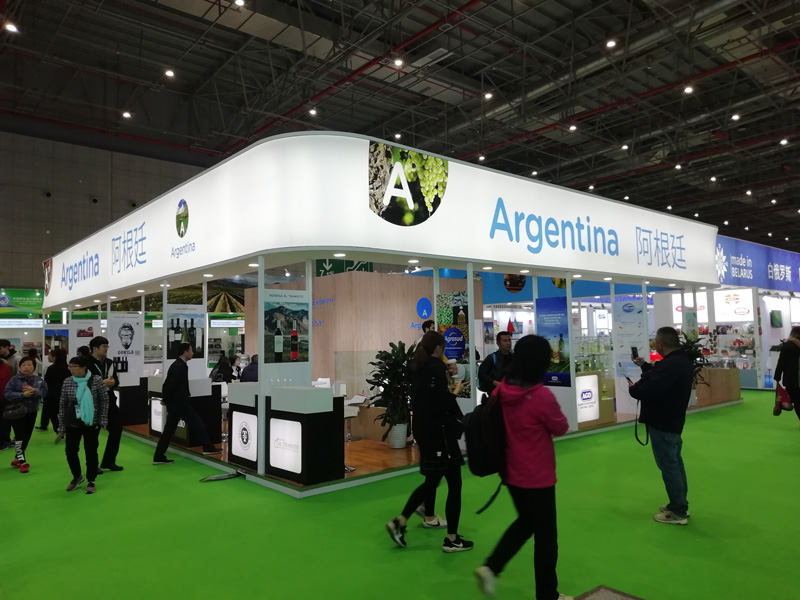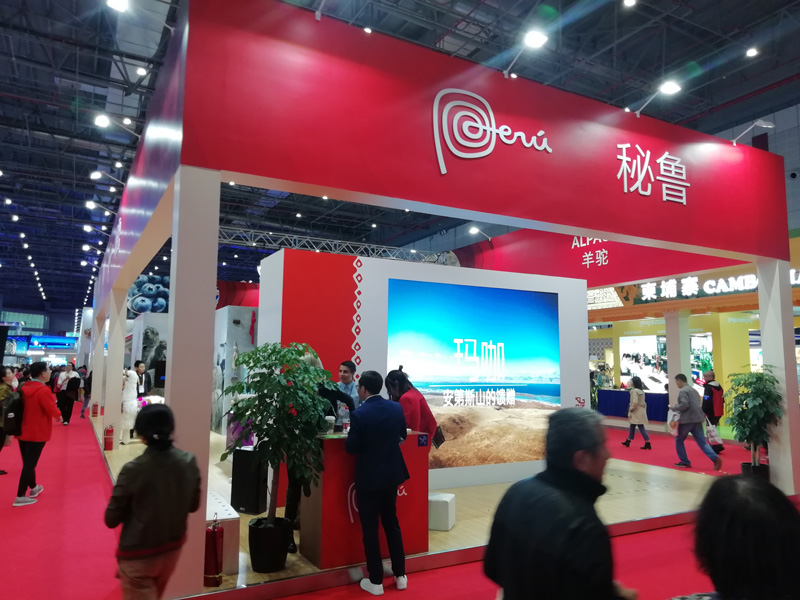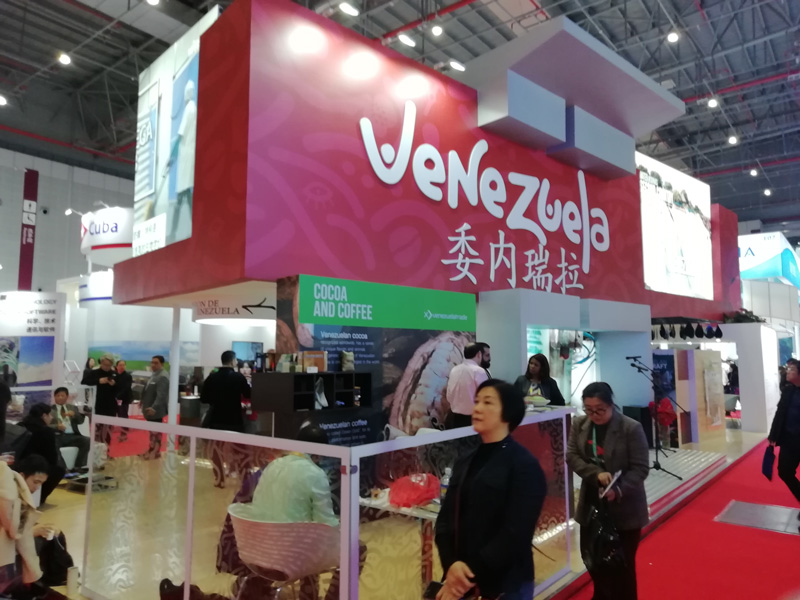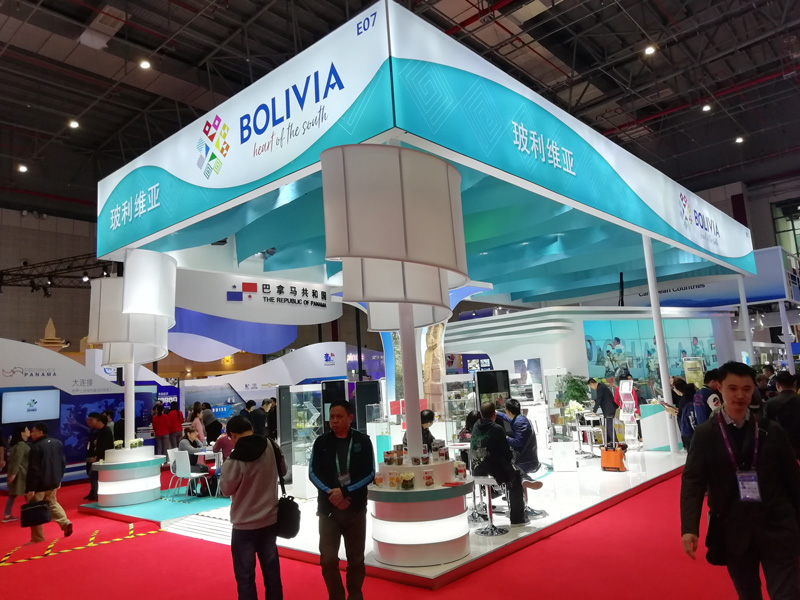 A large part of the Latin American products on show were agricultural and food and beverage products, including fresh fruits and their by-products, fresh meat and meat products, seafood and fish, nuts, cocoas and coffee beans, honey, and wine and spirits such as Brazilian cachaça, Mexican tequila and mezcal, Argentinean Malbec, Chilean Cabernet Sauvignon, Peruvian Pisco and Cuban rum. These were received very well by Chinese buyers at the expo, echoing the growing demand in China for imported food. Chinese food imports surged by 25% in 2017 to US$58 billion, a large increase on the previous five-year average growth of 6%.
Major Latin American Product Showcases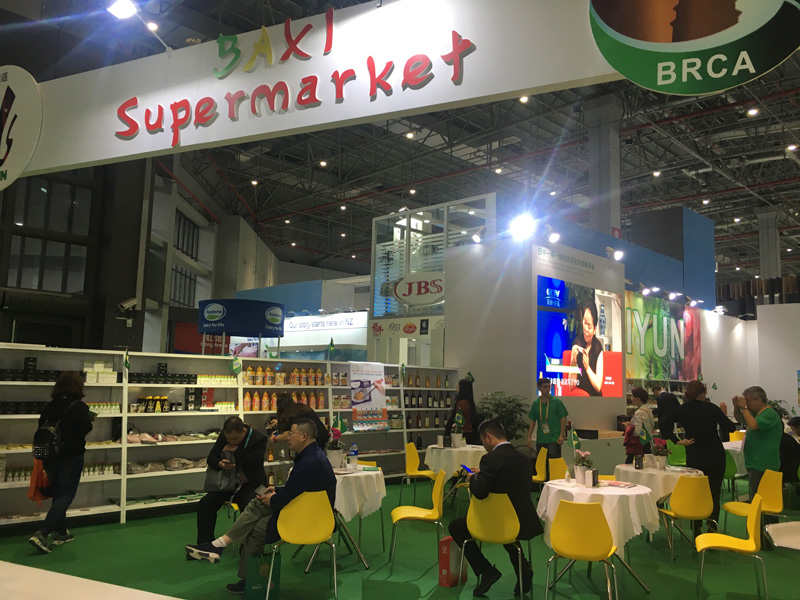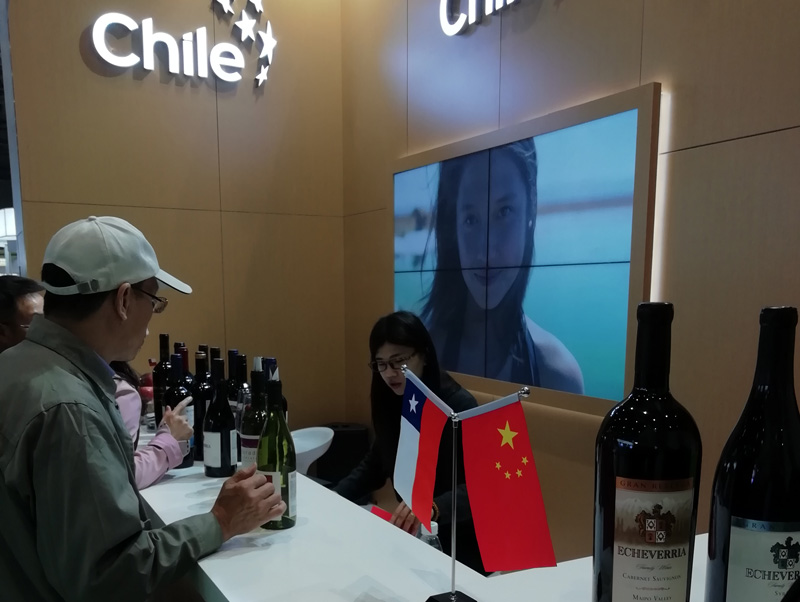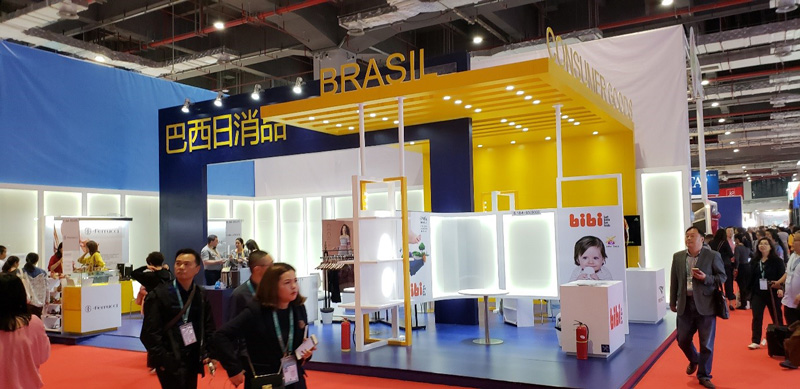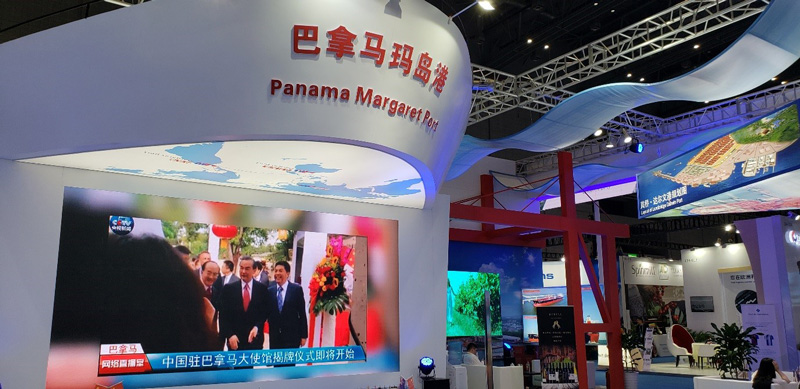 Some Latin American nations have now entered into multi-pronged co-operation agreements with mainland China to gain bigger market access. Chile, for example, signed a series of agreements including one to strengthen sea-air transport links which is designed to facilitate the delivery of fresh Chilean fruit to China. Brazil, meanwhile, has held talks with Chinese phytosanitary authorities to pave the way for a protocol which will allow the sale of Brazilian melons on the Chinese mainland.
Latin American exhibitors at the show seemed generally confident that the Chinese market is ready for their products. However, most admitted that they were unfamiliar with the mainland's laws and regulations, not to mention the market dynamics in terms of consumer preferences and distribution channels.
This lack of familiarity with the mainland market represents a prime opportunity for Hong Kong traders and service providers. With their proximity to the mainland, their language advantages, their extensive knowledge of Chinese consumers and the Chinese regulatory environment, they can play a pivotal role in helping prospective Latin American companies prepare their products for the mainland market by fulfilling all the necessary regulatory and compliance requirements with hassle-free logistic and marketing support.
Furthermore, Hong Kong can serve as a tailor-made business hub for Latin American enterprises looking to establish headquarters in Asia, offering an extensive web of value-added services that these companies are likely to need – everything from finance and legal services to branding and research and development.
Brazil
Chile
Peru
Colombia
Mexico
Central & South America
North America