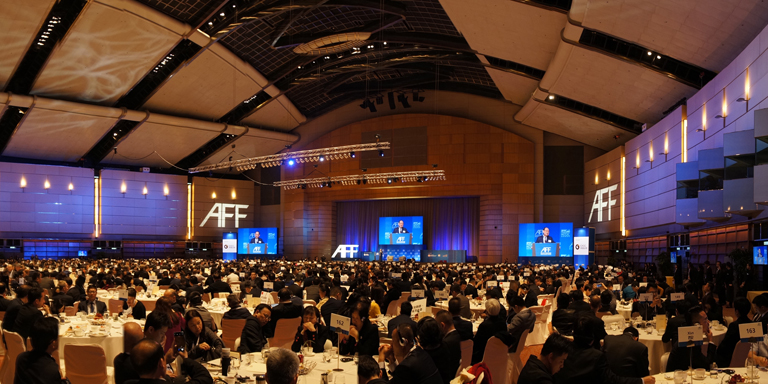 Asian Financial Forum
Leaders from across the continent and worldwide gather to discuss trends and developments in the dynamic markets of Asia.
WHAT: The 12th Asian Financial Forum (AFF), to be held in 2019, will bring together influential members of the global financial and business community to discuss developments and trends in the dynamic markets of Asia. In 2018, more than 100 internationally respected leaders in government, financial and business sectors gathered for ground-breaking discussions about opportunities and challenges facing Asia. During the AFF Deal Flow Matchmaking Session, one-on-one meetings are arranged between sources of funds and sources of deals. Over the years, more than 3,800 meetings have been arranged for more than 1,800 companies, involving investment project owners, private equity firms, investors, high net-worth individuals and senior professionals from intermediaries and professional services providers. The AFF Deal Flow will continue to match sources of funds and sources of deals, while its InnoVenture Salon will bring together venture capital firms and the entrepreneurial community to explore potential collaboration and examine the pivotal issue of building the start-up ecosystem. Start-ups can showcase their stories and products at the Start-up Zone, meet up with potential investors at the Investor Alley, and present their business ideas at Project Demo sessions. Experienced innovators and professionals will share practical tips on pitching to investors and growing a successful business at Fireside Chat and Startup Clinic. There will also be a Fintech Showcase – a one-stop platform for cutting-edge innovations and establishing new business partnerships. Industry players will lead sector-specific presentation sessions, while project owners will introduce their investment dimensions.
WHEN: 14-15 Jan 2019; 09:00 – 18:00

The AFF 2018 attracted more than 3,000 participants from 46 countries and regions, about 85% of whom were CEOs and senior decision makers.

WHO: Organised by the Hong Kong Trade Development Council in association with the Hong Kong Special Administrative Region Government.

WHY: The AFF is the ideal platform for gathering the latest market intelligence, exchanging insights, and exploring business opportunities on the Chinese mainland and throughout Asia, while also building connections with global leaders in government, business and finance. The 2018 forum featured more than 670 investment matching meetings. More than 660 investors attended, along with over 390 international journalists who generated more than 2,800 news clippings.

WHERE: Hong Kong Convention and Exhibition Centre

AND YOU CAN QUOTE ME: Maximilian Hillmann , Leder Hillmann OHG Mission Leader, First time multiplier 2
FAIR WEBSITE: http://www.hktdc.com/ncs/aff2019/en/main/index.html