https://hkmb.hktdc.com/en/1X0AFQ7N
Volatile Environment Drives Co-working
A shared-space provider sees great potential in Hong Kong.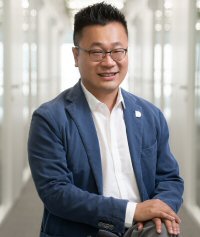 Founded in 2016, Hong Kong co-working space provider theDesk has grown from its first premises in Sai Wan by adding two prime locations in Causeway Bay, and is preparing to open a fourth, in Admiralty, in early 2019. As the start-up is gaining ground in a market crowded with about 50 co-working spaces, plans for sites in Mainland China are also in the pipeline, according to CEO and co-founder Thomas Hui.
Why did you decide to enter the co-working space?
I followed my heart – I love to be around entrepreneurs who have so much passion, and are hopeful for the future. Of course, this is a business – you also need to have market analysis – and I think co-working space is just the beginning of a big trend.
Why?
I see mainly three drivers of this growth. The first is that the economy is volatile and businesses need more flexibility; co-working space is the solution. Secondly, the new economy will disrupt the old economy and its pie is getting bigger and bigger. Thirdly, working behaviour is changing, with more emphasis on collaboration. People are more willing to share, rather than hiding their business secrets. A community is very important for them.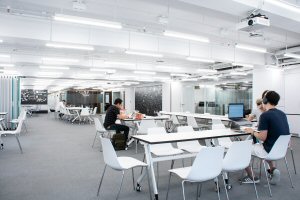 What do you see as theDesk's point of difference?
The defining factor that differentiates theDesk from the plethora of other spaces is our endeavour to create an "inclusive community". At theDesk, every member matters. We see ourselves as the next iteration of the co-working phenomenon – co-work 2.0. Rather than just offering free beer and funky workspaces, we promote our members' businesses, deliver business value and help members build strong links within our communities and beyond. When a new member comes on board, it doesn't simply mean another table and chair is accounted for, but that there is a new mind and business that can be connected with our existing members and neighbours – a chance for a new relationship to be forged.

While creating a professional and productive work environment is our primary goal, we understand that enjoying life together is integral to fostering the spirit of our inclusive community. Post-work gatherings, such as our Mid-Autumn Festival bowling night and World Cup Final viewing party, are a great way to put the work to one side and bring our communities closer together.

Tell us about the new Admiralty site?
At 36,000 square feet it will be double the size of our leading centre, and in a prime location near Central. Together with company co-founders Adrian Yap and Oscar Venhuis, I am very optimistic about the [Guangdong-Hong Kong-Macao] Greater Bay Area concept, with Hong Kong serving as the financial hub, and Shenzhen as the technology hub. Our site in Admiralty is very strategic to support technical companies in Shenzhen, and fundraising activities in Hong Kong.

Inquiries for the new Admiralty site show that theDesk is valued by small and medium enterprises, especially fintechs. Yet Admiralty's proximity to Central is a big advantage for enterprises of any size. Whether you're a start-up or a multinational corporation, chances are that you'll need support in terms of legal, banking and other services, and more than 90% of international law firms are found in Central.

Milestones so far?
Apart from the new site already announced, we are planning Mainland China locations, starting with Shanghai and Shenzhen in 2019.

Another thing we are very proud of is the partnership with HSBC, which set up a pop-up consultation desk at our Leighton Centre location in Hong Kong. The idea started six months ago when I attended a roundtable with a representative from the bank, and suggested they join theDesk to understand more about the new economy, the entrepreneurs, and to feel the passion of the members at theDesk. He ultimately decided to set up a pop-up at our place for two weeks. Here is an example of a very traditional brand learning about and from our members.

Has growth of your company been faster than expected?
We need to grow fast but I didn't expect to grow that fast. Every day, you have something unexpected and this is the enjoyment of doing a start-up.

Currently, flexible workspace in Hong Kong only accounts for around 1.2% of occupied offices – about one million square feet in land area. Consequently, there is still plenty of room for growth in Hong Kong and it's predicted that, by 2029, flexible workspaces will expand to cover about six million sq ft – around 12% of the market share.

So in Hong Kong, our home, and the broader mainland market, where we believe the international community of theDesk can add value to the country's advancing economy, we are excited about the potential.
Related Link
theDesk