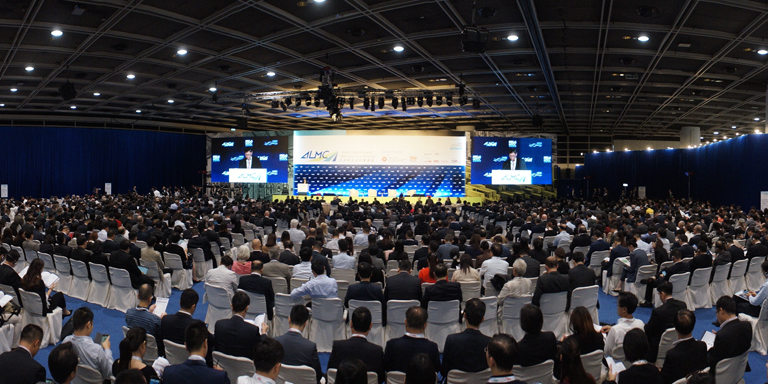 https://hkmb.hktdc.com/en/1X0AFQ6O
Open Trade Critical for Growth
Transport and logistics conference delegates stress the importance of connectivity and technology.
Connectivity and, in turn, open trade are keys to global growth, according to a prominent speaker at this year's Asian Logistics and Maritime Conference (ALMC) in Hong Kong.

"Asia is a strong, resilient trading bloc in a globalised world, and connectivity is the key to global growth," Karen Reddington, President of the Asia-Pacific Division of FedEx Express, told the opening plenary session of the ALMC on 20 Nov. She said one way to build on this connectivity is to keep trade as open as possible. Confident countries lower their trade barriers and do more business as a result, with economies and companies prospering, Ms Reddington remarked. "Asia is embracing free trade because it is confident."

The second way to build connectivity is to give businesses the right digital expertise to grow their footprint, and with environmental knowledge and awareness to improve efficiency, while enhancing the environmental sustainability and safety of cities, she said.

The third critical connectivity factor is to develop infrastructure to accelerate and support growth, Ms Reddington said. Infrastructure must be efficient and technologically advanced, with risk-management integrated into it at all levels. It is estimated that annual investment of US$3.3 trillion will be required just for current growth. "Connectivity is the key to global growth," Ms Reddington concluded. "We must keep connecting and integrating to maintain the momentum."
Addressing Hong Kong's future role as a logistics hub, Ms Reddington said that Hong Kong was FedEx's headquarters for Asia Pacific for good reason. "It is already the world's largest air cargo hub, but it is not resting on its laurels, building a third runway." Hong Kong also has a good regulatory system, she said.
Technology drew intense interest at the ALMC, which was organised by the Hong Kong Trade Development Council and Hong Kong Special Administrative Region Government, with every seat taken at the conference's Tech Dialogue.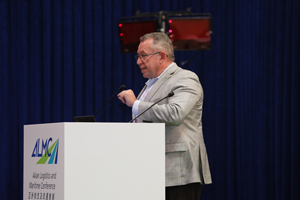 Dean Croke, Chief Analytics Officer of the Blockchain in Transport Alliance (BITA), said blockchain adoption would greatly benefit the logistics industry by eliminating or streamlining much of the paperwork. A unified, agreed standard across the entire logistics and transport industry, applicable to all modes, was essential, he said. The standard would have to deal with every detail, such as the exact date format.

A prototype blockchain had already, in a proof-of-concept, managed to carry all the documentation for the transport of a five-tonne consignment of seafood in Miami.

BITA is working with many players, such as the International Air Transport Association (IATA) for air cargo and pharmaceutical industry for ex-factory transport to create a unified standard, Mr Croke said. Standards would ensure components in the global logistical network could all communicate.
In the second Tech Dialogue, Sebastien Gendron, co-founder and CEO of TransPod, introduced delegates to the market potential of the hyperloop, which he described as a disruptive, fifth mode of transport; a subway for freight. In a hyperloop, 25-metre-long pods shoot through vacuum tubes at speeds as high as 1,000 kilometres per hour. Mr Gendron said a hyperloop pod could carry as much as 10 tonnes of freight, and a tube could carry one pod every 80 seconds.

A hyperloop running between Toronto and Montreal, for example, could replace 2,000 truck journeys a day, Mr Gendron said. Stops at Kingston and Ottawa, between the two cities, would give the system flexibility. In addition to speeding up deliveries, hyperloops could cut costs. Such a system would allow logistics providers such as UPS and Fedex to discontinue their flights into Montreal and route all southern Ontario-Quebec flights to Toronto. TransPod has built an experimental loop near Paris; the technology should be ready by 2025 and operations should begin in 2030.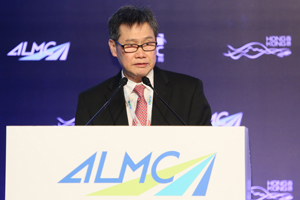 Opening the ALMC, H.E. Dato Lim Jock Hoi, Secretary-General of the Association of Southeast Asian Nations (ASEAN), noted that the regional bloc had become the sixth-largest economy in the world. Its gross domestic product has reached US$2.8 trillion. Free trade, the liberalisation of logistics and trade services, enhanced transport and expanded trade routes have let the region grow extremely quickly, Mr Lim said.

The challenge was to upgrade ports and build a more efficient maritime, highway and rail network, Mr Lim said, adding that this will require substantial infrastructure investment. "ASEAN is committed to enhanced regional and global connectivity," he emphasised, "but we need sustainable solutions to infrastructure to provide greater connectivity." Hong Kong is a strategic partner in enhancing ASEAN's logistical efficiency, he concluded.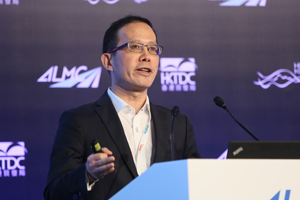 Logistics providers find customer requirements are changing rapidly and need to adapt, Mike Fang, Vice President and Head of Greater China for Maersk Line, told the conference's first plenary session. "We must connect and simplify supply chains."

The massive scope of the Belt and Road Initiative has led to the rise of intercontinental rail transport, he explained, not to replace sea transport, but to supplement it. Rail is one-third the cost of air freight and produces 90% less carbon emissions. Rail transport to Central Asia and Western Europe is much faster than sea freight. Rail from Wuhan to France, for example, takes 20 days, compared with 30 days by sea.

Asia has 20 of the world's largest sea ports and intra-Asia trade is among the world's largest and fastest-growing trade areas, he said.

"Improving connectivity requires all players in the end-to-end supply chain to cooperate to be relevant to customers in the future," Mr Fang concluded.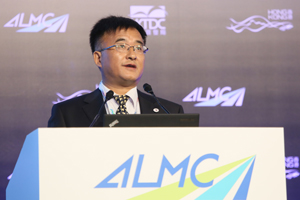 "Rail is becoming an important alternative for shipping goods from all parts of East Asia to Central Asia and even Europe," said Zhong Cheng, Deputy General Manager of China Railway Container Transport Corp Ltd. (CRCT), "because it is much cheaper and more environmentally friendly than air transport and more time efficient than sea transport."

CRTC developed quickly, he explained, starting in 2011, with growth of 10% a year, in line with the Belt and Road Initiative. CRTC's transport corridors basically follow the original Silk Road. CRTC has three main rail corridors from 50 cities in Mainland China to the West: one to Central Asia and Europe, one to Mongolia and Russia, and one through the mainland and Russia. Rail can deliver goods to Europe 10 days faster than sea transport.
Related Link
Asian Logistics and Maritime Conference (ALMC)