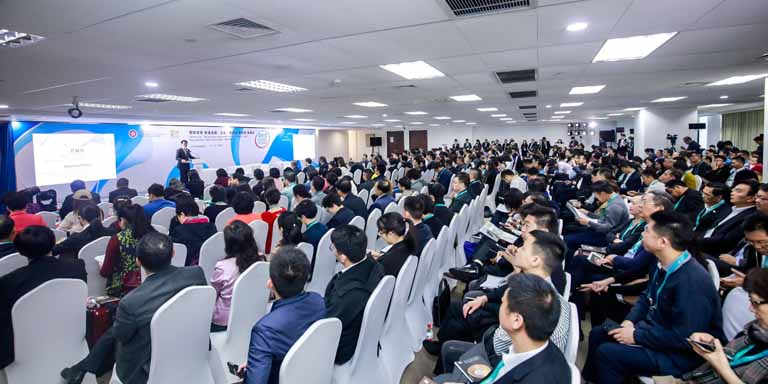 https://hkmb.hktdc.com/en/1X0AFOV5
Gateway Works Both Ways
Hong Kong's presence at a recent import expo in Shanghai emphasises city's role in helping the world access the mainland market.
Four decades after the then paramount leader Deng Xiaoping launched the Chinese mainland's historic reforms and opening up, and 21 years after Hong Kong's sovereignty transfer, much of the world still views the mainland largely as a factory, and the city as a gateway with goods flowing out and money going in.

Reality has shifted far from that perception however and is moving ever further, as emphasised by President Xi Jinping when he opened the inaugural China International Import Expo (CIIE) in Shanghai on 5 Nov. He promised to open the country's markets further and increase the share of goods and services the mainland would source from abroad.
Hong Kong Pavilions
At the expo, two pavilions organised by the Hong Kong Trade Development Council (HKTDC) featured more than 160 exhibitors to showcase the city's quality products and professional services, promoting Hong Kong's capabilities as a leading international trading hub.

The Hong Kong Service Pavilion spotlighted a range of professional services, covering such areas as architecture, logistics, marketing and professional licensing, accounting, information and communications technology (ICT), and hospitality. Government-funded institutions and professional societies also exhibited at the pavilion.

With green living as its theme, the Hong Kong Product Pavilion displayed the city's quality food and beverage products.
Hong Kong In
The expo also featured a Hong Kong Exhibition Area themed "Hong Kong In" – symbolising the city's role in helping international products and services enter the vast mainland market. The area was set up by the Hong Kong Special Administrative Region (HKSAR) Government, which said the city is the ideal platform to help mainland enterprises "go global" and assist international companies wishing to enter the mainland market, as Hong Kong enterprises join their mainland counterparts to participate in the Belt and Road Initiative.

The Hong Kong Exhibition Area introduced the city's strengths, major infrastructure projects, popular tourist attractions, and innovation and technology products and inventions with the use of various multimedia technologies, such as a transparent projection touch screen, mixed reality, holograms, 3D mapping, an interactive magic book and a naked-eye 3D display.

Other themes featured included Hong Kong's participation in the Belt and Road Initiative and the Guangdong-Hong Kong-Macao Greater Bay Area development, its contributions to the reform and opening up of the country, and the implementation of "one country, two systems" and the Basic Law.

The HKTDC and the HKSAR Government held a seminar at the expo, "Hong Kong's Experiences for International Trade: New Horizon, New Technology, New Model", to promote the city's strength as Asia's international trade hub. The seminar allowed international exhibitors, buyers and traders to explore issues such as big-data applications, cross-border capital flows and managing risk for enterprises in global trade.
Hong Kong's Unique Role in Mainland Market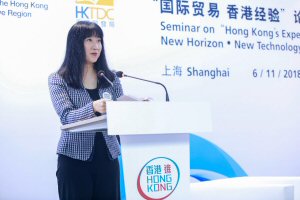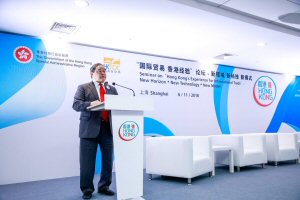 HKTDC Executive Director Margaret Fong and HKSAR Secretary for Commerce and Economic Development Edward Yau addressed the forum opening, while Fung Group's Group Chairman Victor Fung was the session's keynote speaker.

In her welcoming remarks, Ms Fong said: "With Hong Kong's valuable geographical location and rich international trade experience, it can be developed into an ideal trade platform for international suppliers, buyers and traders. We could provide a wide range of professional services to help enterprises improve effectiveness and reduce possible risks. Enterprises from around the world can also connect with potential trade partners and expand their business by participating in world-class exhibitions and conferences organised by the HKTDC."

Mr Fung said: "The Sino-United States trade friction drove the reorganisation of the world's supply chain, bringing in far-reaching impacts to global trade, which include pushing the Belt and Road forward as a new world trade engine that drives more emerging countries' development. Hong Kong can explore more ways to lead Chinese mainland companies to the international market and collaborate in the set-up of the global supply chain rearrangement. Hong Kong can also leverage its extensive international network to develop into a platform for international products to enter the mainland market."
Cross-border Trade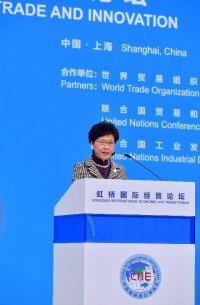 The seminar discussion was moderated by Salina Yan, HKSAR Director-General of Trade and Industry. Speakers included Herbert Chia, Expert Partner, Sequoia China Fund; Lin Guangming, Chief Corporate Banking Officer, Bank of China (Hong Kong) Limited; and Lawrence Yeung, Member, Greater China Legal Affairs Committee, The Law Society of Hong Kong. The speakers explored Hong Kong's strength and experience in expanding global trade, explaining how enterprises and investors can use the city's professional services for cross-border trading, managing international trade risks and improving business effectiveness in the areas of big-data marketing, intellectual property dispute resolution, and arbitration and mediation.

Mr Chia discussed big-data marketing. He said enterprises could collect useful information and consolidate valuable insights from a large pool of scattered data when designing new products and services to raise sales performance.

Mr Lin noted that Hong Kong had become an important platform connecting the mainland and the global market. Government policies promoting financial services have completed Hong Kong's financial-market infrastructure, providing convenience for cross-border enterprises.

Mr Yeung pointed out that Hong Kong's professionals have extensive experience in handling cross-border legal affairs and can play an important role in world trade by helping enterprises manage risks in global trade.

Hong Kong SAR Chief Executive Carrie Lam introduced Mr Xi to the Hong Kong Exhibition Area during his visit to the expo. She also attended a banquet hosted by Mr Xi and his wife Peng Liyuan to welcome guests attending the CIIE.
Trade and Innovation
Ms Lam delivered a keynote speech at a parallel forum themed "Trade and Innovation" under the Hongqiao International Economic and Trade Forum.

"Technological advancement will no doubt drive growth in trade. At the same time, trade will create demand for products and services, which will in turn provide the incentive for innovation. The WTO's [World Trade Organisation] World Trade Report 2018, focusing on how global commerce is being transformed by digital technologies, also sees great promise in the future of trade," she said.

The Report notes that trade could grow by 1.8 to 2 percentage points more a year until 2030, thanks to plummeting trade costs realised by new technology, Ms Lam said.

"The potential is there for all to see, but in order to realise it, free trade has become ever more important. As a founding member of the WTO, Hong Kong has over the years been one of the freest and most open economies in the world. We have benefitted immensely from free trade for decades, which is instrumental in developing Hong Kong into the international trade and business centre as it is today. It is the reason why we continue to promote free trade, both by supporting the rule-based multilateral system, and expanding our network of free trade agreements," the chief executive said.

"The potential is there for all to see, but in order to realise it, free trade has become ever more important. As world leaders gather here in Shanghai for the inaugural CIIE, I believe that this is an excellent opportunity for us to re-affirm our commitment to free trade, and make sure that we and our future generations will be able to reap the full benefits of the Fourth Industrial Revolution," she continued.
Related Link
CIIE 2018 - China International Import Expo