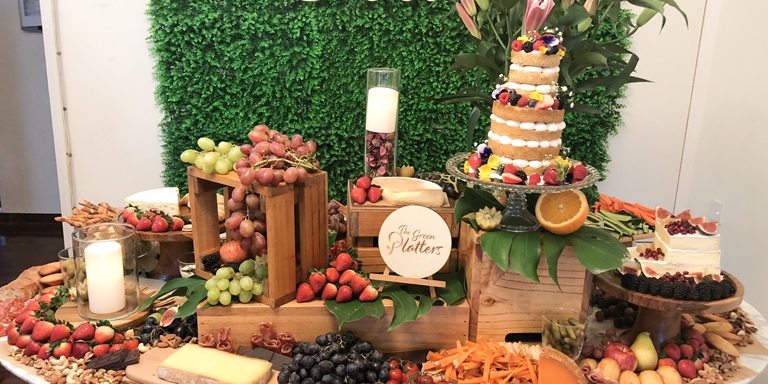 https://hkmb.hktdc.com/en/1X0AFMWA
Green-grazing Entrepreneur Fills Meat-free Gap
Helping to introduce the "grazing" food trend to Hong Kong, an ethical catering company offers healthy, imaginative vegetarian nibbles.
After moving from Singapore to Hong Kong a year ago, life-long vegetarian Bhawna Shetty was inspired to set up The Green Platters after planning her daughter's birthday party and finding healthy vegetarian catering options thin on the ground. Introducing the food trend of grazing to Hong Kong, her colourful platters incorporate organic ingredients including bread, fruits, nuts, olives, hummus, hand-crafted vegan cheeses made from cashews and macadamias and dark chocolate. Served on a grazing table, areca leaf or in a biodegradable platter box, they present a delicious, guilt-free grazing option for parties and get-togethers. To ensure the quality of the platters is not compromised, Ms Shetty prepares all the food herself from a licensed kitchen in Wong Chuk Hang.
Why did you want to set up a grazing business in Hong Kong?
I saw that the grazing trend was taking over Instagram, especially in the United States, but it was a lot of pastramis and hams. Being a vegetarian, I wanted to skip the meat, although we do have vegan pastrami. But selling something meat-free to Chinese people isn't always easy, and a lot of friends and family told me I should add meat or I'd lose a lot of business. Luckily, that hasn't been the case.

Since moving to Hong Kong and leaving my corporate job, I also wanted to cook more and spend more time with my girls, and over the past year I realised how much plastic we were buying. It's very easy for catering companies to use a lot of plastic, and I wanted to change that. It's not been possible to be 100% plastic free – suppliers will wrap goods up in plastic but we supply biodegradable paper boxes when we can – but we are currently 95% plastic-free.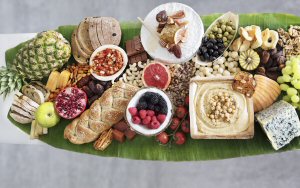 How many people do you currently employ?
At the moment, it's all me – the money, the ideas, everything, I do myself. I don't let anyone else handle the food as I want that to be my area, and reassure the client that nothing was compromised [during the preparation process]. But depending on the size of the party, we use part-time help. I'd like to scale up and hire some full-time employees so we can do multiple tables at the same time.

What are the challenges of operating in Hong Kong where there are so many catering services?
It's true there are so many options for foodies here. But it's about staying true to who you are and the values of the company, then finding the right businesses to grow with. We offer a lot of customisation, which takes a lot of time, but being a start-up it's important to have a USP [unique selling point].

I'm very ambitious, but at the end of the day I'm not Marks & Spencer, and I have to keep that bespoke, artisanal focus. The Green Platters is not a mass product, so I'm not going to be doing Deliveroo: each platter takes me around an hour to put together.

What are the advantages of being based in a city like Hong Kong?
I've found people to be very helpful, and the ease of setting up a business and getting things done is amazing. I love that the city is so fast that you're always on your toes. It's the perfect place to start something.

Who are your clients?
When I was working on the business plan, we were looking at expats, but we've found our platters and grazing tables to be popular with locals too. Our clients have included [co-working space] WeWork and some fashion labels. Hongkongers are so well-travelled, and while they might not like our stinky blue cheeses, they'll try others.

Whatever the business, eco-friendly options still tend to be expensive. How can we tackle this?
I'm always trying to make the prices competitive by ordering in bulk to enjoy economies of scale and in three months, we have already brought down our costs. We're working with some local organic farms, too. In Hong Kong, you can't grow that many vegetables, but whatever is seasonably possible, we source locally. And instead of topping the cheese with figs, which would have to be imported from Europe, we may use honey and pomegranate instead.

How will you grow The Green Platters over the next 12 months?
We are concentrating on marketing and getting some returns on the money [invested so far]. We may add new platters later on, such as an Asian one featuring local delicacies.
Related Link
The Green Platters
Food & Beverages
Catering Services