https://hkmb.hktdc.com/en/1X0AFLJQ
Closer China-Australia Economic Ties: Opportunities for Hong Kong
Against the backdrop of rising trade protectionism in the global economy, Australia remains content about free trade. With 13 free trade agreements (FTAs) currently in force or concluded, the country is actively expanding its network of bilateral and regional trade agreements, including with Hong Kong, currently under negotiation.
Since December 2015, the China-Australia Free Trade Agreement (ChAFTA) has entered into force. Most tariffs, including those for agricultural products, processed food, wine and infant formula will be eliminated by 1 January 2019.
With staged tariff cuts, the value of Sino-Australia trade of goods amounted to A$165 billion (US$126 billion) in 2017, a leap of 20% compared with 2015, while trade of goods between Hong Kong and Australia expanded even faster at 25%. Evidently, Hong Kong's role as the key intermediary platform for Sino-Australia trade has been reinforced rather than undermined.
Australian businesses increasingly see the importance of stronger ties with the Chinese mainland. The expected stronger business engagement between the two countries and the increase in trade links undoubtedly present opportunities for Hong Kong as a service provider and a platform for merchandise trading and investment.
Unlocking Opportunities: China–Australia Free Trade Agreement (ChAFTA) and Hong Kong's role
Tariff Cuts Boost Two-way Trade and Hong Kong's Re-exports
China is Australia's largest trading partner, with two-way trade of goods and services valued over A$180 billion (US$138 billion) in 2017. Entering into force on 20 December 2015, ChAFTA has paved the way for the next level of economic ties and is set to unlock more business opportunities between the two countries through improved market access.
Under ChAFTA, over 98% of Australian exports to China are eligible to enter duty-free or at preferential rates. Tariffs on agriculture and processed food from Australia are being rapidly reduced or eliminated according to the pre-determined tariff schedules. For example, the tariff on infant formula exports to China has been reduced by 3 percentage points every year from the base rate of 15% and will be eventually reduced to zero by 1 January 2019. All tariffs on seafood, such as abalone, lobster, oysters and scallops, will also be eliminated by 1 January 2019. Full tariffs schedules can be found on the Department of Foreign Affairs and Trade website.
There might be some concern about the potential drop in Hong Kong's re-exports of Australian products under the trade liberalisation between Australia and the Chinese mainland. In fact, ChAFTA has taken modern trading practices into account and allows the use of transport and distribution hubs in third parties such as Hong Kong and Singapore for consignment of goods. Exporters who ship products through a third country/territory will still enjoy preferential treatment, as long as a range of conditions are met.
With the tariff-free arrangement implemented progressively under ChAFTA, total goods trade between Australia and the Chinese mainland jumped 20% in 2015-2017, while Australia's total trade with Hong Kong surged 32% during the same period. Evidently, the increase in Sino-Australia trade has further reinforced Hong Kong's role as a re-export hub. Hong Kong's re-exports from Australia to the mainland rose almost 50% after ChAFTA implementation, from US$496 million in 2015 to US$731 million in 2017. Re-exports to the mainland also accounted for a bigger share of Hong Kong's re-exports of Australian products, from 65% in 2015 to 78% in 2017.
The Beneficiaries – Food, Electronics, Wine
Hong Kong's edge lies in trading fresh products and high value electronics. After the implementation of ChAFTA, Hong Kong's re-exports of edible products and preparations originating in Australia received the largest boost, with more than a 27-fold increase. This is followed by milk and cream, and milk products other than butter or cheese, and telecommunications equipment and parts.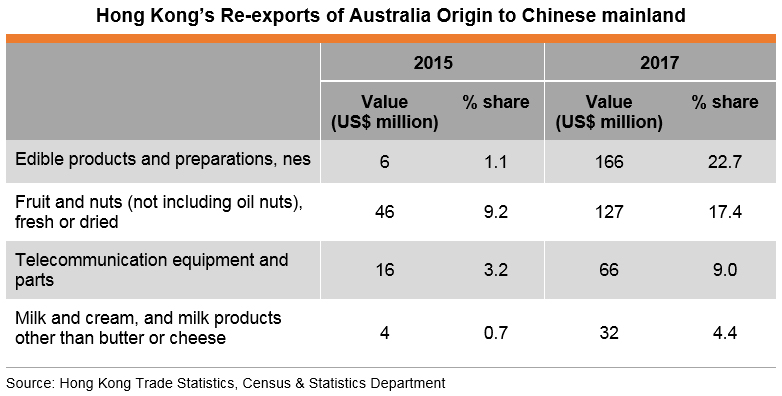 The changes in lifestyle and increase in prosperity of Chinese consumers have led to a significant increase in demand for wine. Being an international gateway to the Chinese mainland, Hong Kong undoubtedly played an important role in capitalising on this trend. In fact, wine imports from Australia to Hong Kong have grown significantly over the past three years. With staged tariff cuts on wine under ChAFTA, total wine imports from Australia to Hong Kong jumped almost 1.5 times in 2015-2017 and accounted for 18.5% of total wine imports in 2017. In all appearances, it has further reinforced Hong Kong's position as a re-export and distribution hub for Australian products.
Constraints on Technical Market Access Despite Free Trade Reforms
Despite the tariff reductions, some exporters may still encounter difficulties when entering the Chinese market in areas such as customs clearance, product certification and labelling standards. It is reported in The Sydney Morning Herald that six Australian wine companies, including Treasury Wine Estates Ltd and McWilliams Wine, faced delays at Chinese customs in late 2017.
Another example is cosmetic products. Chinese consumers are attracted to Australian personal care and cosmetic products due to the country's clean and green reputation, driving the growth of cosmetics exports from Australia to the Chinese mainland in the last two years. Cosmetics exports to the mainland more than doubled from 2015, reaching A$81 million (US$62 million) in 2017. However, some industry players still face difficult entanglements since all imported cosmetic and skincare products to the mainland are required to obtain pre-market approval from the National Medical Products Administration (NMPA).
Australian exporters are therefore keen to use Hong Kong as a re-export hub, particularly for wine and cosmetics. Hong Kong provides a free, open and stable business environment with international standards and world-class quality services. Cosmetics import to Hong Kong is regulated in a relatively relaxed manner compared to the mainland. It is confident that with minimal non-tariff barriers in Hong Kong, Australian businesses will continue to use Hong Kong as a platform for product distribution, as well as high value services such as marketing, branding and other professional services. With years of accumulated experience in the Chinese market, Hong Kong companies provide excellent and speedy services to Australian businesses in handling customs clearance and product registrations in the mainland.
Sustaining Hong Kong's Services amid Chinese Market Liberalisation
As far as services liberalisation is concerned, China's commitments under ChAFTA covers a wide range of services sectors, such as legal, education, financial, tourism and travel-related, and healthcare services, providing unprecedented market access to Australian businesses which are not included in any of the mainland's previous FTAs. Under ChAFTA, service exports to China increased more than 40% between 2015 and 2017.
One of the big winners under ChAFTA is the financial services industry, with financial services exports to China jumping 69% between 2015 and 2017. For the first time in an FTA, Australian insurance providers are allowed to participate in the statutory third-party liability motor vehicle insurance market. Australia is also the first country whose financial services providers are permitted to set up joint venture companies with Chinese partners, with a 49% ownership limit. Australian banks also benefit from relaxed requirements in RMB businesses with the reduction in the waiting period to engage in RMB business and elimination of two-year profit-making requirements.
Other key sectors also enjoy unique market access in the Chinese mainland. Australian law firms are the first foreign entrants allowed to establish commercial associations with Chinese law firms in the Shanghai Free Trade Zone (SFTZ). Medical services suppliers from Australia are also able to establish wholly Australian-owned hospitals in specific cities, such as Beijing and Shanghai.
Despite the breadth and depth of China's commitments under ChAFTA, most of the commitments are limited either to certain types of services or to specific geographical locations, such as the SFTZ. For example, Australian insurance providers are not allowed to sell other insurance products, such as general and life insurance. Business collaborations with Chinese law firms are also only enabled in the SFTZ but not other parts of China.
Australian services providers still value Hong Kong as an important market for services exports as well as a platform for market expansion into the Chinese mainland. In fact, when Australian businesses enter the mainland market, they often need support and related services from Hong Kong suppliers. After the implementation of ChAFTA, Australia's services exports to Hong Kong continued to achieve positive growth of 18% between 2015 and 2017.
Hong Kong Channel for Outbound Investment
In terms of investment, there has been a decline in Chinese investors' involvement in Australia in 2017. The 23% drop corresponds to the raising regulatory scrutiny of overseas investments by the Chinese authorities in late 2016. In fact, the country's outbound direct investment recorded a decline of 29.4% in 2017. Changes in regulatory, political and economic landscapes have impacted investment flow from the Chinese mainland to the world, including Australia. A lot of Chinese investors have therefore routed their outbound investments through Hong Kong. In 2017, Hong Kong's FDI stock in Australia reached A$117 billion (US$90 billion) which represented 14.1% year-on-year growth, making it the fifth largest investor in Australia.
China's commitments on services under ChAFTA have provided an improved investment environment for Australian services firms, however restrictions are still prohibitive. A conduit in Hong Kong, in the form of partnership, makes it easier for Australian businesses to work with Chinese counterparts. Australian companies are able to comprehend the legal frameworks in Hong Kong and the city's conducive business environment strengthens investor confidence in forging partnerships with mainland companies which have operations or subsidiaries in Hong Kong.
China in the Eyes of Australians
Australia's pragmatism with regard to China was evident according to the 2018 Lowy Institute Poll. Almost half of the Australians see the mainland as a potential military threat to Australia in the future, primarily because of the US-China conflict and Australia's alliance with the US. Despite the perceptions of potential threats posed by China, a majority of Australians (82%) continue to view China more as an economic partner than military threat.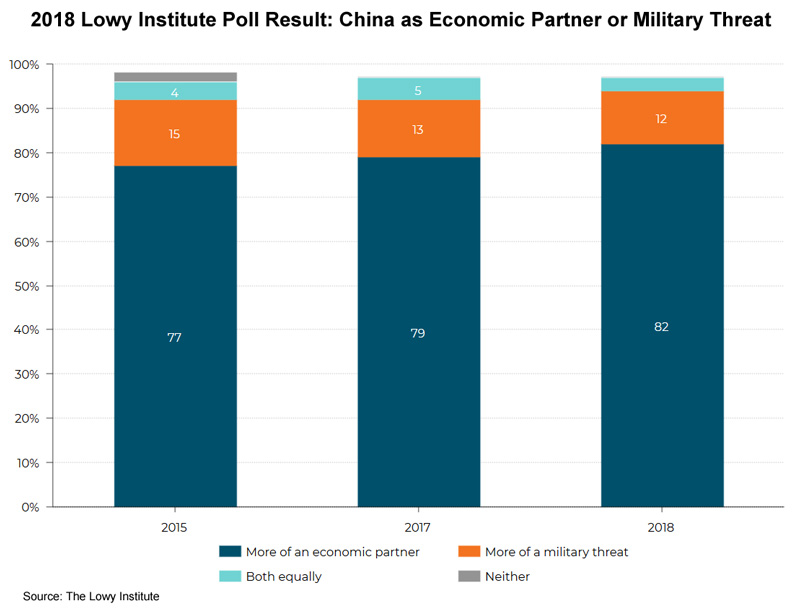 In the business community, there is a growing confidence among Australian businesses towards the Chinese market, yet they still face roadblocks when doing business in the Chinese mainland. The 2018 Westpac Australia-China Business Sentiment Survey Report found that a majority of Australian firms (78.4%) hold optimistic sentiment over the next 12 months, increasing to more than 80% when asked about the five-year outlook. However, there are also growing risks and challenges of doing businesses in the mainland, with the top three concerns amongst Australian businesses being talent and capabilities (49.7%), domestic and foreign competition (47%) and regulatory environment (36%).
Without question, the benefits of doing business in the Chinese mainland are clear and Australian finds it necessary to develop close ties with the mainland. During the Future Asia Business Summit in Sydney in June 2018, Bernalt Salt, Managing Director of The Demographics Group, expressed the view that Australia has a "culture of accommodating and adapting" and it is important to establish a vision in order to capture opportunities arising from the mainland.
However, the ease of doing business is still found to be difficult for Australian businesses, with the above-mentioned challenges and risks. In fact, this is where Hong Kong can perform as a connector for Australian businesses to bridge the gap with the Chinese business community, given its long history of close connection and relationship with the Chinese mainland. Hong Kong's diversified pool of talent, simple tax system as well as rule of law give Australian businesses the confidence to channel through Hong Kong.
Besides, more than 40% of Australian businesses agreed that the Belt and Road Initiative (BRI) is a positive driver of their businesses, with opportunities for new export market access and tariff reduction. While Australian companies face challenges working in the Chinese mainland or with Chinese companies, Hong Kong can serve as a BRI platform for trade facilitation and capital markets solutions where Australian businesses can pursue market expansion in the mainland and countries along the Belt and Road, as well as invest in BRI projects.
Advancing Trade Development: Hong Kong – Australia FTA
Although Hong Kong and Australia both have longstanding policies on free trades and open economies, there is no free trade agreement (FTA) between the two. Hong Kong and Australia both see the importance of having a FTA in order to strengthen the ties and take the bilateral trading relationship to the next level, therefore the first round of FTA negotiation was launched on 16 May 2017.
The Hong Kong – Australia FTA pursues regulatory certainty in merchandise trade, ensuring that the zero-tariff regime in Hong Kong remains in force and at the same time binds tariffs at zero for products made in Hong Kong. Yet the services sector will be the major focus of this FTA, aiming to reduce or eliminate non-tariff barriers, secure market access to both markets and further facilitate unilateral liberalisation. The FTA also seeks to address issues such as intellectual property protection, government procurement and digital trade (e.g. e-commerce).
The sixth round of negotiation was finished on 19 July 2018 in Sydney, Australia. Further details and updates on the Hong Kong – Australia FTA can be found here.
Australia
Hong Kong
Australasia
Mainland China
Hong Kong