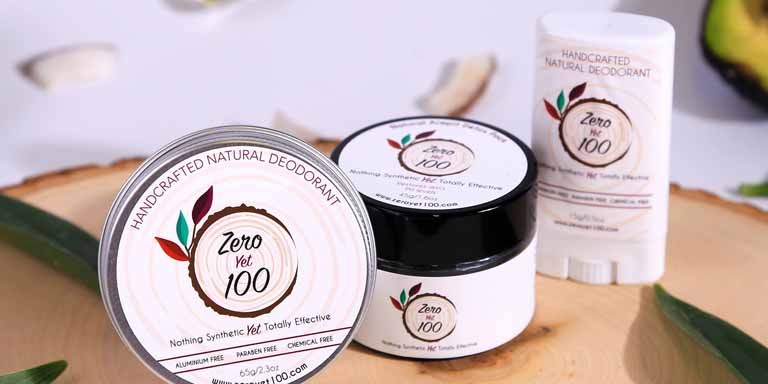 https://hkmb.hktdc.com/en/1X0AFL18
All-natural Deodorant Hits Sweet Spot
Cruelty-free and vegan, Hong Kong's first toxin-free deodorant, Zero Yet 100, has hit upon a niche market.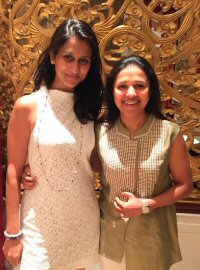 In a hot, humid and sweat-inducing city like Hong Kong, deodorant is a must-have – but residents-turned-deodorant entrepreneurs Sheetal Avlani and Anita Patel were dissatisfied with the array of products on the market. As active hikers and gym goers, the two found the products not only ineffective but also full of toxins and likely to be tested on animals, something that irked them both as staunch, health-conscious vegetarians. "Products can look glamorous, but are they effective? We go hiking together a lot, so we're always on the lookout for good deodorant. There's a lot of things on the market that are green, but ones that are effective are not that easy to find," said Ms Patel.

Despite having no background in beauty, the two were confident enough in their idea to establish a company, Zero Yet 100, earlier this year from an office space in Central, where all its products are currently made. It offers deodorant in a paper push-up, plastic twist-up stick – which decomposes so it doesn't harm the environment – or aluminium pot. These are available in Fragrance Free, Spa, Athlete or Fresh, the latter of which draw from an essential oil base of lemongrass, patchouli, lavender and pine among others. The company asks customers to return the empty plastic sticks, which are melted down to make crayons for the Box of Hope, a charity project which aims to provide useful and educational gifts to underprivileged children in Hong Kong and elsewhere in Asia.

Zero Yet also sells a detox pack to help restore the skin's natural pH levels and draw out toxins accumulated from using chemical-based products. "People don't know what they're using and what the side-effects of using standard deodorants – it clogs your pores and may contain aluminium, which is linked to Alzheimer's and breast cancer," said Ms Patel.
Educating Consumers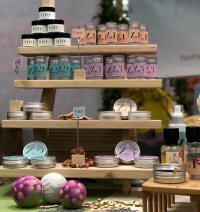 Unlike most deodorants, which target men and women separately, the Zero Yet 100 deodorants are unisex. "We didn't think about that when we started asking our friends and colleagues to test them out but then they shared it with their husbands and they loved it too. The fragrance is unisex, and once they found out the possible side-effects of using standard deodorants, they wanted to switch to something natural," said Ms Patel.

Keen to spread the word, the start-up recently took part in a pop-up organised by mommynetwork in Mumbai, and has also had pop-ups in Hong Kong to raise awareness of the product, which is available locally at stores including Live Zero, the city's first zero waste bulk food store, and ships globally via its website.

However, Ms Avlani said the level of awareness around toxin-free deodorants in India is much lower than in Hong Kong, with more education needed. "In India, they're still using talcum powder as deodorant," said Ms Avlani, adding that the firm hopes to enter the Indian market in about 12 months' time.

While there is still much work to be done on the education front – Zero Yet has taken part in about 20-30 pop-ups since launching the company earlier this year – the hard work is paying off, and its products are currently available in Macau, Ukraine and Bulgaria and will launch in Singapore in November. "We're going to be targeting the Philippines and Malaysia too – we want to focus on Asia," said Ms Avlani.

As they enter new markets, the founders will be keen to communicate to customers that deodorant is an everyday need, and to connect with their bodies. "I think the under-arms are the most forgotten part of our body. People don't touch them, and they don't want to use our deodorant in a pot because it's time-consuming. I want to tell people they need to get in touch with their body… our lymph nodes are there after all," said Ms Avlani.
Made in Hong Kong
Zero Yet 100 is a Hong Kong product through and through, being made and manufactured in the start-up's office in the Central business district by Ms Patel. The drawstring cotton bags the deodorant is placed in, meanwhile, are crafted by underprivileged women in India.

Expansion is on the cards – Zero Yet has recently been approached by a couple of online organic stores keen to stock its products. The entrepreneurial duo still hope to make their products in Hong Kong but for India it is considering working with an original equipment manufacturer (OEM). It would also consider working with an OEM in Hong Kong if the right opportunity came along. "We want someone who understands the eco-friendly nature of the product," said Ms Patel.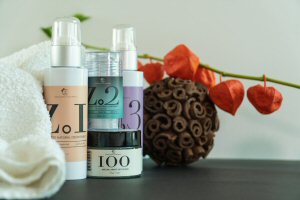 The biggest challenge in setting up the company was sourcing the ingredients to make its deodorant, which include coconut oil, cocoa butter and shea butter in addition to essential oils, Ms Patel said.

Following on from the success of their first product, the entrepreneurial duo are currently developing a sports massage oil and body oils to bring to market. As with its other products, they will be made in the start-up's workshop in Hong Kong.
Related Link
ZeroYet100