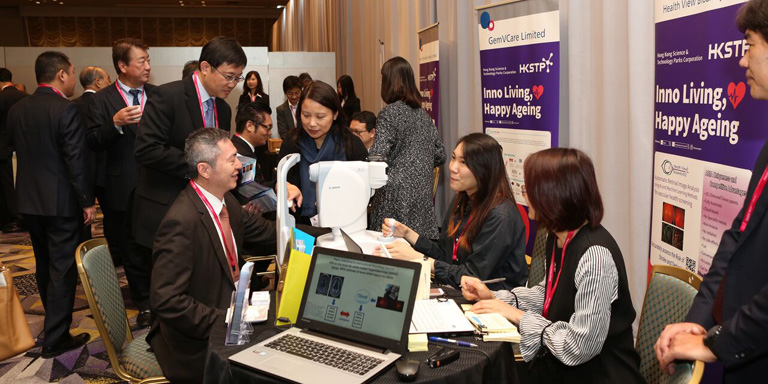 https://hkmb.hktdc.com/en/1X0AFKWG
Japan Urged to Think Hong Kong
Business leaders in Tokyo hear a compelling case to strengthen their already strong ties with the city.
Historically the first-mover in Asia's economic transformation, Japan has long been a leading business partner for Hong Kong. Business and political leaders attending the Hong Kong Trade and Development Council's (HKTDC) Think Global, Think Hong Kong symposium in Tokyo learnt how the city's key role in two Chinese-mainland government initiatives – the Belt and Road and Guangdong-Hong Kong-Macao Greater Bay Area – meant they should consider further strengthening their ties with the city.

These initiatives build on and augment Hong Kong's traditional strengths, such as its cosmopolitan character, rule of law and world-class professional services.
Ties Strengthening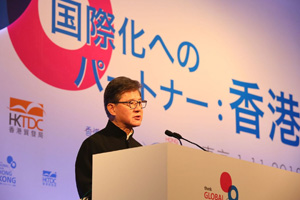 Opening the symposium, HKTDC Chairman Vincent HS Lo said Hong Kong and Japan had enjoyed close ties in business, culture and tourism for decades.

"Our trade partnership has been growing year-on-year. It is quite remarkable that a city like Hong Kong has been the top importer of Japanese agriculture and fisheries products for 13 years," Mr Lo said.

Hong Kong has benefited from a large Japanese presence over the past few decades. Japan is a leading source of foreign direct investment for Hong Kong and almost 1,400 Japanese companies have chosen to set up in the city, he said.

"Equally notable is tourism, where we have seen double-digit growth in visitor numbers between Hong Kong and Japan last year.

"This all-round growth shows that our ties are stronger than ever. These ties – built over years of proactive partnership – have helped us weather the recent storms in the global economy.

"And now, as the world enters an era of uncertainty and protectionism, it is even more important to grow this partnership to ensure economic growth continues in an open, globalised world," Mr Lo said.
He was delighted that the October meeting between the countries' leaders marked the start of a new chapter in the cooperation between Japan and China.
Belt and Road
"One aspect I'd like to highlight is the cooperation on infrastructure for the Belt and Road Initiative. As one of the most important blueprints for global development this century, this Initiative aims to drive economic and social progress through connectivity, beginning with infrastructure.

"But infrastructure development is also fraught with risks and requires deep pockets. The funding gaps cited by the OECD [Organisation for Economic Cooperation and Development] at US$6.3 trillion per year and by the ADB [Asian Development Bank] at US$1.7 trillion are enough to tell us that a single country cannot do this alone. Transparency and sustainability are also crucial to long-term success of the Belt and Road projects," Mr Lo said.

"It is therefore significant that the two of the world's largest economies are joining hands to overcome these challenges. By combining the resources, know-how and networks, China and Japan can build a strong foundation where viable projects create lasting, positive impact.

"To facilitate this cooperation, Hong Kong can play an active role in connecting businesses and people from around the world – just as we have been doing between Japan and China."
Greater Bay Area
Looking ahead, he said Hong Kong will continue to help Japanese and mainland businesses. A key strength the city could draw on to do this is the Guangdong-Hong Kong-Macao Greater Bay Area.

"This cluster in Southern China covers literally everything from finance, tech and manufacturing to culture and tourism. It certainly promises to be an excellent market and resource for Japanese businesses," he said.
Right Time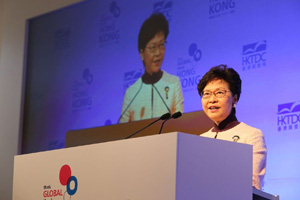 Hong Kong Special Administrative Region Chief Executive Carrie Lam said at the symposium opening that the event's return to Japan after six years was especially timely. Both Japan and Hong Kong face similar challenges, set out in the report of the International Committee on Climate Change launched in Incheon in Korea earlier this month – the challenge of how to reconfigure their energy, business and trading systems rapidly if they are to give their children a habitable and hopeful future.

Another issue Hong Kong and Japan share is the demographic challenge of an ageing population.

"Again, this demands innovation and creativity in our economies and social systems to provide to our elderly the dignity and support they need," Ms Lam said, adding that the two economies can work together to tackle the challenges.

As a leading financial centre at the heart of Asia, Hong Kong is determined to be the financial engine room for the Belt and Road Initiative.

"With our deep liquidity, premier financial infrastructure and comprehensive channels for raising capital, Hong Kong can meet the financing needs of Belt and Road projects in both public and private markets. The Hong Kong Stock Exchange has been ranked among the top five globally in initial public offerings for the past eight years," Ms Lam said. She invited summit attendees to the fourth Belt and Road Summit to be held in September next year.

Hong Kong is the world's largest offshore renminbi centre and the leading centre for offshore renminbi asset management, she pointed out. Importers and exporters can settle their trade in renminbi through Hong Kong's payment system, at over 200 banks from all over the world.

"Investors can tap our renminbi liquidity through bank loans or 'dim sum' bond issuance, or invest in a wide range of renminbi products available in Hong Kong," the chief executive said.
Matching Platform
"Hong Kong is the platform for finding the right partners, be they equity partners, or partners for the operation and management of infrastructure. We welcome Japanese companies interested in exploring new business opportunities to partner with Hong Kong in the search for success."

Ms Lam also pointed out the Greater Bay Area development holds promise for overseas businesses. The Greater Bay Area – covering Hong Kong, Macao and nine Guangdong cities – has a population of nearly 70 million and gross domestic product (GDP) of more than US$1.5 trillion. It accounts for only 5% of the mainland's population but 12% of GDP. The Bay Area's GDP size is equivalent to that of Australia or Korea. Air and cargo throughput of the Bay Area also ranks first in the world.

President Xi Jinping had personally endorsed the plan to transform the Bay Area into an international innovation and technology centre, she pointed out.

Hong Kong's world-class universities and strengths in scientific research and rule of law, coupled with the mainland's resources for innovation, provide a magnet drawing international I&T enterprises to the area.

"Indeed, technological cooperation occupies a key area in my itinerary over this five-day visit to Japan," Ms Lam said. Her speech comprised part of the showcase Hong Kong Week in Japan which continues until 11 Nov.
Track Record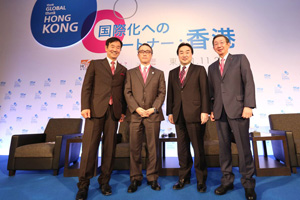 During the morning symposium Japanese business leaders – including Koki Ando, President and Chief Executive Officer of Nissin Foods Holdings Co. Ltd; Akihiko Kumagai, Senior Executive Vice President of NEC Corporation; and Kanetsugu Mike, President and Chief Executive Officer of MUFG Bank Ltd – shared their experience of successfully leveraging Hong Kong's service excellence and international business network to expand into Asia and the rest of world.
The afternoon thematic session – Expanding Business to China and ASEAN –offered insights on how Japanese companies can use the Hong Kong platform to expand their business. Speakers included Stephen Phillips, Director-General of Investment Promotion, InvestHK; Takaya Awata, President of TORIDOLL Holdings Corporation; Hiroyasu Koma, President and Chief Executive Officer of GLM; Kei Suzuki, Director and General Manager, Asia & Oceania Division of Ryohin Keikaku, Co. Ltd (MUJI); Tommy Li, Creative Director of Tommy Li Design Workshop Limited; and Takahiko Yasuhara, Managing Executive Officer and Head of East Asia of Mizuho Financial Group, Inc. and Mizuho Bank, Ltd.

Six other sector-specific sessions covered a broad range of topics including finance and investment, design and liveability, smart finance and smart living, legal risk management and healthy ageing and the smart city.
There were also more than 380 business-matching meetings to help connect firms from Hong Kong and Japan.
Innovation
The InnoVenture Salon showcased the innovative business ideas and entrepreneurship of some 20 fledgling companies, including those from Cyberport, Hong Kong Science and Technology Parks (HKSTP) and the HKTDC's "Start-up Express" programme. The Hong Kong Private Equity and Venture Capital Association joined Cyberport and HKSTP to offer an onsite mentoring service in a bid to attract more Japanese start-ups to set up operations in Hong Kong.
The symposium rounded off with a gala dinner attended by more than 400 government officials and business leaders from Japan and Hong Kong. Ms Lam and Takamori Yoshikawa, Minister of Agriculture, Forestry and Fisheries of Japan, were guests of honour at the event.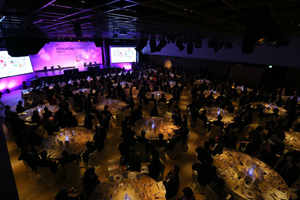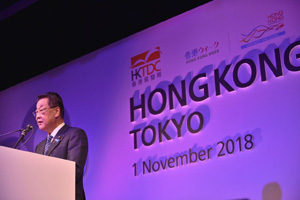 Hong Kong Michelin-starred chef Albert Au presented a special menu cooked with Japanese delicacies supported by Japan's agriculture ministry. The gala dinner also featured music performances by the Asian Youth Orchestra, Hong Kong singer Charmaine Fong and a cappella group SENZA, together with a showcase of contemporary cheongsam creations from of 10 Hong Kong's leading fashion designers.
Related Link
Hong Kong Week