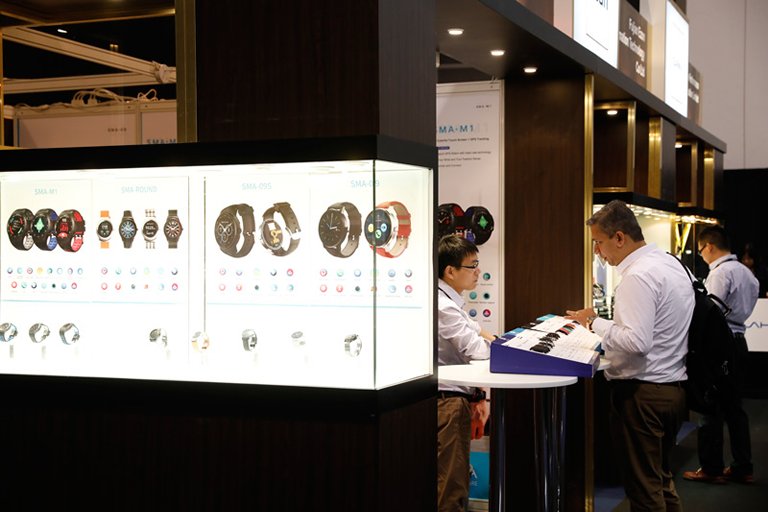 https://hkmb.hktdc.com/en/1X0AFK93
Increasingly Cautious: The 2019 Outlook for the Watch and Clock Market Amid Sino-US Trade Conflicts
The 2018 Hong Kong Watch & Clock Fair Survey
The HKTDC Hong Kong Watch & Clock Fair is the largest timepiece event in the world. The HKTDC conducted face-to-face interviews with 522 buyers and 333 exhibitors at the 2018 Fair in order to obtain the industry's view of future market prospects, new product trends and the latest developments in e-tailing.
The survey results showed that industry players are cautiously optimistic about sales prospects over the next 12 months. Views were divided when it came to evaluating product trends, with buyers believing in the continued success of smart watches, while exhibitors backed quartz analogues to become the new market favourite.
Increasingly cautious for 2019
Compared with last year's survey results, more respondents expressed greater caution with regard to sales performance in the year ahead. 24% of buyers and 27% of exhibitors expected a drop in overall sales in the coming 12 months, whereas those numbers were only in low-single digits last year. This is perhaps in line with the fact that a few non-consumer watch and clock categories under the HS Chapter 91 have been included in the latest round of US 301 tariff actions.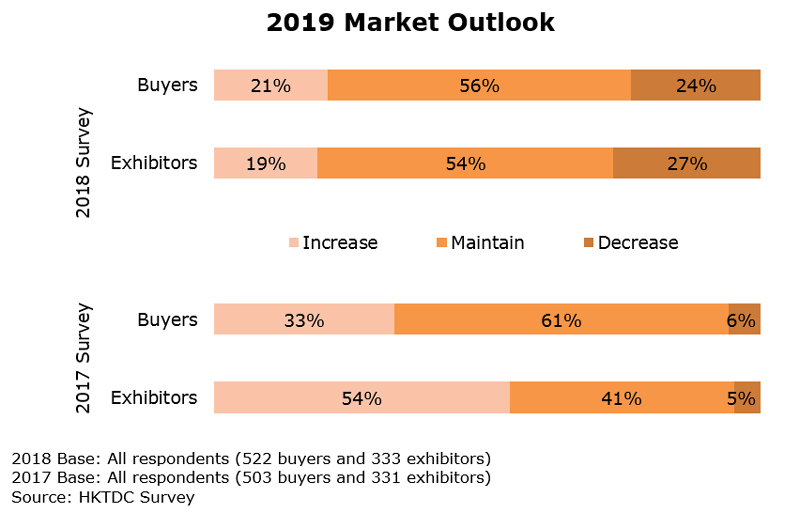 Similar cautious sentiment was also seen in price expectations. Among the buyers, 23% predicted an increase in the retail price of their products, compared to 32% in the 2017 Fair survey, while 15% prepared for a decrease, versus 5% in the previous survey.
With regard to the FOB selling price, 28% of exhibitors anticipated an increase, as opposed to 41% last year, while 13% expected a decrease, in contrast with the previous 7%.
Opinions were divided with regard to sourcing prices and production costs. 92% of buyers expected sourcing prices to either remain unchanged or increase, while 38% of exhibitors believed that their product costs to stay put or decline.
Likely Impacts of Sino-US Trade Turbulence
Regarding the likely impacts of Sino-US trade conflict, 44% of the buyers and half of the exhibitors expected a very/slightly negative impact on watch and clock exports. The sales of branded and completed timepieces would remain largely unaffected, as only a few non-consumer watch and clock items were included in the recently announced US 301 tariff measures. This perhaps explains why 56% of buyers and 50% of exhibitors believed that the trade dispute would not negatively impact their business.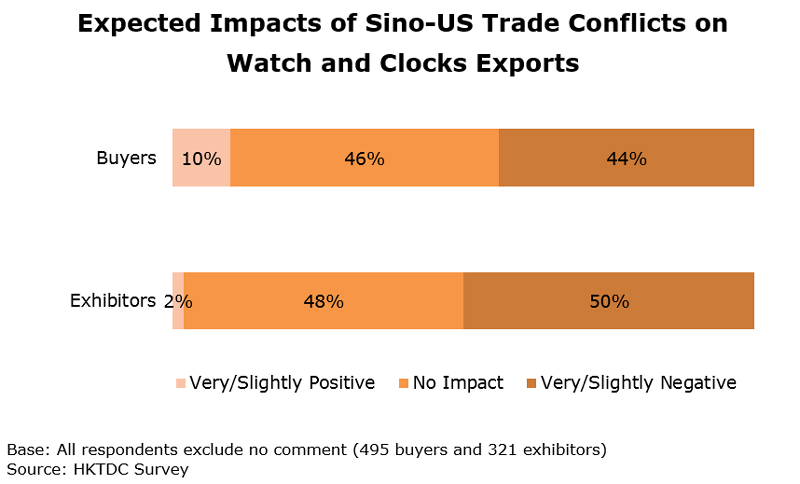 Neck and Neck: Smart Watches and Quartz Analogues
Buyers and exhibitors showed different views when identifying the most popular product category ahead. 40% of buyers believed that smart watches would continue to be the market leader over the next 12 months, while a similar proportion (41%) of exhibitors foresaw a rise in quartz analogues.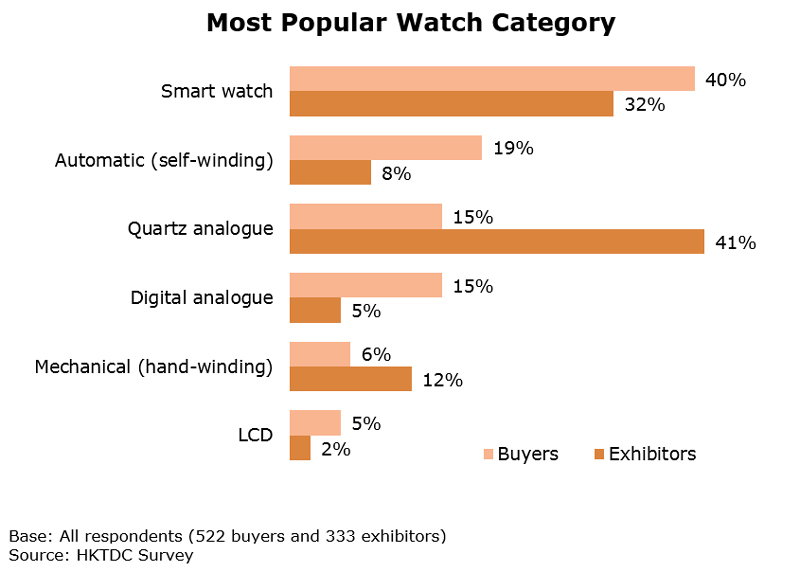 In terms of product growth potential, 41% of all respondents thought that smart watches would post the highest growth in 2019, followed closely by leisure watches (40%) and fashion watches (37%). The expected average retail price of leisure watches was expected to rise to HK$1,201 from last year's HK$478, while that of the smart watches was predicted to slide from HK$2,281 to HK$1,615. A similar price trend was seen for fashion watches, which were expected to command an average retail price of HK$1,347, as opposed to HK$1,744 last year.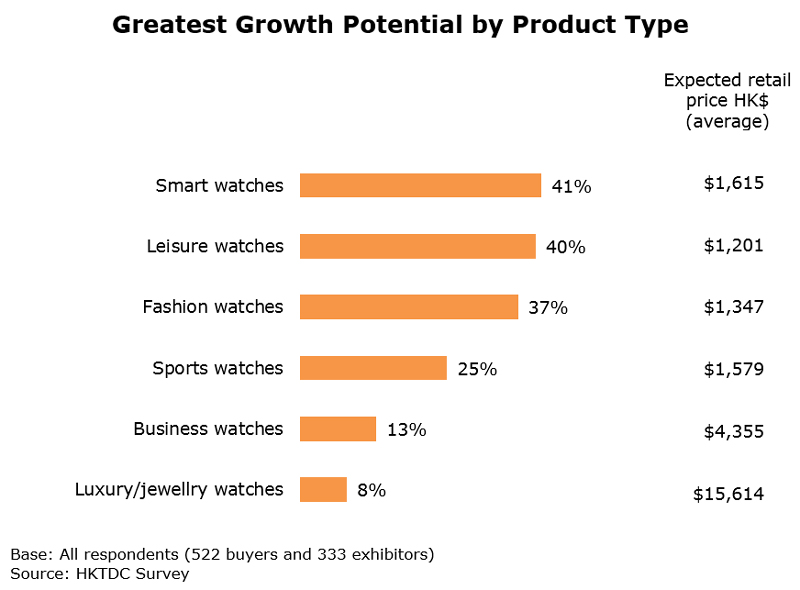 Optimal Product Development Strategies
Views of buyers and exhibitors differed with respect to the optimal product development strategies.
Among buyers, 42% believed that "going smart – interactable with smart devices" would be the most important product development strategy in 2019, followed by "mix & match watches" (29%) and "limited edition collections" (29%).
On the other hand, while exhibitors also backed "going smart – interactable with smart devices" (35%) as the most optimal product development strategy, they believed more in "collections that align with current season's fashion trends" (35%) and "crossover/joint promotions" (23%) as alternatives.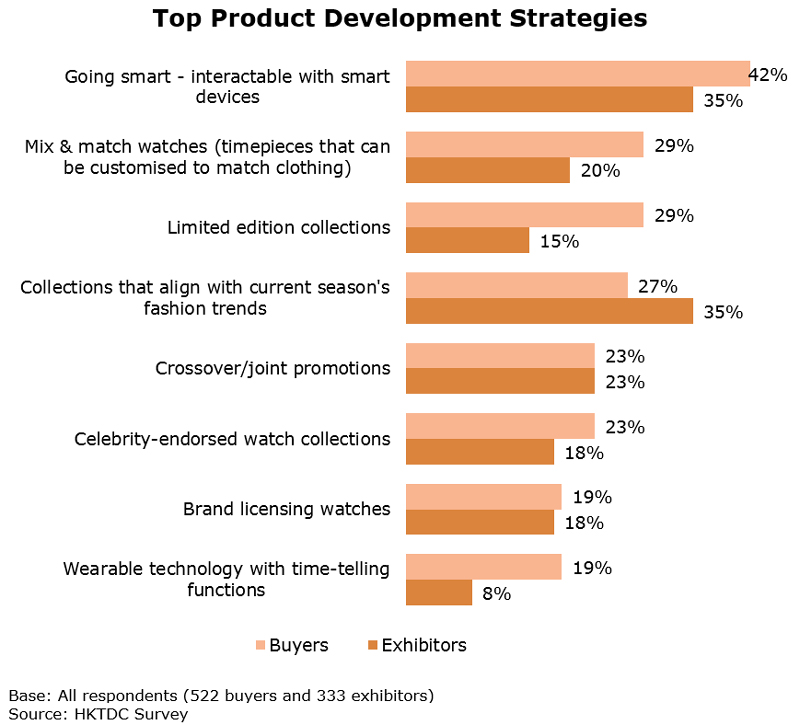 E-tailing Remains the Way Forward
E-tailing continued to be an important platform to sell timepieces. According to this year's survey results, despite a drop from 54% last year, 42% of all respondents used e-tailing as their direct sales channel. Among those companies currently not engaged in e-tailing, 21% are planning to start selling online within two years. Of those companies who currently engage in or planning to sell online, 48% would use it to sell leisure watches, followed by fashion watches (47%), smart watches (28%), and sports watches (23%).
Among those companies currently engaged in e-tailing business activities, 63% sourced their products from the Alibaba platform, followed by Amazon (31%) and Taobao (31%). On average, e-tailing accounted for 32% of their total sales revenue, compared to the 20% revealed in the previous survey. These companies also expected the proportion of e-tailing in their total sales revenue to grow by 18% in the next two years.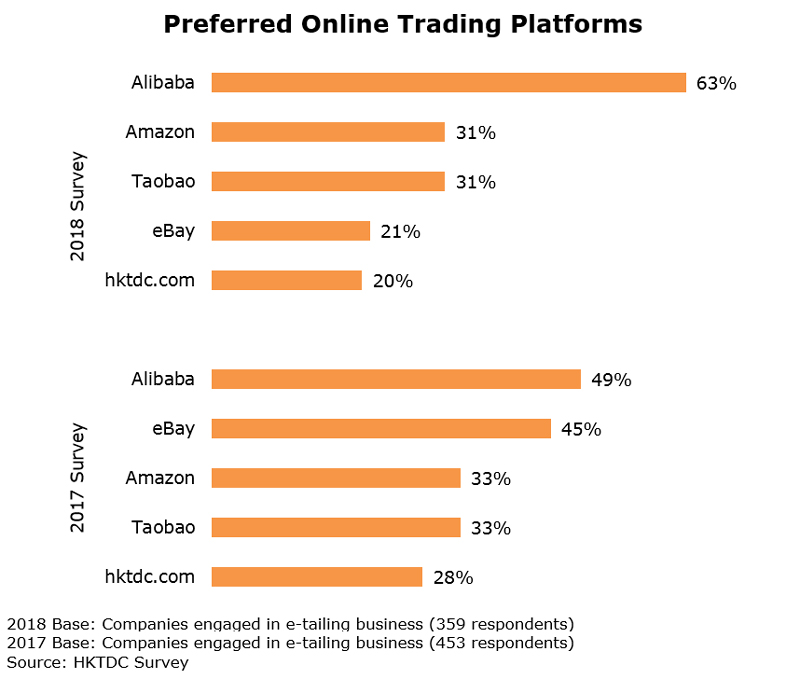 China's Market Potential
50% of buyers and 55% of exhibitors had sales activities in mainland China. Both buyers and exhibitors were more cautious about sales prospects than last year, with 45% of buyers and 43% of exhibitors expecting sales to grow over the next 12 months versus 52% of buyers and 61% of exhibitors in the previous year's survey.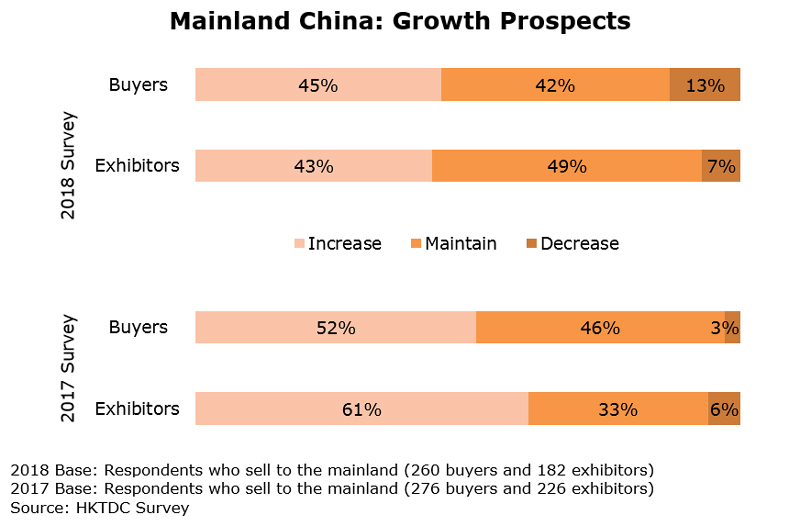 For those expecting rosier sales in the mainland, 81% based their optimism on strong market demand. On the other hand, pessimism was attributed to the concerns over market competition intensification (58%) and decreasing demand (42%).
Mainland Development Strategies
Overall, buyers and exhibitors have taken different approaches in terms of strengthening their presence on the mainland. While both believed in "expand existing retail/wholesaling networks" as the prime market development strategy, buyers generally prefer "set up retailing/wholesaling network" and "source more "made-in-Hong Kong" watches" (19%) to "e-commerce" (17%), but exhibitors tended to believe that "e-commerce" (16%) would be the best alternative to "expand existing retailing/wholesaling networks".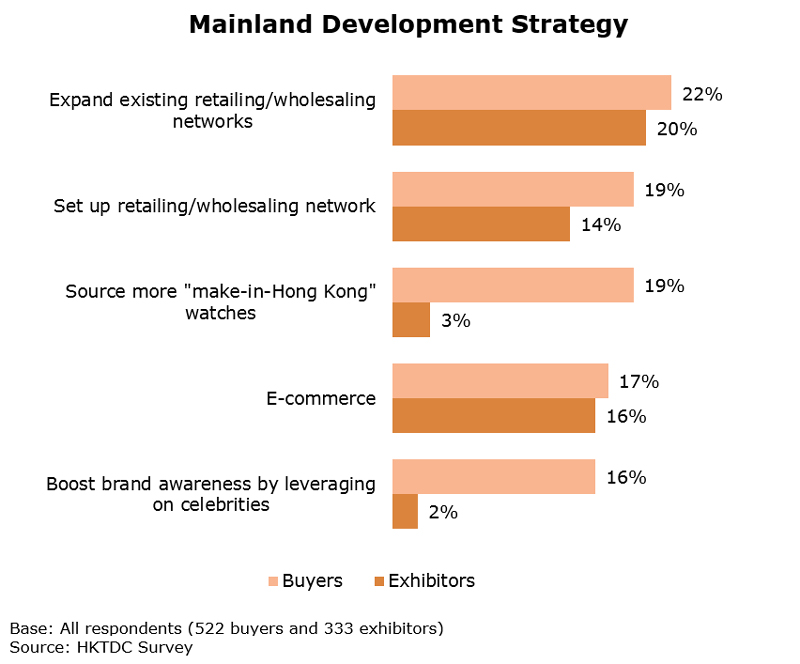 Profile of respondents
522 buyers: 51% were based in Hong Kong, 14% from mainland China and 35% from other regions.
333 exhibitors: 49% were from Hong Kong, 40% from the mainland China and 11% from other regions.