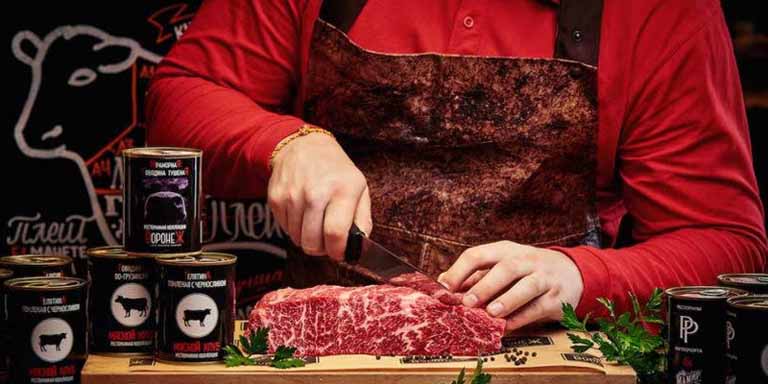 https://hkmb.hktdc.com/en/1X0AFDJE
Foreign Fare Wows Moscow Consumers at Food Expo
Adventurous Russian gourmets look to Asian cuisine as sanctions crimp exports from the West.
This year's Taste of Moscow event saw the chill of Western trade embargoes briefly lift as globally sourced gourmet delights and local restaurateurs jostled for the attention of munch-minded Muscovites in a four-day culinary cavalcade.

Caviar ice cream? Truffle burgers? Hong Kong waffles? At this year's Taste of Moscow festival – one of the Russian Federation's leading food and drink showcases – enticing flavours from around the world sought to lure local consumers into nibbling on something a little more exotic than much of the country's traditionally homely fare. Given the wide-ranging international sanctions that are still in force, there was a surprisingly global selection on offer, with exhibitors having to go that extra mile to win over many of Russia's traditionally conservative consumers.

Contrary to the best efforts of the European Union and United States, Russia remains a lucrative market for exporters. While the current Western embargo is likely to stay in effect until 2019, there are still many countries only too willing to stock the larders of the country's more affluent consumers, as well as those a little further down the spending spectrum.

In fact, according to the Russian Ministry of Agriculture, the country's food and drink imports soared 11.4% in 2017, with their annual value topping a rather impressive US$27.9 billion.
Sanctions aside, the Moscow restaurant scene remains vibrant and eclectic, with many chefs looking to tap into the local diners' love of everything unusual and unique, yet hearty and satisfying, with Instagram-worthiness seen as sealing the deal. Bjorn, one of the city's newer Nordic-style restaurants and an exhibitor at this year's event, for example, lures guests with the promise of wild boar, Jerusalem artichoke with kohlrabi, with nut mousse and tree bark for dessert. This is, of course, all washed down with the eatery's signature pine-needle lemonade.

Explaining his singular menu choices, Chef Nikita Oberjagin said: "It all started when we asked ourselves: 'What grows around here?' This inspired us to make regular foraging trips to the local forest in search of white moss – which we fry – and mushrooms, which we dry and turn into jam.
Local Foraging
"Then, in response to the sanctions, we decided to wholly forego foreign ingredients and spices for 24 days. Unfortunately, we found that it was then hard to maintain consistency as many of the ingredients sourced from small, local companies were only produced in limited quantities.

"Fortunately, earlier in my career, I was a microbiologist so I decided to start culturing various kinds of mould as a way of creating new flavours. We now hope to use one of them as a chocolate substitute as it makes grain smell like coffee."

Less home-grown and, in fact, sourced from some 7,500 kilometres away, was the cuisine on offer from another exhibitor – KU, one of Moscow's most popular Japanese ramen izakay bars. Given that the restaurant has, at least partly, built its reputation on importing fresh ingredients directly from Japan, it is perhaps fortunate that few Asian countries are party to the sanctions regime.

Commenting on KU's sustained appeal to local diners, one representative manning its stand said: "People come to us looking for an authentic experience, with our ramen being particularly popular, as are our snack sets, which allow patrons to sample a variety of genuinely Japanese-style dishes. Indeed, such is our reputation for authenticity that, during the recent Russia-hosted World Cup, it fell to us to feed the Japanese team, which saw us supply them with up to 130 ramens on a daily basis."

While Russians clearly crave authenticity, that's nothing compared with their long love affair with meat. It's this simple fact that goes a long way to explaining the enduring popularity of Voronezh, a Moscow dining establishment rightly famed for its onion confit-topped marble beef truffle burgers.

Explaining just how popular this particular dish is, Valeria Sokolova, the Sales Representative in charge of the company's exhibition stand, said: "We have two locations and they used to have different menus, but people kept asking for this burger because it's so different. As a result, we had to unify our offer. The locals also love our pastrami sandwich with smoked barbecue sauce. "We've also recently introduced a line of premium canned meats – tushenka – that include veal with prunes, duck confit and lamb with pomegranates."
Meat Treat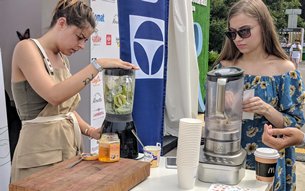 The Russian love of meat is at the heart of one of the county's most popular leisure activities – shashlik – which basically translates as "grilling kebabs". Hoping to capitalise on this ready market, while also educating it a little, Atlanta-headquartered Big Green Egg was in Moscow to try to nurture a shift towards multifunction barbecue grills of the kind that have long been the centrepiece of United States-style cook-outs.

Outlining the company's mission, Sales Representative Leonid Ivanov said: "We see ourselves as promoting a barbecue lifestyle and offering an introduction to an entirely new culinary world. During the show, we've been preparing dishes like grilled pears with cheese – the kind of food that many people here don't associate with grilling. On top of that, we've also been baking bread and making desserts, again using only the grill.

"On the last day of the show, we are planning to roast a huge chunk of meat for six hours and then invite anyone passing to come and enjoy it. We hope such initiatives will help the barbecue culture develop here as it's already very in-keeping with the Russian lifestyle."

Dairy is another sector that could provide a ready market for overseas businesses, especially as many Russian consumers are wary of locally produced products following a spate of highly publicised cases relating to fake or tainted items. That, however, hadn't deterred one domestic producer, southern Russia-based Chaban, from launching a new dairy line at the show.

Its latest offering was Airan, a sour-milk-based drink that resembles kefir and which originated in the country's Caucasus Mountains region, where it was traditionally served straight or as a berry and nut-infused smoothie.

Explaining its heritage appeal, Marketing Manager Olesya Kazakova said: "Many Russians are now keen on embracing a healthier lifestyle and, at the same time, they have faith in traditional products that have been around for generations. Airan ticks both boxes."

A smoothie was also the showcase beverage of choice for Almette, a Moscow-produced cheese spread brand ultimately owned by Hochland, the German dairy-food conglomerate. Despite being manufactured in Russia, Almette plays heavily on its Alpine heritage, which it manifests in such varied delights as a green smoothie with spinach, kiwi, honey and cucumber and a red smoothie with beets and orange juice.
Cheesy Beverages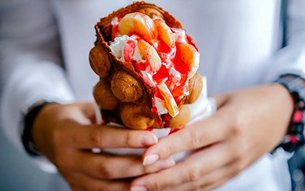 Outlining the company's philosophy, Sales Manager Taisia Solovyova said: "We have found a way to tap into the health-conscious demographic by putting less emphasis on the traditional ways of eating cheese spreads, such as spreading them on toast or crackers, and have instead focused on their inclusion in fortified drinks, such as smoothies or as healthy alternatives to high-calorie desserts. In line with that, one of our most popular spread-based recipes is for a matcha latte cheesecake."
For those preferring more conventional and less midriff-friendly desserts, visitors to the show also had the opportunity to sample Hong Kong-style waffles and a range of somewhat unique ice creams. The waffles, however, were not on offer from some confectioner from the city, but had been produced by NeVafli (meaning "not waffles"), a local manufacturer.
Confident that the crispy bubble texture of the company's waffles was every bit as good as that of its Hong Kong counterparts, Marketing Manager Marina Raguzina said: "Although relatively newly introduced, waffles are really taking off in Russia and are proving particularly popular as a catering option for special events."
The honours on the ice cream front were down to Moscow-based Magic Ice Cream, which had on offer such unlikely varieties as bacon, red caviar and tomato. Pressed as to which flavour was most in demand, Stand Manager Valentina Fjodorova said: "While it really depends on the occasion, Cognac and blueberries and champagne and strawberries always do well at night and Lemonchello is particularly popular when it's hot. And, any time of the day or year, kids always love our rainbow ice cream."
The 2018 Taste of Moscow Festival took place from 26-29 July at the Luzhniki Olympic Complex.
Related Link
Taste of Moscow
Russia
Hong Kong
Eastern Europe