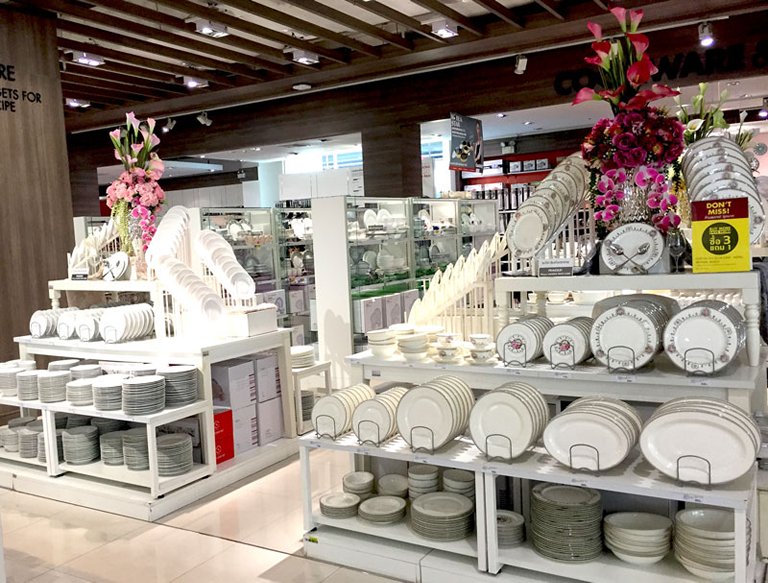 https://hkmb.hktdc.com/en/1X0AFC5V
Accessing the ASEAN Consumer Market: Houseware and Small Home Appliances (Distribution Channels 2)
In major ASEAN cities, such as Kuala Lumpur, Jakarta and Bangkok, the distribution channels for housewares and small home appliances are very diverse. Apart from the traditional ones, there are new retail channels which offer opportunities for lesser-known brands and designers. Hong Kong exporters should choose the right channels which best match their product positioning. For details of other distribution channels, please refer to "Accessing the ASEAN Consumer Market: Houseware and Small Home Appliances (Distribution Channels 1)".
Hypermarkets
The basic principle of a hypermarket is 'everything under the same roof', resulting in a wide assortment of household items. The hypermarket is a business model focusing on high-volume, low-margin sales, generally covering an area of 5,000 to 15,000 sqm. Many hypermarkets choose suburban locations that are easily accessible by car. Due to their streamlined large-scale operation, which reduces per-unit costs, hypermarkets can fulfil consumer demand for value for money.
The competition in Indonesia and Malaysia is among global giants, such as Tesco, and Asian players like Korea's Lotte Mart, Japan's AEON, and Malaysia's Giant, as they strive to win a bigger market share in the region.
Tesco
After Wal-Mart, Tesco is the world's largest bricks-and-mortar retailer, but revenues in its UK home are slumping. Tesco entered the Malaysian market in 2002, with its first hypermarket launched in Puchong, Selangor. In 2007, Tesco acquired the Malaysian operation of the wholesaler Makro, which was then rebranded as Tesco Extra and provides products for local retailers. Tesco currently operates 71 outlets in Malaysia.
Carrefour
Carrefour Indonesia is managed by CT Corp, which announced that it will replace all Carrefour branches with the Transmart brand as its license expires in 2019. Carrefour's operation in Malaysia is owned by Japanese retailer, AEON.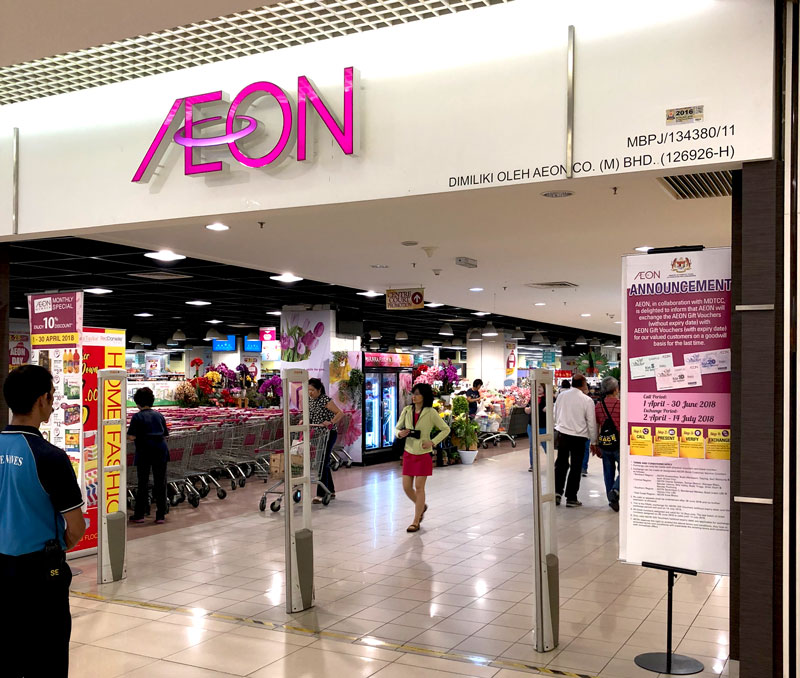 AEON
AEON's retail network comprises around 300 consolidated subsidiaries and affiliated companies. Malaysia became AEON's Southeast Asian headquarters in 2012. In the same year, AEON bought Carrefour's operation in Malaysia.
Lotte Mart
Lotte Mart, part of the Korean conglomerate Lotte, sells a variety of groceries, clothing, toys, electronics, and other goods, and runs 23 branches in Indonesia. Lotte Mart has faced an increasingly saturated retail market at home in recent years.
Giant
Giant was founded in 1944 as a small grocery store in Kuala Lumpur. The chain currently has eight hypermarkets and 10 supermarkets in Malaysia, Indonesia, Singapore, and Brunei.
Ace Hardware (ACE)
Established in 1995, ACE is a member of Kawan Lama Retail Group. ACE has over 83 stores in more than 25 cities in Indonesia. Its flagship store, ACE Living World Alam Sutera, is the biggest ACE store with a floor space of 15,000 sqm. The store offers more than 75,000 products, including cookware, tableware, dishwashers, rice cookers, coffee machines, electric fans and refrigerators. ACE also partners with 3M Indonesia to enrich the variety of household appliances.
Opportunities Presented by Hypermarkets
Hypermarkets are an effective channel to reach the large sub-urban population in Indonesia, Malaysia and Thailand. However, this business model is under threat from online shopping. In response, key players such as Tesco, AEON, and Lotte have started to embrace e-commerce. At the same time, they are actively looking for merger and acquisition targets across ASEAN to gain market share and ensure that they remain at the forefront of the hypermarket business.
Hypermarkets will continue to focus on serving their core customer base more effectively through strategic initiatives, including store layout enhancement, network expansion, and improving product assortments in line with market demand trends. This means continually growing non-food lines merchandising to satisfy all the consumer's shopping needs in one trip. This is expected to boost the demand for diverse household goods, which presents an array of opportunities for Hong Kong houseware manufacturers and suppliers.
Some of the bestselling household items in hypermarkets are cooking pans, kitchenware and gadgets, tableware and cooking gifts sets. The primary target for a hypermarket is normally housewives. This market segment is more price-sensitive than other distribution channels.
Department Stores
Traditional department stores were founded on the premise of the "store" being the location where people came to shop. Stores were showcases where products were put on display and sold. Success was based on merchandising the right assortments and achieving supply chain efficiency. Today, ASEAN consumers have become more sophisticated and demand unique products that resonate with their lifestyle as well as a seamless shopping experience. This has drawn consumers away from traditional department stores to lifestyle boutiques.
In the buy-anywhere reality of the internet, retailers need to adapt and provide meaningful experiences and reasons for shoppers to visit their bricks-and-mortar locations. Some department stores are experimenting with more curated lifestyle assortments across categories, bringing together cosmetics, clothing, home products, and more.
Department stores' biggest asset is their card members. Through customer loyalty programmes and good after-sale service, department stores cultivate and maintain strong relationship with these VIP members. For instance, the Mall Group, the top shopping malls developer and department store operator in Thailand, has more than 3 million members, of which about 70% are active customers.
The Thai department store chain, Central, also invites customers to join The 1 Card. This loyalty card program offers a vast array of benefits, such as points for shopping, special promotions and offers dedicated to The 1 Card members. In addition, Central presents the exclusive Diamond Society Club for loyal patrons. Diamond Society members have privileged services with access to the Premiere Lounge, reserved parking, a personal assistant in-store, home and hotel delivery and exclusive invitations to special Central Department Store Indonesia events.
Department stores also know how to provide additional reasons for consumers to visit – sales events are powerful tools to stimulate consumption. Apart from traditional holidays, the November 11th (Single's Day) has also become a special festival in ASEAN in recent years, presenting a huge promotion opportunity for major department stores to offer coupons and deep discounts.
Today, consumers may have the choice of buying online, yet they still like to see what is on offer in person. People visit department stores not just for shopping, but also to get a good snapshot of current trends. Successful department stores transform shopping to recreation and amusement, and an escape from the routine.
Major Department Stores in ASEAN
Indonesia
There are many department stores in the major first-tier and second-tier cities, both within and outside Java. Traditional department stores in Indonesia are facing stiff competition. There are a wide variety of department stores in Indonesia. Some foreign brands, such as Metro, SOGO, and SEIBU target middle- and upper-class consumers, while local department stores like Matahari and Ramayana serve the mass market with a variety of goods a step above the traditional market in quality.
Matahari Department Store
Matahari Department Store, the nation's largest department store chain, focuses on lower- to middle-income consumers, operating over 150 stores across Indonesia.
Ramayana Department Store
Amid Indonesian consumers' changing shopping habits, Ramayana Department Store has started to transform its retail strategy by consolidating its retail network. Meanwhile, new players continue to enter the country. Notable examples include South Korean Lotte Department Store, Malaysian Parkson, and Thailand's Central.
Malaysia
Department stores remain an important shopping destination for Malaysian families, as most shopping malls in the country still have a department store as the primary anchor tenant.
Metrojaya Department Stores
Metrojaya Department Stores operate a chain of department stores and specialty stores offering items at a medium-to-high price point. Its retail network mainly covers major shopping malls in Malaysia, namely Mid Valley Megamall, Plaza Pelangi, Island Plaza, Bukit Bintang Plaza and The Curve. Metrojaya seeks out the newest lines and ranges in homeware products – from porcelain dinner sets to silicone kitchen utensils, sundries storage boxes to plastic airtight food containers, and wedding gift tableware.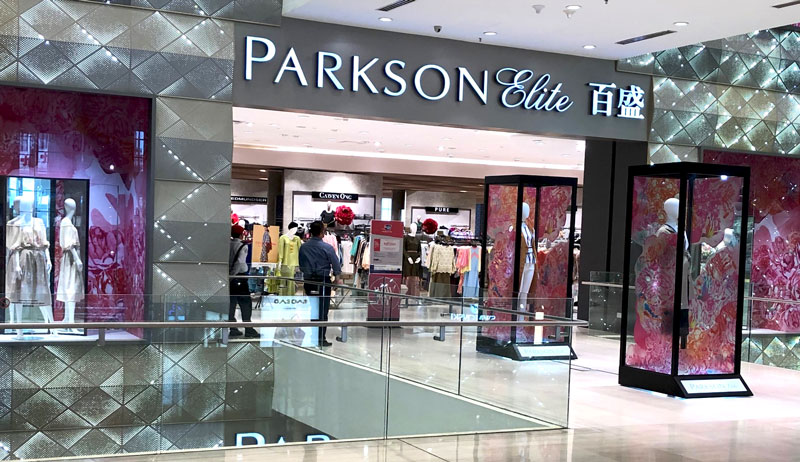 Parkson Department Store
Parkson Department Store comprises a network of more than 100 department stores across Malaysia, Vietnam, Indonesia, Myanmar and China. In January 2017, Parkson Department Store had a grand relaunch of its flagship store, Parkson Elite at Pavilion Kuala Lumpur. The department store spans 24,800 sqm. with four retail floors, offering 300 international brands.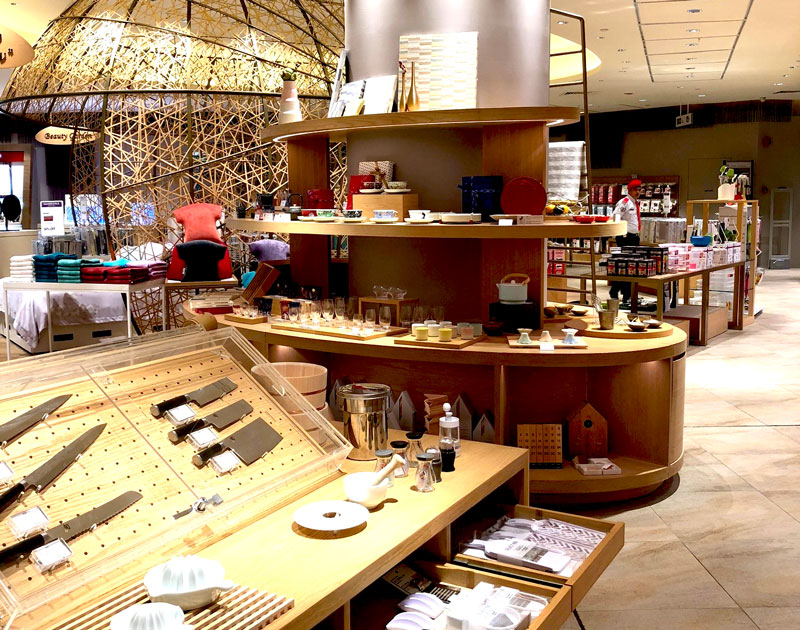 Isetan
Isetan in Kuala Lumpur is one of Malaysia's trendiest department stores, visitors can expect exquisite items on display – from Japanese pottery and porcelain to origami wall art and contemporary tableware. It is also the biggest Isetan store outside Japan.
Thailand
In Thailand, the department store is a landmark building and a focal point for the local community. Department stores are places for dining, gathering and other recreational activities. Department stores are also key places to organise events, such as new product launch, festive and holiday events, as well as small-scale concerts.
Department stores competition in Thailand is fierce as the country is crowded with numerous famous and individual brands. Most high-end department stores are clustered in the Siam, Chidlom, and Phrom Pong areas. Examples of luxury department stores are Siam Paragon, Central Embassy and The EmQuartier.
Central Department Stores
Central Department Stores Group runs many leading department store brands in Thailand, including Central Department Store, Robinson Department Store and Zen, as well as managing Marks & Spencer and MUJI. Central Department Store is positioned in the mid- to high-end market, whereas Robinson Department Store offers good value for money merchandise for the entire family. Launched in 1989, Zen Lifestyle Trend Megastore quickly became one of the most iconic landmarks of downtown Bangkok. In 2006, ZEN was re-launched by Central Department Store as an edgy lifestyle concept store. The whole seventh floor is all about home and lifestyle, featuring goods ranging from furniture, kitchenware, to tableware, and interior décor accessories sourced from around the world.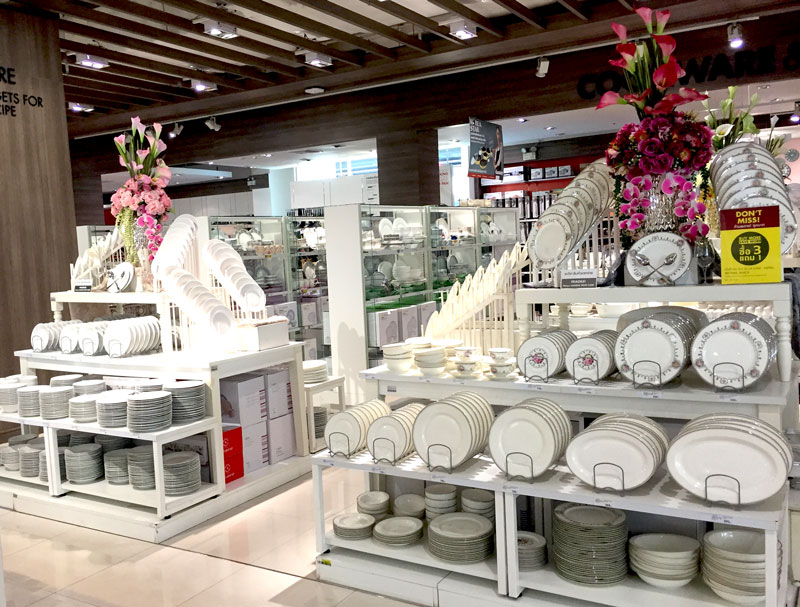 The Mall Group
The Mall Group operates The Mall department stores, Siam Paragon, The Emporium and The EmQuartier. The company aims to focus more on young consumers and tourists in the future and building a large shopping centre in Phuket is part of its development plan.
Opportunities Presented by Department Stores
Department stores are many brands or suppliers' top distribution channel due to high customer traffic. Non-branded products are less suitable for this channel, being less likely to be selected by department stores. Even if they are selected, they may be required to pay high rentals and a large ratio of profit sharing. Department stores take a cut of 20-40% on sales, depending on product category and brand strength, but the norm is around 35%. Non-branded products are expected to pay a higher sales commission.
In recent years, competition with global brands' own mono-brand stores and with the online channels has driven department stores to work with emerging brands to bring in unique product assortments. These collaborations between retailers and brands usually run a selected assortment in limited numbers of stores for a given period. This gives both parties a chance to test the market and see whether these short-term collaborations can be extended to a long-term relationship.
Department stores may source housewares and home appliances by attending overseas trade shows or by referral. Representatives may also travel abroad to assess the potential of the products and talk to the overseas supplier directly. Instead of placing orders directly with suppliers, many department stores in ASEAN prefer working with distributors to bring in new brands and products for the following reasons:
Distributors can buy in quantity from suppliers, whereas department stores work on consignment.
Distributors can supply small orders of a wider selection of products.
Distributors take care of importing and customs clearance.
Distributors can warehouse and deliver the goods to department stores.
Many department stores source foreign goods from a domestic importer, who operates much like a domestic distributor or wholesaler, this lowers the freight costs and delivery time in comparison with international freight.
Some distributors also assist in retail display and merchandising.
Some offer marketing materials and co-marketing opportunities.
There are also department stores that prefer buying direct from the manufacturer or brand owner, as it guarantees the lowest price. However, without the distributor, the overseas supplier would need to take care of a large amount of follow-up work.
No matter whether a supplier sells direct to department stores or through a distributor, it is imperative to keep a close customer relationship with the department store and understand the retailing business needs, with an emphasis on product sourcing, merchandising display, inventory management, and distribution in each local market.
Pros and Cons of Selling to Department Stores
The Pros
Bigger volume and/or sales turnover
Greater brand awareness and validation
Higher visibility to other buyers
The Cons
Department stores do not purchase wholesale
Lower margins – department stores require a higher commission rate
Production capabilities needs to be able to handle big orders
Not easy to develop a long-term strong relationship as department stores have plenty of suppliers
Extended payment terms up to 60 days
Home Shopping
Home shopping is a convenient way of purchasing housewares and home appliances, especially for consumers who live in non-urban regions, where major shopping areas are far away. Bestsellers offered through this channel are small home appliances, such as irons, fans, and vacuum cleaners, as well as food preparation and cooking equipment, as the target audience are mostly housewives.
Public awareness of home shopping has improved as companies have invested heavily in advertising and marketing. In Malaysia, two of the largest home shopping channels are CJ Wow Shop and Go Shop. The introduction of CJ Wow Shop on a non-pay channel has ensured wider accessibility across Malaysia. The number of home shopping channels is expected to increase in Malaysia to cater for different groups of consumers.
24 Shopping
24 Shopping publishes home shopping catalogues targeting working women and housewives. Bestselling products include groceries, bedding, kitchenware, housewares, home appliances, electronics, exercise equipment, and beauty products. One of its best selling products is a multi-functional hotpot with grill pan.
Pricing for this channel is about 5-10% off retail price. Customers can expect to receive their orders in three to seven days, backed by seven-day return for full refund. The company also sells through its own website which focuses on IT gadgets and toys, as well as a 7-Eleven network across the country.
Opportunities Presented by Home Shopping Channels
While home shopping sales may be disrupted by the rise of online shopping, they are here to stay due to a strong customer base, especially in non-urban areas. To stay competitive, home shopping channels have improved logistics operations to enable more efficient delivery. Through a TV channel or home shopping catalogue, overseas houseware and home appliances suppliers can market their goods to a nationwide audience. However, not all products are suitable for these channels. For lesser-known brands, they need to have unique designs and features to attract local consumers' attention. Fast turnover of goods is often required and merchants will need to keep prices competitive to ensure a constant sales volume.
Corporate Channels – Hotels, Restaurants and Catering
Along with the flourishing tourism in some ASEAN nations, such as Thailand, the demand for quality homewares and appliances for the local hospitality industry is growing. In particular, Chinese outbound travellers have become one of the major sources of tourist arrivals in Thailand, Singapore and Indonesia. Given the continuous growth in tourism, many new hotels are expected to be built to meet increasing demand, which is good news for commercial kitchen equipment suppliers. Many hotels are constantly sourcing kitchen and restaurant equipment, such as toasters, waffle makers, coffee machines and beverage dispensers.
In major cities across ASEAN, the busy lifestyles of the working population have made dining out more frequent, driving growth in foodservice industry and demand for kitchen equipment. Fine dining supplies, including elegant dinnerware, linens, candle holders, and other tabletop items are also in demand. Supplies and equipment for the hospitality industry need to be long-lasting, energy efficient and meet their operational needs.
Opportunities Presented by Corporate Channels
Hong Kong manufacturers could play a role in original design manufacturing (ODM) and conduct quality control for the ASEAN importers of kitchen equipment suppliers for commercial and hotel kitchens. The followings are some examples of suppliers/importers:
Evergreen Intertrade
Established in 1984, Evergreen Intertrade specializes in professional imported cookware, kitchen utensils, pastry utensils, buffetware, banquet equipment, and guestroom equipment. Its clients include leading hotels throughout Thailand.
SEVEN FIVE
SEVEN FIVE is one of Thailand's leading food service equipment importers. With its network in Thailand and neighbouring countries, the company's customers include restaurants, warehouse retailers, department stores and hotels. The company provides a broad range of commercial kitchen equipment, including kitchen utensils, beverage equipment and cooking equipment.
Please click here to purchase the full research report.
Electronics & Electrical Appliances
Household Products
Thailand
Malaysia
Indonesia
Southeast Asia
ASEAN