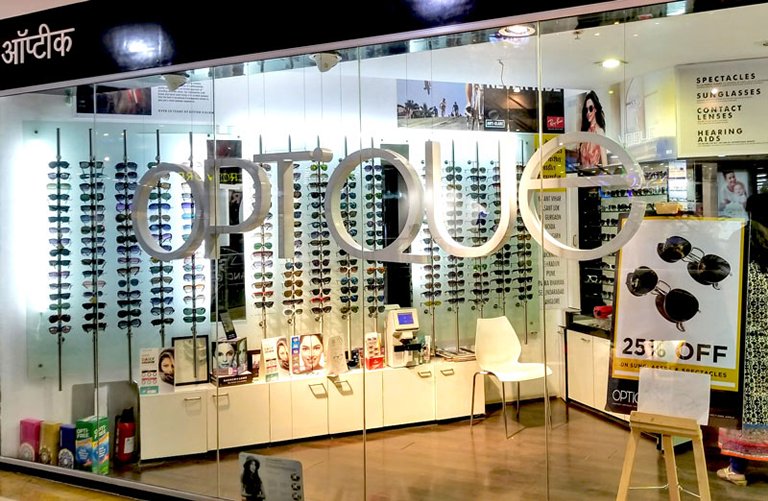 https://hkmb.hktdc.com/en/1X0AF9TG
Accessing India's Consumer Market: Noteworthy Niches in the E-commerce Ecosystem
With fast economic growth, India's retail market has undergone rapid changes and development, particularly in light of Indian consumers' ready embracement of online sales. Like the broader retail market, India's eyewear segment has also risen to become one of the fastest-growing retail sectors in the country, despite once being seen as a fairly stagnant market. With India's retail sales reported to be more than US$600 billion in 2017, eyewear sales in the country, including spectacles, sunglasses, contact lenses and solutions, amounted to just US$3.85 billion, according to an estimate by Euromonitor, a little more than 0.6% of the total. However, eyewear sales expanded by 14% in 2017, better than the overall retail market. It is worth noting that the sunglasses segment registered growth of more than 20%, outshining spectacles, which represented about three-quarters of the eyewear market in value terms that year.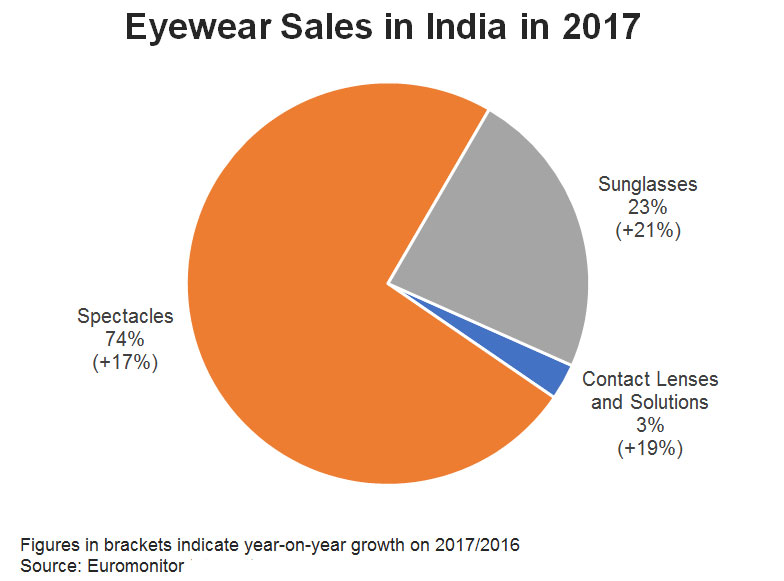 Eyewear Sales Growth Better Than Broader Market
The primary driver of the spike in demand for eyewear products is undoubtedly the higher disposable income of Indian consumers. The economy has managed to grow at an average of 6.5% or more, resulting in an increasing number of households with annual disposable income of US$5,000. Furthermore, Indian consumers are increasingly health and fashion conscious, especially those in tier-1 and tier-2 cities, where spectacles and sunglasses are commonplace. There is a growing presence of optical shops in those cities, particularly inside larger shopping malls. In visits to eyewear outlets in India's tier-1 cities, HKTDC Research found strong price and product promotion activities, often encouraging consumers to purchase more than just one piece of eyewear. Indeed, India's middle-class consumers are likely to own more than one item of eyewear for sight-correction and/or style. Even so, growth momentum in both the spectacles and sunglasses segments in bigger cities is likely to continue in the coming years. By comparison, eyewear sales in tier-3 and tier-4 cities, as well as villages, is likely to continue to lag, as a large majority of people there do not easily come to terms with productivity losses due to impaired vision. This situation is gradually changing, however, as discussed below.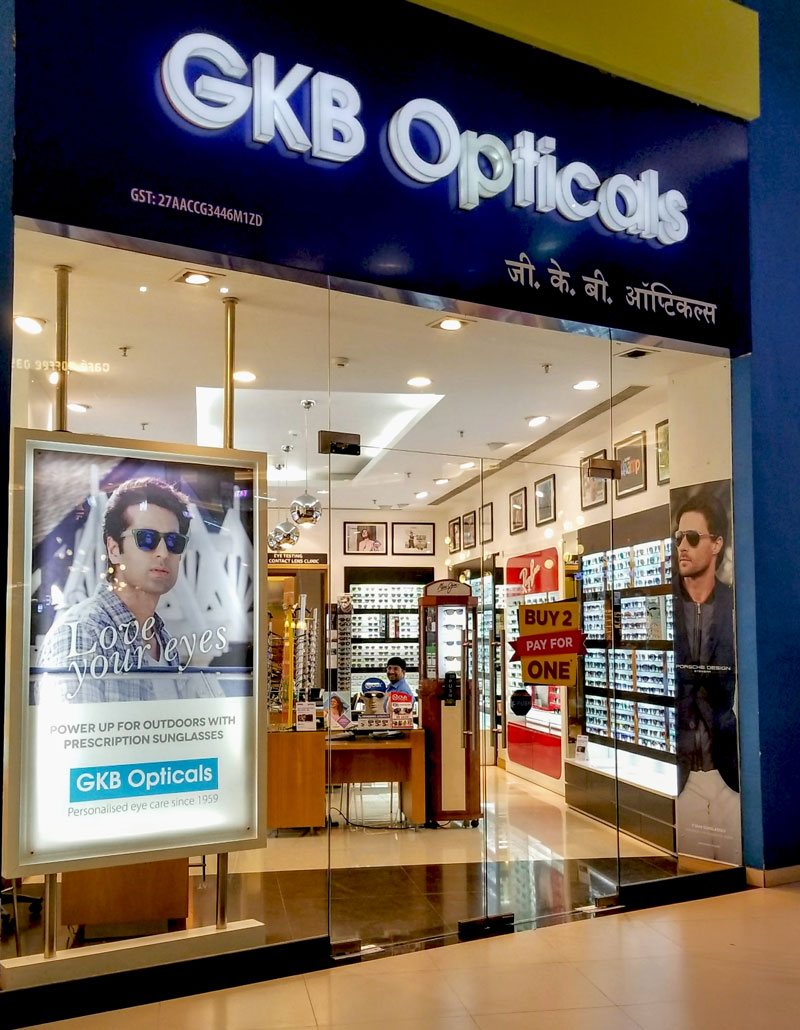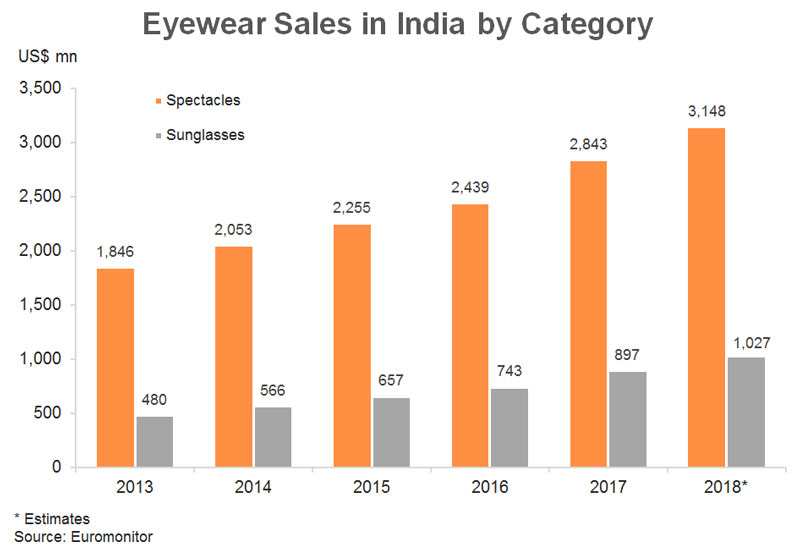 Demand for Sunglasses Helped by Climatic Considerations in Different Regions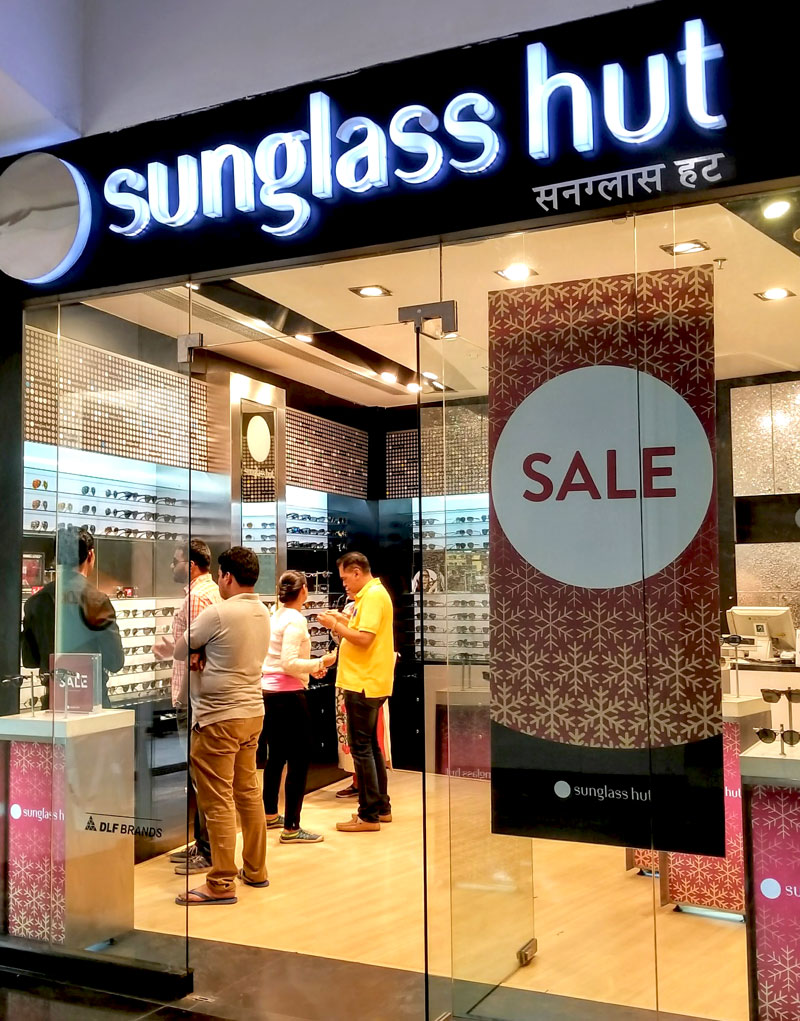 India is the largest country in South Asia and home to a wide variety of climatic regions, ranging from tropical in the south to temperate and alpine in the Himalayan north, where elevated regions receive sustained winter snowfall. HKTDC Research has undertaken several field trips to India over the past few years, including visits to several special economic zones, to gain a better understanding of the latest business and investment environments. In northern cities such as Delhi and Gurgaon, and southern ones like Bangalore, we have noticed an increased interest in eyewear for health as well as fashions, with eyewear products becoming increasingly accessorised, and branded products interspersed with non-brand items.
Branded sunglasses are becoming popular among middle-class consumers, with the segment actually showing more rapid growth – in the four years to 2017, sunglasses posted average annual growth of 16.9% compared with 11.4% for spectacles. Double-digit average growth in both the sunglasses and spectacles segments is expected to be maintained through 2023.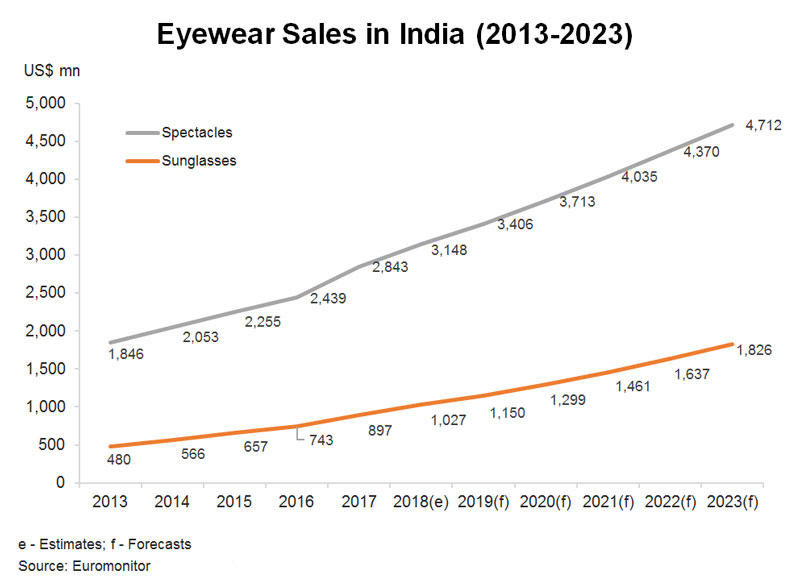 Eyewear Market Still Dominated by Unorganised Operators
India's eyewear market is highly fragmented, in keeping with the country's broad retail landscape. Eyewear sales typically occur in a store-based environment and primarily in an optical shop, particularly for prescription glasses. The lion's share of those store transactions is classified as business turnover in the unorganised market, which is represented by numerous individual eyewear retailers and optical shops, the majority of which operate outside shopping malls. It is noteworthy that lots of prescription eyewear is handled by opticians with no formalised optometrist qualifications. From the figure below, it can be seen that the top 11 national brand owners (NBO) in India's eyewear market had a combined share of less than a quarter of the total in 2017, with the largest player taking a market share of just above 10%. The majority of these players are engaged in the lenses segment, and hardly does India have an eyewear operator specialised in spectacles or eyewear retailing which commands a market share of more than three percentage points.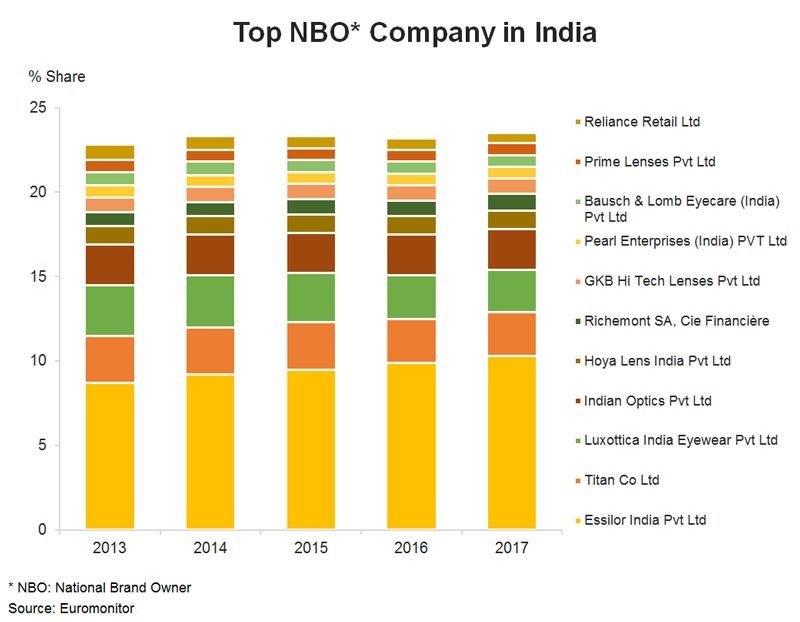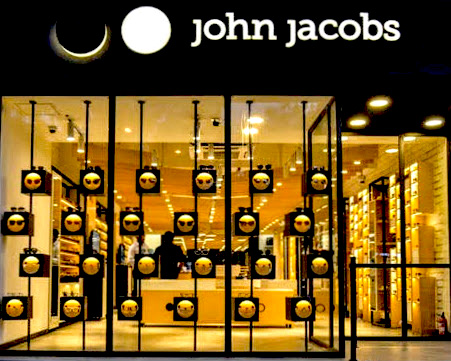 Nonetheless, organised eyewear operators have in the past few years increasingly invested in and established more chain stores while setting out to improve consumer education and style awareness, reflected by the gradual growth in market share. For example, India's leading eyewear company Lenskart.com has stepped up investment to strengthen its position in the affordable luxury eyewear segment through the establishment of a number of standalone stores promoting the John Jacobs brand, with a plan to open about two dozen outlets in tier-1 cities such as Delhi, Mumbai, Gurgaon and Bangalore. Adopting a pricing model regarded as disruptive, John Jacobs offers a wide range of good-quality trendy eyewear designs at affordable prices.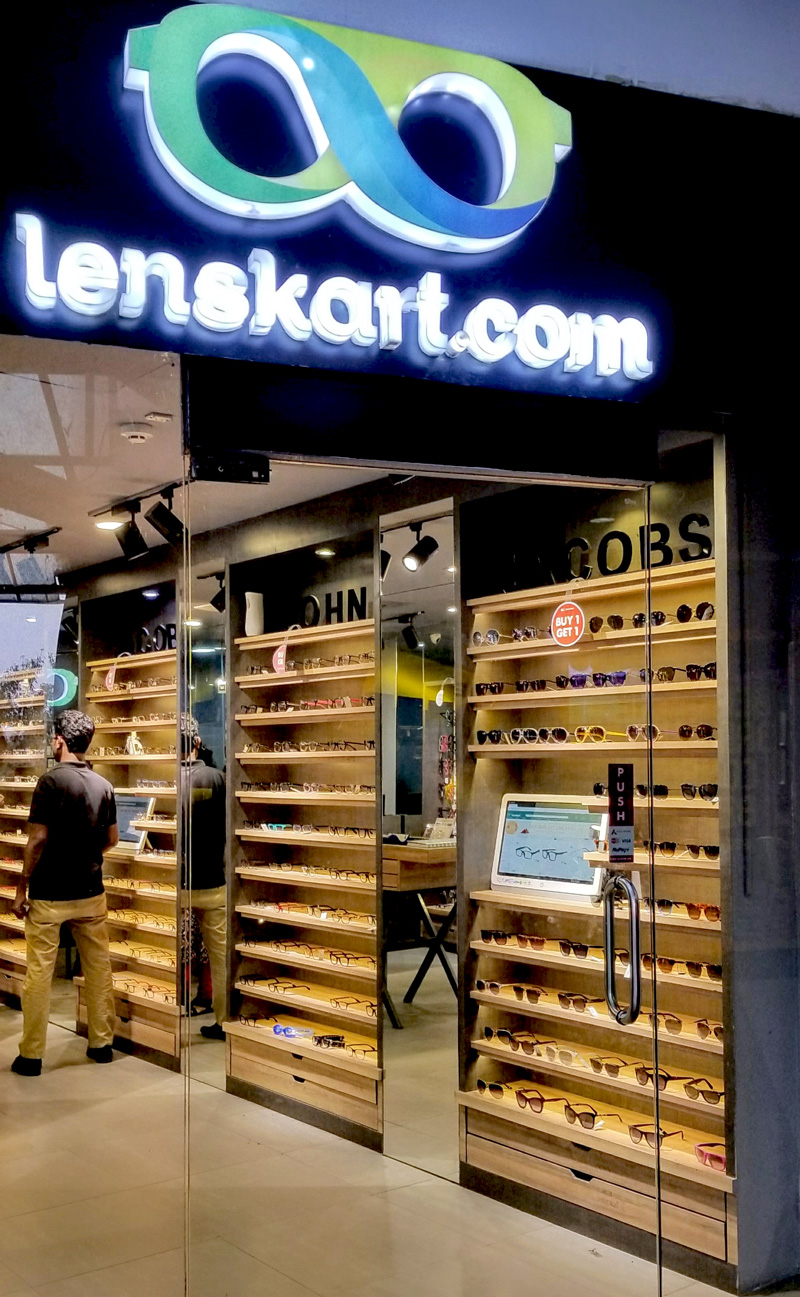 While bigger brands are promoting sales, targeting the affordable premium markets in larger cities, there are also increased efforts to tap into smaller cities and villages. For instance, mobile eye camps have been set up to raise consumer awareness, with people in rural areas reportedly given training to become opticians. In the case of Lenskart.com, apart from promoting affordable luxury branded eyewear through retail outlets with enhanced décor, it has made a pledge to reach out to a much wider consumer group by spearheading a Vision to India campaign to Indians who need spectacles. The company believes that as much as a quarter of the Indian population or 350 million people need to correct their vision, but only 50 million have access to vision-enhancing facilities and spectacles. It aims to conduct 100 million eye tests in the next five years via more than 10,000 mobile eye-testing units across the country. In connection with this, Lenskart.com is recruiting a battalion of optometrists and opticians to be dispatched across the country to provide eye check-up services at prospective consumers' homes.
Owing to the organised sector's much smaller base than that of the unorganised sector, eyewear distribution channels in India or the broad retail landscape of its eyewear market will experience incremental rather than drastic change in the coming years, despite double-digit growth in spectacles and sunglasses sales in the organised sector. Internet eyewear retailing, a niche area that accounts for about 2.6% of India's overall eyewear sales, is fast expanding and will be discussed in a section below.
Online Eyewear Sales Gaining Tractions Among Consumers
In the recent series of articles on India, HKTDC Research has examined the developments of the country's online retail market, including the emergence of cross-border e-commerce platforms that Hong Kong companies may explore to tap into this market of 1.3 billion people (see the articles Accessing India's Consumer Market: Capitalising on the E-commerce Boom and Accessing India's Consumer Market: India-Hong Kong Business Collaboration – the Case of DTDC and Buy For Me).
The two biggest categories of online retail in India are apparel/footwear and consumer electronics. Mobile devices including smartphones make up a large part of the consumer electronics purchased online. With smartphones among the hottest items bought online by India's consumers, the Indian government has embarked on a policy to entice inward foreign investment into domestic manufacturing of smartphones as part of the attempts to lessen dependence on imports and bring net imports of electronics down to zero by 2020 (Make in India: Phased Manufacturing Programme Fuels Demand for Electronic Parts).
Buying a smartphone evidently makes it easier for consumers to conduct online purchases, and gives them greater ability to see and compare prices from different vendors. The penetration of broadband internet, greatly facilitated by the launch of low-cost service packages and at times the offer of free SIM cards tagged to some marketing campaigns – coupled with increasing smartphone sales and easier access to electronic and credit-card payments – have fuelled online retailing in general, with the effect increasingly felt in the online eyewear market. In the chart below, eyewear together with personal accessories accounted for about 4% of India's total retail sales in 2017 compared with 15% in consumer electronics, apparently commanding a proportionately larger online share than overall eyewear sales as a share of total retail sales.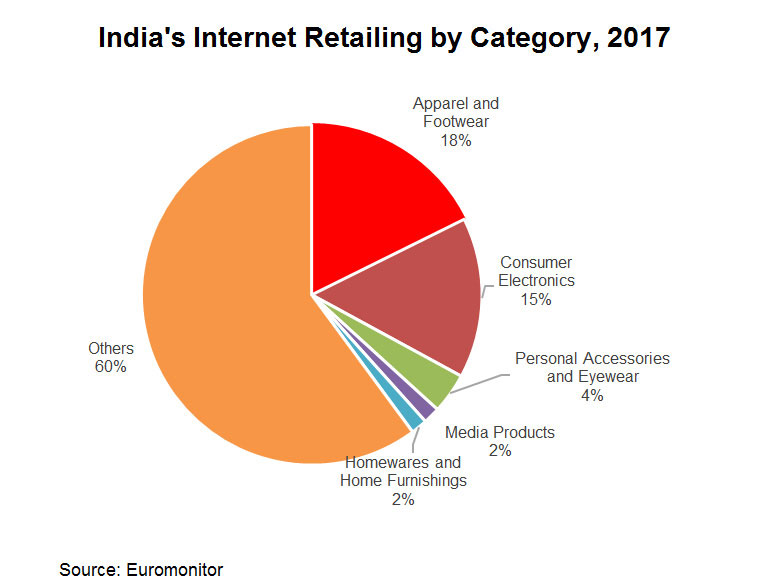 India's eyewear industry has also made great strides into the online market, with basically all kinds of eyewear products including spectacles, sunglasses and contact lens now made available on proprietary sites of many eyewear companies. A mixture of business models has been adopted – brick-and-mortar companies are launching online marketplaces, while pure retailers are emboldened in winning over consumers by adopting a "no questions asked" return policy in promoting sales of eyewear products, which include prescription glasses. As HKTDC Research observed during the recent field trips to different Indian cities, retailers are increasingly resorting to deploying a mix of online and offline strategies to optimise sales. For example, Chinese smartphone brand Xiaomi, having overtaken Samsung to become the market leader in India, has increasingly embraced offline channels on top of its very successful online platforms (see the article Accessing India's Consumer Market: Online and Offline Synergy). Ultimately, eyewear retailers, online or offline, have to ensure they supply vision-care products that are affordable, with the country's per capita income of about US$2,000 representing about a quarter of that in China.
Meanwhile, Lenskart.com is proactively deploying its online-cum-offline strategy, with many initiatives rolled out in the country to give substance to this omni-channel approach. As mentioned above, the company has invested handsomely in promoting brands alongside the establishment of an ever-growing number of offline stores, and customers are always greeted with deals and offers when buying either offline or online. Due to the growing availability of online payment gateways in India and the prevalent practice of cash-on-delivery, purchasing eyewear and accessories online is becoming increasingly acceptable in the Indian market. Integration of innovative technology is exemplified by Lenskart.com's pioneering use of 3D on its website to try on frames, making use of the consumer's webcam. In an unconventional move, Lenskart.com is committed to performing eyesight tests at the home of consumers, with each mobile eyewear specialist bringing hundreds of frames to choose from.
Pure Eyewear E-tailers as Niche Players
While the internet is a powerful means to raise awareness of consumers about vision health, many consumers prefer personalised services for eyesight tests, as if they were receiving treatment for a medical ailment. In contrast, a steadily growing number of consumers are taking advantage of the co-existence of online and offline channels for their shopping plans – they may visit physical stores to try on frames and get a textual feel before shopping online for discounts or browsing for user reviews before firming up purchase plans online or offline.
In the latest field trip to the Delhi and Gurgaon areas of northern India, HKTDC Research talked to Coolwinks, a pure e-tailer in the distribution of eyewear products. Founded as recently as 2016, Coolwinks is one of the many online distribution channels acquired worldwide by Essilor in the latter's attempt to reach out directly to a wider swathe of eyewear consumers in different countries, jumping on the e-commerce bandwagon[1]. Essilor is the largest eyewear operator in India and has primed itself historically as a partner of eyecare professionals whom it admits to be highly experienced in serving consumers. The company's strategic incursion into the online market of vision-care products is an attempt to exploit underserved regions.
From talking to Coolwinks, HKTDC Research had a better understanding of the company's business strategy, including its supply chain arrangements. With the world's largest lenses supplier as its parent company, Coolwinks provides Indian consumers with an easy-to-navigate online shopping platform for a wide range of quality optical products, including prescription spectacles and sunglasses, spectacles frames, fashion goggles along with many specialty brands and lenses. To entice consumers and promote sales, Coolwinks promotes various offers including discounts and free frames, while incorporating innovative payment technologies.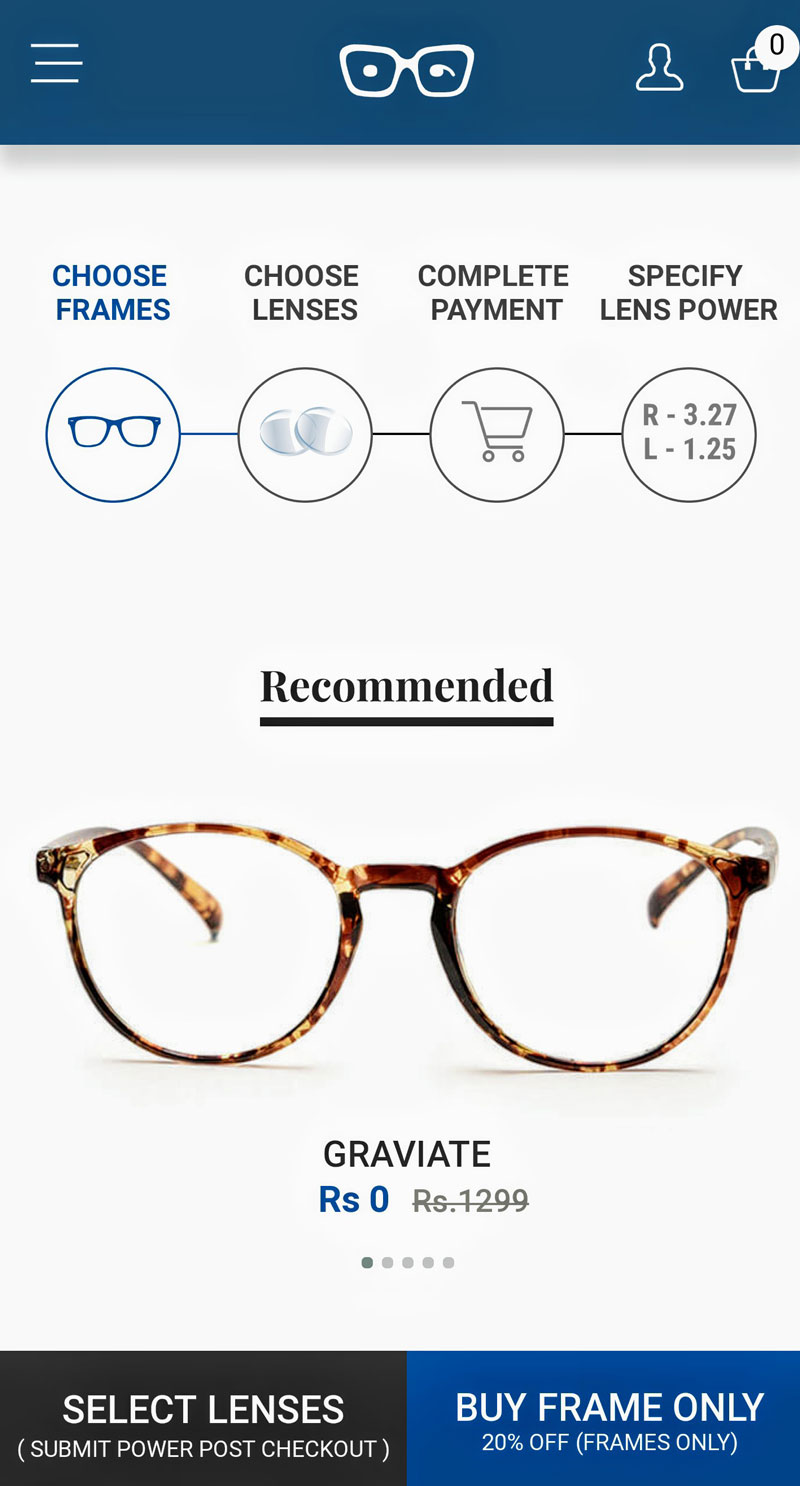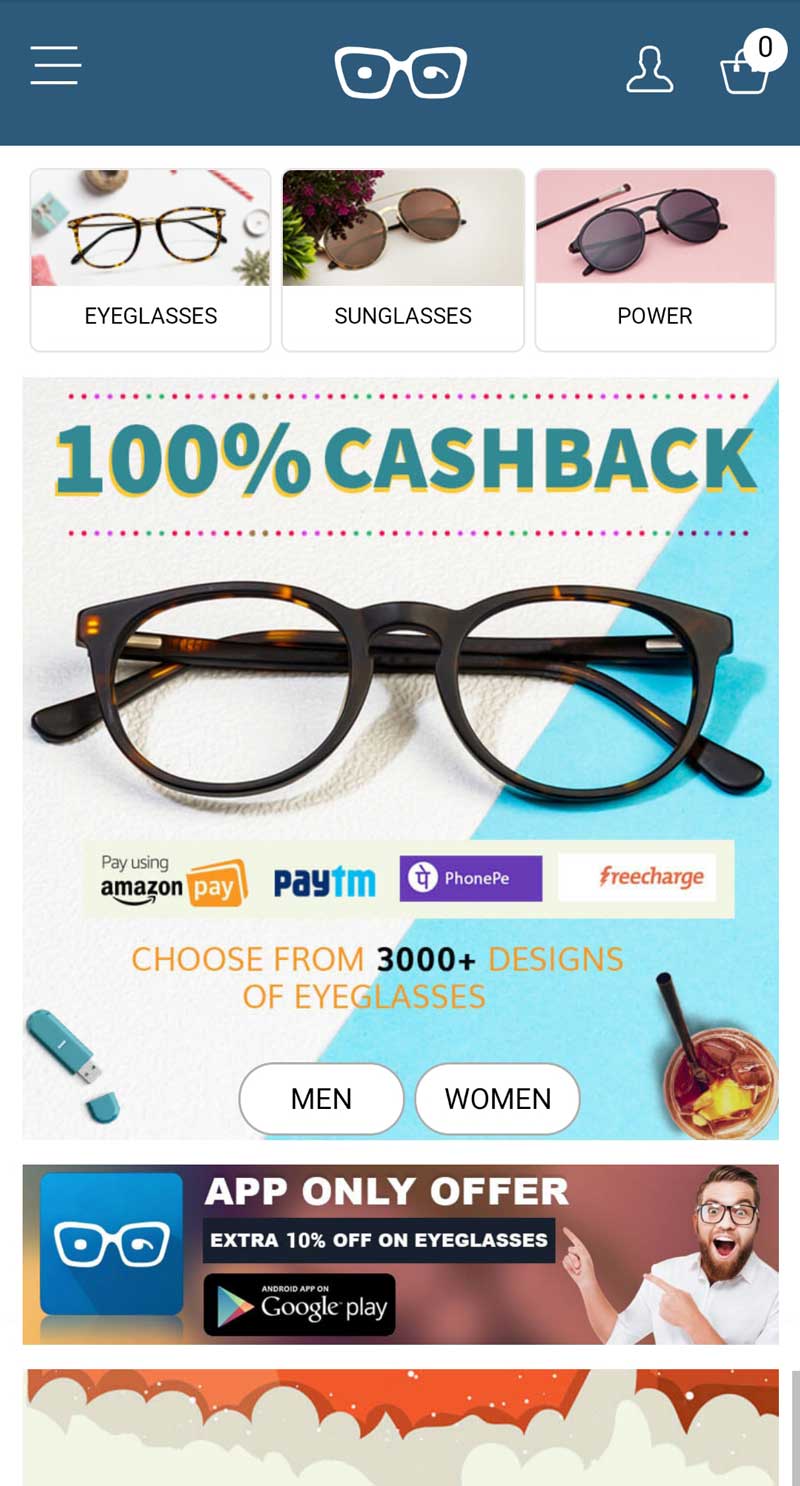 In light of the growing demand for innovative and trendy products, Coolwinks indicated that suppliers were being asked to operate within a shorter lead time in dispatching eyewear frames to the company, which was typically about 30-40 days. As far as sourcing was concerned, Coolwinks was interested in obtaining eyewear frames from China, currently in places such as Wenzhou and Danyang, where export prices of eyewear frames are just a fraction of those obtainable in India.
The company noted that frames production in India was improving, Gujarat being one example, with signs of a gradual catch up on quality for some product lines. However, Indian frames were still some way off as far as price was concerned, not to mention manufacturers' capability in product innovations, especially items involving synthetic materials. In contrast to metal frames, local supply of acetate frames tended to fall out of step with market demand, with overseas supply continuing to lead for the foreseeable future.
In consideration of the pressing time requirement for delivering online orders, Coolwinks relies on air transfer for obtaining inbound products from China, as well as for delivering to various locations across India. The company provides free shipping and no-question-asked, 14-day free return. It hopes this will provide online customers with a hassle-free experience in choosing a wide variety of eyewear products at affordable prices.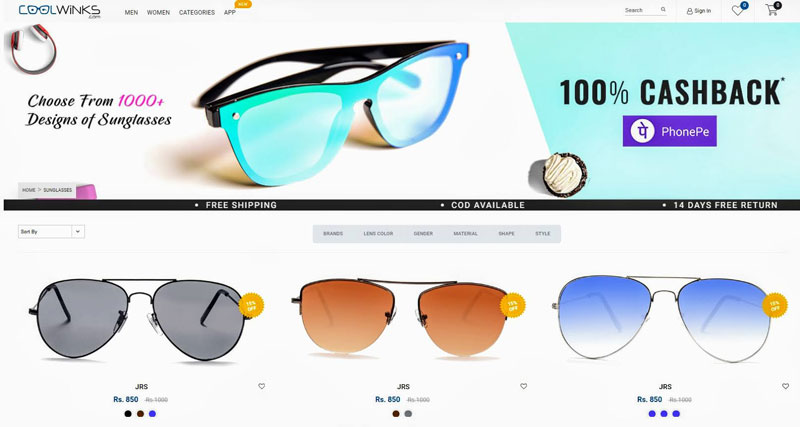 To avoid running out of stock, Coolwinks keeps sufficient supplies in warehouses, usually enough for two to three months, which easily translates into half a million stock keeping units (SKUs). Top 10 or tier-1 cities account for about 40% of Coolwinks' eyewear sales. However, the company revealed it had garnered a lot of sales from tier-3 or tier-4 cities, which accounted for about 20% of its sales. Ostensibly, the company is trying to make stronger inroads into smaller Indian cities.
Going further inland, Coolwinks noted that products ordered would come down to increasingly narrower price spectrums than those in bigger cities, implying that consumers in smaller urban areas would be more inclined to order more basic and economical items. Coolwinks remarked that better internet connectivity and consumer equation would be instrumental in further boosting online demand by consumers outside tier-1 and tier-2 cities.
While many Indians would prefer going to physical or offline optical shops for precision fitting, Coolwinks found that more than 90% of customers were satisfied with their online purchases, including those who had ordered prescription products, with about 10% returning their ordered items for various reasons.
Having operated for about two years, Coolwinks already has more than one million customers, a figure that it projects to escalate by leaps and bounds through 2020. Coolwinks is optimistic that it can grab a big slice of the online market share from the leading online eyewear retailer, backing up its capability of bringing in more eyewear categories and models for Indian consumers.
Coolwinks' adoption of a pure online strategy in wrangling market share from the frontrunner would require the company to keep offering price-competitive products. Like major e-marketplaces and other online platforms, which appear to put market shares ahead of profitability over the short term, Coolwinks may still take some time to break even, and this will continue to be reflected in its pricing and sourcing strategies.
By attending optical fairs in Hong Kong, the company is keen to keep track of the latest market trends as well as identify potential suppliers, and is willing to consider suppliers outside the Chinese mainland. Hong Kong eyewear frame companies with operations on the mainland should take note of this, facing up to the challenges of product innovations, cost control and short production cycles if they were to win over Indian buyers such as Coolwinks.
Hong Kong's Eyewear Exports to India Experiencing Rapid Growth
While India was not in the top 10 of Hong Kong's export markets in the first half of 2018, its exports to the country have almost doubled since 2014 to about 1.3% of the total in June 2018. It was the city's second-fastest growing market, after Brazil, from 2015 to 2017, with an average growth rate of 55%, and the third-fastest growing market in terms of year-on-year growth in 2017, trailing only Japan and Australia. The Indian market will continue to hold promise for Hong Kong suppliers who are innovative and able to quickly come up with a wide variety of cost-competitive products.
---
[1] French company Essilor, the world's number-one manufacturer of lenses and contact lenses, is merging with Italy's Luxottica, the leading frame supplier. Essilor has moved to develop online distribution channels with the acquisition of pure online players FramesDirect®, EyeBuyDirect®, Coastal®, Clearly®, VisionDirect, MyOptique, elens, eOtica and Coolwinks.
Eyewear
Information Technology
India
Other Asian Countries