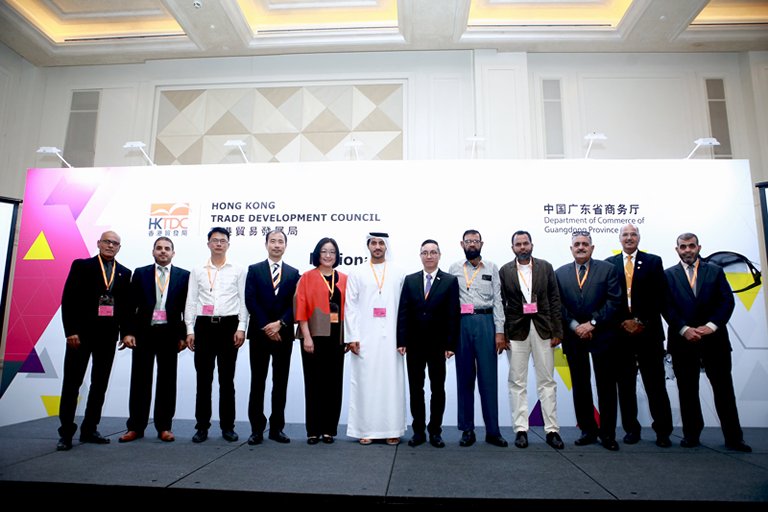 https://hkmb.hktdc.com/en/1X0AF5QV
Lifestyle Expo in Dubai 2018 Survey Results: A Shining Outlook for Consumer Products
Industry players in the consumer products sector in the Middle East and Africa are showing signs of optimism about market prospects in the near term, according to a survey conducted at the Lifestyle Expo in Dubai 2018. Emerging markets in the Middle East are looking up this year, which Iran, Oman, Kuwait, Bahrain and Qatar were rated as promising markets in the region.
Buyers in the Middle East and Africa are looking for both local and overseas suppliers. In the next three years, they expect to increase sourcing in Asia, particularly in South-east Asia, China and India. Currently, online retail engagement is low but just as it is elsewhere in the world, it is a growing trend in the Middle East and Africa region.
Provided that Hong Kong offers stylish and quality items, there is a growing confidence that the business ties between Hong Kong and the Middle East and Africa will strengthen, with more than 80% of those surveyed visitors anticipating future business collaboration with Hong Kong companies.
Market Outlook: Emerging Markets Lead the Way
Buyers were asked to rate the prospects of different markets in the Middle East on a scale of 1 to 5, with '1' indicating a 'very promising' outlook and '5' representing 'very unpromising'.
Iran stood out from the other markets, ranking as the most promising with an average rating of 2.49. It was followed by Oman (2.91), Kuwait (2.94) and Bahrain (2.94). However, the impact of US sanctions on Iran was not fully reflected in the results since the survey was conducted in June 2018. Hong Kong companies doing businesses there or looking to enter the market should be mindful of the recent developments of US-Iran sanctions. Despite the pressure from US sanctions on Iran's business environment, exhibitors expressed that Iran is still considered as a potential market for consumer products, with a population over 80 million and the majority being well-educated and young.
United Arab Emirates (UAE) and Saudi Arabia, the two most developed markets in the Middle East, however, were viewed as less promising over the next two years, with average ratings above 3. This is likely due to weaker consumer sentiment amid the low level of oil prices. The introduction of VAT in early 2018 together with rising inflation rate also posed uncertainties and hit consumer confidence, creating challenges for suppliers and retailers in these two markets. Despite that, it is believed that UAE will continue to serve as a diversified market, bolstered by the participation of international players and continued growth in the tourism sector while Saudi Arabia's consumer outlook remains modest amid the government stimulus and social reforms.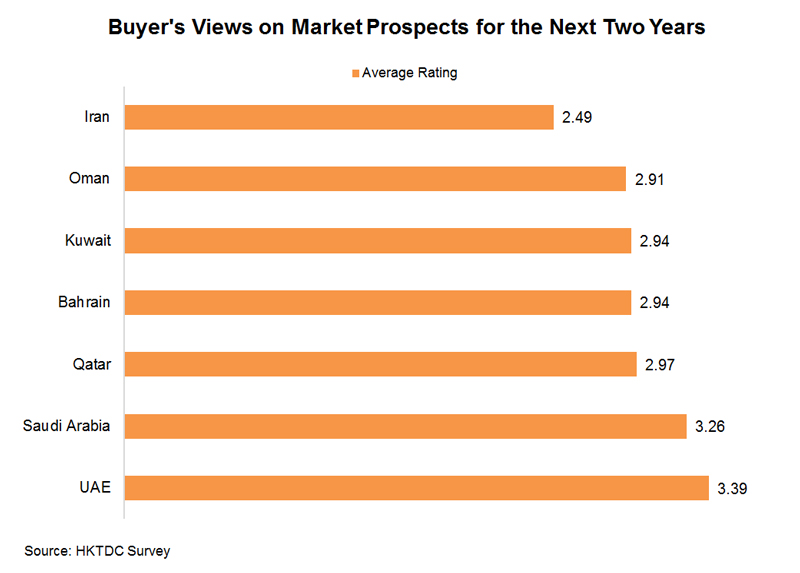 Sourcing Locations: Growing Interest in Asia
There is a growing trend of sourcing lifestyle products from Asia, according to the industry players surveyed. Buyers were asked to rank the importance of each sourcing location, with '1' indicating the most important and '7' the least important.
South Korea was ranked as the most important overseas sourcing location, with an average rating of 1.75, likely attributed to the rising influence of Korea Wave. While South Korea is currently viewed as the most important destination for sourcing, only 25% of the buyers expect to increase sourcing from the country in the near future.
Just behind South Korea, the Chinese mainland and Japan tied in terms of importance as a sourcing location, both rated at 1.97. Local sourcing in the Middle East is also of great importance for buyers looking to achieve greater control and to cut costs in the supply chain operation.
Looking forward, however, many buyers are going to be sourcing more from South-east Asia. According to the survey, over half of the buyers from the Middle East and Africa are looking to increase sourcing from South-east Asia in the next three years, followed by Chinese mainland (45%) and India (37%). Buyers mentioned that these sourcing locations are very cost-competitive, while the standard of product quality is good.
Hong Kong being one of the sourcing locations, it scored 2.56 in terms of importance with ranking ahead of South-east Asia and Europe. Provided that Hong Kong suppliers offer excellent quality management in products and remarkable designs, 60% of the buyers expect their sourcing activities in Hong Kong to remain the same or increase in the upcoming years.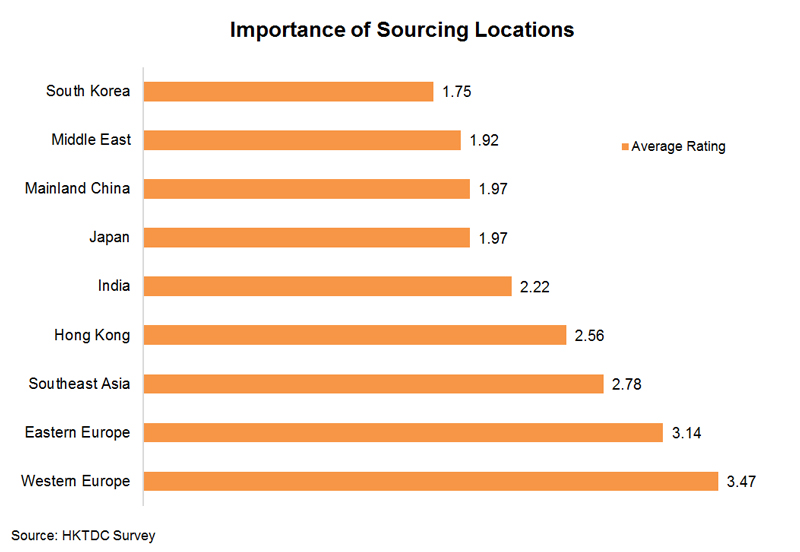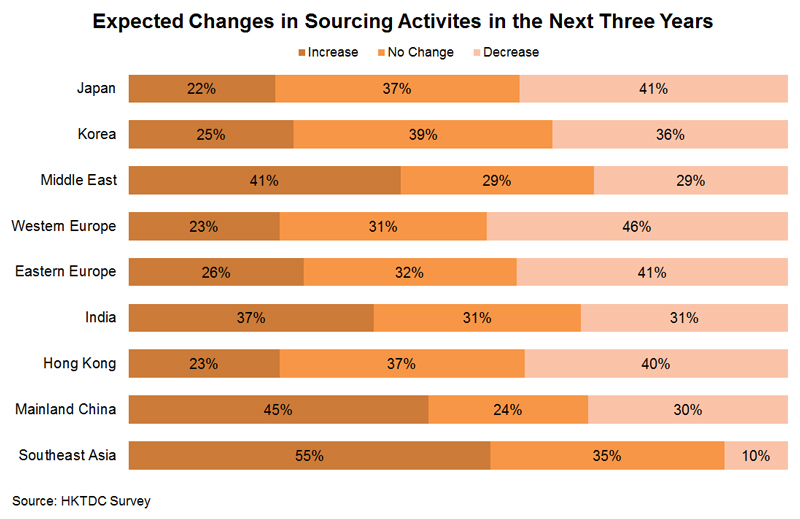 Quality Hong Kong Products Leads to Potential Business Ties
The overwhelming majority of the respondents (91%) find Hong Kong's products attractive, mainly because of the design and quality. Yet only 24% of the buyers have already established business relationships with Hong Kong companies. Despite that, respondents are found very eager to establish ties with Hong Kong, with 82% indicating that they had plans to do business with Hong Kong companies in the near future. In order to penetrate and stay competitive in the Middle East and Africa market, Hong Kong exporters should work on maintaining or improving the quality of their products and be creative with product designs.
E-tailing: More Businesses Going Online
More than half of the surveyed buyers have adopted e-commerce for retailing in their business, mainly driven by the e-Government initiatives as well as cost reduction incentives. Among those who have not yet begun e-tailing, 63% indicated that they had plans to do so over the next two years, showing a positive sign for more e-tailing engagement in the industry in the future. In order to take advantage of this growing trend towards e-commerce, suppliers are encouraged to keep abreast with their buyers' distribution models and requirements. For example, e-tailers tend to buy directly from suppliers (with or without a distributor), and may request smaller orders with a shorter product cycle and lead time for delivery. On the other hand, suppliers might also look to make themselves more competitive, for example, by providing drop-shipping services which will reduce retailers' overhead costs.
Respondents' Profile
The HKTDC Lifestyle Expo in Dubai 2018 was held from 25-26 June 2018. During the course of the two-day event, HKTDC Research canvassed opinions from about 100 buyers and exhibitors participated in the event.
Of all the buyers surveyed, 58% were based in Dubai, with the remainder based in Nigeria, Iran, Egypt, Lebanon and India. They came from different lines of businesses, with the top three being wholesaler (26%), retailer (18%) and distributor (16%).
Of all the exhibitors who were canvassed, 57% were from Hong Kong and the rest were from the Chinese mainland. Click here for the full exhibitor list.
United Arab Emirates
Iran
Kuwait
Saudi Arabia
Middle East