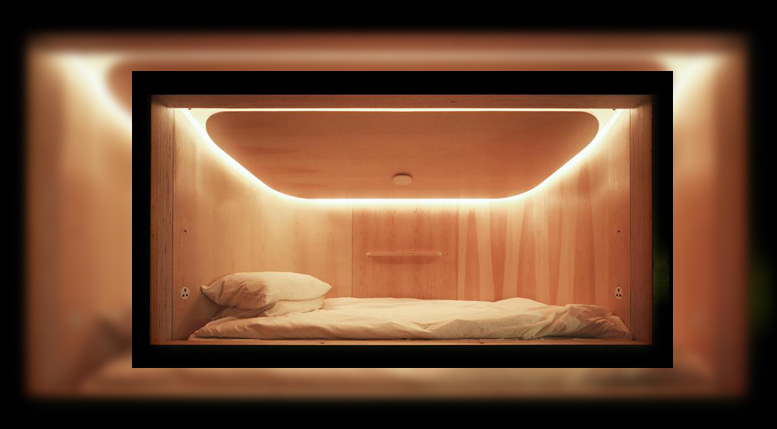 https://hkmb.hktdc.com/en/1X0AF2ZV
Sleep Soundly in the City
Capsule hotel pioneer SLEEEP finds busy Hong Kong generates ample demand from power nappers.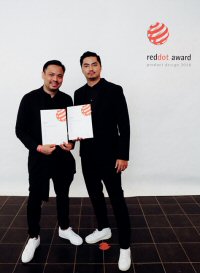 Sleep doesn't come naturally to everyone. Most urban-dwellers simply do not have enough of it, with a detrimental impact on our health. But what if we could power-nap to recharge during the day?

That thought led two Hong Kong social entrepreneurs to establish the city's first licensed capsule hotel, SLEEEP. Leveraging the sharing economy, their innovative concept allows weary travellers or stressed-out business folk to book a bed by the hour in the heart of the city, and have the rest they need.

When SLEEEP opened in Central in April 2016, its "secret ingredient" was the high-tech sleeping pod designed by company co-founders Jun Rivers and Alex Kot. Their patented capsule, the SLPer, recently won a prestigious Red Dot 2018 Product Design Award, and with it the founders were preparing to expand both locally and overseas.

Mr Rivers, an architect by profession who crossed over into information technology, believed the product met a need in urban society. "There are three pillars for wellness: nutrition, exercise and sleep," he said. "We are focused on sleep."

Hong Kong people had an average of 6.58 hours of sleep per night, compared with the world average of 7.14 hours, Mr Rivers continued. Lack of sleep was tied to many health issues – such as obesity, anxiety and depression – but studies had also shown a short nap could improve mood, alertness and performance, he added.
Cosy Interior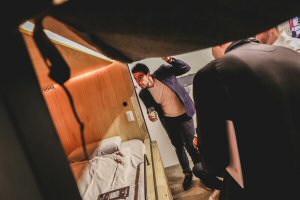 As lead designer, Mr Rivers said the capsule's value lay in its ability to lull people easily into a deep, restful sleep. As evidence, he said the most-booked timeslot was a mere 45 minutes – an option introduced recently in response to user feedback.

The metal-skinned, wood-lined capsule had a full blackout felt curtain for privacy and noise reduction, and was fitted with eclipse lighting with slow transition to minimise unnatural eye stimulation. "Inaudible yet soothing white noise is used to aid falling asleep," Mr Rivers said.

Sensors in each capsule fed user data back to a computer, which automatically adjusted air flow and music to match the stages of sleep. A smart circadian lighting system worked with the body clock to help users wind down, and then gently wake up at a pre-set time. Organic cotton bedding added to the comfort level.

The SLEEEP hotel, which had eight capsules and was available around the clock, was usually "fully booked", Mr Rivers said. Occupants included backpackers, travellers in transit, and city workers such as restaurant staff who needed a nap between shifts.

A recent operational innovation enabled tourists who booked for 24 hours but were out sightseeing for much of the day to vacate their capsule between 9am and 9pm so it could be rented out to someone else. "This is more economical for the user, and benefits other users," Mr Rivers said.

The digital features of the business model also appealed to millennials. Bookings, payments and access to the hotel were all done by mobile devices.
Business Potential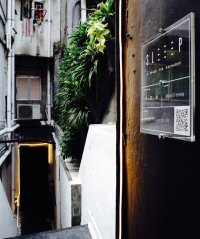 Moving into the B2B market, the partners aimed to build "recharge stations" with SLPer capsules in different parts of the world, "so as to enable people to take a good nap or sleep without having to be home, but anywhere and whenever one needs it".

Given the "seamless guest experience" the sleep capsule offered, its developers saw potential application in hotels, offices, tech-oriented workplaces, co-working spaces, institutions, airports and transit terminals. The capsule hotel market itself was growing, valued at US$159 million in 2016, and forecast to reach US$226 million in 2022, noted Mr Rivers.

The partners were already in talks with interested business partners in Singapore, Switzerland, the United States and Taiwan to rent SLPer capsules on a subscription basis. "Its modular design allows for easy transportation, installation and maintenance," Mr Rivers pointed out.

Following the success of the pilot SLEEEP hotel on Queen's Road, Sheung Wan, a new "home base" with larger capacity was in the pipeline, scheduled for launch in 2019.

The founders have also signed a memorandum of understanding with the University of Hong Kong Psychology Department's Sleep Lab to collaborate on a research project focusing on the psychological effects on napping.

In fast-paced, information-overloaded cities, "we truly believe that high quality, sufficient and efficient sleep can take us further in both professional and personal lives by revitalising our bodies, sharpening our minds, enhancing our creativity and strengthening our resilience," said Mr Kot, CEO of SLEEEP.
Related Link
SLEEEP