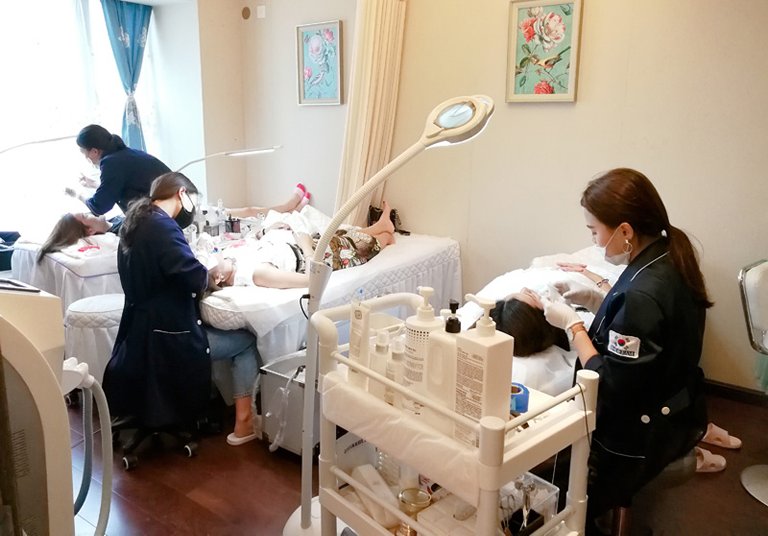 https://hkmb.hktdc.com/en/1X0AF23R
China's Beauty Market: New Era, New Thinking
Interview with Hu Suijun, Founder of Guangzhou beauty group Heji Yiyan
With the beauty market in China evolving at a rapid speed, many of the companies associated with the sector have had to revise their operational models in order to stay viable. The Guangzhou-based group Heji Yiyan, for instance, which was founded back in 2014, has responded to the challenges facing traditional beauty services businesses by adopting the "technology partnership" approach. Under this model, the company works with skilled beauty practitioners who manage their own clients.
Heji Yiyan not only provides general cosmetology, skin management and professional beauty training, it also runs consulting services covering anti-ageing medical treatment and health management. General cosmetology includes semi-permanent eyebrow/eye/lip make-ups, nail and eyelash treatments, all of which require specific skills and aesthetic abilities. The beauty technicians carrying out these treatments generally have more than three years of experience.
Heji Yiyan primarily offers consumers basic equipment-aided skin management treatments. At present, among others, it is equipped with microbubble instruments, large bubble instruments and optimal pulse technology (OPT) skin rejuvenation instruments.
As well as offering cosmetology training, Heji Yiyan has become a learning platform for budding entrepreneurs who want to enter the beauty market. It also acts, in effect, as an incubator for the development of cosmetology projects.
Heji Yiyan founder Hu Suijun spoke to HKTDC Research about her experience of creating a start-up and her views on the latest market trends.
New Formats
One of the most important of those trends is the emergence and success of new business models. Sharing the current situation of the industry, Hu said: "Competition in the industry will get increasingly fierce. In the past, staff working in large beauty parlours didn't have the courage to start their own businesses. They reckoned they might not be able to survive because they only had one skill set. Building a client base and promoting their business was also a worry for them. But now, with the ubiquity of business-referral apps and information channels, everyone can become a 'me-media' and carry out their own promotion, making business referrals no longer a major concern."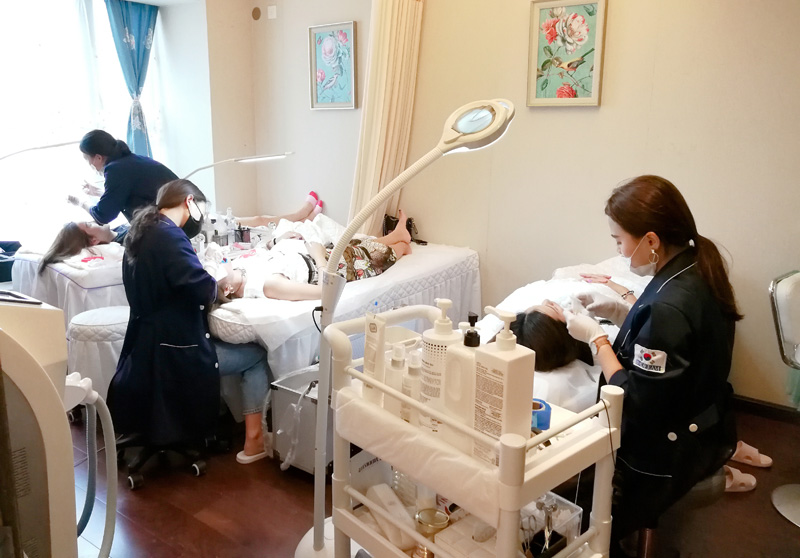 It has also become easier to attract customers without having to open a bricks-and-mortar beauty shop in a prime location. As recently as four or five years ago, consumers were inclined to put their trust solely in traditional beauty parlours and chain beauty shops with street-level shopfronts. Thanks to the rapid growth of the internet, they are now used to searching for information about beauty services online. In these circumstances, shop location has become a less important factor for developing businesses and it has become easier to run a "workshop format" start-up in an upstairs shop.
Another emerging business model in the beauty industry is the house-call service format. Online platforms use apps to connect customers with start-up beauty technicians offering house-call services. This format works best for services that require only simple tools and have no stringent hygiene requirements, such as nail and eyelash treatments, simple skin management and back massages.
Illustrating the effect this particular development has had, Hu said: "The beauty industry has been hard hit. As more and more people start their own businesses, as the market entry threshold gets ever lower and as increasing numbers of associations and agencies run various training and incubation programmes of their own, competition will inevitably get increasingly cut-throat."
Technology Partnership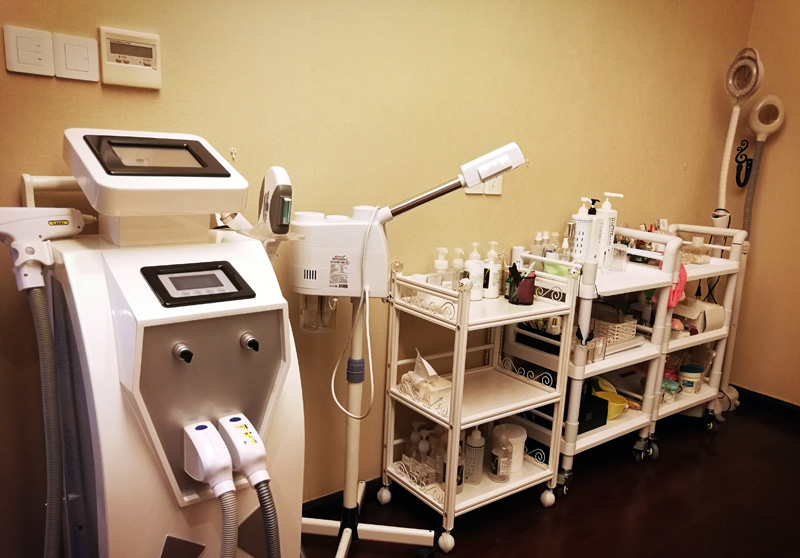 The rate at which beauty companies lose highly skilled beauty technicians is a concern for the traditional sector of the industry. In order to counter this, Heji Yiyan has adopted a "technology partnership" format that aims to stem the high turnover of skilled beauty workers. The partnership the company forms with service providers allows it to share costs with them as well as profits. In practice, this is similar to operating as a platform to generate business.
Hu, as the founder of the business, is responsible for planning and building the company's structure, personnel training, technical training, and overseeing the company's external affairs. The beauty technicians, as business partners, are expected to manage and develop their own client base and share the resources of the workshop through an appointment scheduling system.
Whenever the market looks to be heading in a particular direction and, as a result, the business needs to introduce new services or acquire new equipment, it is usually up to the business founder to make a proposal, with the business partners then involved in deciding whether to go ahead or not. This arrangement allows the beauty technicians to align their interests with those of the business and use their time more flexibly. For the workshop, it means greater efficiency and a smoother approach to long-term business development.
New Directions for Beauty Salon Business
Innovation and Incubation
Heji Yiyan has not just been successful in terms of capitalising on the market trends in cosmetology services, it has also opened up a new market by offering services to aspiring entrepreneurs who want to join the beauty industry. Although many people want to start a business in the beauty profession, the majority have concerns about acquiring the necessary capital and skills. Heji Yiyan provides a platform for these potential entrepreneurs by offering them cosmetological training. In this way, potential entrepreneurs can decide whether they are suited to managing a beauty company before they take the plunge and commit capital to the project. In this way, the risk involved in starting a business can be reduced.
Explaining why her company has embraced this particular route, Hu said: "The original reason was to build up a talent pool that we could use to staff future branches. Secondly, when our trainees mature to the stage where they are setting up their own operations, we want to see investors bankrolling their shops. At the moment, our company has a core group of skilled personnel as well as a wealth of expertise. What we want to do is share these through this type of training, while nurturing those talented individuals who are keen to enter the beauty industry."
Cosmetology training is conducted in different classes according to the type of treatment. An all-round programme lasts one month and covers six types of treatments. There is no prerequisite for joining – anyone interested in learning can pay the fee and enrol, which means that the threshold for market access is quite low. The training is conducted either in small classes or on a one-on-one basis. Once they've finished their training, trainees can undergo a domestic or overseas assessment of their skills and get certified.
Trainees who have graduated can rent out spaces in Heji Yiyan's workshop and use the equipment provided to serve their own clients. If their business proves viable, they can then consider whether or not to enter the beauty profession formally. Issuing a few words of caution, however, Hu stressed: "We are involved only on the training side. The trainees have to develop their own client base and we are not responsible for helping with client sourcing."
Developing Corporate Clients
Heji Yiyan encourages its business partners to make full use of word-of-mouth recommendations and to ask existing clients to bring in new one, with discount coupons on offer as a way of incentivising this. At the corporate level, Heji Yiyan looks to create cross-industry alliances with other businesses with a substantial number of potential clients, and uses discount coupons to develop its client sources. This represents more targeted approach compared to simply marketing via various online platforms.
Heji Yiyan's new treatment services are marketed through open seminars, with the company offering discounts to clients who bring their friends along. This helps to disseminate basic information on new services and new technologies, such as their benefits and how they can be best applied.
As well as maintaining and developing clients, Heji Yiyan also believes in working closely with its peers across the industry. In areas where there is no conflict of interest, each business can send out its own skilled beauty partners to provide services to the other's clients. With the proceeds being divided between the two businesses and their service providers, many of the company's peers are understandably keen on such an arrangement. Explaining exactly how it works, Hu said: "This type of cooperation must be carried out at the corporate level. The companies involved make all the arrangements, with our beauty partners forbidden from arranging to directly accept jobs from other companies."
The rapidity with which the beauty market in China is evolving means that an increasing number of business formats are being trialled and a greater variety of market segments are being targetted. This is forcing the traditional beauty industry to adapt while, at the same time, the internet is allowing consumers to explore a far wider range of beauty brands, a development that has driven many businesses in the sector to actively cultivate word-of-mouth recommendations and other more intuitive approaches as a means of attracting and retaining consumers.
Mainland China
Mainland China