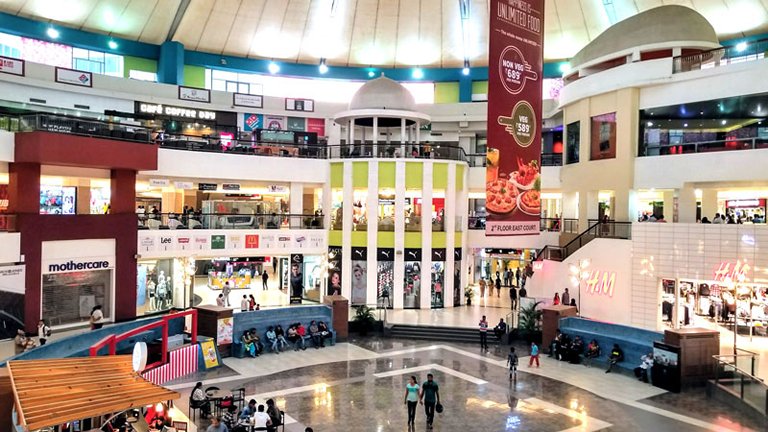 https://hkmb.hktdc.com/en/1X0AEZKJ
Accessing India's Consumer Market: Online and Offline Synergy
While India's fast-changing retail landscape appears dynamic, in particular the sharp discounts offered by top e-tailers, the bulk of sales are still transacted in bricks-and-mortar stores, including numerous neighbourhood or 'kirana' stores, which characterise the country's highly fragmented distribution structure. India's retail market is expected to grow by about 35% over the coming years, from US$634 billion in 2018 to US$857 billion in 2022, according to estimates by Euromonitor, while the value of e-commerce will likely more than double from US$37 billion in 2017 to US$86 billion in 2022. In a separate study by Morgan Stanley, online retail in India is projected to surge to about US$200 billion by 2026.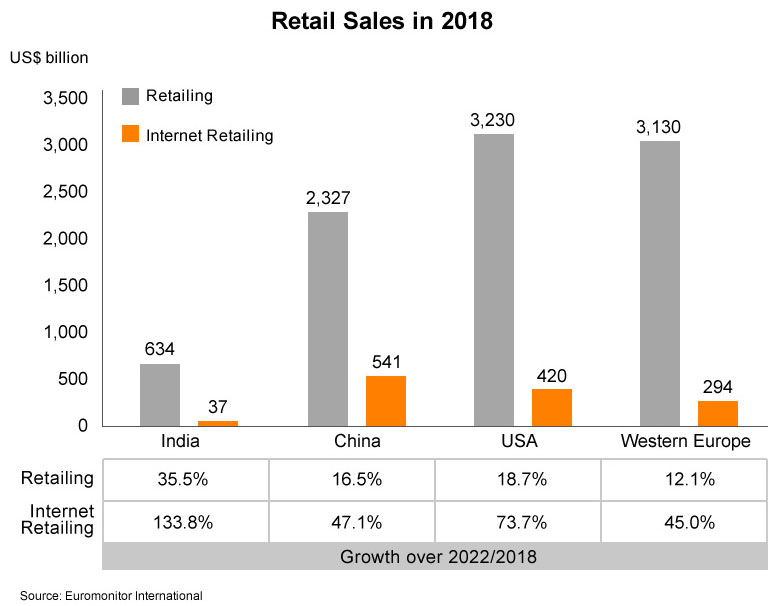 Nonetheless, e-commerce will likely account for at best 10% of total retail sales in 2022, if the Euromonitor projection is any guide, up from about 5% in 2017. Despite the growing uptake rates in Tier-I and some Tier-II cities, e-commerce may take quite some time to fully spread out to all Tier-II and Tier-III cities in India, particularly in terms of raising the average spend per online transaction. According to a BCG report, jointly published with the Retailers Association of India, the number of online shoppers in India crossed the 90-million mark in 2017. Despite an eight-fold increase from 2013, online shoppers represented less than 7% of the Indian population (also see the HKTDC Research article in relation to the different city tiers in Accessing India's Consumer Market: India-Hong Kong Business Collaboration – the Case of DTDC and Buy For Me).
It is noteworthy that India's organised retail currently accounts for less than 10% of the country's total retail sales. Drastic changes brought about by the e-tailer onslaught are expected to be felt most keenly in the organised sector, which operates mainly in Tier-I cites, and to a lesser degree in some larger Tier-II cities. Nonetheless, various attempts to empower the unorganised retail sector with online or e-commerce are also starting to surface.
Hong Kong companies considering India's retail market should take note of the new trend of physical store retailers upping online investment, particularly in light of a big influx of foreign direct investment that has accelerated the transformation of the Indian retail and wholesale structure. Attention should be given to how these trends affect the planned supply of products to India, either through traditional intermediaries, like Indian importers and wholesalers, or directly through cross-border e-commerce platforms. The following sections will discuss the increased tendency of bricks-and-mortar retailers to opt for a holistic online-offline strategy to maximise sales in the face of the e-tailers' challenge.
Overblown Pessimism for Bricks-and-Mortar Stores
In a recent fact-finding trip to India, HKTDC Research was given to understand that the market outlook for bricks-and-mortar retailers in India was not as bleak as implied by numerous headline-grabbing reports. Indian e-tailers have been offering intensive discounts, and have attracted a strong consumer following in some product categories, such as electronics and fashion.
In the meeting with the HKTDC Research, representatives of the Retail Association of India (RAI) expressed little pessimism over business prospects for bricks-and-mortar retailers. This was despite the growth of online shopping in the wake of market consolidation resulting from a national oversupply of shopping malls a few years ago.
The RAI sensed that that omni-channel retailing will likely become mainstream in the Indian market. On the one hand, offline retailers are stepping up investment in online sale channels, and on the other hand, online retailers are amassing offline distribution networks. While big e-tailers or e-commerce marketplaces are seen as having disrupted the entire shopping landscape in India, they have yet to make a big dent to overall retail sales, despite their lack of geographical or shelf space limitation compared to their bricks-and-mortar counterparts.
E-tailers are, for now, merely one additional option for shoppers, and are far from threatening the existence of bricks-and-mortar retailers, aside from predicted collateral damage to some smaller offline retailers.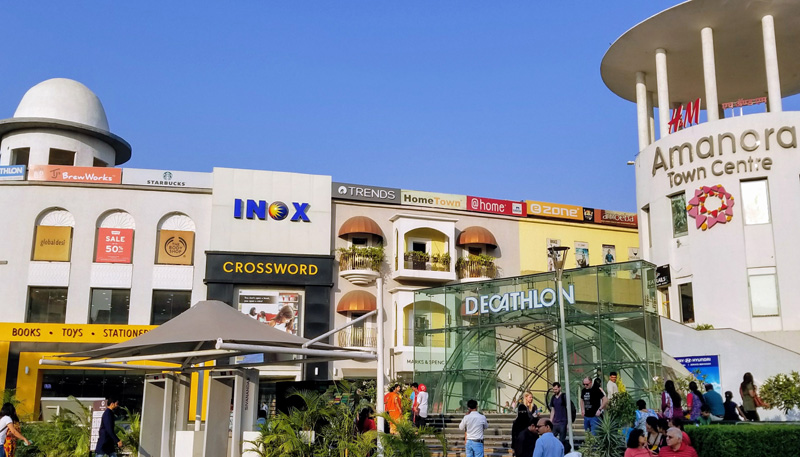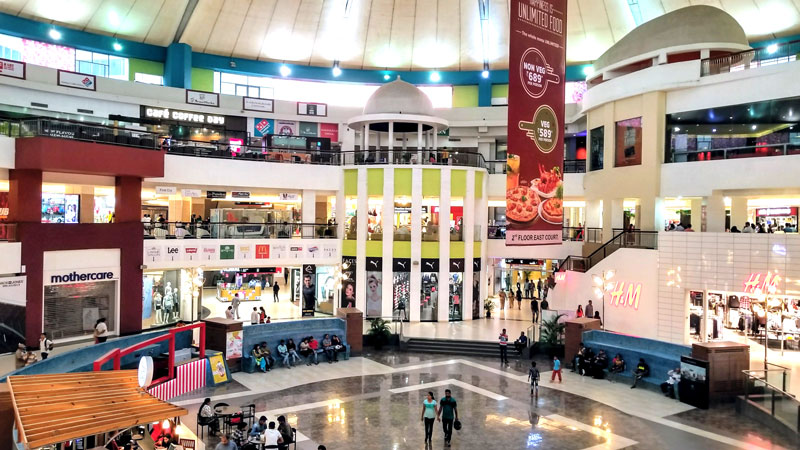 There is a strong sense among Indian consumers that preserving the overall shopping experience is essential for Indian families, despite the fact that Indian consumers are price-conscious and always prefer to seek out value-for-money products. Visiting stores will continue to offer both recreation and utility, with food and entertainment in particular a part of the retail experience, in addition to visiting stores for the tactile experience of examining products first hand.
Another RAI observation on competition between online and offline retailers relates to retail development in overseas markets. Online sales' success in the US market owed much to the fact that there had been considerable over-retailing in bricks-and-mortar outlets, which eventually forced many malls and retailers in different product categories to shut down. The RAI sensed that India, which resembles Europe more than the US in terms of shopping mall developments, may have its own share of over-retailing problems resulting from the 'mall boom', but the retail landscape has become more rationalised in the organised sector over recent years. Larger offline retailers in India have fared relatively well, despite the once shockingly sharp discounts offered by the big e-marketplaces.
The RAI forecast that e-tailing cannibalisation would be more of a problem for general organised trade, rather than unorganised trade. Corner or 'kirana' stores, will be able to retain customers in their smaller neighbourhood, as they continue to offer customised services, taking orders by phone and providing home-delivery. It should be noted that the Indian government gives much weight to the survival of kirana stores in the face of FDI influx and technology advancement. It has devised FDI clauses so that foreign retailers can be let into India to work with and support the kirana sector.
In short, the RAI holds the view that Indian customers have high expectations of the in-store shopping experience, and that retailers will continue to be challenged on various fronts – not just satisfying consumers' primary needs, but also inspiring and entertaining them in a shopping trip. Retailers' interaction with shoppers through a combination of physical and digital channels will have to be innovative, compatible with technology, featuring good design and providing prompt order execution, in order to boost customer loyalty.
Growing Online-Offline Partnerships
Amid the fast-changing landscape of India's retail market, a few developments have attracted the most attention. Firstly, Amazon, the world's largest e-tailer, which ranks second in India in terms of e-marketplace business, has recently undertaken 'Project Udaan' to expand online selling reach in rural and semi-urban areas. One underlying element of this innovative business model is the engagement with offline partners in the kirana sector, medical stores, mobile shopping outlets, as well as local entrepreneurs in hinterland India.
Local store owners are trained to assist rural consumers shopping online with Amazon, with online orders placed from in-store computers. Aside from home deliveries, some stores also double up as pickup points and receive deliveries on behalf of customers, with the ordered products settled in cash at the stores. Amazon's store partners deliver between 20-30 packages a day and in return earn a fixed fee per delivery.
When Project Udaan was first rolled out in 2015, Amazon had only 15 stores in the two states of Maharashtra and Rajasthan. By the end of 2017, the number of stores had soared to some 17,000 in more than 20 Indian states and union territories. For example, logistics service provider ConnectIndia is one among some 20 Amazon partners, and its ConnectIndia Centres now also function as assisted shopping points for customers, apart from being the rural distribution centres for Amazon.
With Project Udaan, Amazon indicated that about three-quarters of its new customers now come from Tier-III cities and smaller towns. This is an impressive inroad into rural India that adds to the overall growth and coverage of the e-tailing market in the country.
Secondly, Flipkart has consolidated its position as the leading Indian e-tailer ahead of Amazon, following the acquisitions of fashion e-tailers Jabong and Myntra, strengthening its hold of the largest share in India's e-commerce market through all of its marketplace and e-tailing channels. Nonetheless, competition between the top e-tailers will persist, given the continual FDI influx into this segment of the Indian retail market.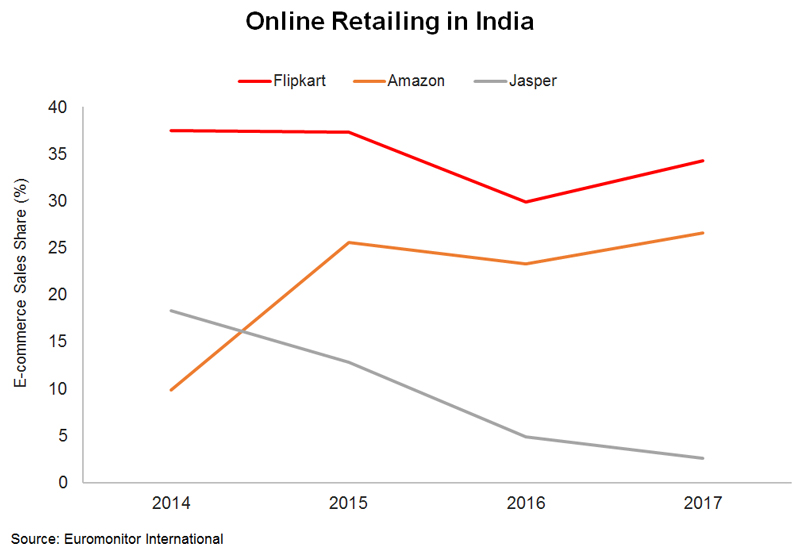 While Amazon may sense that the future of online in India has much to do with offline, particularly Tier-III cities and smaller towns, as seen in the rapid expansion of Project Udaan, it lost out to Walmart in its bid to acquire Flipkart, an e-tailer that has made much headway in garnering market share but has yet to turn a profit. Walmart, by far the world's largest offline retailer, outbid Amazon in May 2018 to acquire more than 75% of the equity in Flipkart. [1]
Walmart may have to wait quite some time before its investment yields a return, as competition with Amazon for larger market share is expected to linger. Nonetheless, it remains to be seen if the intensive discounting seen in the past three years will escalate further, aside from the possibility that Walmart might adopt an integrated approach in strengthening its foray into the Indian market.
Walmart is not entirely new to India, as it currently runs more than 20 Best Price Modern Wholesale Stores in the country, and plans to open 20 more cash-and-carry stores in the next three years. The US retail giant had previously aimed at multi-brand retailing in India through a local partnership, but pulled out.
In July 2018, Walmart opened its second B2B fulfilment centre in Lucknow, after the first one in Mumbai, with the intention of reaching a bigger customer base including kirana stores, restaurants and hotels. According to Walmart India, Flipkart will remain an independent business, managed by the existing team, and continue to be separate from its wholly owned cash-and-carry business.
In response to growing fear that the tie up with Flipkart will spell grave challenges for local cash-and-carry operators, Walmart India noted that the Flipkart partnership will help local suppliers and manufacturers gain access to consumers through the marketplace model, which is officially allowed under the automatic route in marketplace ecommerce model for businesses with 100% FDI (see the section on FDI Restrictions on Retail Operations in India in the article Accessing India's Consumer Market: Capitalising on the E-commerce Boom). Any integrated online-offline strategy is unlikely to take off before official approval of the Walmart-Flipkart acquisition.
Shoppers Stop – Omni-Channel Strategy to Boost Customer Loyalty
In the field trip to India, HKTDC Research also met Shoppers Stop, a leading Indian fashion retailer and department store[2], which is also proactively undertaking a digital transformation process to offer customers an enhanced, personalised and engaging in-store experience, as it rolls out its omni-channel strategy.[3]
In its pursuit of a company-wide digital transformation, Shoppers Stop was keenly aware that many customers were trying to track down discounted items online, as some e-retailers either offered discounted items or exclusive items online in the hope of boosting overall sales. The company believed that it would be better off by maintaining uniform pricing between online and offline platforms, thus removing the need to seek out cheaper prices for the same items, though the company would be flexible in rolling out its product and marketing strategies in different regions in the country. Aside from its own online and offline channels, Shoppers Stop also lists hundreds of its brands in an exclusive flagship store on Amazon's e-marketplace.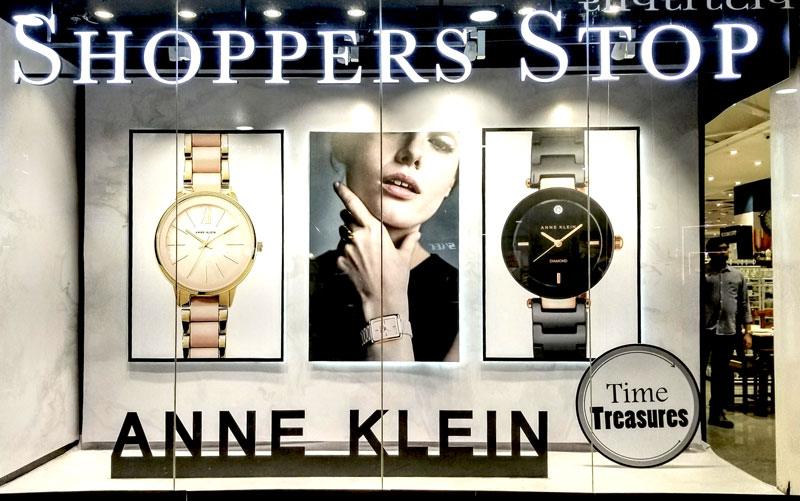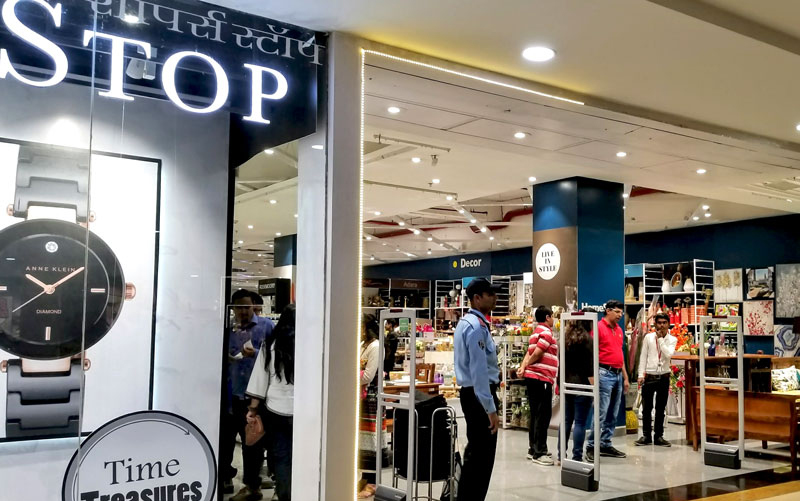 Echoing the RAI, Shoppers Stop also dispelled the pessimism over bricks-and-mortar retail. In its view, 2017 turned out to be a fairly strong year for organised retail on the whole, with footfall and revenue rising amid growing signs of market stability. This was in the context of a number of factors, like the arrival of discounting e-commerce, banknote demonetisation in late 2016, and the introduction of the goods and service tax (GST) in 2017. Price differentials between online and offline retailing were not as wide as feared in 2017, as online discounting turned out not as severe as preceding years.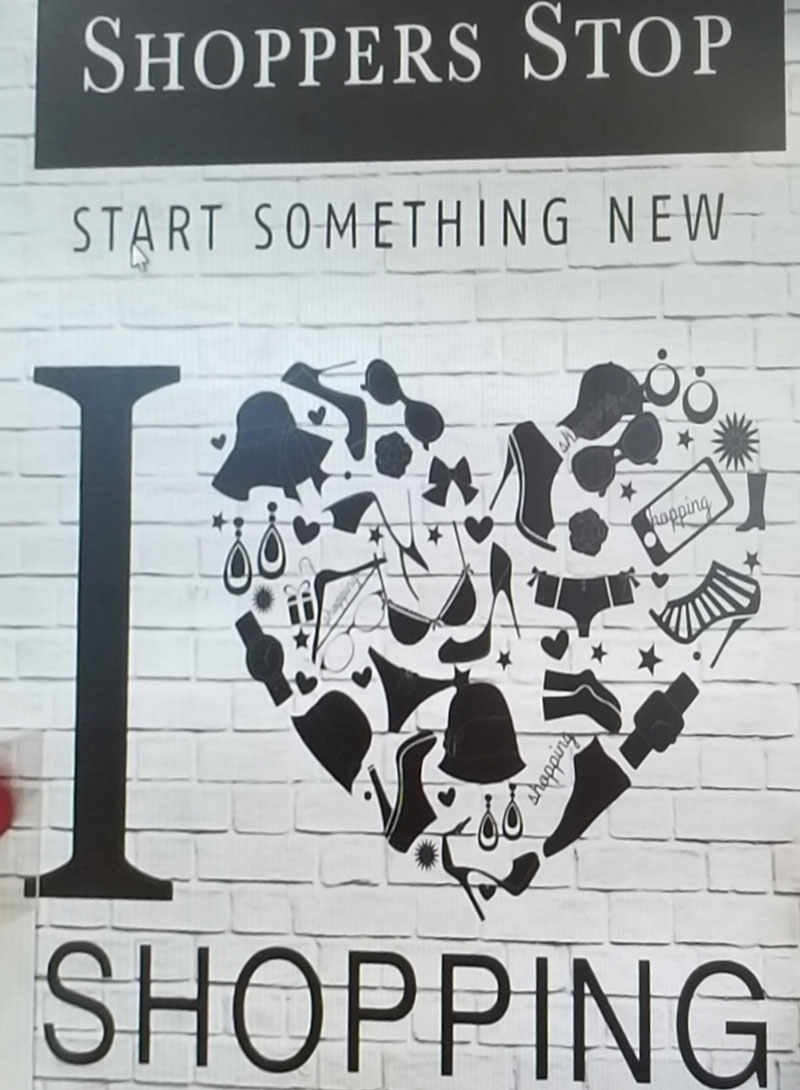 While undertaking an omni-channel strategy to place an increased emphasis on technology and mobile marketing-cum-shopping, Shoppers Stop raised doubts that the intense discounting practices adopted by major e-commerce marketplaces are sustainable in the medium to longer term. There would be a strong need for substantial cash infusion to keep providing discounts to customers, irrespective of whether the cost of feeding such a discounting frenzy was eventually taken up by vendors, credit card companies, the marketplaces themselves, or a combination of them.
In the face of growing competition, especially from e-tailers with ferocious discounting, Shoppers Stop forged a strategic tie-up with Hybris Software back in 2015. It invested in omni-channel technology to provide a seamless and unified shopping experience to customers across its multiple channels, including physical stores, desktop, mobile, television and marketplaces. Shoppers Stop places great importance on its First Citizen loyalty programme, which has millions of members, many of whom have also downloaded the company's mobile app. Shoppers Stop believed that it could target more focussed, personalised in-store promotions to customers based on aggregate data.
In a further bid to enhance the customer journey, Shoppers Stop has engaged Cisco Mobility Solutions to gather insights into customer preferences and optimise resources to offer enhanced personalised experiences to customers. This includes creating a single view dashboard of connected customers in its store. Specifically, Shoppers Stop aimed to drive digitally influenced store sales while providing a seamless shopping experience across online and offline, deepening customer loyalty and boosting sales through location-based services, targeted advertisements and advanced analytics, such as effective in-store tracking.
While accelerating the digitisation of its physical stores, Shoppers Stop has set a company target of 20% digitally-influenced sales by 2020, half of which will come from online sales. The company expects its listed brands partnership with Amazon to help these online sales. The company was optimistic about retaining shoppers and generating sales through its customer loyalty and digital transformation programmes, believing that more consumers across the country would discover Shoppers Stop through its digital shopping channels.
While Shoppers Stop currently has no Hong Kong suppliers, it is quite willing to consider suppliers who can provide new, innovative, price competitive products, as they still go to regional and international trade fairs to find new products and suppliers. The company saw large trade fairs in Hong Kong as attracting more international exhibitors compared with smaller regional events.
In parallel with nurturing customer loyalty, Shoppers Stop is inclined to retain dependable overseas suppliers and exporters. Like customer loyalty, it sees trust and dependability as key in its relationship with suppliers, and Shoppers Stop is keen to cultivate cooperative working relationships.
As far as the home segment was concerned, Shoppers Stop said the bulk of goods were imported, with China, Turkey and the US being the most important sourcing countries. The company expected the import share for premium products to keep increasing, with China's importance as a sourcing market continuing to grow. Against the broad background of highly price-conscious consumers, Shoppers Stop sensed that there is now a growing body of Indian customers willing to try innovative products within affordable price ranges, boding well for luxury or premium brands in their big-format stores.
Xiaomi – Boosting Smartphone Sales with an Expanding Offline Network
In the article Accessing India's Consumer Market: Capitalising on the E commerce Boom, HKTDC Research sampled the phenomenal growth of Chinese smartphone-maker Xiaomi in India as an example of a foreign brand making an effective foray into the Indian market. Xiaomi relies not just on commanding price-competitive products, but also effectively leveraging available online platforms and marketplaces in the local market. Entering Q1 2018, Xiaomi continued its lead in smartphone sales in India, after dethroning Samsung in Q4 2017, the previous market leader in smartphone sales for six years, thanks in part to further expansion in the offline channel aside from having introduced some popular models.
Meanwhile, Xiaomi is relishing an online-cum-offline strategy to solidify its hold in the Indian market, expanding its retail presence by adding more preferred partners, new Mi stores and service centres, as well as partnering with large format retail stores. Currently, some 80% of the company's sales come from the online route, with the share shrinking from 95% in less than a year. The company expects its online sales to decline to about 70% while offline presence is being further expanded. Apart from 14 proprietary stores, Xiaomi has garnered more than 1,000 sales points in India, achieved primarily through franchisees in 15 cities. The trend of omni-channel retailing is gathering pace in India.
More Cross-Border E-Commerce Platforms Targeting India
In the previous article, Accessing India's Consumer Market: India-Hong Kong Business Collaboration – the Case of DTDC and Buy For Me, HKTDC Research noted that India was a difficult market for many Hong Kong suppliers and exporters, suggesting that they look into cross-border e-commerce platforms as a viable option to explore the market there, citing the example of Bfme.in, a successful Hong Kong/India business collaboration.
Chinese companies have yet to enter the Indian market in earnest via cross-border e-commerce platforms, but this may change with Indian company Paytm Mall[4], which started to market its cross-border e-commerce platform in China recently. Paytm Mall, which is backed by Alibaba, allows vendors to quickly set up a storefront in the e-marketplace, with an easy and intuitive dashboard to help manage storefront activities.
Summary
This article examines several major developments in India's retail market, noting attempts by Indian companies and overseas investors to integrate online and offline business. The importance of creating a seamless, personalised shopping experience is a growing trend in India. With considerable investment in new retail channels Hong Kong companies could leverage this new development in exploring the Indian market.
The key remains being able to supply innovative, value-for-money products to Indian consumers, who still place great value on the experience of in-store family shopping, while also enjoying the convenience and price incentives of online platforms. While cross-border e-commerce is on the rise and worth trying in the Indian market, bricks-and-mortar shops still hold the sway in terms of overall retail sales.
---
[1] The Competition Commission of India approved in early August of 2018 the acquisition by Walmart of Flipkart, after the deal was first announced in May 2018. This will pave the way for the biggest corporate takeover in India.
[2] Shoppers Stop operates big-format fashion retailing stores, and home retailing stores, Homestop. It carries many international brands, including MAC, Clinique, Estee Lauder, Bobbi Brown, Smashbox and Crossword.
[3] In its preparation for new technology and the omni-channel infrastructure, K Raheja group firm Shoppers Stop sold its stakes in Hypercity Retail, Timezone Entertainment and Nuance Group India in 2017. The stake in Hypercity Retail was acquired by Kishore Biyani-led Future Retail, one of India's top offline retailers, which planned to operate some 20 large-format premium stores in key Indian cities.
[4] Paytm, headquartered in Noida, India, specialises in e-commerce payment systems and digital wallets. Available in 10 regional Indian languages, Paytm offers users a variety of online payment options as well as in-store payments through the Paytm QR code in millions of retail outlets, many of which are unorganised. The company is also engaged in e-tailing.
India
Other Asian Countries