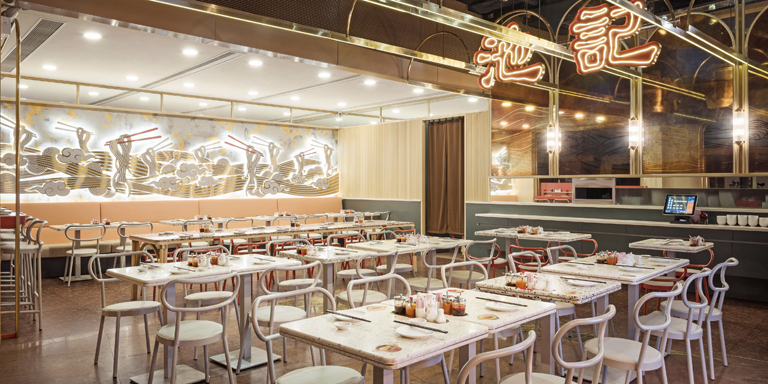 https://hkmb.hktdc.com/en/1X0AEWA2
Design the "Possible Mission" from "Mission Impossible"
Unite Unit partners knew the Chinese mainland market was critical but hard to penetrate without network; an HKTDC event proved to be their entry ticket.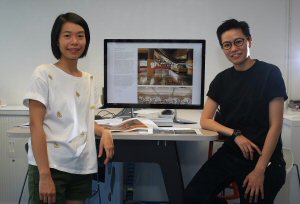 It is always said: "Do not buy a pig in a poke."

Everyone knows buying a pig in a poke is something we should avoid, what about doing interior design without seeing the premises in person?

"It was impossible to finish the interior design project in Hangzhou without going there. But the whole project was eventually done by just looking at photos and communicating through emails and calls," Unite Unit Limited co-founder and interior designer Keikko Lee said, recalling the firm's first project on the Chinese mainland.

Maybe success always involves doing something impossible.
Success through Social Networking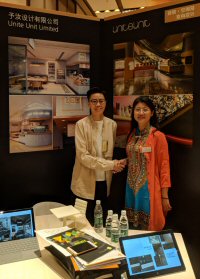 Wearing T-shirts and jeans, it is hard to imagine Ms Lee and company co-founder Rosetta Lau are already in their 30s and have worked in the design industry for 10 years. They did interior design for food and beverage outlets until 2015 when they founded their own company, serving such big brands as fashion label Cozzi and famous wonton noodle shop Chee Kei.

Ms Lee and Ms Lau, who have gone from being colleagues to business partners, did not think of setting up their own company for some time after studying product design at university.

"We were working in an architecture firm doing interior design for the food and beverage industry. After some years, I quit the job and became a freelancer," Ms Lee said. Not long after, Ms Lau quit her job as well and freelanced with Lee. They began receiving many commissions and founded Unite Unit Limited.

The partners put their own hard efforts into founding their business and have discovered their business continues to grow through their social network.

In its first year, the company had many commissions, but business came to a sudden halt in the second year. "We didn't have a single job, every day was very boring at that time," Ms Lau said. "During the worst period, Keikko even thought of working part-time in a coffee shop to earn a living." At the height of their hardship, a previous client brought a commission. "This saved us at that moment; the client later referred a lot of commissions to us which helped our company grow rapidly," she reminisced.
Trade Fairs offer Gateway to Mainland Market
Since then, the company has mainly focused on Hong Kong. Any mainland projects are for Hong Kong-based clients. Despite this, the founders understand that the mainland market is vital in developing the business.

"In Hong Kong, most of the food and beverage brands are chain stores, they provide little room of creativity. Also, the operation costs in Hong Kong are too high so they would rather spend little on interior design. But it's totally another story on the mainland. The market there is very big, with much investment and land; this allows a diversity of small brands to develop, greatly encouraging creativity," Ms Lee explained.
Market Tough Nut to Crack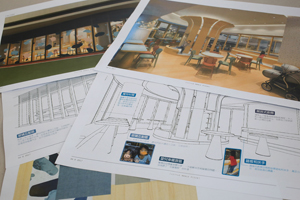 "Word-of-mouth is the main way to expand business in the industry of interior design. We have the network in Hong Kong but not on the mainland," Ms Lee said.

This "impossible" became "possible" after they participated in the SmartBiz Expo organised by the Hong Kong Trade Development Council (HKTDC) in December 2017.

"Our friend suggested we join the design- and creativity-related events organised by HKTDC which connect businesses, so we tried," Ms Lee said. Expecting to reach out to potential clients, Ms Lee and Ms Lau found they also met many designers and materials suppliers, which helped establish their network. The most exciting thing was they received their first mainland commission.

"There was a Qianhai exhibition area next to our booth. While Qianhai is an incubator of mainland start-ups, there was an exhibitor who loved our design," Ms Lau said. The company is a 2,000-square-foot family restaurant in Hangzhou selling healthy "Whale Pizza".
Challenging the Impossibles
Striking out into the mainland market, Ms Lee and Ms Lau encountered many "impossible" obstacles.

Interior design involves integrating the environment and people; every aspect of the environment such as lighting affects the project. It is a common practice for designers to choose the materials and supervise the construction process in person. But this project was conducted entirely through emails and phone calls, making it an "impossible".

The client could not afford to bring Ms Lee and Ms Lau to supervise the project in Hangzhou. "We haven't tried something like that before, the project has gone through five months, and we only communicated by emails, calls and WeChat," Ms Lee said. Taking on the project was a difficult choice but they decided to give it a try, hoping they could reach into the mainland market.

Long-distance design is never optimal but patience and paying attention to detail are what matters.

"When brainstorming the idea, we took a lot of time doing research based on the client's thoughts and pictures given. We proposed two to three ideas for the client's approval before proceeding," Ms Lee said. For example, as the theme of the restaurant was a little whale and the client wanted a photo-opportunity area where guests could take photos and upload on to social media, the designers prototyped two little whale models for the client to choose from.

"When choosing the material, there will always be colour deviation between the photos sent from suppliers and the real thing. So, we can only spend more time communicating with the suppliers. I remember we had many WeChat groups at that time talking endlessly about the project," she said.
Initiating Discussion for Better Results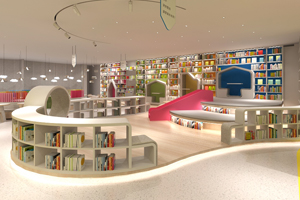 Earlier this year, the partners signed a two-year contract with Whale Pizza's owner. The same client commissioned them for another project in Beijing. "Words & Wonders" combines a food and beverage establishment with a book store in Beijing. Then the designer duo was also recommended to other mainland clients.

Ms Lee concluded they had gained their client's trust by initiating necessary discussions and expressing their opinions.

"Designers from Hong Kong are more willing to express their opinions. Just like what we did for the project of 'Whale Pizza', the client disagreed in the beginning with our proposal of using a specific material for floor boarding, but after our explanation, she eventually accepted our proposal and specifically appreciated our attitude," Ms Lee said.
"Made in Hong Kong" Possible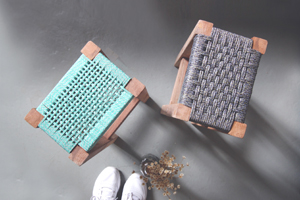 Ms Lee and Ms Lau believe their mainland client base will double in the coming year or two. But they admitted still having to learn how to handle business with mainland clients. "The Internet is extremely important in the mainland market and we need to get more ideas," said Ms Lee. The pair joined an outbound mission the HKTDC organised to Hunan in July to seek opportunities on the mainland.

Besides expanding into the mainland market, the Unite Unit founders have another "mission impossible" in their hearts. "We hope that we can design a product ourselves, a product made in Hong Kong. Understanding it will cost a lot of time and money, we are planning to have a prototype before the year ends," Ms Lee said.

The HKTDC will hold a creativity expo called DesignInspire on 6-8 Dec this year. The expo covers architecture, interior design, brand management, print and package design and marketing, with opportunities to share ideas on market trends. The expo encourages innovation and creativity both within the industry and among the public.
Design Services
Architecture & Planning
Food & Beverages
Hong Kong
Mainland China