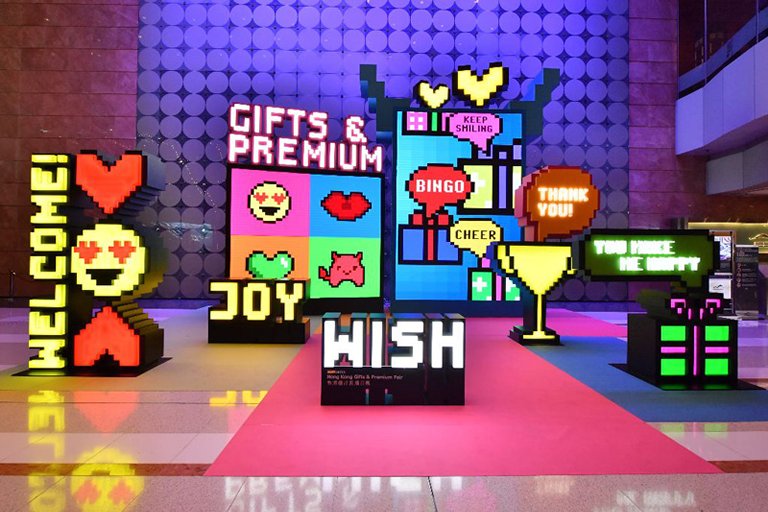 https://hkmb.hktdc.com/en/1X0AEL36
2018 Outlook Upbeat Despite the Ongoing Sino-US Trade Dispute: The Hong Kong Gifts & Premium Fair Survey
A poll of 944 buyers and exhibitors at this year's Hong Kong Gifts and Premium Fair suggested that optimism is rising in the industry with regard to the 2018 market outlook, despite the escalating trade dispute between the US and the Chinese mainland.
Those surveyed expressed rising confidence in nearly all the major overseas markets, except the Chinese mainland, India and Central and Eastern Europe. Both buyers and exhibitors, however, expected to see higher prices (retail and FOB) and therefore higher sourcing and production costs.
While promotional gifts and premiums continued to show the greatest growth potential, figurines and decorations were seen as the most popular in terms of online sales. It was also clear that e-tailing is becoming increasingly popular among gifts and premiums traders.
Overall, buyers remained highly satisfied with Hong Kong's gifts and premiums suppliers, and were especially satisfied with their service levels, compliance with environmental regulations/standards and product quality.
Confidence High Despite Trade Turbulence
While the US appears to continue ramping up trade tensions with mainland China, as well as with many of its own closest allies, most – if not all – gifts and premiums products are not covered by either the punitive tariffs by the US or the retaliatory measures by mainland China has helped maintained the confidence of many in the industry amid the continuing China-US trade spat, with 56% of respondents believing that the friction between the two countries would have no negative impact on exports. By contrast, only 32% were pessimistic about the outlook for exports, while 12% believed that export levels could actually rise.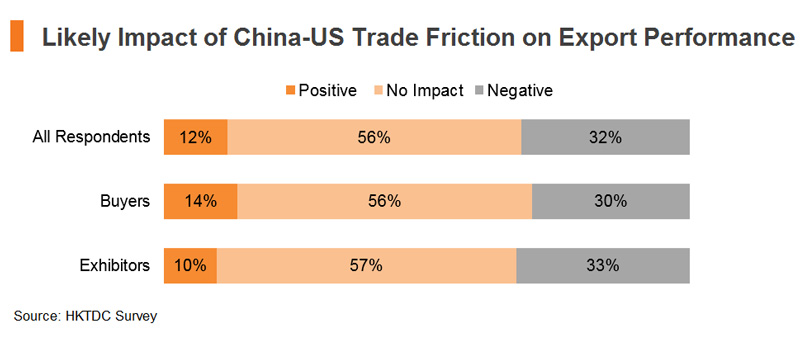 In total, 92% of buyers and 94% of exhibitors expected their overall sales to increase in 2018 or maintain the same level as the previous year. This represents a slight rise on the 91% of buyers and 92% of exhibitors who gave the same answer to the question in the 2017 survey. Additionally, only 7% of buyers and 2% of exhibitors anticipated a decrease in sales – a notable improvement from last year, when 9% of exhibitors expected sales to fall.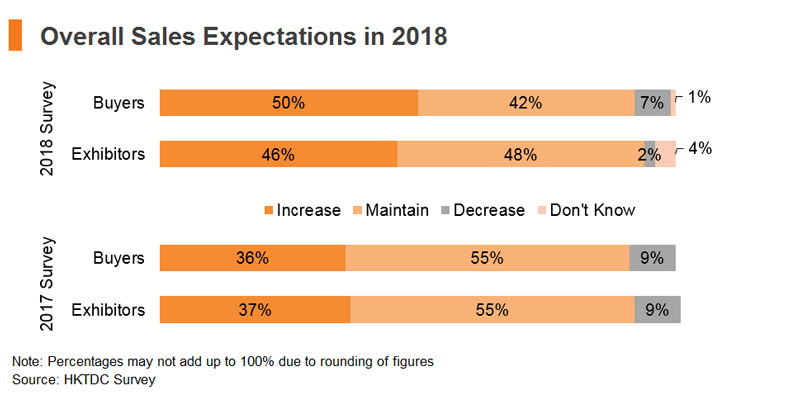 In line with this rosier market outlook, buyers' sourcing costs this year look set to rise, with a net 57% (59% minus 2%) of buyers preparing a bigger budget, up from 44% in 2017. At the same time, a net 45% (49% minus 4%) expected an increase in the unit retail price, up from 24% last year. Similarly, the upward pressure on exhibitors' production and sourcing costs was seen as likely to continue, with a net 53% of respondents expecting an increase for 2018, up from 48% (49% minus 1%) in the 2017 survey. Similarly, a net 26% (31% minus 5%) of exhibitors expected a rise in exhibitors' FOB (free on board) prices.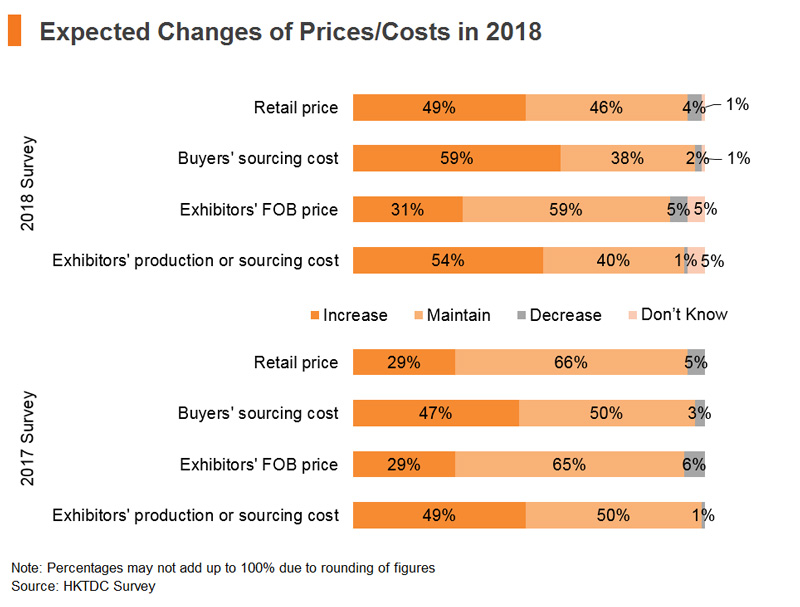 During the course of the survey, buyers were asked to rate the prospects of a number of different global markets on a scale of 1 to 5, with a "1" indicating that the market would be "very unpromising" for the next two years and a "5" indicating "very promising".
The expected outlook for all the developed markets showed signs of improvement, headed by Japan at 3.76, followed by North America (3.65), Australia and Pacific Islands (3.62) and Western Europe (3.62) and South Korea (3.61). It was a similar story in the majority of the emerging markets, with the ASEAN bloc leading the way at 3.65, followed by South Africa (3.64), the Middle East (3.63) and Latin America (3.54). In certain other emerging markets, however, a different picture emerged, with mainland China falling marginally to 3.67, and several others having a notable decline – India (3.24) and Central and Eastern Europe (3.14).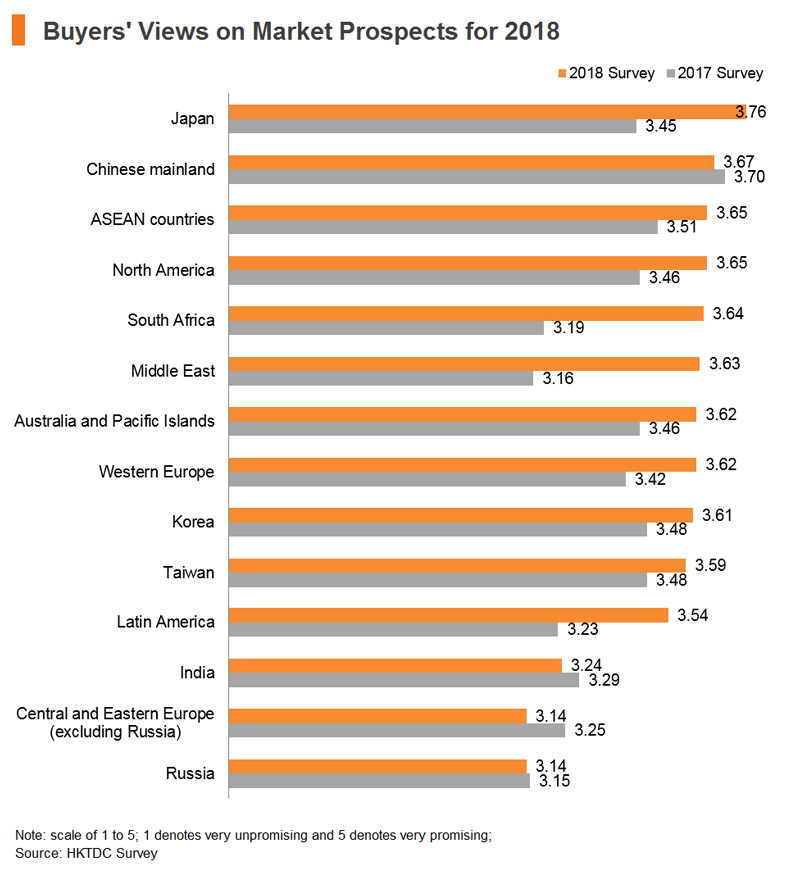 Promotional Gifts: Greatest Growth Potential
Promotional gifts and premiums continue to be seen as having the greatest growth potential, with 13% of respondents backing this category (a slight fall from the 14% who expressed the same sentiment last year). Tech gifts (11%) and figurines and decorations (10%) ranked second and third on the list of categories, while the numbers choosing toys and sporting goods (9%) and iAccessories (8%) showed significant year-on-year increases.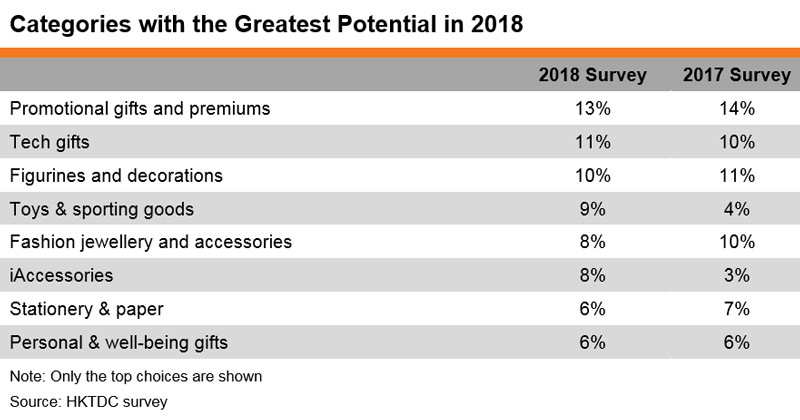 Figurines and Decorations: Best E-tail Performers
E-tailing is becoming increasingly popular among gifts and premiums traders, with 54% of this year's respondents active users of this channel, a dramatic increase on the 19% recorded for the 2017 survey. Among those who have not yet begun e-tailing, 16% indicated they had plans to do so over the next two years, up from 8% last year.
Among those who engage in, or who are going to engage in e-tailing, 24% said they sell (or would sell) figurines and decorations online, up from 14% last year. Fashion jewellery and accessories (18%), promotional gifts and premiums (17%) and toys and sporting goods (16%) were also popular with e-tailers.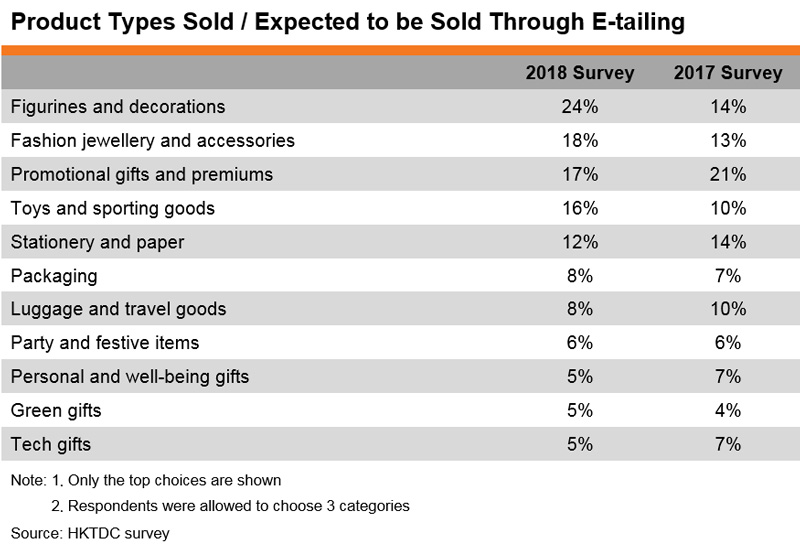 Hong Kong Suppliers: Highly Rated
Buyers remain generally satisfied with gifts and premiums suppliers from Hong Kong, although there was a slight drop in the rating for compliance with safety regulations/standards. On a scale of 1 to 5, buyers gave ratings of 3.88 to 4.08 across a range of performance indicators in the 2018 survey, slightly up from the range of 3.66-3.99 in the 2017 survey. They were most satisfied with Hong Kong suppliers' service levels (4.08), compliance with environmental regulations/standards (4.05) and product quality (4.03).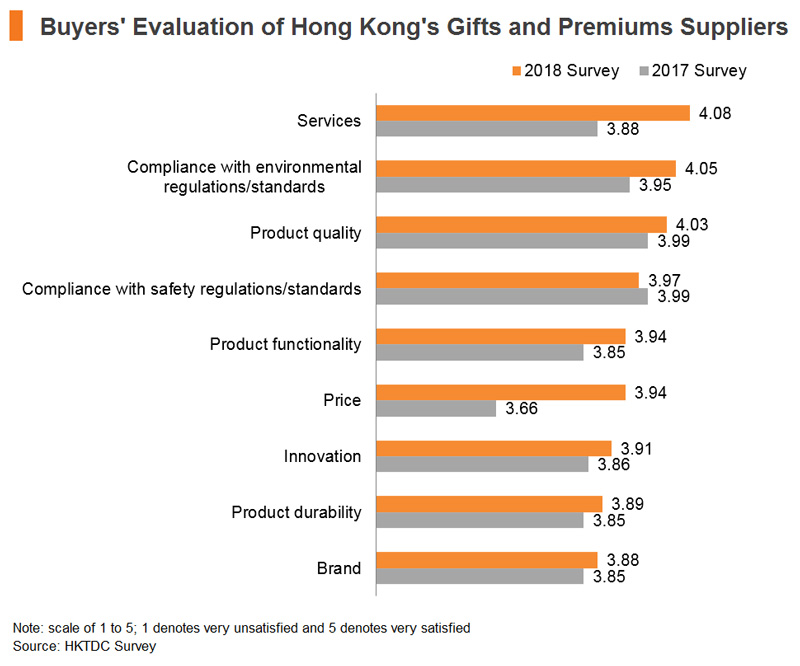 Profile of Respondents
441 exhibitors – 33% from Hong Kong, 45% based on the Chinese mainland, 19% from other Asian countries, 3% from the rest of the world.
503 buyers – major markets in Chinese mainland (45%), Asia outside of Chinese mainland and Hong Kong (42%), North America (34%) and Western Europe (32%).
The HKTDC Hong Kong Gifts & Premium Fair took place from 27-30 April 2018 at the Hong Kong Convention and Exhibition Centre.