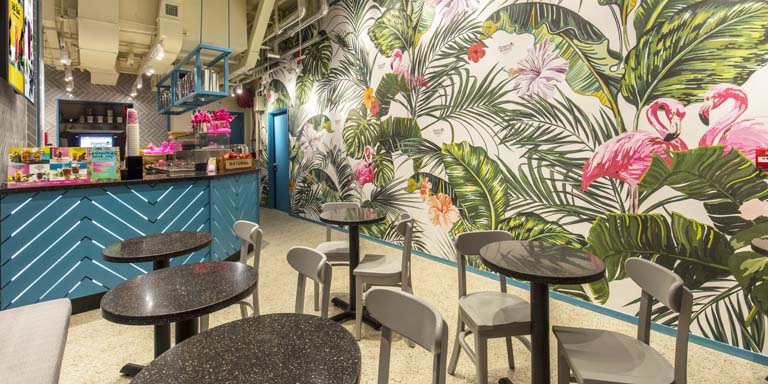 https://hkmb.hktdc.com/en/1X0AEK75
Perfect Time for Tea
Premium and fresh products are the secret ingredients for contemporary Chinese tea salon Flamingo Bloom's appeal.
With an emphasis on fresh ingredients – all its menu items are made using freshly-brewed tea, fresh milk and fruit – Flamingo Bloom has proved a popular destination for those looking for flavourful healthy beverage options. Providing a contemporary twist on the traditional Chinese tea salon, its four premium base teas – Jasmine Green Tips, Highland Oolong, French Rose Buds and Chrysanthemum Pu'er – are mixed with fresh fruit, boba pearls, or made into a latte. These Instagram-friendly drinks, frequently accessorised with salted milk caps and stripy straws, are accompanied by healthy menu items like matcha melon, half a honeydew filled with fruit, matcha and granola.

Since setting up a year ago with its first salon in Central, the brand has opened another larger space in Tsim Sha Tsui, its first overseas outpost in Malaysia and, a store at the ifc mall this month. Founder Louisa Wong says that while the rental costs are expensive, securing a space inside one of Hong Kong's most prestigious malls is a good endorsement for the brand. A three-day promotional campaign with free floaties for drinks purchased over HK$33 saw customers queueing out the door, and the brand played on its name and logo with Flamingo flip-flops to mark the opening of its fourth space.
Cornering the vegan market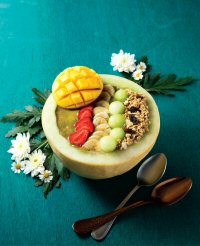 Flamingo Bloom has added vegan-friendly beverages and smoothie bowls to its menu, both of which have been well received, says Wong. "We discovered there are some kids or adults that can't have tea, as it keeps them awake. So we thought, 'why don't we do some milk-based drinks?' but then some people are lactose intolerant and some can't drink soya milk because of the high oestrogen levels, which is why decided on almond milk. We didn't realise almond milk was actually vegan but are now promoting it as such because there's a growing demand for vegan beverages," she says. These almond milk drinks are named "Zero" as there's zero added sugar and zero caffeine. Being vegan-friendly has helped attract the right crowd to its salons, adds Wong.

Less than 12 months since the brand was established, Flamingo Bloom opened its first salon overseas in Malaysia this May with a local partner, and there are plans to open two more in the country this year. "Even though we're in a quality mall, the operating costs in Malaysia are so much lower – about a third of what we pay in Hong Kong – so it's easier to reach sales targets." In Malaysia's tropical climate, cold teas mixed with fresh fruits have proved popular, says Wong. She adds that Malaysians have much sweeter taste buds than Hong Kongers, so it has tweaked the recipes to account for this difference.

Having successfully established a presence in Malaysia, the next stop for the fast-growing tea salon is Melbourne. "We want to have at least one store by the end of year in Melbourne, and we're also looking at Sydney and Singapore."
The challenges of growth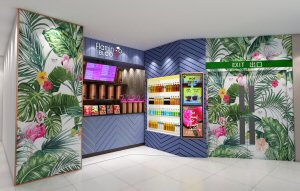 Opening four salons in a year, including one overseas, has bought its own challenges, including finding the right staff and dealing with the competition. "In Central, another two tea shops have opened on the street right above us, and on Lyndhurst Terrace, two streets down, there's some others. They're offering similar products to ours but some use synthetic flavours so the content isn't there." Flamingo Bloom hopes to retain its customer base by focusing on its quality, telling shop managers to emphasise the focus on fresh ingredients.

In the first year of Flamingo Bloom's business, one of the biggest lessons learned has been the importance of location, Wong says. "Even if you're growing fast, you have to make sure to do a lot of research into the locations of the business. In Tsim Sha Tsui, we have a much bigger shop, but the traffic flow during weekdays is not as great as in Central, and neither is the purchasing power of the customers there. Having said that, weekends and evenings are doing very well, so that balances things out."

While many businesses at this stage in their development would be looking for investors, Wong says they prefer to be self-funded and work with partners overseas.

"We're partnering with people with a proven track record and a bit of money behind them; we don't want to work with partners that are inexperienced, or happy to just open one or two shops. We feel Malaysia, for example, offers much more growth potential."
Quality is key
Wong believes that the company has been able to expand at such as rapid rate due to its emphasis on fresh ingredients, eschewing powdered tea and milk in favour of the real thing and utilising all of the fresh fruits, not just the juice, in its teas, smoothies and other menu items.

Only using fresh ingredients does place some restrictions on the brand, however. "We have a lot of pop-up requests to prepare up to 500 teas, but we can't, as we don't use cold pressed juices and do everything fresh. We can only bring fruits and do it on site, so there's some limitation. But this is our product, and we don't want to premix our juices," says Wong.

As for what advice she can offer to entrepreneurs looking to set up an F&B business in Hong Kong, Wong is modest about her achievements. "I don't know if we're successful yet – we will see in five years. What I can say is it's important to be creative and innovative. Make sure you have your numbers in order and and don't be overly aggressive with the costings. Bear in mind, too, that when you're opening a shop or restaurant, you'll probably need an extra six months' working capital, as not every shop is an instant success."

Related Link
Flamingo Bloom