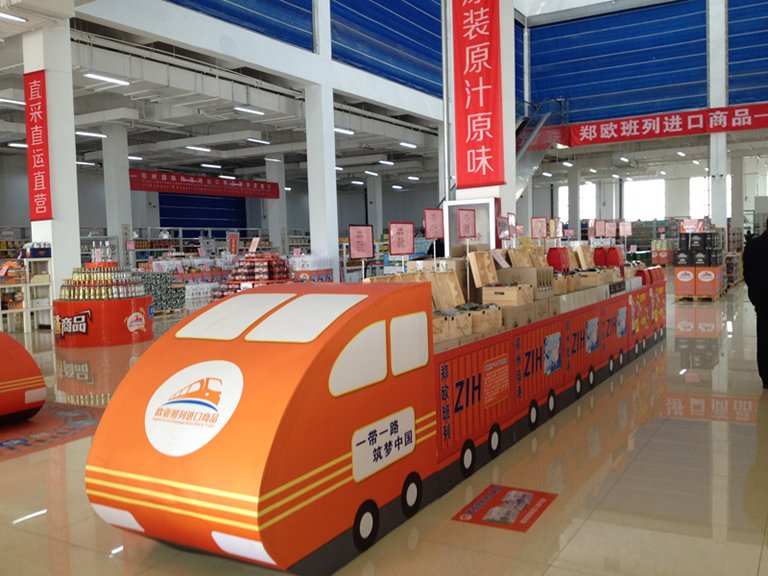 https://hkmb.hktdc.com/en/1X0AEI2G
Zhengzhou: The Silk Rail Road Gets on Track
Zhengzhou is the capital city and economic hub of the central Chinese province of Henan. In 2015, China's Central Government published the Vision and Actions on Jointly Building the Silk Road Economic Belt and 21st Century Maritime Silk Road (or Belt and Road Initiative, BRI), which aims to encourage inland cities such as Zhengzhou to build international land ports in an effort to strengthen links with coastal and border ports over customs clearance issues.
To try to take advantage of the opportunities offered by the BRI, the Zhengzhou-Europe Railway – also known as the China-Europe Railway Express (Zhengzhou) or CR Express Zhengzhou – was launched. The aim was to become part of the Silk Road Economic Belt and establish logistics distribution networks both within China and overseas. Currently, the Zhengzhou-Europe line operates a balanced schedule of inbound and outbound trains as well as regular cold chain services. It is now entering a new stage of development, with its "one main line, three branch lines" multimodal transport system serving as a model for other CR Express lines in the country.
A New Overland Silk Road
CR Express trains operate on the Chinese mainland via three routes: the west route through Alataw Pass in Xinjiang, the central route through Erenhot in Inner Mongolia, and the east route through Manzhouli. Zhengzhou-Europe trains start at Zhengzhou and pass through the two entry-exit ports of Alataw Pass and Erenhot, using the west and central routes. The Zhengzhou-Europe line then passes through Kazakhstan, Mongolia, Russia, Belarus, Poland and Germany. Along the way the trains go through customs twice and also switch tracks twice. When the service was first launched, Hamburg in Germany was the last stop. In August 2017, a new line linking Zhengzhou with Munich came on stream.
Rail transport via the Zhengzhou-Europe line is faster than sea transport and cheaper than air. It takes about 15 days from Zhengzhou to Germany via the Zhengzhou-Europe line - about three to four weeks less than travelling by the sea route. The cost of railway transport is anywhere between 20% and 80% that of air transport, and the heavier the cargoes the bigger the saving.
The Zhengzhou-Europe Railway is operated by the Zhengzhou International Land Port Development and Construction Co Ltd (Zhengzhou Land Port) under a so-called "five fixed" business model (that is, fixed train stations, routes, numbers, schedule and price). Although Zhengzhou-Europe trains have yet to offer a customised service, they are the first CR Express trains to provide a "door-to-door" delivery service by co-operating with domestic and foreign partners.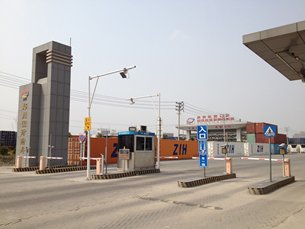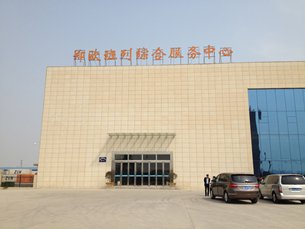 Balanced Train Schedule Tops China
The Zhengzhou-Europe line has been operating since July 2013. In its early days, its trains mainly ran outbound. But from 2015, the number of inbound trains began to increase until, by 2017, they had risen as a share of the total number of trains from 38% to 47%. In 2017, there were eight outbound and eight inbound trains on the Zhengzhou-Europe line each week. A total of 501 trains ran between Zhengzhou and Europe in 2017, of which 266 were outbound and 235 were inbound, one of the most balanced schedules of inbound and outbound trains of all the China-Europe lines. The Zhengzhou-Europe line plans to run 650 trains in 2018 and 1,000 trains by 2020.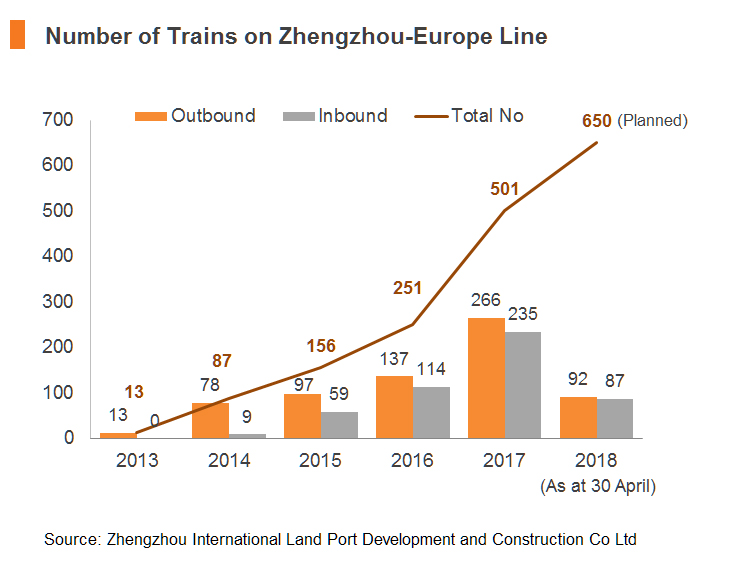 The Zhengzhou-Europe line is now ranked highest among all CR Express lines in terms of the number of journeys, freight value, freight volume and full load rate. The number of trains running on the Zhengzhou-Europe line doubled from 2016 to 2017, reaching a total equivalent to that of its first four years of operation combined. The total value of the freight transported on the line in 2017 was US$2.85 billion (HK$22.37 billion) and the total weight of the freight reached 297,000 tonnes. 1,008 trains had travelled on the Zhengzhou-Europe line between its opening in 2013 and the end of 2017, including 591 outbound and 417 inbound. The total value of the freight carried over that period was US$5.32 billion and the total weight was 531,000 tonnes.
Diversified Cargo Sources
The Zhengzhou-Europe line carries a wide diversity of cargo types originating from many different parts of the country. This reflects Zhengzhou's geographical strength as a transport hub.
In 2017, according to Zhengzhou Land Port, the main types of cargo carried on the line were machinery (which accounted for 26% of all outbound cargoes), garments (19%) and electronics (16%). The majority of these outbound cargoes came from provinces and cities along China's east coast, such as Zhejiang, Jiangsu, Shandong, Hebei, Tianjin and Shanghai. Some of the outbound cargoes also came from further afield in southern China. 10% originated from Guangdong and about 4% from Fujian. Half of all the outbound cargoes were delivered to Germany, while the rest went to other European countries including Poland, Denmark, France, the Netherlands and Switzerland.
Cargoes carried on the return trains consisted mainly of machinery (46%), whole vehicles and parts (16%), and iron and steel (12%). Germany was the leading source of cargoes carried on the return trains, along with Sweden, Italy, Poland, Denmark and the Czech Republic. About 20% of the inbound cargoes were destined for Henan. Other major destinations were cities and provinces in China's eastern coastal region, including Jiangsu, Shanghai and Shandong.
While the Zhengzhou-Europe line starts at Zhengzhou, only about 5% of outbound cargoes came from Henan itself. At the other end of the route, cargoes also distributed to different countries in Europe, given its broad distribution network. By the end of 2017, Zhengzhou Land Port had set up branches and offices in 34 mainland cities while its overseas network covered 24 countries and 121 cities in Europe, Russia and Central Asia.
With Henan province continuing to improve its port functions, the cargo sources of the Zhengzhou-Europe line are bound to expand further. Take the import of whole vehicles as an example. Zhengzhou established a whole-vehicle entry port in 2014 which was designated in early 2018 as a vehicle parallel import pilot. When the second phase of the whole-vehicle entry port is complete, Zhengzhou has the potential to become the largest imported vehicle display, trading and distribution centre in central China. There are also other functional ports in Zhengzhou, including a designated port for imported meat products, a designated port for imported grains, the fourth national postal service port, and a pharmaceuticals entry port.
O2O Marketing of Zhengzhou-Europe Line Imported Goods
As the Zhengzhou-Europe line develops, it is not only providing a rapidly improving rail freight service, but is also branching out into product marketing by taking advantage of the regular high-frequency train services it offers. Efforts have been made to integrate online and offline channels to market products imported via the Zhengzhou-Europe trains.
The B2B2C (business-to-business-to-consumer) e-commerce platform Banliego (www.banliegou.com), offering wholesale and retail services, was set up for general trade and cross-border trade. Backed by cold chain transport and constant temperature storage, the products on offer are genuine, fresh and purchased at source. The products promoted range from maternity and baby products, to food and beverages, and cosmetics.
Zhengzhou Land Port has also set up an offline marketing channel – the Zhengzhou-Europe Railway Imported Commodities Display and Experience Centre – displaying and selling a wide range of products imported via Zhengzhou-Europe trains.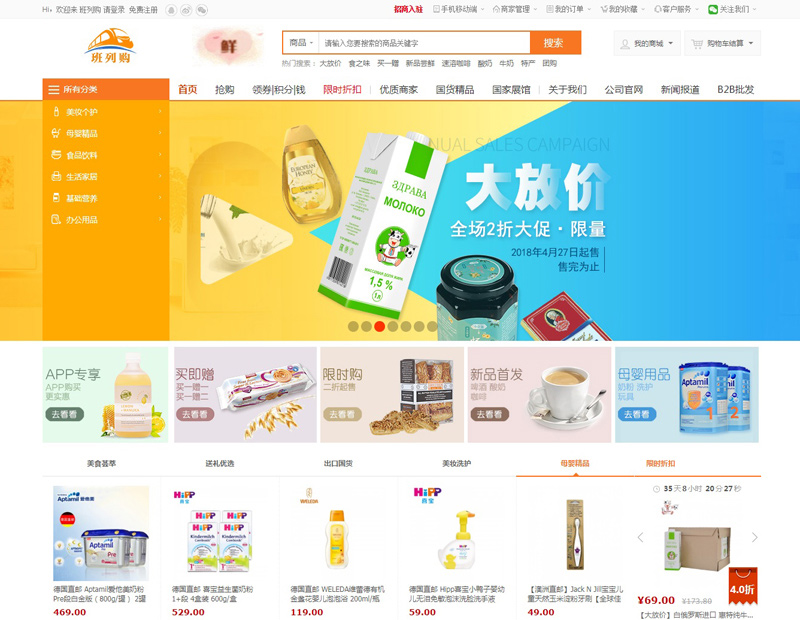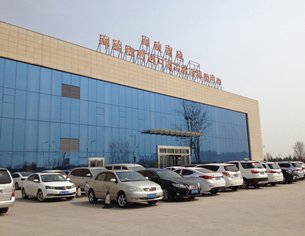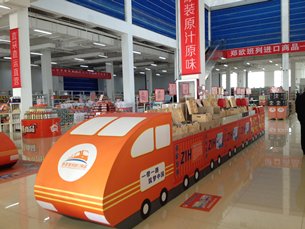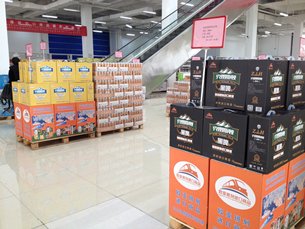 "Zhengzhou-Europe Railway + Cold Chain"
The cross-border railway transport service offered by the Zhengzhou-Europe Railway is expanding rapidly, with its international cold chain logistics service taking a leading position in China. The "Zhengzhou-Europe Railway + cold chain" global logistics solution, which went into service in May 2016, is currently the only regular cold chain service on CR Express trains on the mainland.
The Zhengzhou-Europe trains use proprietary constant temperature refrigerated containers, the temperature of which can be maintained at -18oC during the summer and at 5oC during winter time. These refrigerated containers are equipped with GPS and a remote temperature control system which can carry out wireless remote monitoring of the containers, track their real-time location, temperature and humidity, and make appropriate adjustments remotely. There is also a cold storage and a refrigerated storage at Zhengzhou Land Port's multimodal transport customs supervision centre, providing a storage environment with constant temperatures for imported products which have stringent needs regarding temperature control. These include food products, beverages and electronics. This service helps guarantee the quality and safety of the goods.
The cold chain logistics service offered by Zhengzhou-Europe trains is not limited to basic long-distance constant temperature cold storage. Zhengzhou Land Port also tries to improve the information flow to its clients about its cold chain service. In March 2017, Zhengzhou Land Port's cold chain transport integrated information service platform (www.lengl.com) was launched, providing one-stop real-time goods tracking, cargo source information, and other cold chain information dissemination services. The Zhengzhou-Europe Railway is helping to turn Zhengzhou into a mainland CR Express hub and international cold chain logistics distribution centre.
One Main Line, Three Branch Lines
As China's railway transport network comes of age, CR Express lines operating in different mainland provinces are sparing no efforts in promoting links between various modes of transportation, including railway, highway, sea and air. The integration of the railway network into the existing transport network is being accelerated. However, given the different advantages of different provinces and cities, each region is creating a multimodal transport system with its own characteristics adapted to local conditions.
Chongqing is a case in point. Situated in the interior of China's central and western region, the municipality's multimodal transport system, with the Chongqing-Xinjiang-Europe (or 'Yuxinou') International Railway as the trunk line, expands mainly southwards. It will eventually link up with the Silk Road Economic Belt and the 21st Century Maritime Silk Road in the south before connecting with markets in Europe, Central Asia and South-east Asia.
In contrast, Zhengzhou is closer to the coastal ports in the east – only 500 km, in fact, from the nearest port, Lianyungang in Jiangsu. Zhengzhou is trying to capitalise on this proximity in its development of a multimodal transport system. As well as building distribution networks in the mainland and in Europe, emphasis is also being placed on connecting the Zhengzhou-Europe line with the eastern coastal ports, including Qingdao, Lianyungang and Tianjin. Zhengzhou is also making use of multimodal transport to connect with Busan and Incheon in South Korea, and with Tokyo and Osaka in Japan; and taking advantage of China's high-speed railway network by connecting the Zhengzhou-Europe line with the Beijing-Guangzhou Railway and Lanzhou-Lianyungang Railway, in a bid to improve its domestic distribution network.
This unique multimodal "one main line, three branch lines" model, with Zhengzhou-Europe as the main line and Beijing-Guangzhou, Lanzhou-Lianyungang, and Zhengzhou-Japan-Korea as the three branch lines, has won the approval of the government. In the first batch of multimodal transport demonstration projects jointly announced by the Ministry of Transport and the National Development and Reform Commission in 2016, Zhengzhou's "one main line, three branch lines" was one of the 16 selected projects. By offering a balanced schedule of inbound and outbound trains and regular cold chain services, the Zhengzhou-Europe Railway now serves as a model for CR Express multimodal transport systems in the country.
Mainland China
Mainland China