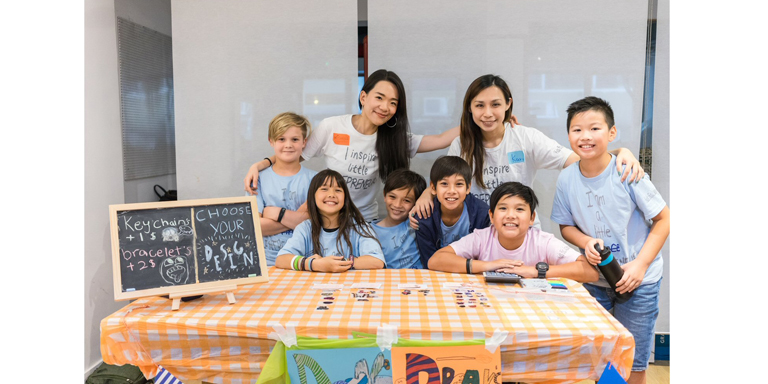 https://hkmb.hktdc.com/en/1X0AEEEG
Summer Camps Inspire Young Minds
Enterprising MBAs creates school holidays bringing experiences to kids that prepare them for future.
Who said summer was only about having fun in the sun? Through these school holidays, Hong Kong kids can unleash their creative spirit, learn a new skill, and even equip themselves for future careers thanks to the range of summer camps tailored to the market by enterprising providers.

Catering to the city's insatiable thirst for personal development – even in children – education is an overarching theme.

Among the more innovative of these is BizWorld, flagship program of the Kids Biz Academy run by Hong Kong's Galvanize Group. Incorporating the Silicon Valley Entrepreneurship Program from the US, this camp lets kids aged 8-14 try their hand at executive life. Each participant is assigned their own position in a mock company (CEO, CFO etc) depending on their individual interest and strengths, and plays that role in setting up and running the business.

Kara Leung, Kids Biz Academy co-founder, said participants learn the basics of entrepreneurship, business, and finance in a hands-on manner. The program has been offered to 680,000 students in 100 counties since 1997, and was brought exclusively to Hong Kong in July 2017.
Junior Moguls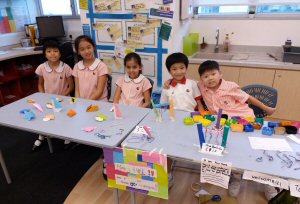 "This project-based learning (PBL) program gives children the opportunity to learn first-hand how to start and operate their own business," she said. "Working in teams of six, students start, fund, and run their own start-up in the friendship bracelet industry, competing against each other to see which is the most profitable."

The decisions that the companies make are entirely student-driven – including everything from what to name their company, to how many products to make, and how much to charge for them. It concludes with a Sales Bazaar, where students sell their bracelets to customers in exchange for BizBucks. "Throughout BizWorld, students have multiple opportunities to practice leadership skills and hone their math and communication skills," Ms Leung said.

Other programs run at the Academy, which has various locations across Hong Kong, include a BizWiz, a money management and investment course where kids learn to build a portfolio around different types of investment vehicles (stocks, bonds, CDs, venture capital, real estate, and collectibles); and BizMovie, which teaches the basics of entrepreneurship and business while encouraging kids to explore technology by creating their own animated movies. All programs are created for ages 8 to 14 and are run by professional instructors. Tailor-made programs are available for schools and organisations.
Developing Soft Skills
Galvanize Group was founded in July 2017 by a small team of MBA graduates from Hong Kong University of Science and Technology.

"We want to develop children with the skills and mindset they need to be successful in the age of AI (artificial intelligence)," said Ms Leung.

She explained that, in Hong Kong, much emphasis is placed on academic results. But education should be more than that. "We believe students need to develop strong sense of initiative, optimism, empathy, communication skills, creativity and resilience, etc. (all entrepreneurship skills)," she said. "As MBA graduates, we are also eager to teach students to do business."

Entrepreneurship education has been widely taught all over the world, Ms Leung added.

"In UK and Europe, entrepreneurship education has been adopted and taught at schools in different capacities," she said. "In the US, financial, business and entrepreneurship literacy are emphasised as key themes of the Framework for 21st Century Learning developed by US Secretary of Education. Finland has even made entrepreneurship education as a compulsory subject at school. We want students in Hong Kong to be able to receive entrepreneurship education like other students globally."

In addition to its summer camps, Kids Biz Academy programs are delivered during the school year as after-school activities in both international and local schools.
Boarding School Experience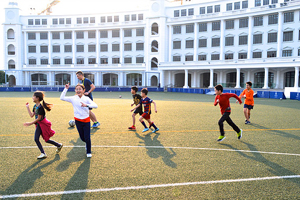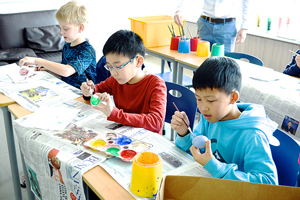 In 2015, Caroline Drewett introduced what she believes to be Hong Kong's first residential camp modelled on the British boarding experience. In the residential camps held each July, Anglo Academy students aged from six years up spend one week of their holidays living in at the prestigious Harrow International School campus in Tuen Mun. There, they are engaged in elements of traditional learning combined with other aspects of Hong Kong life, such as business and innovation.

Ms Drewett, a former English teacher, established Anglo Academy's parent company, Coast to Coast Education, in the UK in 2009. She says it was a natural fit to expand the business to Hong Kong, where the British style of education is gaining traction. These camps give local children a top class boarding experience, without having to travel too far from home.

"A lot of Hong Kong children will be schooled in UK, but it's a long way to go when you're young," Ms Drewett said.
"At Anglo Academy, parents can drop their children off, and get to know the teachers. Every child gets a personal experience tailored to their own requirements."
Making Learning Fun
While the curriculum is education-based, Anglo Academy also recognises that the children are on holidays.

"There are a lot of ways to make learning fun, which we do through our program," Ms Drewett said. Public speaking, debating, presentations and highlight events such as a fashion shows form part of the curriculum, building confidence and resilience. "Through this, children learn important characteristics that should take them through schooling, university, and corporate life. This is important, especially when English isn't their first language," she said.

The business has been growing each year since start-up, with more camps added annually to cater to demand.

"Anglo Academy in Hong Kong has been unbelievably popular," Ms Drewett said. "This year, all 150 places were filled by April."
Related Links
Anglo Academy
Kids Biz Academy