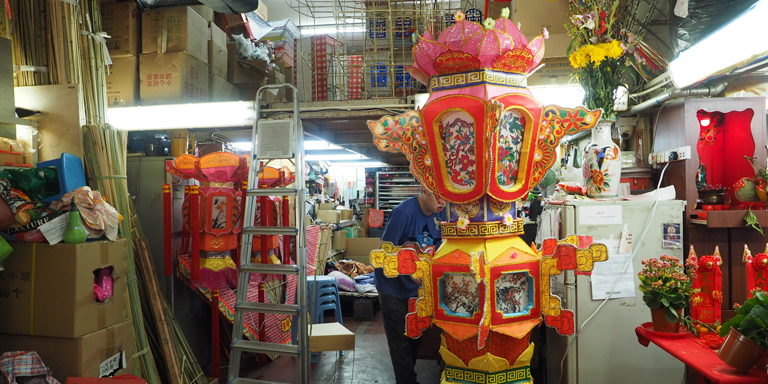 https://hkmb.hktdc.com/en/1X0AEBY5
Rediscovering Local Traditions
A project financed by crowd funding is celebrating the creativity of traditional Hong Kong neighbourhoods, starting with Sai Ying Pun.
With a plethora of cool bars, coffee shops and boutiques, Sai Ying Pun has become a hip hangout for locals and tourists alike over the past few years. But there's more to this neighbourhood than latte art and craft beer, as the Sai Ying Pun Pop-Up Neighbourhood Museum, which opens on 30 June for two weeks, is set to prove.

The pop-up supports the launch of the Sai Ying Pun Neighbourhood Guide, an app and map from Hong Kong's iDiscover Asia, which creates community-curated guides and walks in Asia's most authentic neighbourhoods. The map and app will introduce 26 sites highlighting local cultural heritage, all of which were selected by locals.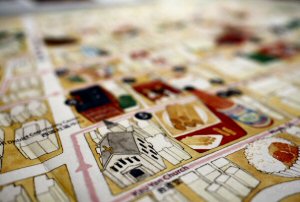 The pop-up will be held at the Magic Lanes Community Design Studio and will host exhibits showcasing 16 artisans, including lantern master Tin Bo Lau and chili sauce maker Yu Kwen Yik. Three mini documentaries created by iDiscover Asia will additionally be released at the pop-up launch. From 30 June-2 July, activities will include neighbourhood tours, a treasure hunt, food workshops dedicated to salty fish and rice dumplings plus a live sketching session with local artist Carmen Ng, who illustrated the map.

"We hope that everyone can come and experience the spirit of craftsmanship in Hong Kong, so that the locals can be proud of themselves and the tourists – be they local or foreign – can discover the other side of Sai Ying Pun. You can still find old school craftsmanship around every street corner, and we wanted to highlight that vibrant community in a way that's easy for the younger generation to understand," says iDiscover's Founder and Director Ester van Steekelenburg.


Community Support
For any community event like a pop-up, you need to talk to a lot of stakeholders to make the event truly local, van Steekelenburg notes. "We've tried our best to reach out to as many different groups as possible this time. We actually went to each and every shop in the neighbourhood to ask for their favourite places. We made sure residents and school kids knew about the initiative and we also got the newer establishments involved to organise workshops, sponsor the event and promote it to their audience."

The guide was crowd funded with SparkRaise and reached its HK$25,000 target in two months. It has just launched its second campaign to raise funds for a Kennedy Town Neighbourhood Guide. "This time, we would love to engage the local community even more during this process of fundraising. That's why we kickstarted the campaign at Little Creatures in Kennedy Town and will be curating monthly events there from now until October," says van Steekelenburg.

Of the 26 sites featured in the Sai Ying Pun Neighbourhood Guide, the founder singles out several favourites. "We love Saam Hui Yaat, a no-nonsense dim sum joint and where the locals go for breakfast. And the Yu Kwen Yick chili sauce store, a true home-made product made from fresh local ingredients with no preservatives or additives. Kwan Hing Kee is another a great local treat, where you can have a cold glass of soy milk or a bowl of silky tofu pudding."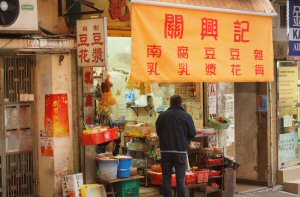 Work on the Kennedy Town Neighbourhood Guide has already begun, and iDiscover has also has set its sights on producing a guide on Shek Tong Tsui in collaboration with local NGO Caritas. It plans to release both guides by end of this year. "We are also working on a route in Causeway Bay, and in 2019 we will be looking at Yau Ma Tei and North Point," she adds.

While some may fight the gentrification of neighbourhoods rich in heritage like Sai Ying Pun, Cheung believes it is inevitable – although she says there is no 'right' way to do it. "Even local residents have so many different opinions: some embrace the new, some want to hang onto the old. What iDiscover is trying to do is help keep heritage alive while gentrification is going on in these old neighbourhoods. We contribute to the making of a more inclusive community where the newcomers respect the spirit of place and be good neighbours to the people who have been there for generations."
A Taste of Sai Ying Pun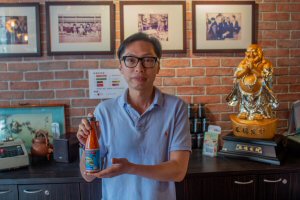 One of Sai Ying Pun's best-known residents is Yu Kwen Yick, whose chili sauce has been sold on the streets of Hong Kong since 1922 by the grandfather of current owner Antony Yu, who perfected his recipe in a Sai Ying Pun chophouse. The local brand also makes a chili bean sauce, with both produced at its Aberdeen factory. Yu Kwen Yick's chili sauce is part of the souvenir set for the treasure hunt activity, while Western restaurant Alvy's is hosting a cocktail making workshop using its sauce, says Yu.

Sai Ying Pun plays an important part in the brand's history, given that Wong's grandfather began making the sauce here almost a century ago. "This family business is passed down from my grandfather and it's the third generation now. I have never thought of running [the shop] from a different location," he says.

Yu Kwen Yick has experienced an uptick in business of late thanks to the trend for buying local. "There are more people coming with a nostalgic mindset, and consumers also like 'Made in Hong Kong' products more these days," says Yu.

The owner has big ambitious for his grandfather's unique peppery sauce, which pairs best with fried noodles, dim sum and turnip cake. "The brand is already in Wellcome and other Hong Kong supermarkets like Market Place and Oliver's. If possible, we would love to see the the sauce available in other countries. Our hope is that Chinese people all over the world can try Yu Kwen Yick," he says.

It would of course be preferable if they could sample this distinctive sauce in Sai Ying Pun, the neighbourhood where it was originally created.

Related Links
Events
iDiscover
Yu Kwen Yick
Tourism & Hospitality
Food & Beverages