https://hkmb.hktdc.com/en/1X0AEBX6
Work, Rest and Play
A new co-working space inside a five-star hotel opens up a new segment in a thriving market.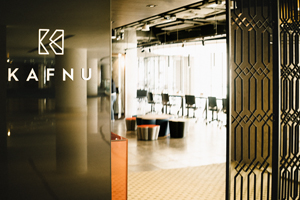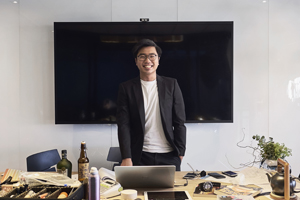 Is this the future of the office set up? With a global trend towards more flexible ways of work, more is being demanded from working spaces than the conventional office set-up typified by cramped cubicles and boardrooms utilised by a select few. The new generation of workers instead crave open plan spaces, stellar facilities, networking opportunities and social events where they can meet like-minded people.

One of the newest co-working spaces to enter the market in Hong Kong is Kafnu, which presents itself as a lifestyle co-working space from its location inside the Kerry Hotel in Hung Hom Bay, Kowloon. As the first co-working space to be located inside a five-star hotel in the city, members have access to several restaurants, a gym and swimming pool, says Community Manager Ben Ng, adding that it counts KPMG and Sony Music among its clients. The space is not only rented out by multinationals keen to provide staff with a dynamic working environment but also entrepreneurs. "In Hong Kong, there are lots of start-ups, and they need space to grow their business."
Rapid Expansion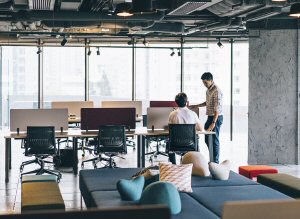 Buoyed by demand for co-working spaces, the brand is expanding fast: Kafnu Hong Kong debuted last October, Taipei came on board this January and Bangalore, Sydney, Melbourne, Ho Chi Minh City and Colombo are all due to launch in 2018. "I see Kafnu as an opportunity for asset owners to future-proof their businesses as we can adapt quickly to changing market circumstances and audiences," says Morris Sim, Chief Marketing Officer of Next Story Group, which designs, manages and markets hotels and urban spaces including Kafnu.

While Kafnu believes in localising its spaces and designs, there are a number of common denominators throughout all operations such as striking artwork, aquascapes, feng shui elements, outdoor spaces, rest areas, top of the line technology, soundproof phone booths, pantries and food & beverage services.

Some Kafnu members book a serviced apartment inside the Kerry Hotel so they can be near to the space for a few days. Hotel guests tired of working in their rooms can also get a day pass to a more dynamic environment, although most members live nearby in Whampoa and Hung Hom, says Ng. "In Hong Kong, there are over 200 co-working spaces, most of them are located in Hong Kong island. In Kowloon there are some but most are in Kowloon East. We're looking to attract New Territories and Kowloon West people," he says.
Combating Loneliness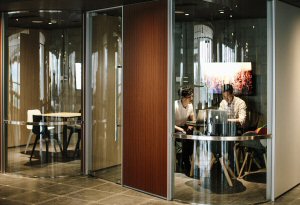 In a recent article for Harvard Business Review, 'Work and the Loneliness Epidemic – Reducing Isolation at Work is Good for Business', former US Surgeon General Vivek Murthy urged companies to focus on building social connections to make staff happier, more productive and engaged at work.

Lifestyle events such as beer tastings and photography workshops demonstrate Kafnu's intent to make members feel involved, says Ng. "We want to create more lifestyle-related events, as Kafnu made up of five elements – live, work, live, play, rest – so it's not just about work but creating a shared space where people can connect with each other. Other co-working spaces are more high density, but we have more space and encourage people to talk to one another," he says.

A Korean member who was a former chef asked if Kafnu would like to taste his food, so it spontaneously created a tasting event, invited other members to join and arranged a beer pairing with the food, Ng elaborates.

It's this kind of genuine, authentic atmosphere that Kafnu is working hard to build, a far cry from the stuffy business centre atmosphere that just focuses on providing a service. Having access to all the hotel's facilities is another distinct bonus. "We can offer interactive meetings with Kerry, or refer them to the ball room if they have a bigger meeting. From Kerry's perspective, Kafnu is also a selling point as we offer a more open, interactive design area for their guests to work in," he says.

The Kafnu community manager expects to see more spaces like Kafnu in Hong Kong soon and would welcome any new additions to the city. "We have our own market, and other [co-working spaces] have specific target groups. We have our own advantages that will attract people to our space, such as our ability to host interactive, immersive events."

Related Link
Kafnu