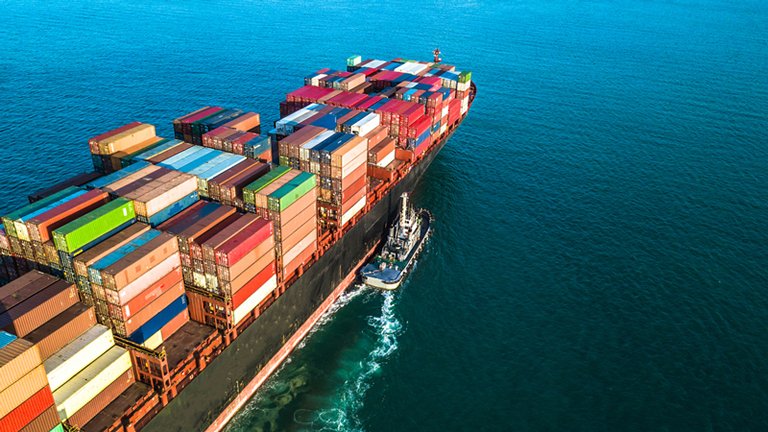 https://hkmb.hktdc.com/en/1X0AEAUC
2018 Mid-Year Export Review: Potential Growth Overshadowed by Looming Trade Disputes
Hong Kong's 2017 export growth momentum was maintained into the opening months of 2018, with the HKTDC Export Index then jumping into expansionary territory in 2Q/2018, indicating the likelihood of sustained export growth over the near term. While the world's economic fundamentals may warrant a more optimistic outlook and faster growth for 2018, the looming Sino-US trade war poses a major threat and could significantly reduce the pace of growth if punitive trade measures are eventually adopted by both sides.
Continued Export Growth in Early 2018
Following a strong rebound in 2017, Hong Kong's total exports continued to perform well in the first four months of 2018, given the solid and broad-based recovery in the world economy. Both private consumption and business investment in the developed world have continued to support growth.
In the US, although economic growth slowed slightly in the first quarter of 2018, strong growth in private domestic investment may have stimulated import demand. In the case of the EU, 2017 saw the bloc enjoy its fastest economic growth for 10 years, a development supported by low financing costs and high levels of consumer and business confidence. Though growth cooled slightly in the first quarter of 2018, the pace remained fast compared with recent years. In Asia, while the Japanese economy contracted in the first quarter, the Chinese economy continued to record stable growth supported by both domestic and external demand.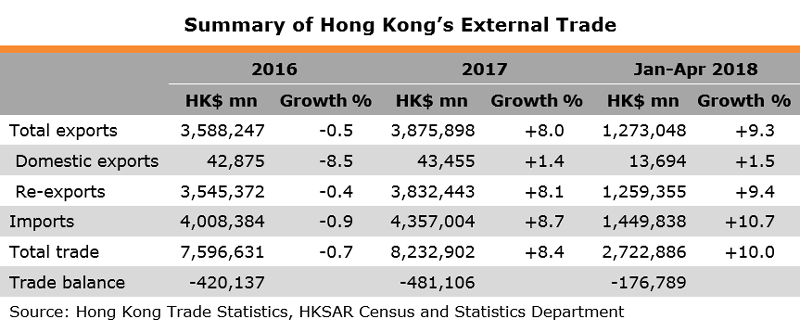 Against this background, Hong Kong's total exports grew by 9.3% year-on-year in Jan-Apr 2018, following 8% growth for the whole of 2017. In terms of markets, the growth of Hong Kong exports was broad-based – with regard to the traditional markets, exports to the US and EU recorded strong growth, although the growth of its exports to Japan moderated in the first four months of 2018. In the developing markets, exports to China continued to grow, as did exports to emerging Europe, Latin America and Africa, with the performance of many of these economies partly supported by the stabilising commodity market.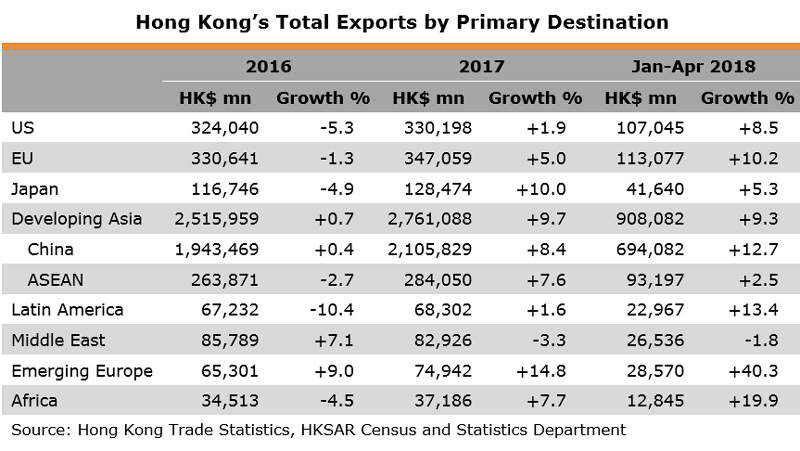 Favourable Global Economic Environment
Partly supported by continued growth momentum, market sentiment and the US' expansionary fiscal policy, the IMF revised its world growth forecast upwards in April raising it from 3.7% to 3.9% for 2018, despite some signs of a slowdown in the first three months of the year. This accelerated growth projection can be attributed to the improved performance of developed economies, particularly the US, which are now expected to deliver combined growth of 2.5%, 0.5% up on the original October 2017 forecast.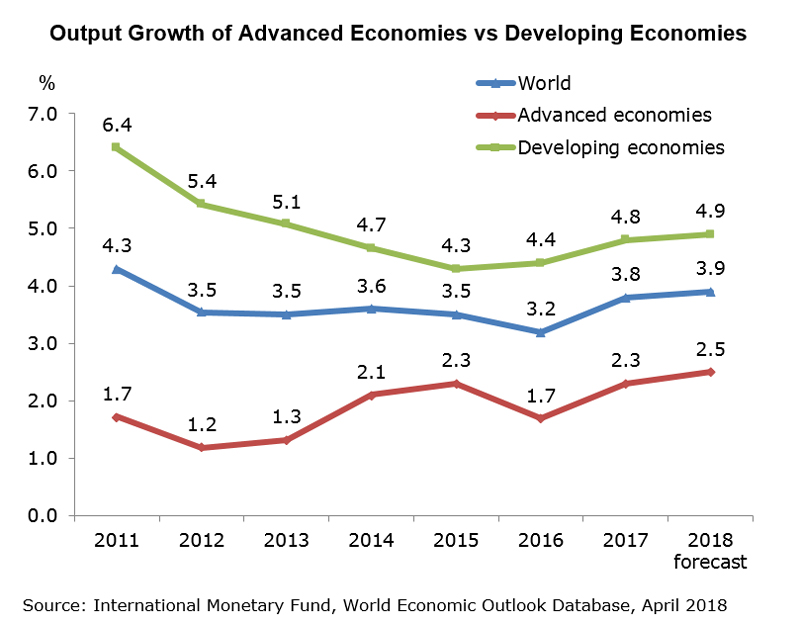 In the US, retail sales were sluggish for the first quarter of 2018, but had picked up to 4.7 % growth rate by April. It is generally expected that consumer spending will continue to be strong, buoyed by tax cuts and a healthy labour market. The US unemployment rate dropped to 3.8% in May 2018, its lowest since April 2000, which may contribute to faster wage growth.
In the EU, following vigorous growth in 2017, the momentum appeared to slow down slightly in the first quarter of 2018. Slower investment and external sectors have dragged down the growth momentum in a number of countries, notably France and Germany. It is expected that EU will continue to grow at a slightly slower pace than last year, but still at a relatively high level compared to the years following the financial crisis.
In Japan, its tight labour market is supporting wage growth, while the Bank of Japan's ultra-loose monetary policy and renewed fiscal support are shoring up the economy overall. As a result, only moderate growth is expected this year, with higher energy prices and weaker export growth likely to reduce the contribution of the external sector to Japan's overall growth.
China is expected to maintain its current level of growth if major trade frictions with the US can be avoided. China is committed to further reform and opening-up of its economy, as well as adopting policies designed to bring in more imports in an effort to re-balance its economy and meet US demands for a reduction in the bilateral trade imbalance.
After reducing import tariffs on 187 items in December 2017, import tariffs on a further 1,449 consumer goods are to be cut at the beginning of July this year. For example, the average import tariff for garments, footwear, sporting goods and kitchenware will be lowered from 15.9% to 7.1%. The progress of the Belt and Road Initiative will also gradually enhance China's global integration.
Latin America is likely to bounce back, as energy and commodity prices continue to favour the region in general, with the possible exceptions of Argentina and Venezuela. Brazil, the largest economy in the region, resumed economic growth as of the second quarter of 2017. Thanks to mild inflation, lower interest rates and more vibrant consumer and investor sentiment, the country is projected to continue to enjoy accelerating growth this year.
Emerging Europe will generally benefit from the continued growth across Europe and the wider world. The higher absorption of EU structural investment will also provide Eastern European countries with extra funding for infrastructure and social development. Russia will also see faster growth given sustained energy prices and its staging of the FIFA World Cup 2018, although the recently expanded western sanctions may complicate the situation.
In ASEAN, increases in public infrastructure spending and robust household consumption are expected to sustain economic growth in 2018. In Malaysia, abolition of the goods and services tax and the possible reintroduction of subsidies may boost private consumption. However, moderating export growth may slow down import demand for capital and semi-manufactured goods, given the strong rebound in 2017.
Positive Growth for Non-Apparel Items
Product-wise, electronics exports increased by 12.8% in the first four months of 2018, on top of a 9.2% increase in 2017, partly on account of the recovery in investment growth in the overseas markets. Demand for electronics and video games continued to rise in the first four months of 2018, which also had a knock-on effect to the toys sector. While exports of watches and clocks showed signs of improvement and demand for precious jewellery rebounded in recent months, clothing exports continued to decline, largely on account of increased competition from other production bases.

Electronics
Hong Kong's electronics exports, accounting for two-thirds of total exports, remained the main driver of the robust export growth seen in the first four months of 2018. Exports of finished electronic products and intermediate goods both recorded double-digit growth in the period January to April this year.
Semi-conductors, a component widely used in high-tech electronic products, remained in high demand, accounted for an increasing share of Hong Kong's exports of electronic products – rising from just over 30% in 2014 to a current level of nearly 40%. For final consumption, exports of consumer electronics, such as smartphones and computers, and other electrical accessories, also posted accelerated growth, thanks to the continued economic recovery in the overseas markets.
Improving export sentiment suggested the likelihood of sustained growth for electronics exports for the rest of the year. According to a recent survey conducted during the HKTDC Hong Kong Electronics Fair (Spring Edition) in April, industry players remained confident as to the prospects for electronics products for the remainder of 2018, with just over half of all respondents (53%) expecting positive sales growth, whereas only 3% took a more pessimistic view.
Clothing
Clothing exports continued to drop in the first four months of 2018, despite the improving global economy. Hong Kong's clothing industry may find it difficult to turn the tide of shifting global supply chains. Relocation of clothing manufacturing from the mainland to the South and South-east Asian countries offering lower production costs, such as Vietnam, remained the major trend.
Although the mainland is still the largest supplier of clothing to the US, its share of the US imported apparel market has continued to shrink, while Hong Kong's clothing exports have also declined over the past six years. Given a decreasing share of Chinese clothing imports, prospects for Hong Kong's clothing exports are less bright than they are for many other sectors. Moving up the value chain, Hong Kong's edge in the clothing industry may shift to clothing that utilises advanced technology, such as high-tech fabrics, new materials, green manufacturing and upcycling technologies.
Timepieces
Hong Kong's export of watches and clocks showed signs of rebound in the first four months of 2018. Demand from a number of traditional markets, such as the US and the EU has been declining, while exports to the emerging markets, including India and the ASEAN bloc, recorded robust growth, largely on account of solid economic growth in developing Asia and the rise of the region's middle classes.
Product-wise, mid- to high-priced products are set to remain popular, so the market for high-end smart watches will remain strong. Smart watches aside, hybrid watches, which blend traditional, mechanical watch design with smart features, may drive a fresh demand for timepieces, ultimately benefitting Hong Kong's export of unassembled watch movements for processing in one of the luxury watchmaking countries, such as Switzerland or Japan.
Jewellery
In the first four months of 2018, Hong Kong's exports of fine jewellery grew by about 20% – the highest among all of the major sectors. This robust export growth was driven by the demand for gold jewellery, while global economic growth also boosted demand for high-end accessories, such as diamonds. However, given that the gold price has remained high since the second half of 2017, the growth of fine jewellery exports is expected to slow down somewhat for the remainder of the year.
Toys and Games
The popularity of newly released game consoles last year supported robust growth for Hong Kong's toys and games exports in 2017. This strong demand for electronic and video games continued to boost exports of toys and games in the first four months of 2018. However, given that toys and games exports posted accelerating growth in the second half of 2017, together with a lack of new games console models due for release, export growth is expected to slow down somewhat for remainder of the year. While demand is still high for video games, the scope for export growth in the wider toys and games sector across 2018 as a whole is seen as limited and unlikely to match its 2017 performance given the higher comparison base.
Sino-US Trade War Posting the Prominent Risk
Aside from economic factors, such as a faster-than-expected hardening of the US monetary stance, as well as the possibility that the European Central Bank could end quantitative easing towards the end of 2018, geopolitical developments could also create uncertainties for world trade and investment flows.
While the on-and-off summit between the US and North Korean leaders may help to reduce tensions on the Korean peninsula, the US withdrawal from the Iran nuclear agreement and its reinstatement of economic sanctions is creating uncertainty over possible trade with Iran.
In Europe, political developments continue to be of concern. In the case of Italy, while its populist parties finally formed a new government, its policy stance towards the EU remains to be seen but is already casting a shadow over the country's future relations with Brussels. Spain also took a turn towards political instability in May when its Prime Minister was on the receiving end of a Parliamentary vote of no confidence.
While negotiations with regard to the UK's departure from the EU were reportedly on track, the UK government has still not been able to present a coherent blueprint for the future UK-EU relationship. As a result, the persisting Brexit-related uncertainty may well dampen investment in the UK.
In Latin America, Venezuela's political crisis and dire economic situation may also cast doubts on the region's development prospects. Argentina announced in May it was seeking IMF assistance to shore up its economy and generated further uncertainty over its economic outlook. The country suffered from a currency crash and high interest rates, partly as consequence of a sustained drought that severely damaged its agricultural sector.
Among all these concerns, though, the Sino-US trade dispute remains the most prominent and immediate threat to Hong Kong's export outlook. In fact, the risk that major trade barriers will be imposed has grown considerably. In March, the US imposed 10% and 25% tariffs on aluminium and steel respectively, with temporary exemptions granted to Canada and Mexico, as well as to the EU, Australia and Brazil.
However, the US decided not to extend the exemption on 1 June. The EU, Canada and Mexico have already announced retaliatory plans that target US products with extra tariffs. This is a classic example of how trade wars can escalate, with the ensuing spiral of tit-for-tat measures possibly destabilising the global economy.
Ever since 1975, the US has maintained an overall trade deficit and its goods-related trade gap has only continued to grow. In addition to the continued growth of the US economy, the tax cut package enacted in January 2018 will only exacerbate the import-driven trade deficit.
President Trump's strong stance on trade issues can be seen as the fulfilment of his election pledge to protect those American industries that had been hammered by globalisation, while also curbing the staggering trade deficit. In the run-up to US midterm elections in November, the Trump administration's focus is expected to zoom in on "fair" trade even more explicitly.
In 2017, China's share of the US' overall trade deficit in goods soared to 47%, up from 32% in 2007. This makes the trade deficit with China particularly politically sensitive. With trade tensions heightening between the US and other countries, many of them normally seen as US allies, it may be difficult to calm Sino-US trade relations over the coming months.
The most recent Sino-US trade talks concluded on 1 May with no deal and no set date for further talks, with the US reportedly stepping up its demands for Chinese concessions. A full-blooded trade conflict between the US and China could also hurt other economies as it sparks protectionism in other markets, undermining economic confidence and damaging global supply chains.
Following the 2017 recovery, growth momentum of Hong Kong's exports has extended into the first few months of 2018. With favourable world economic fundamentals, the HKTDC Export Index jumped into the expansionary zone in Q2 2018, indicating the likelihood of sustained Hong Kong export growth momentum over the near term.
While the world's economic fundamentals may warrant a more optimistic outlook and faster growth for 2018 than were originally forecast in December 2017, the looming Sino-US trade war is posing a major threat in the near term and could significantly reduce the pace of growth should punitive trade measures be imposed by both sides. Inevitably, Hong Kong exporters are becoming increasingly pessimistic about the possible impact of the ongoing Sino-US trade friction, with 43% of those recently surveyed worried about a negative impact, compared to just 26% who shared this view in the first quarter of 2018. Against such a backdrop then, it seems prudent to expect Hong Kong exports to have growth of around 6% for 2018 as a whole.