https://hkmb.hktdc.com/en/1X0AE8A2
Hong Kong's Changing Status and Future Prospects (1): Marginalisation or Normalisation?
The economic gap between Hong Kong and the Chinese mainland has substantially narrowed over the two decades since the return of Hong Kong's sovereignty. While Hong Kong's per-capita GDP was 35 times the national average in 1996, it is now only 5.4 times. Hong Kong's share of national GDP has also fallen, dropping from 18.4% 20 years ago to just 3% last year. Compared with Shanghai, China's largest city, Hong Kong's GDP slipped from 4.5 times the Shanghai figure in 1997 to tying in 2009. Last year, its GDP was only three quarters that of Shanghai.
In some sectors, Hong Kong's national standing has declined almost into obscurity. Hong Kong's external trade volume, for instance, dropped from 1.3 times the national total two decades ago to 26% in 2017. Similarly, Hong Kong's container-throughput ranking slid from its previous number-one slot to fourth, trailing Shanghai, Shenzhen and Ningbo. Hong Kong's foreign-exchange reserves have also seemingly dwindled, declining from accounting for two-thirds of the national total at the end of 1997 to just one-eighth at the end of 2017. Over the same period, the market capitalisation of Hong Kong stock market shrank from 6.8 times the total market capitalisation of China's stock markets to just 41.5%. These examples – and others – show Hong Kong's declining importance to the Chinese economy overall. More worryingly still, this ongoing "marginalisation" is almost certainly irreversible.
While few will dispute that Hong Kong is being marginalised, the question is why. Is it because Hong Kong is now deficient in the development stakes or is it because China continues to grow at breakneck speed? Or have both factors contributed to its downgraded status?
Over the past 20 years, Hong Kong's GDP has grown 3.3% per annum in real terms, a rate substantially lower than the comparative mainland rate of 9.2%. Compared with the world's other advanced economies [1], which collectively registered an average annual growth rate of 2% in this period, Hong Kong's growth rate has been 1.7 times that of its peers. Even after allowing for population growth, Hong Kong's 2.6% real per capita GDP growth rate is still 1.2 percentage points higher than the 1.4% achieved by the world's other advanced economies, with the SAR's growth rate almost double that of its peers.
Then there is the question of just how fast China has really been developing. In GDP terms, China's annual real growth rate of 9.2% is 1.7 times that of the 5.4% average growth rate sustained by the developing economies over the past 20 years. In terms of per capita GDP, China's average annual growth rate of 8.5% over the past two decades was 2.2 times that of the 3.8% average reported for the developing economies. This shows that, compared with similarly developed economies, Hong Kong has in no way underperformed over the past 20 years. Indeed, Hong Kong's development can only be viewed negatively in light of China's superlative performance.
From another perspective, Hong Kong's "marginalisation" may be seen as part of a "normalisation" process. Given that Hong Kong's population amounts to just 0.5% of the national total (a proportion that has basically remained unchanged over the past 20 years), the relative weight of its economy within China as a whole is still massive. Its GDP, as a percentage of the national figure, is six times that of its population proportion, while its external trade is 26 times and its level of foreign-exchange reserves is 22 times.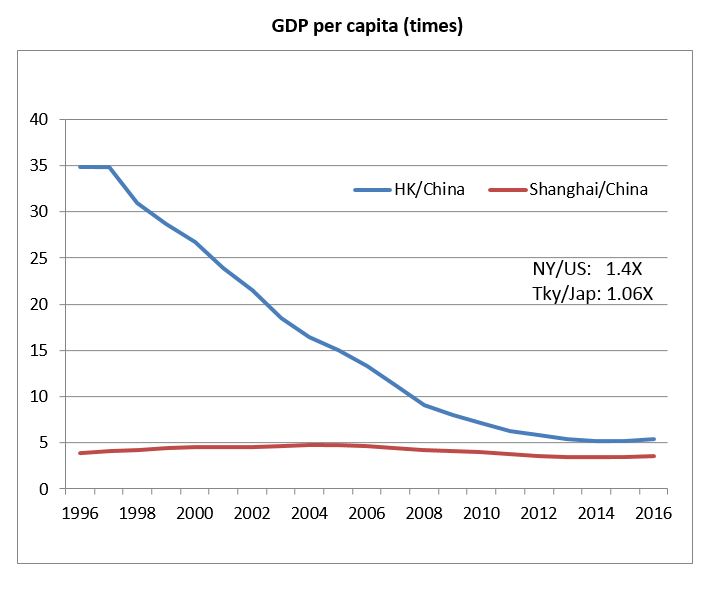 This article originally appeared in Economic Herald Biweekly (4 June 2018)
---
[1] According to statistics supplied by the World Bank and the International Monetary Fund, the average per capita GDP of 33 countries and regions, including Western Europe, North America, Australia, New Zealand, Japan, Hong Kong, Singapore, Taiwan and South Korea, was 3.4% higher than that of Hong Kong in 1996. These economies are seen as comparable to Hong Kong due to their maintenance of similar development levels.
Mainland China
Hong Kong
Mainland China
Hong Kong