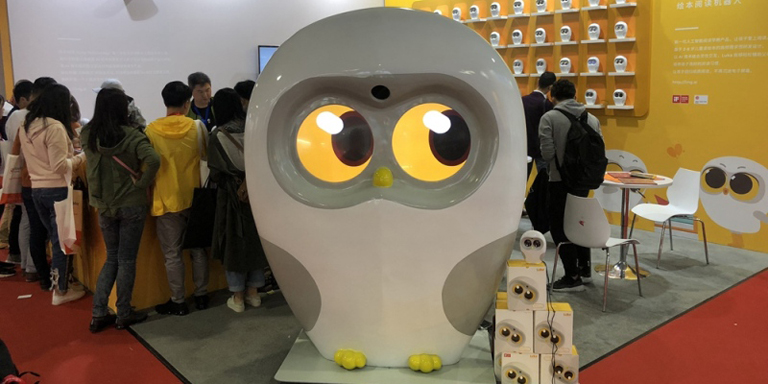 https://hkmb.hktdc.com/en/1X0AE6G2
New Chapter in Toy Story
Creative yet functional robots created a sensation at a recent Guangdong toy fair, but traditional choices remained popular.
A huge variety of robotic toys, all designed to spur the imagination of their non-mechanical playmates, dominated proceedings at this year's Guangzhou International Toy and Hobby Fair. In a very commendable second place, though, was an interesting collection of licensed products, which allowed children to own their personal incarnation of various much-loved animated characters from the world of TV and movies. Traditional toys were not completely outflanked, however, with a number of exhibitors offering an updated take on the construction kits of old.
Robo-Toys: Automated Educators
Despite the vast range of robotic toys at this year's event, a number still managed to stand out. Of these, Luka – an owl-shaped book-reading robot manufactured by Ling Technology, a Beijing-based developer of artificial intelligence (AI) products – was certainly one of the most memorable.

Outlining the full range of Luka's functionality, its marketing director Rong Zhiwei said: "Essentially, it's an intelligent robot that can read picture books and tell children stories. You just place a picture book within eyeshot of Luka, then its head-mounted scanner processes the text and it starts to read the contents out loud. Its speaking voice is particularly clear, with Luka also able to process and read English content.

"It's sophisticated enough to be able to read from the majority of the picture books available across the mainland. There is also a smartphone app that allows parents to scan the QR code on the back of any picture book, which will then immediately confirm whether any given title is Luka-compatible or not."
In addition to its core reading function, Luka has a number of other interactive options on offer. It can, for instance, answers children's questions on a variety of subjects, including science and nature. Perhaps most usefully of all, however, it can even be pre-programmed to tell children it's time for bed at any chosen hour.

A somewhat similar system, albeit one with a deeper grounding in the world of Chinese classics, was on offer from Shenzhen's Jose AI Technology. Known as Xiao Sheng, this particularly articulate automation can answer children's queries on a variety of subjects, while also being adept at reeling off a selection of traditional Chinese poems and proverbs.
For those children old enough to have graduated from the worlds of Luka and Xiao Sheng, Fujian-based JornCo Information Technology had something a little more demanding on offer – the IronBot. Basically a robotic construction set, it has been designed to help young learners develop their scientific, technological, engineering and mathematical (STEM) skills. Explaining how this works in practice, company Chief Executive Qiu Binghui said: "The product introduces young learners to a whole range of disciplines, including artificial intelligence, electronics, structural mechanics and computer science. Crucially, it also helps develop motor skills, promotes logical thinking, nurtures strategic creativity and fires the imagination."
Coming complete with all the required components, batteries and sensors, children just have to follow a number of clear instructions before their own personal robot awaits their instructions. As their skill sets develop, in tandem with their understanding of electronics, they are then free to go off piste, creating whatever far-out robotic mechanisms capture their imaginations. All the robots – whether templated or custom-built – can then be linked to the company's proprietary smartphone app, allowing these junior inventors to put their prototypes through their paces on a remote basis.
Keen to stress that the IronBot is suitable for even the least robotically inexperienced, Qiu Binghui said: "No coding is required when young learners first begin to design and build their own robots. Thanks to the style of graphic modular design we have incorporated, all of the coding is hard-wired into the relevant components. All children have to do when designing is drag and move module icons on their smartphone handset. Then they just follow their own blueprint to create a working robot."
Quality Assured: Licensed Animated Characters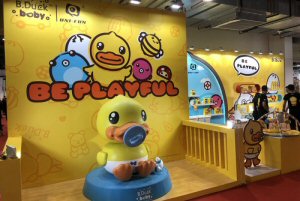 Toys based on big and little screen cartoon characters have long had immense allure for many of the mainland's most junior consumers. With that trend showing no sign of abating, many show-goers could be spotted scanning the exhibition halls as they sought out their favoured character, whether that be a notoriously playful duck or an unusually mechanical moggy. In the case of the former, at least, attendees wouldn't have had to look too hard, with the stand of Shenzhen-based Welove E-Business virtually decked-out from floor to ceiling with merchandise celebrating the cartoon capers of B.Duck, a lovable anthropomorphic waterfowl created by Semk, a Hong Kong-based product design agency, 13 years ago.

As well as his own TV series, the duck also boasts 130 bespoke boutiques across the mainland, all selling a huge range of related merchandise, including T-shirts, books, DVDs and action figures. Explaining why Welove had opted in to the franchise, E-commerce Manager Huang Hongbin said: "When we were looking to launch a range of high-quality baby products, we saw a natural fit with the B.Duck brand. In our experience, the use of much-loved licensed characters always helps win over consumers and boost sales."

Over on the company's stand, in addition to the initial baby-product range, images of B.Duck and his feathered friends and family could be seen emblazoned across a huge range of items, including baby bendy balls, gym balls, sand hammers, hand bells, ukuleles and child-friendly furniture. Highlighting the benefit of licensing for the consumer, Huang said: "Genuine licensed products have to conform to strict quality requirements, using only non-hazardous materials and duly certified as safe by the appropriate quality assurance bodies. In light of that, if you buy your child an official licensed product, you can be confident you are not putting them at any risk."
Another firm believer in licensed characters was Xia Xiaomin, a Sales Representative for Huaye E-Commerce Industry. Based in Shantou, the company owns the rights to use two leading licensed properties – Doraemon, the ever-popular mechanical manga cat, and Chibi Maruko Chan, a female, teen-friendly third-grade Japanese schoolgirl. To date, the company has featured these properties on baby hand bells, playmats, tumblers, story readers and a host of other products.

Commenting on the success of his company's partnership with these particular properties, Xia Xiaomin said: "All our products that feature these characters, always in striking designs and bold colours, have proved a big hit with consumers – so much so, in fact, that many of our competitors throughout Guangdong are now looking to strike similar deals with other licence-holders."
Building on Success: Construction Toys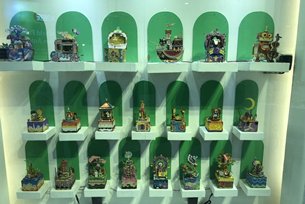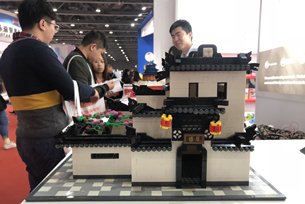 Despite the competition from the high-tech, interactive sector, the more traditional construction toys have somehow managed to retain their popularity, with this year's show seeing something of a resurgence in the range of kid-friendly kits on offer. A number of the most notable came courtesy of Suzhou-based Robotime Technology, with its range of easily connected wooden blocks allowing hobbyists to create several personalised household items.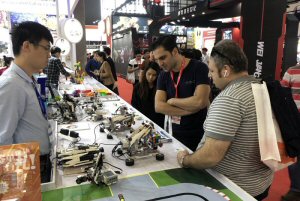 For more tuneful-minded technicians, there was the option of fashioning a stylish musical box, complete with a selection of slightly tinny serenades and a choice of slowly revolving figurines. The more horticultural hobbyist, meanwhile, could turn their hand to creating a variety of plant pots, all fully functional and foliage-ready. Asserting that construction toys have not only kept their core kiddy market but also wooed back a somewhat older, sentimentally-led demographic, Huang Yixuan, a Sales Manager for Shantou's Wange Educational Material Sci-Tech, said many adults were now buying his company's products for their own use, with its range of self-assembly mini-monuments particularly popular.

The 2018 Guangzhou International Toy and Hobby Fair took place jointly with the Ninth Guangzhou International Stroller and Baby Product Fair from 8-10 April at the Poly World Trade Center. The two shows attracted more than 1,100 domestic and overseas exhibitors.
For more China market opportunities, please visit: http://research.hktdc.com
Hong Kong
Mainland China